Things to do with Brisbane toddlers ….. Luckily when it's ALL about toddlers, we're here to help with a bunch of useful resources on our website for parents with 'on the go' toddlers. If you're looking for ideas to keep your toddler entertained and learning, we've got a tonne of informative articles on our website just for you (I mean your toddler!)
Outdoor activities with Brisbane toddlers
Getting a toddler outside is one of the best ways to wear them out. Plus the benefits of fresh air and sunshine are proven to help with mental health and can be super rejuvenating for exhausted Brisbane parents. Here's some of our favourite outdoor toddler activities to get you and your little one out and about in Brisbane.
Visit a toddler-friendly pool
While there are tremendous benefits to taking your toddler to a public pool on your own, there are also benefits of formal, group swim lessons.
We've left no stone unturned to find you all the local public swimming pools that are suitable for toddlers. Get your toddler out in the sunshine and enjoy a great public swimming pool that caters for their needs. Read the article here.
Get your toddler into sport
Toddlers are the kings and queens of movin' and shakin' so there is no better time to get them involved in the great world of toddler-friendly sports. We've listed 7 totally toddler friendly sports in & around Brisbane for you and your blossoming family to try. Playing sports gives toddlers the perfect opportunity to learn the rules of communication; build those gross motor skills and have fun. They will also benefit from working as a team, honing their listening skills, building concentration, and using their determination to reach goals.
Take your toddler to a theme park
Yes, surprisingly that headline is not a typo! When it comes to exciting theme parks we are spoilt for choice in Queensland, but what is the best theme park for toddlers? We've investigated what the theme parks have on offer to ensure an exciting and interactive day out that little ones will love! Read article here.
Turn your Brisbane toddler into a beach babe
If you're looking for somewhere to cool off on a warm day, then this list of the best beaches in and near Brisbane is exactly what you need! Brisbane is sheltered by Moreton and Stradbroke islands so our beaches are ideal for families with toddlers – flat beaches and little to no waves. Grab a bucket and spade, SunSmart swimmers, and get ready to chase your toddler up and down the shore as the waves lap at their feet. The fresh air will be great for both of you especially if you're toddler is going through a leap. See our list of the Best Beaches for Kids here.
Discover a Discovery Centre
A visit to a Brisbane discovery centre makes a great day out for the family. In and around Brisbane we have lots of local discovery centres to choose from offering experiences from animal encounters, interactive displays and nature play, to bushwalks and wildlife discovery – and a whole lot more! Entry is usually free or low cost, and often there are experts and volunteers on hand to answer your toddler's questions or act as your guide, and cafés, picnic areas and playgrounds to help you extend your stay.
Teach your toddler how to ride a bike
If your toddler is full of energy and able to run about with ease, perhaps it's time to consider getting them their first toddler bike. As well as helping your little one use up some of that boundless energy, the best toddler bike is a great opportunity to get them outdoors and help them develop their gross motor skills. If you're considering buying a toddler push bike but not sure where to start – let us help you! Find the Best Toddler Bike for your Little One here.
Head out for a pram-friendly walk
The winter and spring months are a perfect time to get out in the brisk fresh air with your toddler. The heat and humidity have all but gone, leaving perfect walking weather in their wake. No matter where you live in Brisbane, there are some great pram-friendly walks nearby that are also suitable for little toddler legs. Here are a few of our Families Magazine favourites. In your travels, if you come across ducks here's what your Brisbane toddler can feed them.
Take your toddler for a day trip in Brisbane
Get the right equipment to get out and about with a toddler
Indoor toddler fun in Brisbane
Sometimes in Queensland, you've just got to stay indoors. It could be a crazy storm or just simply wanting to keep out of the heat during the SunSmart hours. Pre-toddler you may have taken this opportunity to curl up with a good book or even sneak a nap. Alas, those blissfully rested days are gone because your darling mini-me may be dropping their day nap and be bursting with energy. Here's where to go with a boisterous toddler when staying indoors is the best option. The great news, these spots are heaps of fun and guaranteed to put a smile on both of your faces.
Brisbane libraries for toddlers
Libraries have changed so much since we were kids. Gone are the days when any sound other than the rustling of pages was frowned upon. Most libraries now host fun toddler time and story time classes in line with the First 5 Forever program. These FREE classes run weekly at various times and it doesn't matter if you're running late or your little one has a meltdown mid-class. Read more about the First 5 Forever program here.
Kindergym for Brisbane toddlers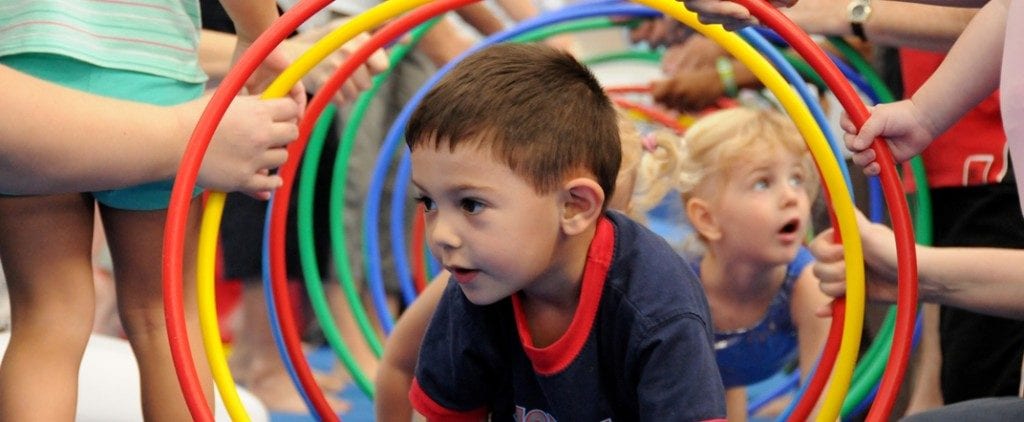 Physical play is what being a toddler is ALL about! There's nothing like rolling, tumbling, jumping, and faceplanting to fulfill sensory needs and teach little people a host of skills. If you've got a Brisbane toddler, Kindergym or Toddler Gymnastics classes can help your little one develop in so many ways!
Take your toddler to the movies
We know, it sounds so counter-intuitive right? Who in their right mind takes a toddler to the movies? If it's your first time taking a little one to the cinemas you need to know they have special booster cushions to help little bottoms sit safely plus shorter movie times. Accept that your child is most likely not going to sit in their seat and will probably fall asleep before the opening adverts finish. The great news is you'll be in comfy chairs in a dark air-conditioned room so it's worth it!
If you are looking for places to see kids movies in Brisbane, but you don't know which cinemas are toddler friendly, then you're about to strike gold with our article. We have reviewed all the local cinemas so we know which are toddler-friendly and why. But which is the BEST children's cinema in Brisbane? We'll tell you here.
Head to mini bounce
Mini bounce is an active adventure-play centre specially designed for pre-school kids in Westfield Carindale, Brisbane. Everything at mini bounce is designed to offer fun, active-play experiences that help little kids develop a love for physical activity. The play features of mini bounce Carindale cater to walking age toddlers through to 6-year-old adrenaline hunters. Read our full review here.
Fun at home with a Brisbane toddler
The reality is, no matter how hard you try sometimes you just can't make it out of the house with a toddler. It could be teething, a persistent runny nose, or just too much to do at home. We've all been there and we know how much you still want to give them an exciting day full of fun. Check out our list of easy things to do at home with a 2-year-old.
Rainy day activities with a toddler in Brisbane
Stop hiding in your cupboard, get out of the bathroom, and climb out from underneath the sink. There's no need for rainy days to turn into mammoth migraines anymore. We've compiled a… creative approach to dealing with being trapped in the house with a toddler that doesn't involve the words Paw or Patrol. Here's our top list of Rainy Day activities which should buy you some time to fit in a quick cuppa.
Toddler sensory play ideas
Prepare yourself to get messy! Sensory play activities engage a toddler's senses through play. Such activities encourage exploration, creativity, and investigation. They introduce math and scientific theories and strengthen language. Sensory play is also great for soothing anxious, agitated, overtired, or hyperactive toddlers. Hooray! Here are 7 sensory play activities using common household items.
Read with your toddler
It's never too soon to encourage a love of books and reading in your little ones. Sharing a book with your toddler is a great way to spend quality time together, settle them at bedtime and develop early literacy. Your toddler's favourite storybooks will hold a special place in their memory for life. How many of our favourite 10 books have you and your little one read?
If you find yourself truly stuck at home and unable to get your hands on a new book you can also download an e-book. Here's where to find free e-books for kids.
You may also find these articles helpful:
Toddler toys
In our experience, a toddlers love affair with toys often goes one of two ways. They are either obsessed with a toy so much that it falls apart and you're desperately wishing you'd bought two! On the other hand, you search for months for the toy they MUST have only for the toddler to flatly reject it. It's so frustrating! We're here to help you navigate toddler toys. Here are a heap of articles with our top Families Tips below:
If you like the sound of not having piles of toys lying around that your toddler is now bored with and never uses, then why not consider visiting a toy library?! All toy libraries are membership-based, some have an annual charge, some are free. ALL are awesome and worth further investigation. Find your local toy library here.
Toddler-friendly clubs and classes
We all know toddlers have endless energy to burn and a strong propensity for boredom, whereas we poor exhausted parents often just want to sit down and relax, so where can you take your toddler to let off steam in Brisbane? We've gathered together the biggest list of activity centres and play cafes where your toddler can simply go wild or test their skills. Read more here.
You may also want to look into:
Toddler development
Watching your toddler learn and grow is one of the best parts of being a parent. It can also be one of the most overwhelming and anxiety inducing parts of parenting. After all, how do you know if your toddler is meeting their milestones and when to be worried? We've created a number of articles to support you to grow your knowledge of toddler development:
FREE things to do with toddlers
Life with a toddler is a whole new ball game. They have limitless energy, endless hunger (for triangle sandwiches, not yucky square ones) and are guaranteed to keep you on your toes. If you need FREE things to do in Brisbane with toddlers when you've done EVERY SINGLE PARK a thousand times… check out this great list of ideas to get you out and about. Find FREE things to do with your toddler here.
Party ideas for Brisbane toddlers
They're little and they've got attention spans to match. What you're definitely going to need are some crowd-pleasing ideas with minimal fuss. The party is a celebration for you as well. It's your chance to reflect on how your beautiful child is growing. The last thing you want to do is be up to your eyeballs in complicated party bits and bobs when you could be having fun instead. See our list of articles to help you breeze through the big day with your toddler.
Celebrating special events and holidays with toddlers
Celebrating the BIG holidays with your Brisbane toddler can be so fun but also daunting for parents. You may find you want to make these special occasions extra magical but don't have any idea of where to start. Reflecting on your own childhood memories and the traditions that shaped your experiences is a great place to start. However, if you're open to new ideas or your own memories aren't the best do not fear. We LOVE making magical moments for Brisbane toddlers and their families. Read on for some great ideas!
Easter with a Brisbane toddler
Nothing is cuter than bunny ears on a toddler! But equally nothing is more challenging to manage than a toddler who has over indulged in Easter chocolate. You'll want to brief your family and friends on alternative Easter gifts to maintain your sanity. See our list of non-chocolate Easter gift ideas here.
ANZAC Day for toddlers
Talking about ANZAC Day to toddlers and young children? Here are some ideas that you might find will help you explain ANZAC Day to toddlers – some very tough concepts.
Christmas with a toddler in Brisbane
Christmas is such a magical time of year! Add in toddlers and you get extra magic with a heap of chaos thrown in. It's at this age many families introduce traditions such as a Christmas eve box or buying a real Christmas tree each year.
Taking a family holiday with a Brisbane toddler
So you're ready to show your toddler the world but you're also a bit nervous about travelling with them. Families Magazine has so much experience travelling with toddlers. We've taken ours all over the world, across Australia and certainly to every corner of Queensland. You can too! We've got a heap of great articles to help you prepare below!
Family holidays are where lifelong memories are made. Showing your Brisbane toddler the world doesn't have to be hugely stressful with the right planning. Whether you're aiming to travel locally or take a longer trip with your toddler we've got heaps of tips to help you plan a holiday to remember.
Holiday on the Gold Coast with a toddler
Exploring the Sunshine Coast with your Brisbane toddler
Taking care of your Brisbane toddler
One of the biggest challenges with parenting is no matter how much you learn there's always something else to know. Did you ever think you'd become an expert headlice remover or spend your time pondering am I bathing my kids enough? We're here to help fast track your knowledge so you can get back to having fun with your toddler. See our articles below for helpful information on navigating these tricky areas.
Health professionals and toddlers
When it comes to the health of our toddler we parents would do pretty much anything to ease their pain and suffering. But sometimes it's tricky to figure out whether your Brisbane toddler should visit a GP or a paediatrician? Or it's late at night and your toddler is unwell and needs to see a doctor in Brisbane. What are your options? We've compiled a number of articles to address these toddler and health professional questions and more.
Caring for your toddlers teeth
A trip to the dentist with your Brisbane toddler does not have to be a scary ordeal. Even though the dental office is an unfamiliar environment and some of the people working there look a bit strange with masks and weird smells and sounds, you can do some things to help allay your toddler's fears.
Finding care for your Brisbane toddler

Understanding your childcare options for your toddler
We're lucky to have so many childcare choices available to us in Queensland, and they come with a range of benefits for you and your toddler. Childcare can allow parents to return to work or study or simply to have a little regular "me time", and toddlers in a childcare environment have the opportunity to hone their social skills, participate in regular learning activities and prepare for school. This is a BIG decision for Brisbane families so we have written a number of posts to help you explore your options.
Childcare providers for toddlers in Brisbane
Nanny's for toddlers in Brisbane
Au pair for Brisbane toddlers
Demi pair for toddlers
Babysitting for toddlers in Brisbane
Safety tips with toddlers
Toddlers are magnets for danger. They just can't help getting into risky situations thanks to their endless curiosity. However, this often enviable zest for exploring can also put them in very real danger – All. Day. Long. Here are our Families Magazine tips for keeping your Brisbane toddler safe.
Toddler eating
Mealtimes and toddlers can be a challenging time for Brisbane families. While we all want to provide the best food choices for our young children, sometimes toddlers don't agree with their parents food choice – that can be trying! We've got a heap of articles to help you fill those toddler tummies.
Toddler sleeping
Are you having a nightly battle to get your independent toddler to sleep? Have the night terrors set in or are the 2-year-old molars causing your toddler grief? Toddler sleep is complicated as there's so much going on with there development at this age. It's very frustrating and can leave you feeling like a failure. You're not! Read on for tips on how to improve toddler sleep.
Wondering why your toddler's sleep patterns have suddenly changed? Looking for help to get your Brisbane toddler sleeping through the night again? Check out our articles on toddler sleeping to find out about 2 year old sleep regression and what parents can do to help!
Playgroups for toddlers
Raising a toddler can be isolating at times. We know heaps of parents who have formed lifelong friendships and supportive networks by joining their local playgroup. Here's more information on where to find one near you….
Surviving pregnancy with a toddler
If you're still growing your family you may be wondering how you will introduce your newborn to your Brisbane toddler? How can you help prepare them for their new sibling? What can you do to take care of your health so you can continue to be a great parent to your toddler? It's going to be exhausting at times so here are our Families Magazines tips to help you survive this special time with a toddler.
Positive ways to support toddlers through change
Despite our best efforts as parents of toddlers things don't always go to plan. The good news is there are a number of strategies and resources out there to help you navigate challenging times with your toddler.
Self care for parents of Brisbane toddlers
Don't get overwhelmed with life and everything you think you must achieve before midday with your toddler in tow. This is a sure way to end up a tired mum! We're here to say it's okay to take time for you. We all need a break. Here's some of our ideas on how to practice self-care.