Things to Do with Toddlers in Brisbane
5/11/2020
Things to do with toddlers ….. Luckily when it's ALL about toddlers, we're here to help with a bunch of useful resources on our website for parents with 'on the go' toddlers. If you're looking for ideas to keep your toddler entertained and learning, we've got a tonne of informative articles on our website just for you (I mean your toddler!)
Outdoor activities with Brisbane toddlers
Visit a toddler-friendly pool
Splashing around in the pool appeals to many youngsters. While spending time in the water is often enjoyable, it has other benefits, too. While there are tremendous benefits to taking your baby to a public pool on your own, there are also benefits of formal, group swim lessons. Swimming is a low-impact, keeping fit activity that most kids love!
We've left no stone unturned to find you all the local public swimming pools that are suitable for toddlers. Get your toddler out in the sunshine and enjoy a great public swimming pool that caters for their needs. Read the article here.
Get your toddler into sport
Toddlers are the kings and queens of movin' and shakin' so there is no better time to get them involved in the great world of toddler-friendly sports. We've listed 7 totally toddler friendly sports in & around Brisbane for you and your blossoming family to try. Playing sports gives toddlers the perfect opportunity to learn the rules of communication; build those gross motor skills and have fun. They will also benefit from working as a team, honing their listening skills, building concentration, and using their determination to reach goals.
Take your toddler to a Theme Park
Yes, surprisingly that headline is not a typo! When it comes to exciting theme parks we are spoilt for choice in Queensland, but what is the best theme park for toddlers? We've investigated what the theme parks have on offer to ensure an exciting and interactive day out that little ones will love! Read article here.
Turn your Brisbane toddler into a beach babe
If you're looking for somewhere to cool off on a warm day, then this list of the best beaches in and near Brisbane is exactly what you need! Brisbane is sheltered by Moreton and Stradbroke islands so our beaches are ideal for families with toddlers – flat beaches and little to no waves. Grab a bucket and spade, SunSmart swimmers, and get ready to chase your toddler up and down the shore as the waves lap at their feet. The fresh air will be great for both of you especially if you're toddler is going through a leap. See our list of the Best Beaches for Kids here.
Discover a Discovery Centre
A visit to a Brisbane discovery centre makes a great day out for the family. In and around Brisbane we have lots of local discovery centres to choose from offering experiences from animal encounters, interactive displays and nature play, to bushwalks and wildlife discovery – and a whole lot more! Entry is usually free or low cost, and often there are experts and volunteers on hand to answer your questions or act as your guide, and cafés, picnic areas and playgrounds to help you extend your stay.
Teach your toddler how to ride a bike
If your toddler is full of energy and able to run about with ease, perhaps it's time to consider getting them their first toddler bike. As well as helping your little one use up some of that boundless energy, the best toddler bike is a great opportunity to get them outdoors and help them develop their gross motor skills. If you're considering buying a toddler push bike but not sure where to start – let us help you! Find the Best Toddler Bike for your Little One here.
Head out for a pram friendly walk
The winter and spring months are a perfect time to get out in the brisk fresh air with bub. The heat and humidity have all but gone, leaving perfect walking weather in their wake. No matter where you live in Brisbane, there are some great pram-friendly walks nearby. Here are a few of our Families Magazine favourites.
Indoor Toddler Fun in Brisbane
Sometimes in Queensland, you've just got to stay indoors. It could be a crazy storm or just simply wanting to keep out of the heat during the SunSmart hours. Pre-toddler you may have taken this opportunity to curl up with a good book or even sneak a nap. Alas, those blissfully rested days are gone because your darling mini-me may be dropping their day nap and be bursting with energy. Here's where to go with a boisterous toddler when staying indoors is the best option. The great news, these spots are heaps of fun and guaranteed to put a smile on both of your faces.
Brisbane libraries for toddlers
Libraries have changed so much since we were kids. Gone are the days when any sound other than the rustling of pages was frowned upon. Most libraries now host fun toddler time and story time classes in line with the First 5 Forever program. These FREE classes run weekly at various times and it doesn't matter if you're running late or your little one has a meltdown mid-class. Read more about the First 5 Forever program here.
Kindergym for Brisbane toddlers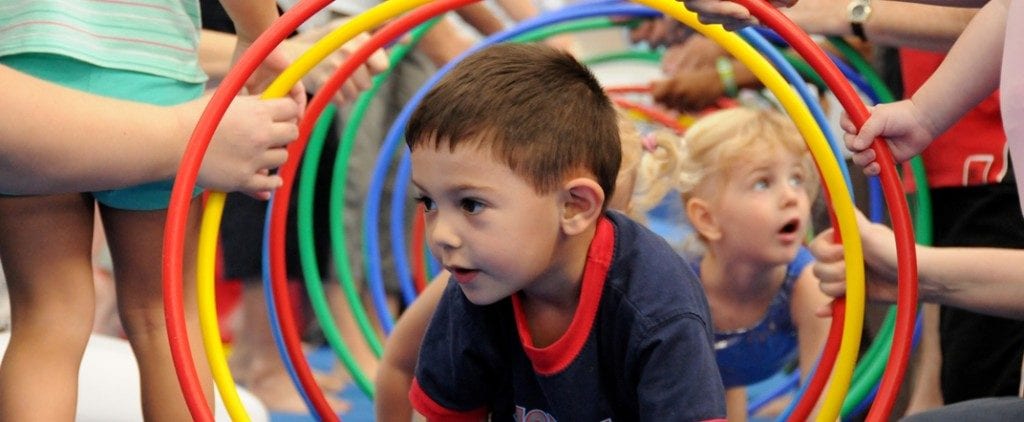 Physical play is what being a toddler is ALL about! There's nothing like rolling, tumbling, jumping, and faceplanting to fulfill sensory needs and teach little people a host of skills. If you've got a Brisbane toddler, Kindergym or Toddler Gymnastics classes can help your little one develop in so many ways!
Fun at Home with a Brisbane Toddler
The reality is, no matter how hard you try sometimes you just can't make it out of the house with a toddler. It could be teething, a persistent runny nose, or just too much to do at home. We've all been there and we know how much you still want to give them an exciting day full of fun. Check out our list of easy things to do at home with a 2-year-old.
Rainy day activities with a toddler in Brisbane
Stop hiding in your cupboard, get out of the bathroom, and climb out from underneath the sink. There's no need for rainy days to turn into mammoth migraines anymore. We've compiled a… creative approach to dealing with being trapped in the house with toddlers that doesn't involve the words Paw or Patrol. Here's our top list of Rainy Day activities which should buy you some time to fit in a quick cuppa.
Toddler sensory play ideas
Prepare yourself to get messy! Sensory play activities engage children's senses through play. Such activities encourage exploration, creativity, and investigation. They introduce math and scientific theories and strengthen language. Sensory play is also great for soothing anxious, agitated, overtired, or hyperactive toddlers. Hooray! Here are 7 sensory play activities using common household items.
Read with your toddler
It's never too soon to encourage a love of books and reading in your little ones. Sharing a book with your toddler is a great way to spend quality time together, settle them at bedtime and develop early literacy. Your toddler's favourite storybooks will hold a special place in their memory for life. How many of our favourite 10 books have you and your little one read? Read the article here.
If you find yourself truly stuck at home and unable to get your hands on a new book you can also download an e-book. Here's where to find free e-books for kids.
Give a toy library a go
If you like the sound of not having piles of toys lying around that your toddler is now bored with and never uses, then why not consider visiting a toy library?! All toy libraries are membership-based, some have an annual charge, some are free. ALL are awesome and worth further investigation. Find your local toy library here.
Take your toddler to the movies
We know, it sounds so counter-intuitive right? Who in their right mind takes a toddler to the movies? If it's your first time taking a little one to the cinemas you need to know they have special booster cushions to help little bottoms sit safely plus shorter movie times. Accept that your child is most likely not going to sit in their seat and will probably fall asleep before the opening adverts finish. The great news is you'll be in comfy chairs in a dark air-conditioned room so it's worth it!
If you are looking for places to see kids movies in Brisbane, but you don't know which cinemas are baby and child friendly, then you're about to strike gold with our article. We have reviewed all the local cinemas so we know which are baby and toddler-friendly and why. But which is the BEST children's cinema in Brisbane? We'll tell you here.
FREE things to do with your 'on the go' toddler
Life with a toddler is a whole new ball game. They have limitless energy, endless hunger (for triangle sandwiches, not yucky square ones) and are guaranteed to keep you on your toes. If you need free things to do in Brisbane with toddlers when you've done EVERY SINGLE PARK a thousand times… check out this great list of ideas to get you out and about. Find FREE things to do with your toddler here.
Party Ideas for Brisbane Toddlers
They're little and they've got attention spans to match. What you're definitely going to need are some crowd-pleasing ideas with minimal fuss. The party is a celebration for you as well. It's your chance to reflect on how your beautiful child is growing. The last thing you want to do is be up to your eyeballs in complicated party bits and bobs when you could be having fun instead. We've got an article to help you breeze through the big day. Read article here.