If you are looking for somewhere different to cool off on a warm day, then this list of some of the best beaches in and near Brisbane is exactly what you need!
Brisbane is sheltered by Moreton and Stradbroke islands so our beaches are ideal for families – flat beaches and little to no waves.
A trip to the beach is one of our favourite days out from Brisbane with the kids!
Does Brisbane have beaches?
Yes! Brisbane has many, many beaches and they are perfect for families and kids. We know because we have visited them all ourselves, because we live here!! So let us tell you about them in our article about Brisbane beaches for kids!
Shorncliffe Beach and Waterfront
Set beside Shorncliffe pier, the beach of Shorncliffe is a lovely sight to see! There is plenty of sand and the water looks amazing. The kids will love Lower Moora Park, a playground set right beside the beach. Featuring swings, a climbing frame and tons of space to play, this sandy playground will make your kid's day. There are plenty of picnic tables and BBQs to have a delicious lunch.
Scarborough Beach and playgrounds
Want to enjoy a lovely picnic beside the sea? Scarborough is the best place to go! Protected by Moreton Island, this bit of beach is perfect to take the kids to for a paddle about or even just walk along the sand. Adjacent from the beach is Scarborough Beach Park. Featuring spindly, climbing trees and plenty of playgrounds to have fun on, this park will keep the kids entertained for hours. There are BBQS and picnic areas too, making it the perfect beach for you and the kids.
RELATED: Taking a baby to the beach? Check out this list of baby beach gear you need to consider!
Sandgate foreshore
Located beside Flinder's Parade, Sandgate's Beach is a lovely little place to take the kids to. The beach features plenty of sand to play on and a bay for the kids to paddle in. Just above the beach is Arthur Davis Park. The park is beach themed, featuring a boat to play in and a surfboard. With plenty of picnic areas and BBQS, this beach is the perfect place for a day out. There is a great off-leash dog park at Sandgate Beach too!
Nudgee Beach
If you love discovering local wildlife, Nudgee Beach is the perfect place for you. Featuring plenty of boardwalks around the beach, the kids will love wandering around the beach spotting local animals. The beach itself is amazing too, with plenty of space to play and splash about.
If you want to bring the family dog along, you will love this beach as it has a designated leash free area. There is a park right beside the beach too, with picnic facilities. All in all, Nudgee is perfect for the whole family. We love this beach as it is our local! It is one we visit time and time again. Read our detailed review of Nudgee Beach.
Wynnum Beach and Wading Pool
Another great beach for the little ones is Wynnum Beach. Featuring a great beach and plenty of sand, this is a beach the whole family can enjoy. Another excellent place for the kids to play is the Wynnum wading pool. With water that reaches knee level, it's perfect for little ones. Right next to the beach is a park with picnic facilities, perfect for a fun beach day.
Brisbane City Beach – Streets Beach South Bank
South Bank in Brisbane city hosts Australia's only inner-city beach made by man – Streets Beach. With sandy beaches, clean, safe water and an 'aquativity' area for the kids, this beach is a favourite for Brisbane families.
Settlement Cove, Redcliffe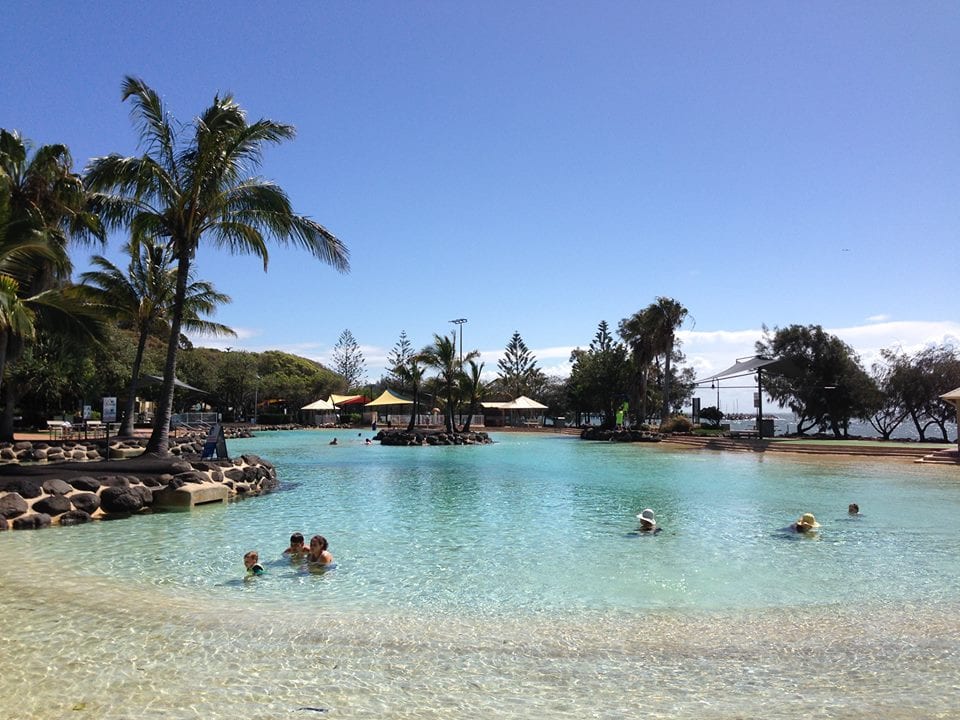 This beautiful lagoon in Redcliffe is the perfect place to cool off for children and adults. It has a fenced off pool area for the young ones that is well shaded and has mushrooms fountains and squirting lizards. If your children are more competent swimmers they can venture deeper into the water to get too the island in the middle of the lagoon. This lagoon also has BBQ's for public use, plenty of kiosks to purchase and all the amenities you might night.
Woorim Beach, Bribie Island
If you are chasing the ocean but don't want to have to travel to far then look no further than Bribie Island. Woorim Beach is the closest patrolled surf beach to Brisbane and you are guaranteed to get your fix of salt water and vitamin D. This beach is family friendly with a playground and skate park nearby, and lots of BBQ and picnic areas to nest into. There are also kiosks available in the area if you wish to purchase your food.
We wrote a detailed review about Woorim Beach here.
Suttons Beach Redcliffe
This beach is the perfect place to take your family for a fun day out. It has the three essentials: sand, sea and sun. The beach here is patrolled and the waves aren't too big either, so you won't spend your time completely stressing out about your children. It has plenty of shade, grassy areas, BBQ's for public use and a playground. This one is just 500m down the road from Settlement Cove.
Colmslie Beach Reserve Bulimba
Colmsie Beach is only 9 kilometres east of Brisbane and has everything you could need for a fun family day out. With plenty of sand for sandcastle making and a playground that even adults want to play on, your little ones will have a fabulous time. It has plenty of shade for the perfect picnic, and even bike tracks. So you can swim for the day, picnic at lunch then finish the day with a lovely bike ride. Count me in!
Wellington Point Cleveland
Whilst not exactly a beach, and more of a reserve, it will still be perfect for your family needs. Wellington Point is 25 kilometres south-east of Brisbane and is lovely to get a dose of outside air. If you catch it at the right time with the tide, you can walk out to an island that has a sand bridge, the kids will be sure to love walking across it. Don't leave without eating some delicious gelato from the local shop!
Bongaree Beach Bribie Island
This beach is located an hours drive north of Brisbane and has the beautiful white-sand beach that Queensland is renowned for. It has amazing views, heaps of swimming spots near the jetty and a lovely relaxing vibe. You can't fault a beautiful afternoon with your nearest and dearest with a wonderful view.
You can read our detailed review about Bongaree Beach on Bribie Island here.
Red Beach Bribie Island
Red Beach is the perfect place for a family day out, including your four-legged friends. It has plenty of space to run and will definitely tire all members of the family out. It's a great place for an afternoon stroll. This beach has no amenities, so be prepared; however this doesn't dampen the wide-open space to roam in. We included this beach in our round up of the best dog beaches near Brisbane.
Raby Bay Cleveland
This beautiful bay is within a 45-minute drive of Brisbane CBD and is fantastic for a quiet escape. This bay accommodates two-legged and four-legged friends, that's right; family dogs are allowed. It's the perfect place for your little ones to make memories splashing in the water with your furry friend.
Orion Lagoon Ipswich
Whilst not natural sea, this lagoon is great for a family day out. Its located in Robelle Domain Parklands in Ipswich, a great location if you are situated in the area. It has a lovely pool with plenty of aquatic features that the kids are bound to enjoy. On top of that – lifeguards monitor it at certain times of the day; this will help alleviate the stress of children near water.
Take an adventure to an island…
One of Australia's greatest qualities is the beautiful island's that are so close and readily available. While you might think an island is to far for a day trip, I can assure you its not. Listed below are some fantastic locations that are easily accessible by barge where you could drive or go by foot to, and the beaches they offer are well worth the trip.
Moreton Island – only 25km off the Brisbane coast and has plenty of surf beaches, lakes, sand dunes and other highlights like a lighthouse and bunkers. This island is only accessible by four-wheel drive; otherwise you could go by foot.
Stradbroke Island – perfect for a day trip as it has three main villages; all of which are accessible by road or through the islands local bus service. With plenty of gorgeous beach, ice-cream, yummy seafood and the beautiful walk of the north gorge headland – it's guaranteed to be a good day.
Coochiemudlo Island – this island may be small, but it sure is might. It's the perfect spot for families with water activities like aqua biking, canoeing, kayaking or if you prefer the land: walking tracks or biking. The best part? It's only a 10 minute water taxi from Victoria Point.
COMPETITION CLOSED: WIN one of two Tesalate towels – enter on the app below
The arrival of the warmer months means more sunny days spent at these beaches near Brisbane! And while a good beach towel is a summer must-have, not all are created equal. Enter Tesalate's range of beach smart sand-free towels from Australia.
Fabric Care. A cold machine wash, tumble dry on low or merely hanging out to dry, are three ways to clean or dry the towel.
Fast drying. Tesalate dries up faster than a regular towel.
Lightweight. It's so light and comes with a small waterproof nylon drawstring bag.
Material. Tesalate's AbsorbLite microfiber material is gentle and soft even on the most sensitive skin.
Quality. Tesalate's durable fabric promises the color will remain vibrant even after constant use and washing.
Sand-free. Tesalate has no looped fibers which is why sand easily slides off.
Size. Standard size measures 160 x 80 cm while the Towel for Two size measures 160 x 160 cm.
Super absorbent. Tesalate is capable of absorbing up to one liter of water.
Towel hook. Tesalate features a hanging hook, ensuring the towel hangs clean and dry.
Tesalate sand-free towel in standard size retails at $79 and XL size at $119.
Check out the gorgeous range here.
These are our favourite beaches in and near Brisbane. Did we forget your favourite? Let us know in comments!