Top 10 Things to do in Noosa on a rainy day! No such thing as a ruined holiday!
14/05/2018
Rain, rain go away! Come again another day! Actually… raining on a holiday isn't necessarily a bad thing. We've come up with a list of the top ten things to do in Noosa on a rainy day. And they DON'T involve going to a playcentre. Read on to find out more!
What is there to do in Noosa on a rainy day?
Isn't Noosa just divine! We love it so much that we compiled a HUGE list of the perfect things to do in Noosa to make the most out of your trip.
The problem is, though, that it's not perfect weather all of the time. There are going to be days in Noosa, and they might cross over with your trip. But don't despair – not all is lost! There are some great things that you can do in Noosa and the surrounds that will keep the whole family happy when the skies are grey and the rain just won't go away.
Visit Sea Life (formerly Underwater World)
Sea Life is a short drive south from Noosa and well worth the trip. It's long been one of Australia's family favourite destinations and remains just as magical now as you remember from your own childhood. There is an indoor play area, seal feeding, a cafe, gift shops and all the beautiful sea creatures you could possible imagine.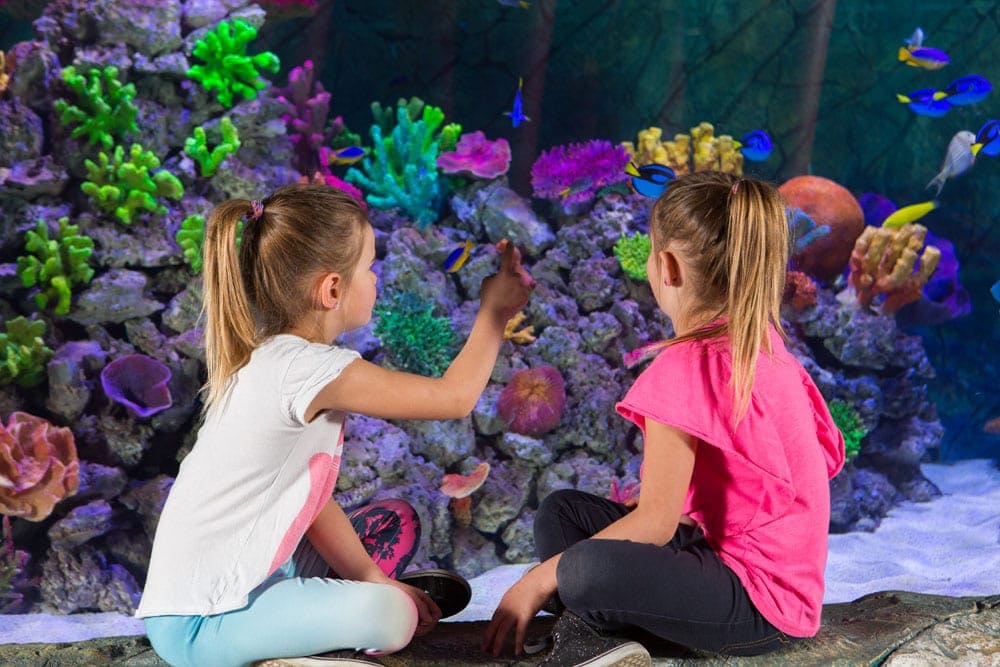 Roller Skating
Head to Caloundra and get your skates on! What a great indoor activity and a cool thing to do in Noosa on a rainy day. Skating burns off energy, brings back memories and is just a raucously good time for young and old. Caloundra Rollerdome is the place to go – and you can find out about it here!
Bowling and Laser Tag
Was there every anything that screamed more 'it's raining and I'm on holidays' than bowling?! Add onto that laser tag and you've got a solid afternoon packed so full of fun that the kids will forget about whinging (momentarily, anyway).
Follow this link to find out about Noosa Tenpin and Laser Tag – they're open EVERY day except Christmas!
Hit the cinemas
Things to do in Noosa on a rainy day have to include a trip to the cinemas! Follow this link to make sure you're up to date with all the latest kids school holiday movies!
Cinemas in the Noosa region are:
Noosa Event Cinemas
BCC Maroochydore
BigScreen Cinemas Caloundra
Shopping!
What better place than to burn some time (and some cash) than beautiful Noosa? It's the Paris of Queensland! Boutiques, toy stores, book stores, home furnishings – it's all there and it's all fabulous. Hastings Street in particular has so much on offer. Don't waste the day staring gloomily out the window – stare longingly into shop windows instead! Woohoo!
Eating!
Om nom nom. Noosa is home to some of the best foodie-focused venues in Queensland. Gorge yourselves to drown out the rain in any number of amazing establishments. Take a look at our top picks for child friendly restaurants if you've got younger kids and see if any are of interest.
Sunshine Castle, Bli Bli
One of our writers recently went to Sunshine Castle – you can read her review here! It looks like a fabulous place to spend a good solid day forgetting the drizzle outside. Awesome choose for things to do in Noosa on a rainy day!
Noosa Regional Gallery
Feeling like a little culture? Head to Noosa Regional Gallery in Tewantin. There are facilities and programs for kids, beautiful and evocative exhibits for the art aficionados and an ever-changing array of works to keep even the fussiest art critic fascinated. Find out more here.
Go to the library
Who'da thunk it?! Curl up with a good book, play the educational games on offer, participate in the local programs running and let the kids fall in love with literature. Your choices are:
Noosaville Library
Cooroy Library
Fun in the hotel!
Finally, here's an idea. Stay put. Read books, order room service, play in the games room, hit the resort gym. See if the concierge is offering any vacation activities. (If you choose your accommodation wisely, you'll definitely have family-friendly stuff to take advantage of!) Make the most of where you're staying and allow yourself breathing space to slow down and chill out!
What's your pick for things to do in Noosa on a rainy day? Got any further suggestions? Let us know in the comments!