Christmas Lights Brisbane 2018 – Easy MAP in BEST route order | Tour with the kids!
5/12/2018
Tour THE BEST Christmas Light Displays in Brisbane in 2018
It's time to pile the kids into the car and tour the amazing Christmas lights Brisbane has to offer.  Every year Families Magazine tracks down the most amazing Christmas lights displays and helps Brisbane families plan their own DIY Christmas lights tour!  2018 is all set to have the best Christmas lights Brisbane has ever displayed – and they're all RIGHT HERE.  We've organised them by suburb, by area and by driving route. All you need to do is download our handy maps and get the kids in the car!  We're lucky to have a former 4KQ Christmas lights judge right here on the Families Magazine team so we can give you all the insider tips on the best Christmas lights Brisbane has to offer!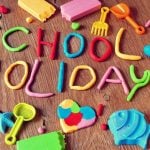 Find all the BEST school holiday activities this summer in Brisbane RIGHT HERE.
How to use our festive maps to craft your Christmas Lights Tours!
Be sure to download your driving map ON THE DAY of your Christmas lights tour.  We are always updating the maps. We get hot tips on new, amazing Christmas lights displays EVERY SINGLE DAY.  So you can be sure to see the best and brightest Brisbane has to offer for the 2018 Festive Season.  We promise you the most comprehensive and helpful tour guide to Christmas Lights in Brisbane, Gold Coast, Redlands, Moreton Bay, Logan and Ipswich.
Got a HOT TIP for a brilliant display? Please do send us a message via our Facebook page.
It's the simplest way to tour the best lights.
Bookmark this page so you can download the latest listings when you're ready to go go go!  We update our maps all the time so you don't miss a single award winning Christmas lights display!
Pick your area
Find the best map for you
Check out our simple, recommended routes
Download and go!
We know that excited little ones are impatient so we've made sure that our Christmas Lights street maps clearly mark the BEST POSSIBLE ROUTE to keep them thrilled the whole drive!  We know that Brisbane parents are too busy to faff about, so like every year, Families Magazine is the go to place for Christmas light tours across South East Queensland!
Got an amazing display yourself?  Is your business sparkling this Christmas?  Tell Brisbane families all about it – and see the joy on little faces as they swing by your front yard.  Add your listing by leaving a comment under this article or email your address and a stunner image to [email protected]
Brisbane Christmas Light Maps 2018
Click here or on our logo below to find heaps of FREE Downloadable versions for all across Brisbane!
Doing ONE tour or ALL THE TOURS, here are our easy, route marked maps to make your Christmas light pilgrimage simple and simply wonderful!  Remember that Christmas Light Tours are a great option for grandparents too!  Got a nanna on the other side of Brisbane? Why not take her for a tour too.
If you're travelling with very little Brisbane kids, you can use our handy light maps to plan two shorter tours.  Remember that the sun goes down later this time of year and your little one's bed time might be stretched if you tackle an entire map in one night.  Consequently, our maps make it simple to start a wonderful Christmas tradition by visiting one or two houses each night in the lead up the the big day!
Christmas Lights bus tours across Brisbane
Not too keen to tackle the traffic and parking?  Brisbane Christmas Light Tours are a fun way to meet other local families and take in the sparkles.  Click here for the full guide to Tours of Christmas lights in Brisbane.  Brisbane City Council's official bus tours commence 17th of December and run nightly until December 21nd.  There are five Brisbane City Council bus tours available for around $50 for a family of four.
Brisbane City Council, in partnership with 4KQ tours depart from the following locations at 6.45pm.
Northern suburbs – Ann Street, Anzac Square in the city
Eastern suburbs – Carindale Shopping Centre
Southern suburbs – Garden City Shopping Centre
Western suburbs – Indooroopilly Shopping Centre
Northern suburbs – Chermside Shopping Centre
Kangaroo Bus Lines runs North Brisbane Christmas Lights tours and include a light supper:
Caboolture Railway Station – 5.30pm
Morayfield Shopping Centre – 5.40pm
KBL Depot at Burpengary – 5.55pm
Bindawalla at Burpengary – 6.00pm
Bay Ave, Deception Bay Shops – 6.10pm
North Lakes Dr, North Lakes – 6.25pm
Redcliffe Uniting Church – 7.00pm
Craft your own Brisbane Christmas Lights Tour!
Don't want to commit to kids on a bus after bed time?  We totally get it.  Craft your own Brisbane Christmas lights tour by downloading our pre-planned route maps and getting the kids in their PJs and ready to be amazed!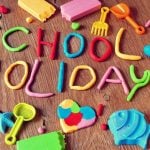 Find all the BEST school holiday activities this summer in Brisbane RIGHT HERE.
Here's your Christmas Lights List for Caboolture, Redcliffe & Bribie
 Here's your Christmas Lights List for Brisbane North and Inner Moreton Bay
Below – 4 Huron Street – Runner Up Best Lights  4KQ 2018, Grandma's Garden Christmas Lights
This display is all about magical pathways through snowy arches and past Santa on his yearly delivery!  There are plenty of themed sections that include inflatables as well as fairy style gardens and Santa at work.  There's a full sized Santa in his sleigh, so do take your camera for a Christmas photo opportunity. There is easy street parking on Huron street and nearby streets, but please do park considerately.  This is an absolute must do on your 2018 Christmas lights tour of Brisbane.
Below – Church at 116 Board Street Deagon – 7 News Church & Community Group Award 2018

This is the go-to north side Christmas lights display and mini-festival.  This church goes all out with its nativity themed display. Situated on a massive grounds on a main road, there's plenty of parking on site and on Board Street.  From mid-December, the church also opens its doors and entertains Christmas lights lovers with carolling, a dining hall and various craft and bake stalls.  This is their "event of the year" and the whole community jumps on board.  If your self drive Christmas lights tour is before mid-December, you'll be able to view the lights but you'll need to come back for the snacks!
 Here's your Christmas Lights List for Brisbane South
Here's your Christmas Lights List for Brisbane East and Redlands
 
Here's your Christmas Lights List for Brisbane Western Suburbs
Below – Hake Place, Sinnamon Park – Best Neighbourhood 2018
Hawk Place Heralders
18 Hawk Place, Sinnamon Park
29 Hawk Place, Sinnamon Park
30 Hawk Place, Sinnamon Park
31 Hawk Place, Sinnamon Park
34 Hawk Place, Sinnamon Park
This is the ideal location for little people!  An easy stroll around a neighbourhood fully dressed for optimum delight!  From sparkly Christmas trees to cool animated light displays, inflatables and reindeer, it's a perfect spot to take a baby or toddler to view the lights.  Note that it is a traffic controlled street so avoid taking the car into the street itself.  There are too many excited little ones running about, and too many mini-roundabouts to navigate!
Below – Everard Street – Runner Up Best Neighbourhood Christmas Lights 2018
Westlake Wonderland
14
Everard
Street, Westlake
17
Everard
Street, Westlake
20
Everard
Street, Westlake
21
Everard
Street, Westlake
36 Raeside Street. Westlake
2 Gillen Close Westlake
Check out Everard Street – A whole neighbourhood of amazing light displays for kids to wander and wonder!  This neighbourhood goes all out to make a magical Christmas landscape for little visitors including almost a dozen houses sporting Santa on their roof and grazing reindeer in their yards.  This is a great option for younger Christmas light enthusiasts as the walk is suitable for little legs and can be a single destination to view before an early bed time. Please be considerate when parking.  There is a sizeable traffic island on this street but please be mindful of cars hoping to turn around here.
Here's your Christmas Lights List for Ipswich
Below – Church Road – 4KQ Best West Runner-up 2016, Winner Best Christmas Lights Western Suburbs 4KQ 2015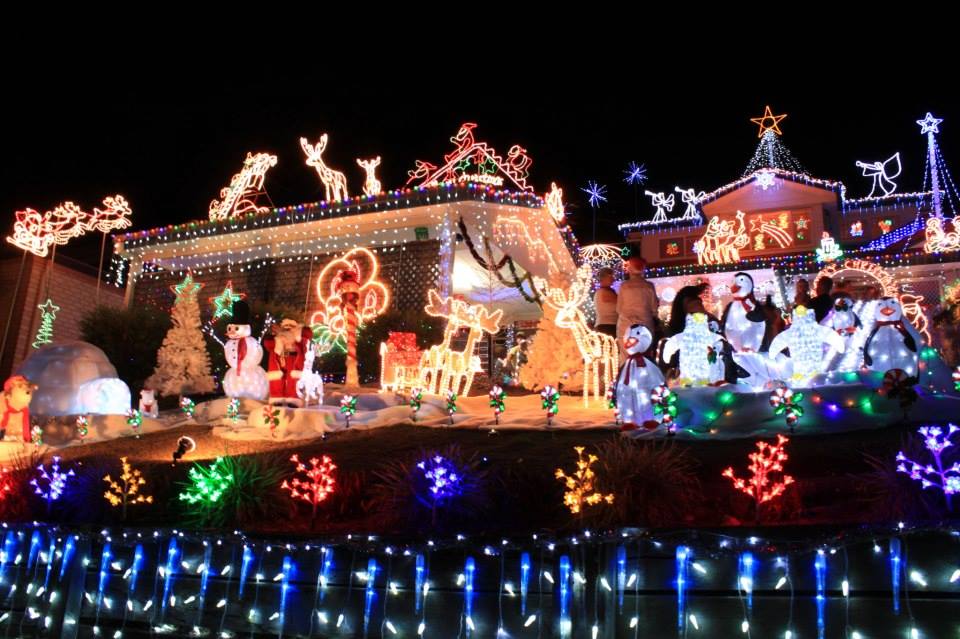 Welcome to the North Pole… in Redbank Plains!  This is an "up and coming" 4KQ champion including giant inflatable Santas and a mini North Pole set to a bushy backdrop.  A starry canopy and miniature display makes it an especially cute visit for little ones.
Here's your Christmas Lights List for Logan
Best Christmas Lights Brisbane 2018 – 4KQ winners
We love 4KQ (I bet you're hearing "4KQ's my station" in your head right now!) and we adore their annual Christmas Lights competition. It's such a wonderful community event and we want to help you love every minute!  Make sure you bookmark this page to see the newest displays of Christmas lights and get the scoop on the 4KQ Christmas Lights Competition winners for 2018.  We'll be updating our Christmas lights maps as the winners are announced so you won't miss out on award winning Christmas lights in Brisbane.
NOTE: This list and the accompanying maps are updated regularly, usually on a Friday so print the information you need on the day you set off to ensure you have the most up to date list. We are receiving emails, Facebook messages and phone calls DAILY and updating all the time. These will be updated with the winners of the 4KQ Christmas Lights Competition 2018 as soon as they are announced.  Please check back just before you set off to see the lights to get the most comprehensive and up to date list of Christmas Lights Brisbane 2018.
Welcome to the HQ for the best Christmas lights Brisbane! Families Magazine has been the go to place for Christmas lights in Brisbane for years and in 2018, we've got all the tips, tricks and tools for having the ultimate self-drive lights tour.  Jump in the car and create a brilliant new tradition, perfect for babies right through to teens (so they view it through their phones…whatevs…)
Xmas lights are a true example of the spirit of Christmas.  These home owners and not for profits make the season magical for complete strangers.  Christmas lights are the perfect way to teach your child about the spirit of kindness and love for fellow human beings – while blowing their little minds with the twinkling and colours!  Why wouldn't you tour Christmas lights in Brisbane?
Viewing Christmas lights Brisbane
To make it easy for Brisbane families to get out and see the lights together, we've created Brisbane's best Christmas Lights Maps and route planners.  We get it, when your toddler needs to be in bed by seven and the sun goes down at 6.30, there's no time to waste.  We make it simple to see the very best in festive illumination across South East Queensland.  Simply select the best map for your area, download and your route is planned out for you, for maximum sparkle!  With custom maps for North Brisbane, South Brisbane, West Brisbane, Redlands, Bayside, The Ipswich Corridor and Moreton Bay Region, it's the simplest way to make this annual tradition your own.  We've also created the complete guide to viewing Christmas Lights Brisbane.  We've put together all the info you need to know to make your Christmas Lights Tradition a big success!
4KQ Christmas Lights Competition
4KQ's my station!  Actually, at Christmas time 4KQ is everyone's station!  The grand old dame of Brisbane media throws one amazing Christmas lights party and we're here to extend you the ultimate invitation.  Every year we work the 4KQ Christmas Lights winners into our custom maps so you can see all the award winning Christmas lights Brisbane has to offer!
Brisbane City Christmas Light Show, Tree, Events and City Decorations
Get the kids in the car and head into Brisbane City for dazzling Christmas lights, window displays, festivals and parades.  If you love your Christmas to sparkle, there's plenty to see and do in the middle of the city and at South Bank.  Christmas in Brisbane is a wonderful festive experience that every kid should experience – and we're here to make it simple to get all the biggest and best ideas!  The lighting of the King George Square Christmas tree, the city light displays, shop windows and Christmas decorations are a wonderful way to see plenty of Christmas cheer in one compact location.  Central Brisbane Christmas activities happen throughout late November and December and are perfect for littler kids who might tire too early on a long drive.  Keep in mind that this is the crazy busy time of year in the city, so prepare your little one for crowds and queues!
Christmas Fireworks
Fireworks light up the sky all December in Brisbane.  We're so lucky to live in a city with so many wonderful festivals, Christmas Carol Events and Kids Christmas Activities.  Every Brisbane kid loves fireworks! We've got you covered with every event, every activity and every opportunity to sing your guts out in a public park this season!
Making your Christmas lights memories extra special for your family!
Glowsticks
Yes, there's nothing so delightful as a glow stick, glow sword, glow wand or other light up treat and Christmas lights tours are a perfect time to crack them out.  But it's not just about fun!  Brisbane Christmas lights displays are pretty full on.  Depending on the display, there may be dozens or even hundreds of people there.  Christmas light set ups look best against a very dark background so there will likely be no atmospheric light.  Equipping your child with a unique glowstick (ideally attached to their body in some way) ensures you can spot your little one in a big, dark crowd.
Food and water
It would take weeks to see all the Christmas lights in Brisbane.   Even with our exclusive Christmas maps, carefully planned for getting you around fast, your evening could be a long one.  All that gasping at the sparkles is thirsty work, make sure you take adequate healthy snacks and plenty of water for the trip!
Spending money
Christmas light displays cost a lot of money for businesses, churches and other not for profits.  You will fund raising stalls along the way.  They've invested a lot into helping your Brisbane family enjoy a wonderful Christmas tradition, so if ever there was an excuse to buy Christmassy baked goods, coffee, sausage sizzles and small toys, this is it.  Most won't have EFTPOS – so a little pocket change will come in handy.
Cameras and Photo ops
Christmas lights don't tend to photograph very well, especially on your phone.  Take along a proper camera if you have one because you'll likely find some Santa photo opportunities along the way.  If you're starting a family Christmas light tradition, you may even want to take your Elf on the Shelf or a special toy along to be part of your photographs!
Timing
Peak time at Brisbane Christmas light displays tends to be from sundown until about 8.30pm.  Most Christmas lights will be switched off around big kid bed time so you'll need to join the crowds – there's not much 'out of hours" service!
Traffic/parking
Big Christmas light displays attract a lot of onlookers.  You may be shocked by the queue to get into streets with famous displays (former winners of the 4KQ Christmas lights competitions are the worst candidates for traffic dramas).  You may wish to choose an area with a lot of Christmas light displays close together and do the journey on foot.  If you are driving, remember that there will be kids EVERYWHERE so drive carefully and keep a look out for excited little people who may not be thinking straight!
Pets are NOT welcome at Christmas light displays!
Most Christmas lights displays will not allow pets and generally dogs tied up outside are a nuisance.  It's best to leave your fur family at home for this one!  Most of the larger Christmas lights displays will have a "no dogs" sign out front.
Crowds and sensory issues
Brisbane can't get enough of Christmas lights.  If your child is easily overwhelmed by crowds, opt for "drive by" viewings of the bigger Christmas light displays and journey in to the quieter ones.  The 4KQ judges require lights to be left on until 11pm on judging days (early December) so you may be able to take older kids with sensory issues to tour Brisbane Christmas lights after hours.  The lights, inflatables, noisy displays and other decorations themselves can be a sensory onslaught so test the waters with smaller displays first.
Change of clothes
Some Christmas light displays get quite interactive.  Some kind householders offer craft activities, fake snow, drinks and sweets.  It doesn't hurt to have a change of clothes in the car in case of incident!
Showing gratitude
It costs tens of thousands and in some cases hundreds of thousands of dollars to put on an award winning Christmas lights display in Brisbane.  Let's not even talk about the hours up ladders hanging lights! These amazing people do it to see the delight and wonder on your child's face.  Explain to your kids what a big job decorating can be.  Help them appreciate the work put in, and make sure they say thank-you if they meet the owners.
Of course, these home owners and organisations also struggle with the damage to their grass and wear and tear caused by lots of foot traffic.  Don't make it worse by littering.  Be considerate and show your gratitude!
Christmas lights with toddlers and babies
There are a lot of Christmas lights in Brisbane, you're not going to see them all before 7pm bed time!  If you're heading out with a pre-school aged child, consider doing more than one Christmas lights tour this season.   Plan your tour to visit two or three Christmas light displays at a time.  This will ensure your toddler is home in bed around bed time and isn't overwhelmed with all the fun.  These short tours can take as little as half an hour but feel like an amazing night out for a little person.
Extended family
Remember that Christmas lights are a wonderful activity for older people too.  Christmas light tours are the perfect time to invite older neighbours or family to enjoy some Christmas spirit with you and the kids.  Alternatively, it's a great activity for grandma and grandpa, while you're at the work Christmas do!
Are you a budding Christmas Luminary?
Planning to get your Christmas lights on this year?  We'd love to hear about your display so we can list it in our Christmas lights guide and on your local map and tour guide.  We're also soooo excited to help you kick off your journey!  Consequently, we've got tons of information on Christmas lighting safety, services and even the best places in Brisbane to buy outdoor lighting this Christmas.  There's nobody we love more than a Brisbane local helping create beautiful family traditions for all of us.
We Love Christmas Lights!
Merry Christmas from Families Magazine, Brisbane.  It's our favourite time of year because  Christmas Lights Brisbane tours are our absolutely favourite family tradition.  Our team of content creators and magazine staff all visit Brisbane Christmas lights with their kids.  We wish you a merry Christmas and happy light gazing!
68 responses to "Christmas Lights Brisbane 2018 – Easy MAP in BEST route order | Tour with the kids!"