Looking for the BEST Sunshine Coast Playgrounds? We're thrilled with this overview from our friend Bryony from Coasting Australia who is a local and knows the Sunshine Coast playgrounds better than anyone!. Read on to find out more!
According to Nature Play Qld – outdoor play and playing in natural environments have a wealth of benefits for kids – including building resilience and problem solving skills, and improving social skills and even the immune system!
The Sunshine Coast climate was definitely designed with outdoor play in mind – here are some great spots around the region where you can find Sunshine Coast playgrounds located in stunning natural settings, where you can make the most of nature play at its most beautiful!
Looking for more outdoor play on the Sunshine Coast? Check out our guide to the best water parks!
Aura Island Park, Nirimba
Address: Frederick Street, Nirimba in the new Stockland Aura estate on the Sunshine Coast
Stockland has just opened a brand new island-themed park and playground – complete with a beach volley-ball court – in one of its newest estates! The Island Park, Nirimba is great for kids like my two girls who love to scramble and climb with plenty of nets, soft play flooring, and sand to cushion any falls! Check out our full review of Aura Island Park.
Muller Park – Bli Bli
Address: Muller Park Rd, Bli Bli
Directly on the Maroochy River this has been a popular fishing and picnic area for years. The council have recently upgraded the play equipment and there is now an aboriginal theme to the playground – including a Rainbow Serpent inspired climbing frame, celebrating the original inhabitants of the area (the Kabi Kabi people) and slide. There is a skate park, and along path along the water and through the trees that is perfect for bikes and scooters. We paddled off the boat ramp and spotted large fish and pelicans too.
Pirate Park – Noosa River
Address: 139/141 Gympie Terrace, Noosaville
Another spot right on the water – the Pirate Park takes in the stunning surrounds of the Noosa River with a great playground and big open green spaces. It's definitely a treasure when it comes to Sunshine Coast playgrounds! Find other awesome things to do with kids in Noosa here.
RELATED: If you are looking to bring your pet to the Sunshine Coast, check out these pet friendly accommodation options on the Sunshine Coast.
Wes Mitchell Park – Tin Can Bay
Address: Esplanade, Tin Can Bay
This must be one of the most beautiful playparks in Australia! The water at the adjoining beach to the playground is crystal clear – it is also sheltered and shallow so perfect for kids to enjoy. The playground itself is massive with lots of fun equipment, and there is a great cycle path all around Tin Can Bay which leads through the park – you can also take a stroll and discover the local birdlife on the Foreshore Bird Walk.
Lake Alford – Gympie
Address: 215 Bruce Hwy, Monkland
On the banks of the beautiful Lake Alford you will find 2 great play spots – a smaller one suited to younger children then a massive adventure playground for all ages. As you play you can spot ducks, geese and lots of other birdlife enjoying the water and you can take a walk around the lake and discover other wildlife like turtles and eels. Lots of beautiful picnic spots here too.
Happy Valley – Caloundra Beach
Address: Esplanade Bulcock Beach, Caloundra QLD 4551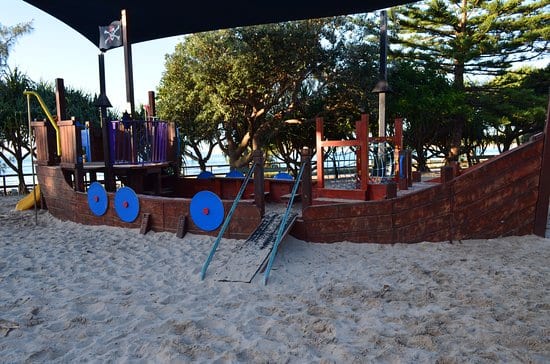 There is a great playpark on the waterfront with views over the ocean – we enjoyed a play (there is also a handy coffee van here for mum and dad!) then headed to the beach to search the rockpools for ocean treasure. During a late afternoon paddle in the surf we also spotted dolphins coming into the bay for a play! One of our favourite Sunshine Coast playgrounds.
Whipbird Walk – Botanic Gardens
Address: 51 Palm Creek Road, Tanawha, QLD
The ultimate in outdoor adventure – this playground was designed with nature play in mind. All the 'equipment' is built from trees and natural things – from tree stump stepping stones to a cubby house built from branches. The Whipbird walk next to the playground leads you through wildlife sculptures and a bushwalk – as well as a sensory section where dark glasses are provided so you can touch, feel, listen and smell your way through the walk. There are a number of lovely walks throughout the gardens including:
Upland Bushwalk: 2km along natural bush tracks with creek crossings and some steep slopes.
Lagoon walk: 900m rough bush track, some steps, slippery when wet.
Creek walk: 1300m rough bush track, slippery when wet.
Sculpture Garden Walk: 900m stroll, mostly wheelchair/stroller accessible, well developed tracks.
Fern Glade Walk: 900m concrete path, some steep inclines.
Mossy Log Walk: 110m short 10 minute stroll, softfall track surface, flat, easy walk.
Whipbird Walk: 700m natural rough track, easy walking, 30 minutes.
Ephemeral Wetlands Walk: 400m formed track with some natural, rough sections.
Chambers Island – Maroochydore
Address: Bradman Avenue, Maroochydore QLD
One of our favourite places on the Sunshine Coast – not only is there a great pirate themed playground right on the beach there is also a mangrove forest that provides a wonderful natural and safe jungle gym for the kids. We also walked the whole way around the island at low tide and both our young children managed the distance. There are lots of beach spots for play or fishing too – and the island is accessed by a long footbridge which adds to the excitement and adventure of the day.
Brightwater Community Lake Park
Address: Manatunga Pde and Brightwater Blvd, Mountain Creek
Climb to the top of the giant spider web and look out across the beautiful lake – there is play equipment for all ages as well as green spaces around the park and a lovely lakeside walk.
Pedal Park at Aura
Address: Steiner Crescent, Bells Creek Q 4551. Follow the signs along the Bells Creek Arterial into Aura.
A great park with a track for bikes and scooters as well as a fantastic playground. Families will enjoy shooting hoops on the new basketball and netball half-court too! But the most popular activity at this park is riding on the bike tracks. For the younger children there is an easy track designed especially for beginner riders and for the older children there is a track with bumps, humps and flat tops on the second more adventurous track. Why not jump on your bike this weekend and take a ride down to Aura's Pedal Park!
If you are after a waterpark for the kids to play in on the Sunshine Coast check out Bli Bli Waterpark here.
BEST Sunshine Coast Playgrounds
Have you experienced any great Sunshine Coast Playgrounds that aren't included on this list? We'd love to hear about them! (If you're willing to share, of course!)
If you are looking to move to the Sunshine Coast, we have a guide on that too!
"Best Sunshine Coast Playgrounds" is a guest post from Bryony of Coasting Australia. She writes on behalf of her family of four travelling around Australia on an epic road trip in a bus – together with their kelpie cross Bobby. They are looking for the best family and pet friendly locations around the country, and sharing their favourite accommodation, attractions, restaurants and stories. Follow their adventures online!