If you are looking for fun things to do on the Gold Coast with kids, then you are going to love this article. Because we live here, we have road tested top attractions on the Gold Coast and all the relevant kids activities and can hand on heart tell you that families LOVE them.
The weather on the Gold Coast is close to perfect all year round. So whether you are looking for Gold Coast toddler activities on the Gold Coast or things to do with teens on the Gold Coast, this article will list all the best ideas for your family holiday!
In this article we show you not just the top things to do on the Gold Coast, but also the hidden gems that only the locals know about. We even have listed free family activities Gold Coast style!
We've collated some of our favourite Gold Coast kids activities including parks and playgrounds into this local guide so you can start making your bucket list for Gold Coast family adventure to the beach.
This list of things to do in Gold Coast with kids will give you lots of information to help you make an informed decision about the best family attractions on the Gold Coast to visit.
We have broken our list into sections to help you find the best choices for your family. Just click on the links to navigate to the section you are interested – or scroll through them all… they are all good! 😉
70 family attractions on the Gold Coast
We update this list every school holiday to make sure all the kids activities Gold Coast style are present and accounted for – offers, deals, discounts and cheap places to go on the Gold Coast are bang up to date for your best holiday!
Best Gold Coast attractions for families with kids
Because we are families that live on and near the Gold Coast, this list of Gold Coast kids activities below is tried and tested. These family things to do on the Gold Coast will suit every budget. These are some of our favourite Gold Coast family activities and Gold Coast attractions for families. As well as that we also have the inside scoop on the best places to eat and stay with kids.
We have broken our article into categories to help you plan your holiday:
Cheap things to do with kids Gold Coast
We love, love, LOVE the find a bargain … so if you are looking for things to do on the Gold Coast on a budget, this article will help you too!! There is always a cheap offer for Gold Coast kids activities to keep the kids well entertained over the school holidays and on the weekend. We have checked and found the BEST family fun things to do with kids in the Gold Coast and written about them below.
Keep an eye out for the red 'discount' or 'cheap' to pay less for your Gold Coast activities for kids (and adults too!)
Beaches, creeks, swimming holes & water parks
The Gold Coast is synonymous with swimming! So here are our favourite places to take kids swimming on the Gold Coast.
1. Snorkelling at Tallebudgera Creek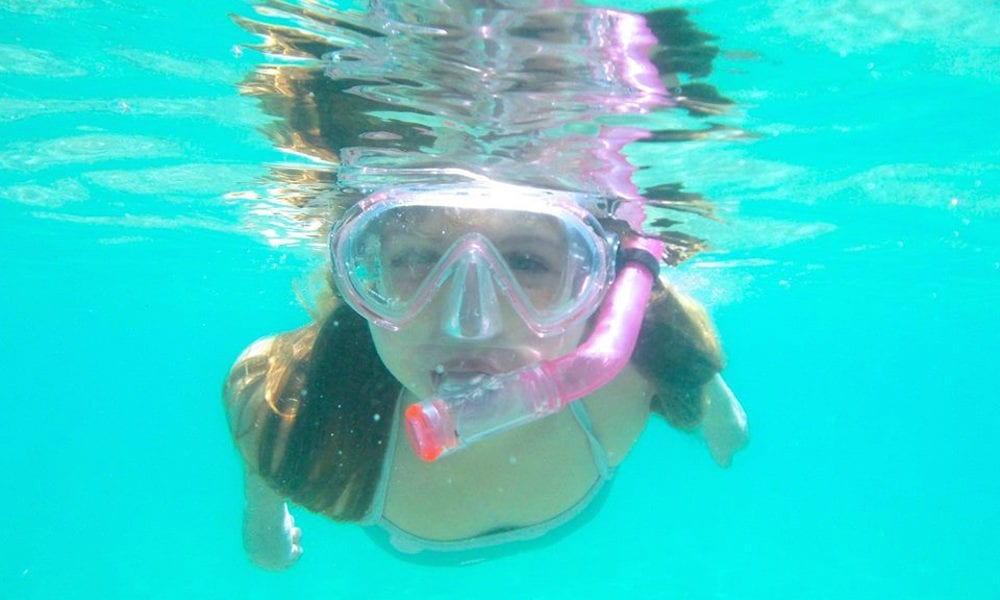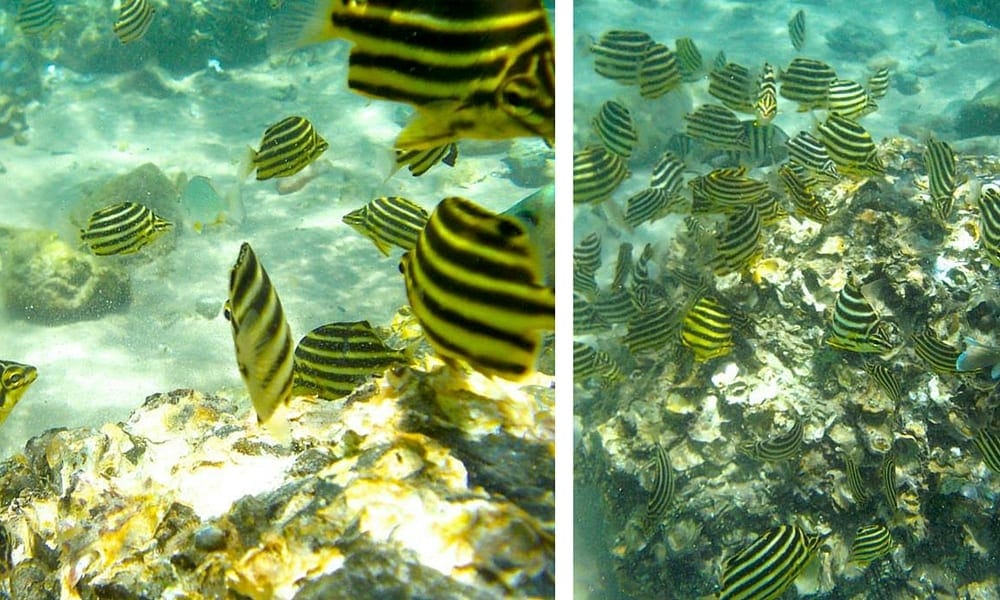 Turtles, dolphins, large schools of beautiful fish and even cranky crabs – all of this is on offer in the beautiful crystal clear waters of Tallebudgera creek. Both sides of the creek have beach entry, and it's not too wide, so at parts you can swim right across. Be warned – there are occasionally strong currents but if you stick to snorkelling at the top of the tide when the current is minimal, and the water is the clearest you are sure to make some beautiful memories.
We wrote much more about Tullebudgera Creek with kids here.
2. Kayaking and stand up paddle boarding at Currumbin Creek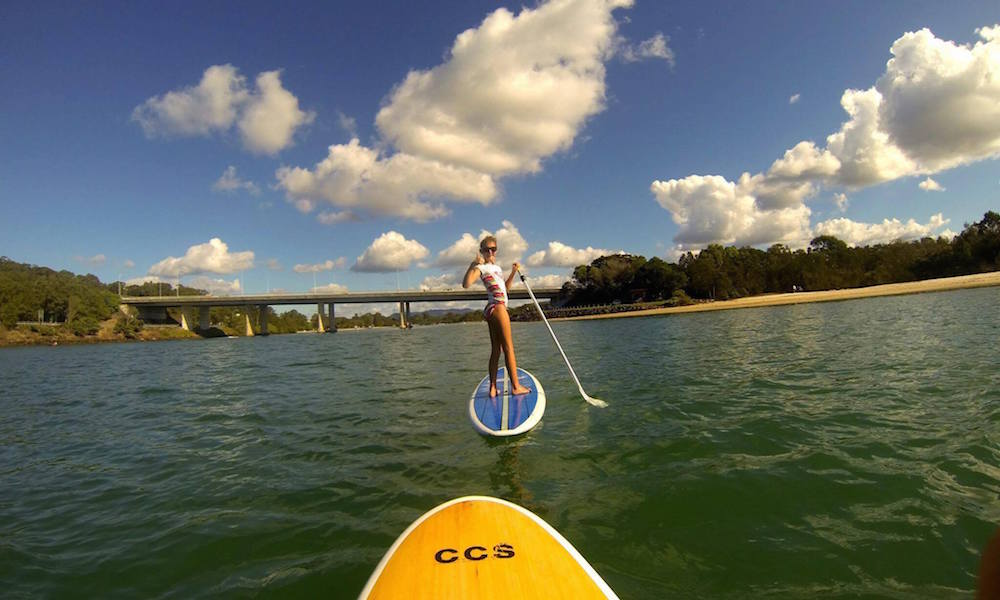 If you are looking for outdoor activities on the Gold Coast for kids, you'd be hard-pressed to find a better combination of water and fun than kayaking or stand up paddle boarding. Currumbin Creek is the perfect location on the Gold Coast for kids to learn the basics from a local expert before hiring all the gear you'll need to head out and explore the local waterways as a family.
We've also got a *discount voucher for SUP from $8 here.
3. Go to Burleigh Beach and Burleigh Heads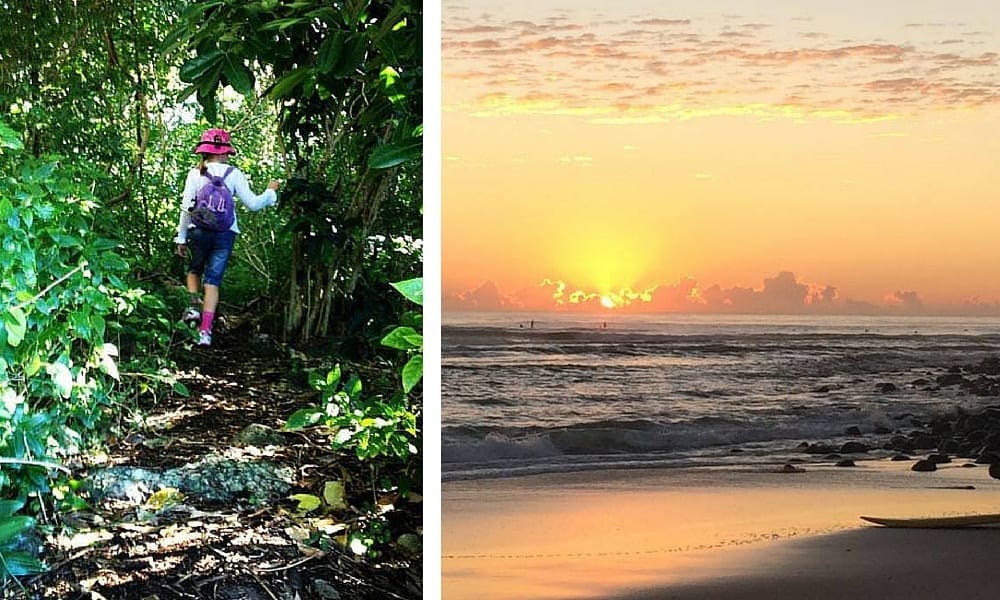 Known just as Burleigh to the locals, this is one of the most beautiful beaches along the Gold Coast. It is a wonderful place to visit with the kids. Your kids will be safe swimming in the protected waters of the beach, which isn't as rough as some of the other beaches around the Gold Coast.
BBQ areas are everywhere and with the option of oceanfront dining, you and the kids won't be going hungry. (They even made our list of top spots for fish and chips!) If you're lucky, you may even catch a local arts and crafts market going on along the foreshore. If you're looking for a great beach to visit, check out Burleigh Heads.
4. Currumbin Rock Pools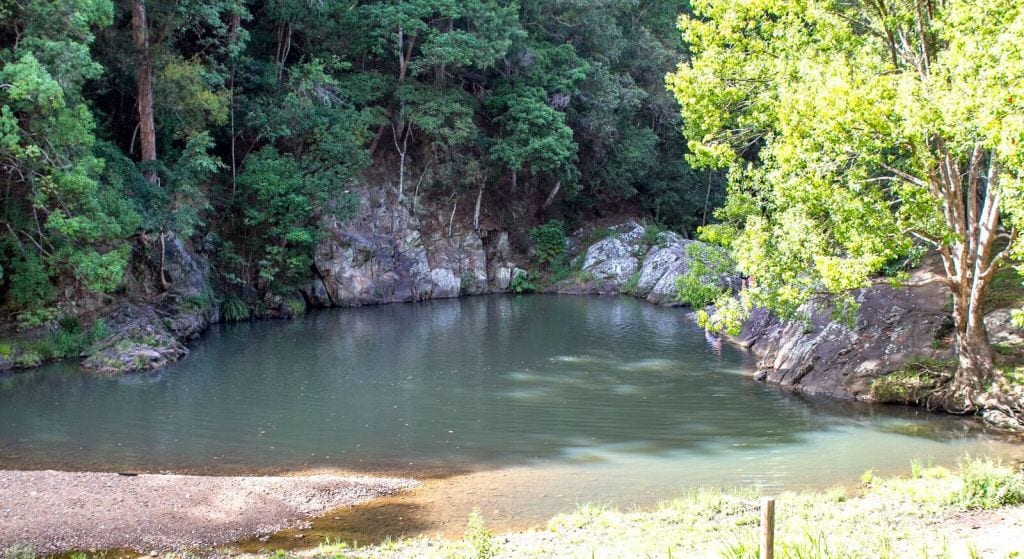 Address: Guineas Creek Road, Currumbin Valley
One of the Gold Coast's best-kept secrets for kids, this local swimming spot has an added bonus – it's also free! If you want to escape the heat, hustle and humidity of the bustling Gold Coast, pack a picnic and head for the hills where you can cool your heels at the Currumbin rock pools. The Currumbin rock pools are one of our favourite Gold Coast activities for families.
Read our review about our trip to the Currumbin rock pools here.
5. Gold Coast Aquatic Centre, Southport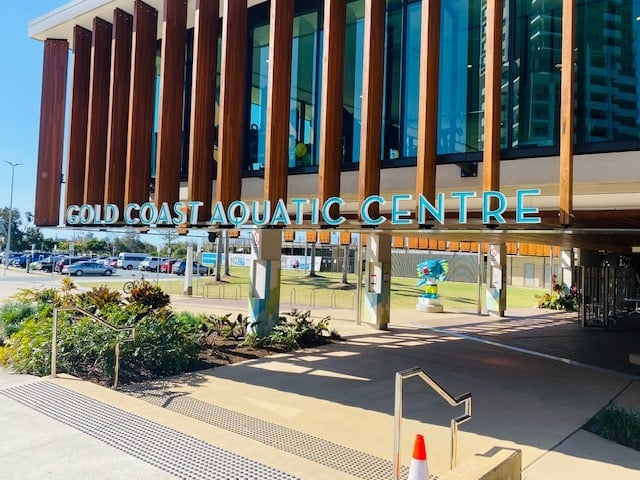 Address: Broadwater Parklands, Southport
Head to the Gold Coast Aquatic Centre and take advantage of their (heated to 27 degrees) public swimming pools. There is a great free-form splash pool with water play features that is perfect or little kids.
Find out more about the Gold Coast Aquatic Centre here.
6. Gold Coast Aqua Park
Address: Southport, Broadwater
GC Aqua Park, Southport invites adults and children to bounce, slide and have fun on over 300m of inflatables. The centre welcomes individuals and group bookings and is happy to cater to special occasions such as birthday parties, team-building experiences or corporate events. GC Aqua Park is nestled opposite Australia Fair Shopping Centre.
Grab your discount pass to the aqua park here.
7. Ian Dipple Lagoon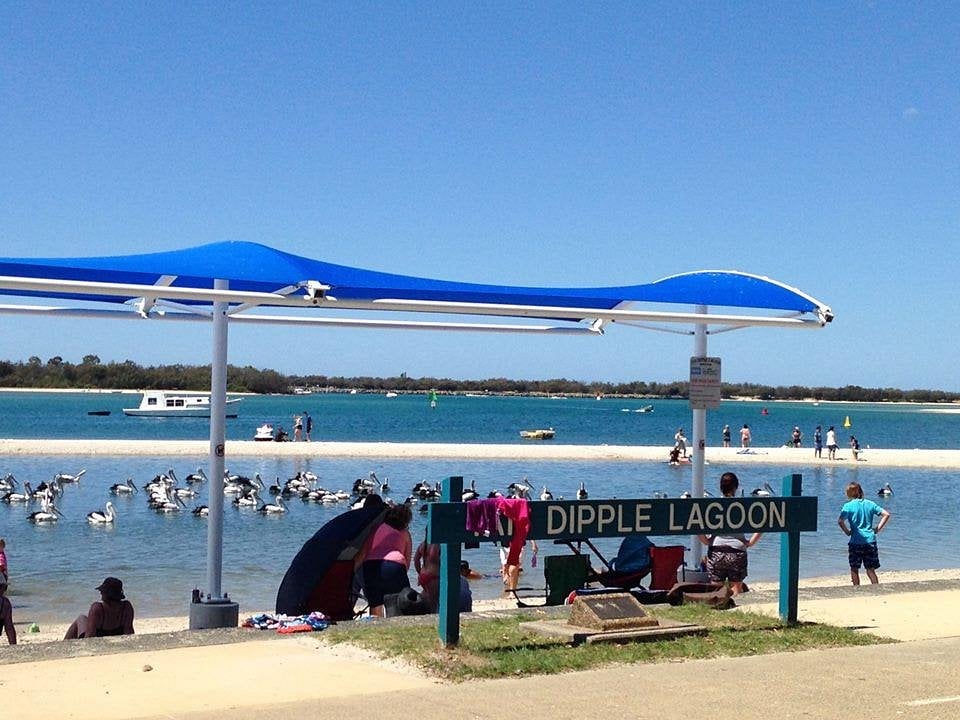 Address: Opp 376 Marine Parade, Labrador
Ian Dipple Lagoon is a tidal, safe swimming lagoon on the Broadwater right near Harley Park. The lagoon is even floodlit in the evenings! The sandy areas are perfect for building sandcastles and frolicking along the foreshore.
For those keen fishermen and women, the area also provides access to a boat ramp and fishing spots.
8. Surfing lessons on the Gold Coast for kids
What's the point of being on the Gold Coast if your kids don't have the skills necessary to hang ten and tackle the surf? There are an abundance of surf schools on the Gold Coast to help your kids learn to surf. The Currumbin Alley Surf School is one of many surf schools offering lessons on the Gold Coast for kids.
Another great surf school is found at Coolangatta Beach. They offer 2 hour group surfing lessons which are perfect for beginners or those looking to refresh their skills. Complete beginners can experience the rush of catching their first wave in a beautiful location which is renowned as a perfect spot to learn.
For beginners you will start on the beach where a professional surf instructor will take you through the techniques required to get you riding a wave. All the lessons are run by professional fully qualified Surfing Australia or International Surfing Association Surf Instructors who also hold first aid and lifeguard qualifications to ensure everyone is in safe hands.
*These surfing deals start at $49 – yay cheap!!
9. Surf Lifesaving QLD's Junior Activities Programs (Nippers)
If your Gold Coast stay is an extended one, then Nippers is a great way to give your kids a head start when it comes to water safety. The Junior Activities Program, better known as Nippers, is offered by every Surf Lifesaving Club on the Gold Coast.
Offering a beach-based program of fun and challenging activities for your kids, there's plenty of scope for you to get involved too. Nippers is the perfect activity for kids on the Gold Coast as it will assist your kids to develop the necessary skills and confidence to safely navigate some of the most treacherous surf in Australia. Click here to learn more about joining the Nippers.
Pssssst… we've found the BEST surf clubs with family friendly dinners for your little nippers!
Animal encounters Gold Coast
If your kids are anything like mine, the first thing they look for on holidays (after the food) is the opportunities to see animals. So here we have detailed the best animal experiences on the Gold Coast suitable for families.
10. Currumbin Wildlife Sanctuary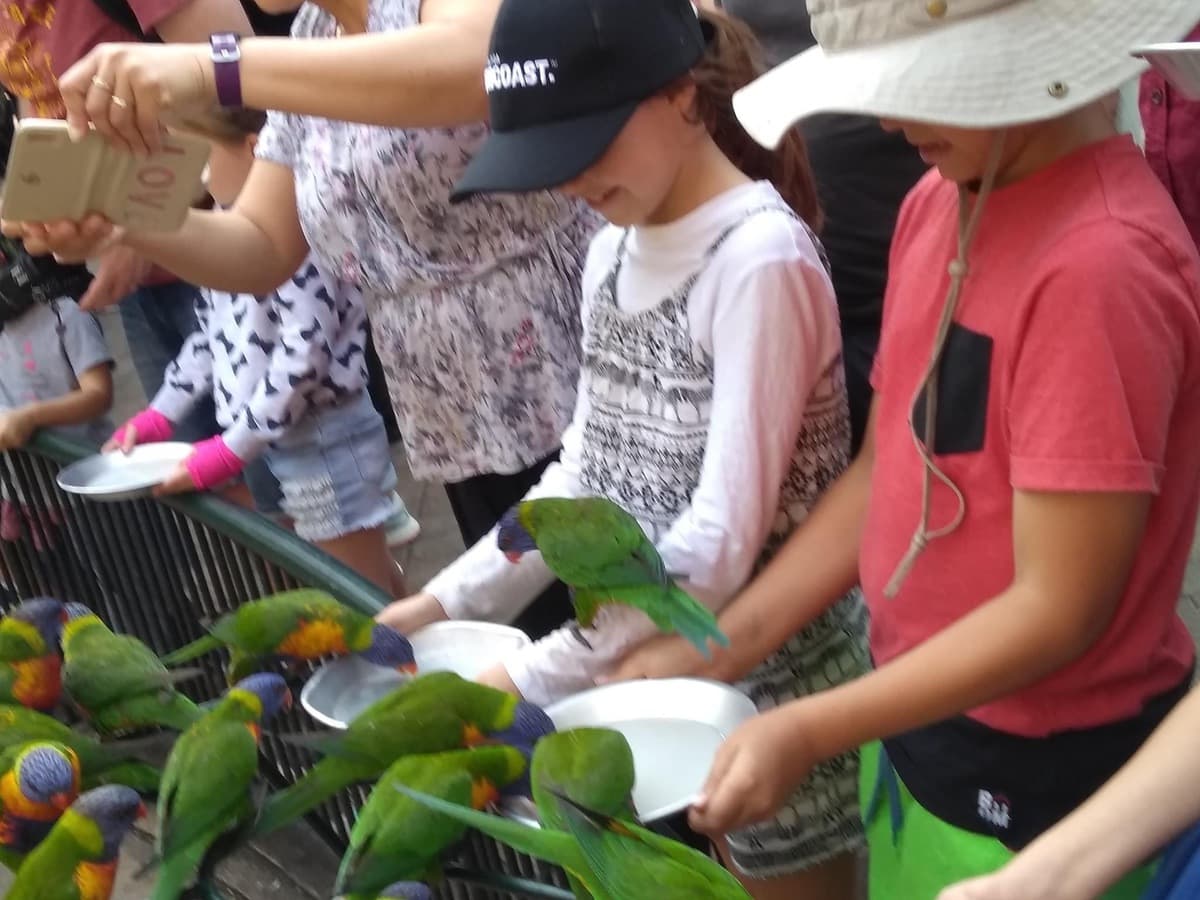 Address: 28 Tomewin St, Currumbin
Do the kids love wildlife? If you are visiting or living on the Gold Coast with kids, you really should take them down to Currumbin Wildlife Sanctuary and you'll be sure they'll have a great time. Read our "Toddler adventuring at Currumbin Wildlife Sanctuary" article here to see how it works with tiny tots! Gold Coast activities for toddlers don't get much better than the Currumbin Wildlife Sanctuary!
Currumbin houses a huge variety of Australian animals for kids to visit, including kangaroos, koalas, dingoes and Tasmanian devils. Some of the best highlights of the Wildlife Sanctuary including a free bird feeding show, sheep dog experience, Segway safari, photo opportunities and salt-water crocodile feeding. Enjoy a family fun day out by visiting the Currumbin Wildlife Sanctuary.
Check out our discount link here.
11. Pelican Feeding
Address: Ian Dimple Lagoon, 371 Marine Parade, Labrador
The Gold Coast's the best place for your kids to get up close and personal with of one of the biggest seabirds around: The Pelican. Ian Dimple Lagoon plays host to pelican feeding daily at 1:30pm. Be prepared to make some amazing memories with your kids.
Read more about Pelican feeding Gold Coast here.
12. Places to go horse riding on the Gold Coast
Who doesn't love a bit of a gallop or trot? Horse riding can be an awesome day out and many places cater for all ages and abilities, right here on the Gold Coast and in the hinterland. You can find our list of horse riding places on the Gold Coast right here.
*You can buy discounted horse riding on the Gold Coast here.
13. David Fleay Wildlife Park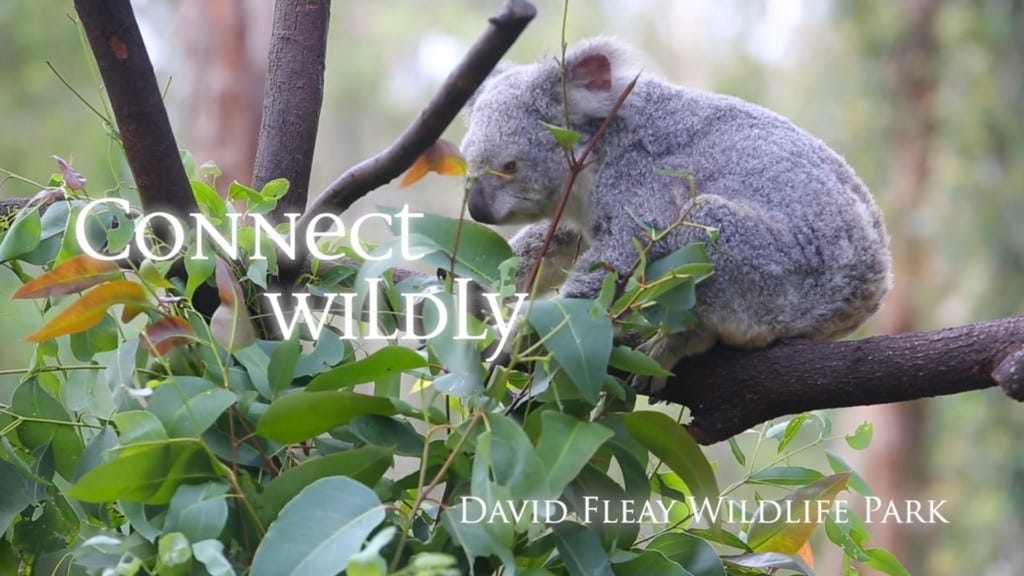 Address: West Burleigh Road, Burleigh Heads
The David Fleay Wildlife Park offers a relatively inexpensive way to get your kids interested in the care, conservation and welfare of the wildlife commonly found on the Gold Coast and further afield in Australia. As an education-focused heritage-listed park, it offers a quieter, more easily accessible alternative to some of the bigger parks in the area, especially if you're pushing a pram.
14. Ecopark Fishing World and Farmstay
Address: 2 Halls Road, Luscombe
If your kids want to try their hands at catch and release fishing, then a day trip to Ecopark will be a perfect outing for them. Ecopark also offers farm stay experiences and camp outs, as well as facilities suitable for conferences and birthday parties. Check their website here.
*Grab your discounted entry to Ecopark Fishing World and Farmstay here.
15. Gold Coast Butterflies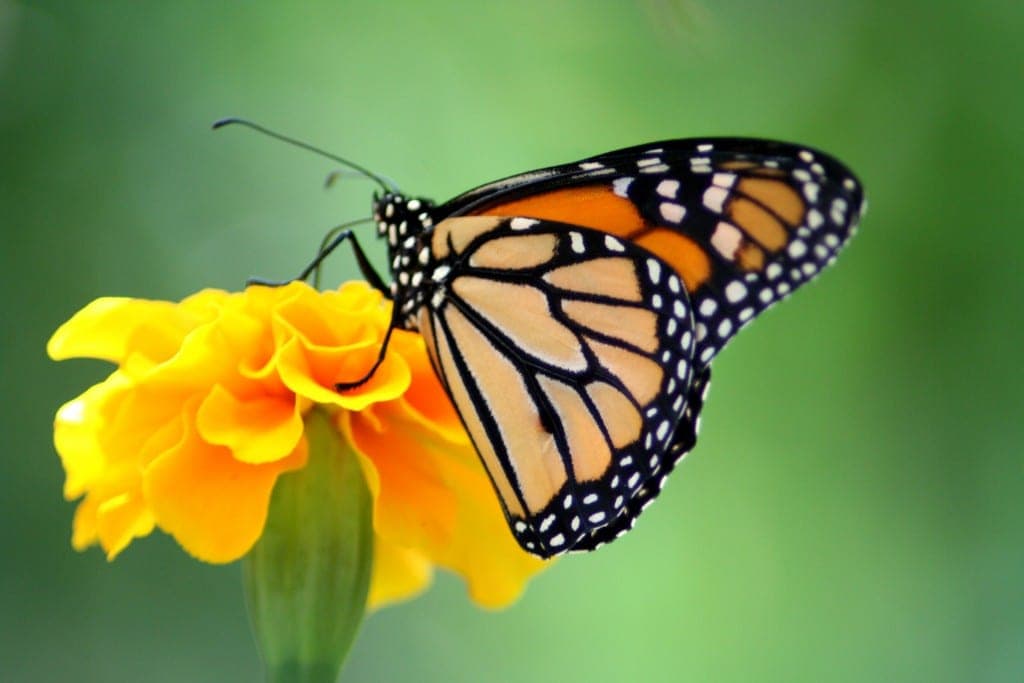 Address: Market St, Carrara
Located in the Carrara Markets, Gold Coast Butterflies enables city folk to experience close encounters with nature without the need of going into the wild. Their all-weather butterfly house boasts numerous species that live in a purpose-built tropical surrounding. Gold Coast Butterflies also help expand their guests' knowledge on how to save butterflies by planting their very own habitat.
Best BIG Gold Coast family attractions
16. Quack'r'Duck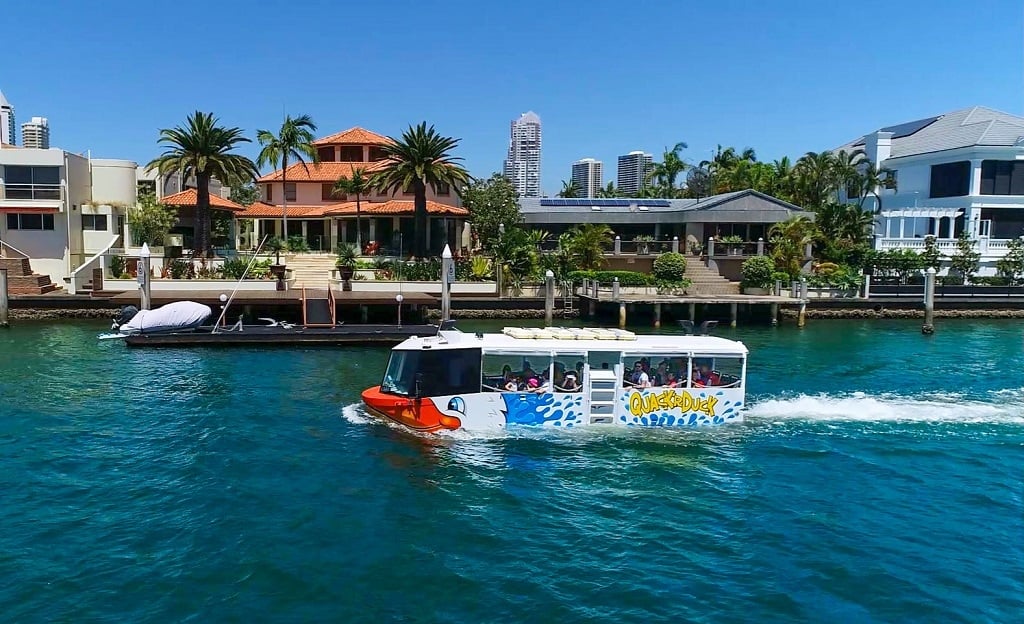 To provide the best in sightseeing on the Gold Coast, Quack'r'Duck have created a unique land and sea experience with their modern, environmentally friendly amphibious vehicle, the Quack'rDuck duck bus.
The special 1-hour sightseeing adventure takes you and your family on a stunning land and sea tour of Surfers Paradise like no other. During the tour, you'll venture through some of the roads surrounding the main attractions of Surfers Paradise. You'll then drive down a boat ramp, splashing into the water where your duck bus seamlessly becomes a duck boat. As you sail through the Gold Coast canals and the Broadwater, you'll experience some of the best sights that Surfers Paradise has to offer. This is the ultimate land and sea adventure, suitable for the whole family!
Do not miss out and book the tour, here today.
17. Dreamworld & Whitewater World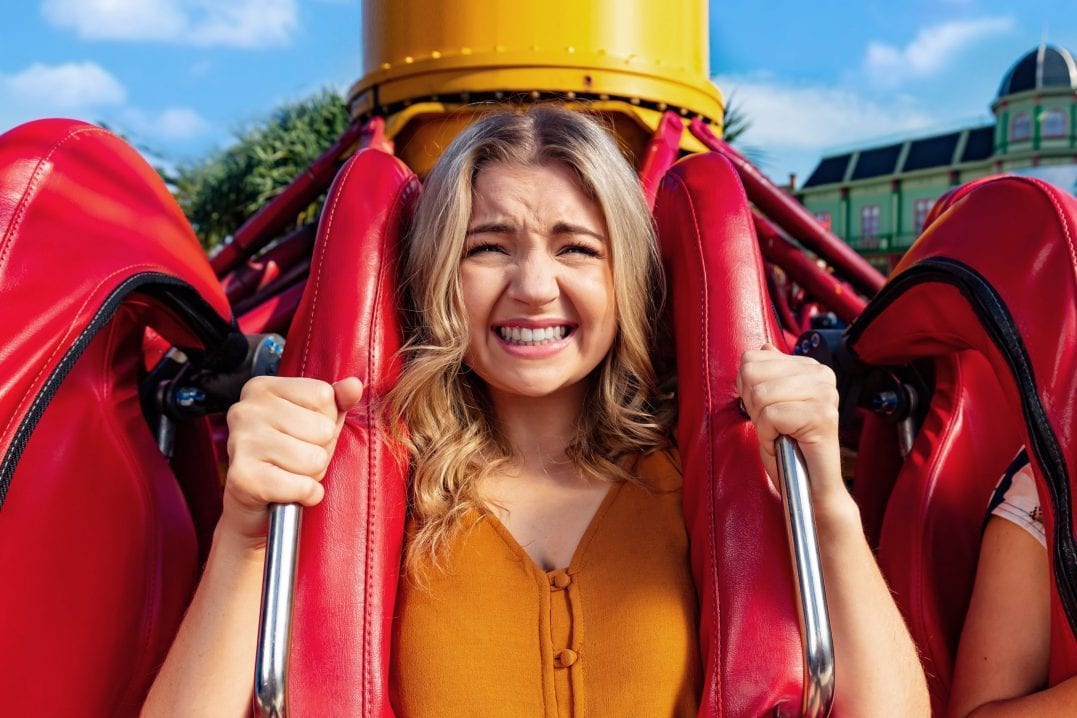 Address: Dreamworld Pkwy, Coomera
When you think of the Gold Coast, you think of theme parks. And one of the best theme parks on the Gold Coast has to be Dreamworld! Together with its water park, Whitewater World, Dreamworld is suitable for toddlers, primary aged kids, tweens, teens and adults! It really does have something for everything.
We love, love LOVE Dreamworld, so much that we wrote a whole article about what is there and how to get the cheapest Dreamworld entry tickets. If you are a local, get yourself the annual pass and if you are a visitor, you are going to need 2 or 3 days here to really enjoy everything they have to offer. Roller-coasters, rides, shows, water slides, Australian animals, tigers as well as food and shopping. Get amongst this by reading our articles linked above!
RELATED: If you are looking for accommodation near Dreamworld, we have reviewed the top 10 hotels nearby so you can make and informed choice!
18. Paradise Country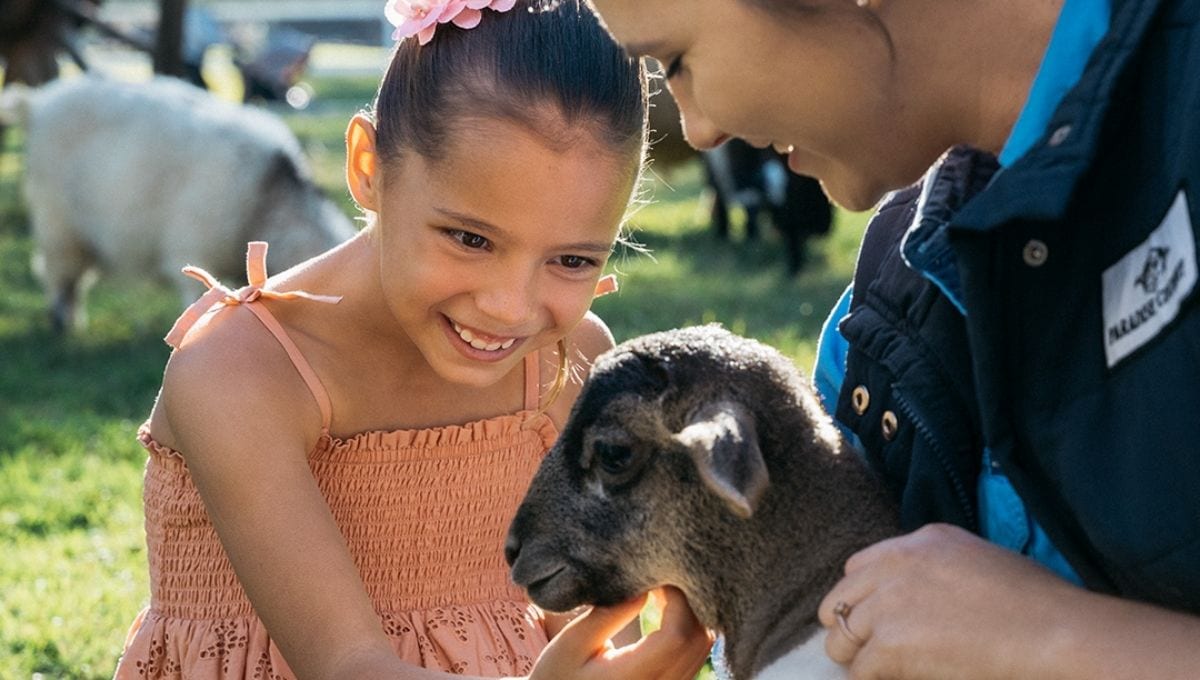 Paradise Country offers families a hands on, authentic Aussie farm experience only 40 minutes drive from Brisbane. You can choose to visit Paradise Country for the day, pop in for a fun family dinner or lunch experience or even stay overnight!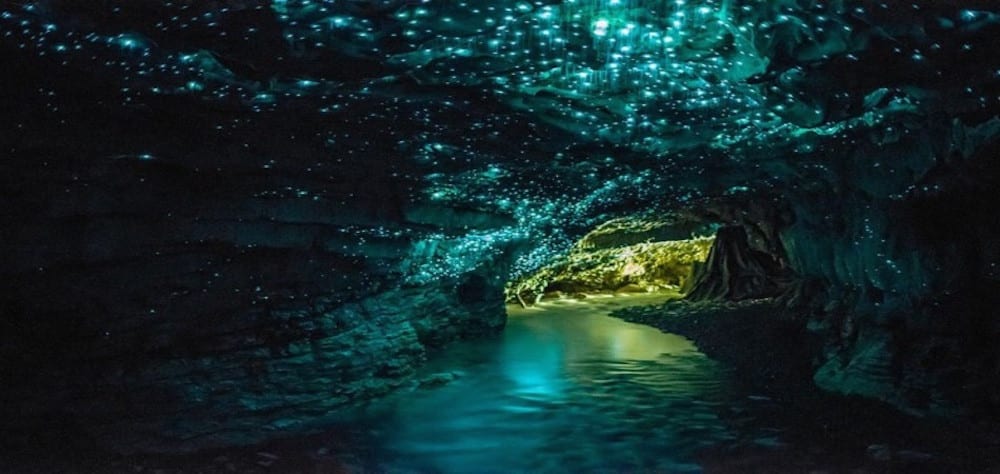 Address: Cedar Creek Estate, 104 – 144 Hartley Road, North Tamborine
The Gold Coast's stunning hinterland is well-placed to deliver some incredible natural surprises. The Mt Tamborine Glow Worm Caves are purpose-built, realistic caves where your kids can get up close to and learn about these fascinating local insects without the long hike through the bush at night-time.
Cleverly designed as two chambers connected by tunnels, the Mt Tamborine Glow Worm Caves are open from 10am to 4pm daily and provide easy access to one of this area's most unique and family-friendly attractions.  You can visit their website here.
*Check out the options for discounted glow worm tickets here.
20. Visit Cavill Avenue in the heart of Surfers Paradise
Address: Cavill Ave. Surfers Paradise
Located in the centre of the bustling shopping hub of Surfers Paradise, Cavill Avenue and the streets around it host a huge variety of family fun things for the kids to do if you're willing to spend a bit of money.
One such place is Ripley's Believe It or Not Odditorium. Filled with curiosities and oddities from around the world, kids will be amazed by everything they see. Just down the road from the Odditorium is the 7D cinema. Hosting a variety of short movies, the 7D cinema is unique in that it incorporates not just sight and sound, but also vibrating chairs and other special effects.
Infinity is another fantastic place to visit on Cavill Avenue (check the link below to see if we've got any current discounts). The 40-minute experience includes spectacular laser lights and rooms filled with fun. The kids will beg you to visit again!
If you are looking for family friendly Surfers Paradise activities take a look at our detailed article for 21 Things to do in Surfers Paradise with Kids. We wrote it to help families who are centrally located and want to stay near their hotel.
21. Surfers Paradise River Cruises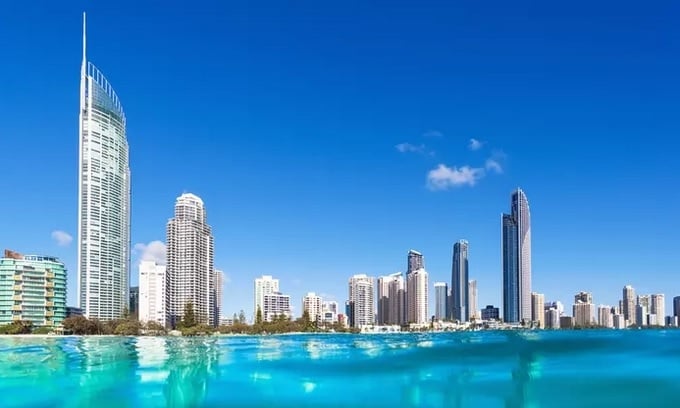 Surfers Paradise River Cruises offers an extensive range of experiences on the water to suit all types of seafarers. Morning, afternoon and lunch river cruises depart seven days a week, offering a leisurely experience along the Gold Coast waterways. The business can also organise private party and senior citizen cruises. Meal packages are available to suit any budget. The vessel is designed with comfort in mind, featuring a covered indoor seating area, sightseeing deck and step-free access.
*We found a cheap Surfers Paradise River Cruise deal for $35!!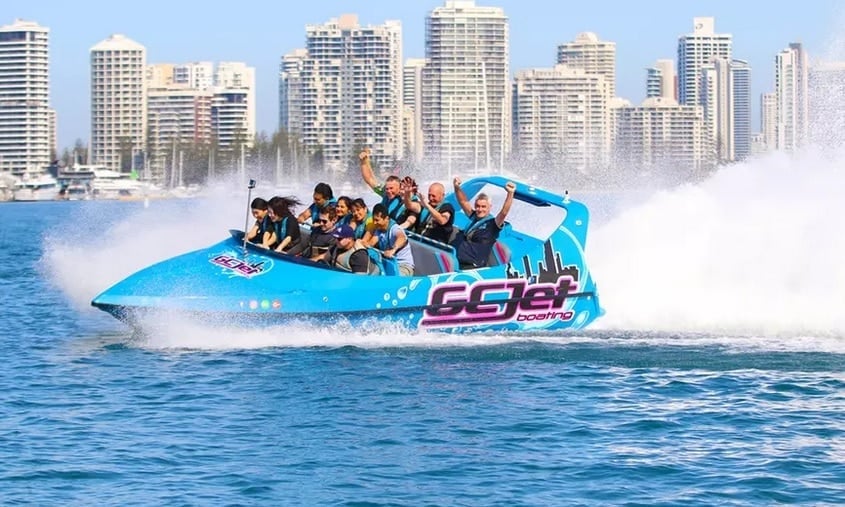 A white-knuckle ride on a jetboat through the Gold Coast's canals and out onto open water will provide your kids with an experience they won't forget in a hurry. Suitable for kids aged 4 and up, there are range of different tours and experiences to choose from, depending on your budget and how wet you want to get!
Check out the deal we found for you here!
23. Tropical Fruit World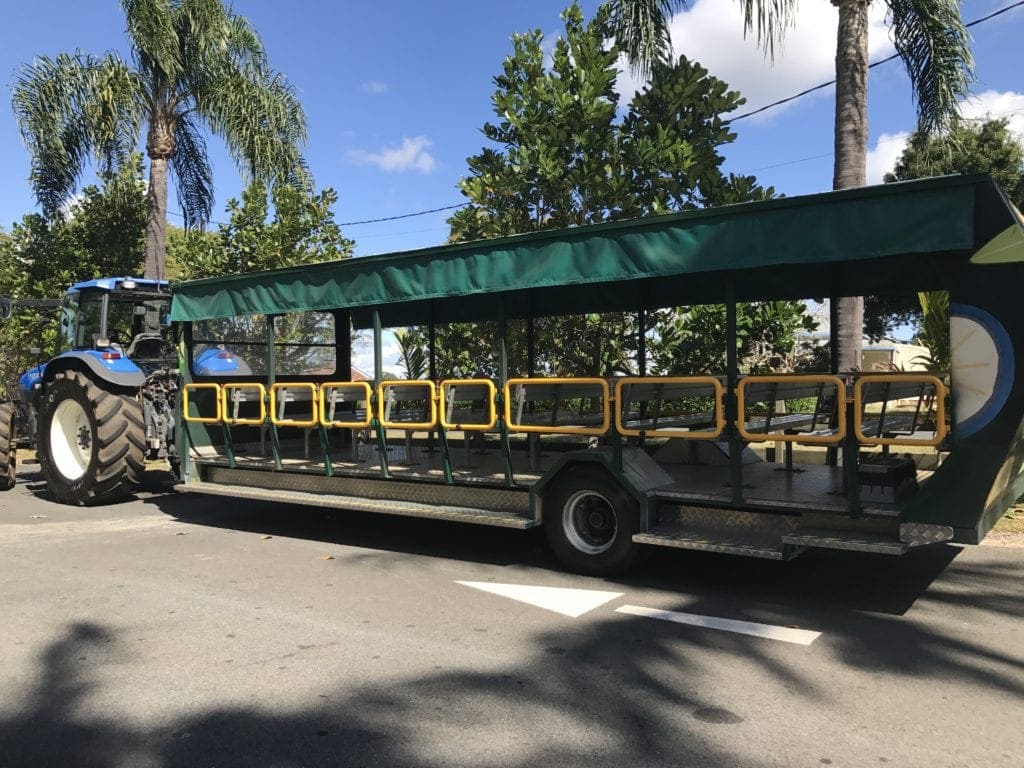 Address: 29 Duranbah Road, Duranbah NSW
A former research station, Tropical Fruit World is now a working tropical fruit farm with a difference. It's a fabulous place for kids to visit! Your kids can enjoy a tractor ride through the farm itself, stopping off along the way to taste macadamias and bananas. They'll also get to stroll down to the animal farm-yard with plenty of farm animals to feed and pat, before enjoying a short boat ride to the Island recreational area and its extensive playground and miniature railway. Though not strictly speaking on the Gold Coast, Tropical Fruit World is a just short trip across into New South Wales.
Read our comprehensive review of Tropical Fruit World here!
24. Aquaduck Safaris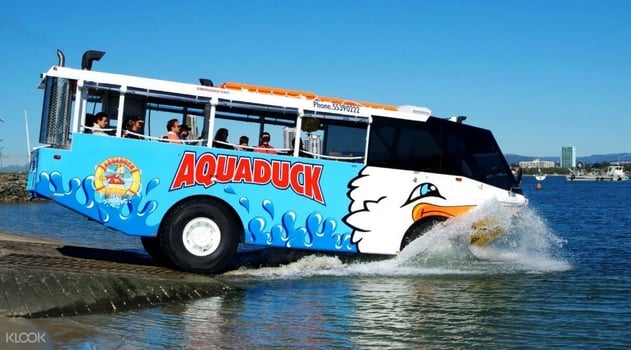 Address: 36 Cavill Avenue, Surfers Paradise
A tour bus that doubles as a boat? Your kids won't believe their eyes! We LOVED this when we went!! You can read all about our adventures on the Aquaduck here.
If you want an activity with an exciting twist, then an Aquaduck Safari could be exactly what you're looking for. Take your kids on an extraordinary tour of Surfers Paradise and out across the spectacular Broadwater, weave through the canals and take a cheeky sneak peek at the homes of the Gold Coast's rich and famous.
*We've got a discount for Aquaduck (cheaper than booking directly!) – click here
Aquaduck tours provide a unique and exhilarating experience on the Gold Coast for kids. Click here for their website.
25. Amazing hot air balloon ride Gold Coast
Incredible hot air balloon experience for your family for a special treat for the kids to see the view from 'upon high'. Take to the skies on a majestic hot air balloon journey over the Gold Coast and its lush hinterland!
I did this recently and wrote up about our hot air balloon ride experience here. I got a good deal through the link below.
Find about the discount offer for hot air ballooning here.
26. Jellurgal Aboriginal Cultural Centre
Address: 1711 Gold Coast Highway, Burleigh Heads
The Gold Coast's also home to the internationally acclaimed Jellurgal Aboriginal Cultural Centre. Offering a range of aboriginal cultural walking tours, your kids can experience a corroboree, smoking ceremony and ochre anointment. They'll get to know the history of the local aboriginal people and their unbreakable link to the coast.
Click here for more information about Jellurgal.
27. Thunderbird Park
Address: Tamborine Mountain Road, Queensland
Getting your kids outside and active is one of the great challenges of modern parenting. What better way than to take them on a treasure hunt for thunder eggs at Thunderbird Park? Thunder eggs are spherical rocks formed within volcanoes. They might look like nothing special from the outside but once cut can be breathtakingly beautiful. Your kids can spend hours fossicking for thunder eggs and then have them expertly cut to reveal the treasures glinting within.
28. Currumbin Tree Top Challenge
Address: 28 Tomewin Street, Currumbin
If you're looking for something extraordinary on the Gold Coast for kids, you should consider the Currumbin Tree Top Challenge. It's a high ropes adventure course located within Currumbin Sanctuary. The course includes a once-in-a-lifetime zip line experience near enclosures containing real-life crocodiles, Tasmanian devils and dingoes, making it a must-do activity on the Gold Coast for kids.
You'll get a discount on the treetop challenge here.
29. Mt Tamborine Treetop Challenge
Address: Cedar Creek Falls Road, North Tamborine
If you are not going to Currumbin Wildlife Sanctuary, but still fancy a treetop challenge, then consider the Mt Tamborine Treetop Challenge. Comprising 11 zip lines, suspension bridges and the canyon flyer zip line, the Treetop Challenge offers kids the perfect combination of adrenaline sport and beautiful bush setting.
Find out more about the Treetop Challenge here.
30. Rock climbing, Paramount Adventure Centre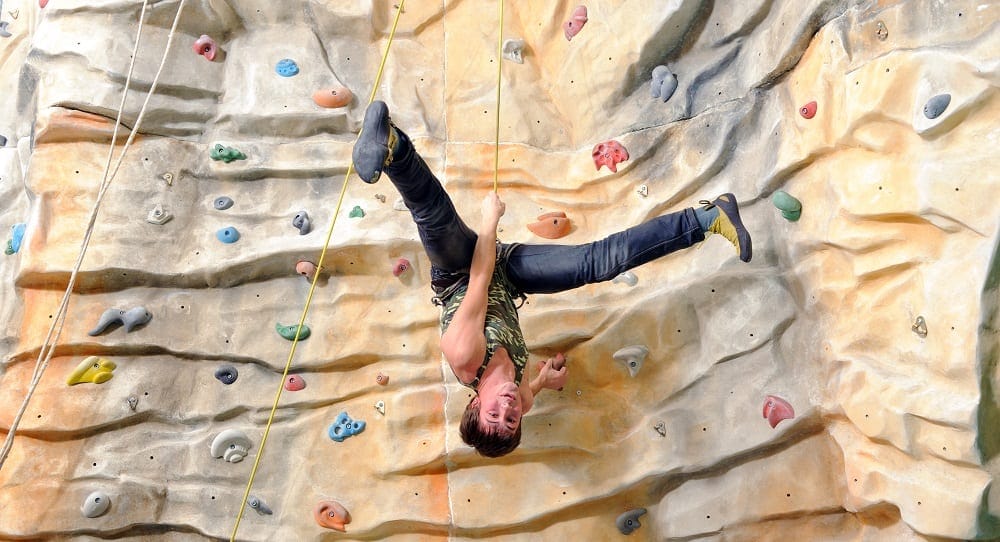 Address: 38 Hutchinson Street, West Burleigh
The Gold Coast's Paramount Adventure Centre offers kids five years and older a unique introduction to the sport of rock climbing either through casual visits or through a dedicated indoor and outdoor rock climbing program.
Click here to learn more about rock climbing here.
31. Slideways Go-karting at Nerang
Address: 10 Spencer Rd, Nerang
Get ready for an extreme Rush of Adrenalin with this sensational Outdoor Go Karting Package on the Gold Coast. You will love your 2 x 15 Minute Outdoor Karting sessions on Sodi GT 5 Karts!
Find out more about go-karting here.
32. A night out at Adrenaline Park
Address: 6 Palm Avenue (corner of Gold Coast Highway) Surfers Paradise
Best experienced at night with its incredible display of multi-coloured lights, Adrenaline Park houses some of the scariest, stomach-churning amusement park rides on the planet. Your kids can experience the aptly-names Slingshot, Vomatron, Fly Coaster and bungy trampolines without having to set foot outside Surfers Paradise. Maybe best to keep it in mind as an activity on the Gold Coast best reserved for kids with empty stomachs.
Click here for details of the fun time you will have at Adrenaline Park.
33. Outdoor fun at Binna Burra
Address: Binna Burra Road, Beechmont
The Binna Burra Lodge in Lamington National Park is back after being rebuilt due to fire in 2019. Binna Burra offers an awesome range of activities on the Gold Coast for kids. You don't have to be a guest at the lodge to join in. They're also open to casual visitors on the weekend or during school holidays as well!
Your kids will love taking part in birdwatching, guided walks, lawn games and guided astronomy sessions! Coming soon to Binna Burra is Australia's first VIA FERRATA – an adrenaline-pumping climbing path, so be sure to look out for that when it opens. Binna Burra Lodge offers fantastic spotlight walks after dark, so it's a great destination for a family getaway, with a range of accommodation options to suit most budgets.
It's one of the best locations on the Gold Coast for kids when it comes to nature and the great outdoors. Binna Burra Mountain Lodge is the perfect spot on the Gold Coast for kids to safely experience exciting outdoor activities. We can't wait for VIA FERRATA to launch.
Find out why we love camping at Binna Burra!
34. Carrara Markets
Address: Gooding Drive and Manchester Road, Carrara
Want to take the kids to the markets? The Carrara Markets are the biggest permanent markets in Queensland. Open weekends, the markets have over 400 stalls for you and the kids to peruse. Along with regular stalls, the markets feature plenty of fun things for the kids to see and do. These include; Butterfly House, the cheapest putt putt mini golf in Australia, a baby animal nursery, pony rides, face painting, a bungy trampoline and much more! The kids will have a fun day here and you will too.
If markets are your thing we have got a great overview of kid-friendly Gold Coast markets too!
National parks, walks, cycle paths & gardens
35. Natural Bridge at Springbrook
Address: Nerang-Murwillumbah Road
If you want to see the Gold Coast's glow worms in their natural habitat, then the Natural Bridge at Springbrook National Park is the place to do it. Take a meandering walk down through the rainforest with its dark canopy of murderous strangler figs and abundant local fauna to reach the breathtakingly beautiful rock formation at the bottom: The Natural Bridge. Click here for more information.
The Springbrook National Park offers a wide variety of trips and walks for families.
This is one of our top picks for free family activities Gold Coast style!
36. Cedar Creek Falls, Mt Tamborine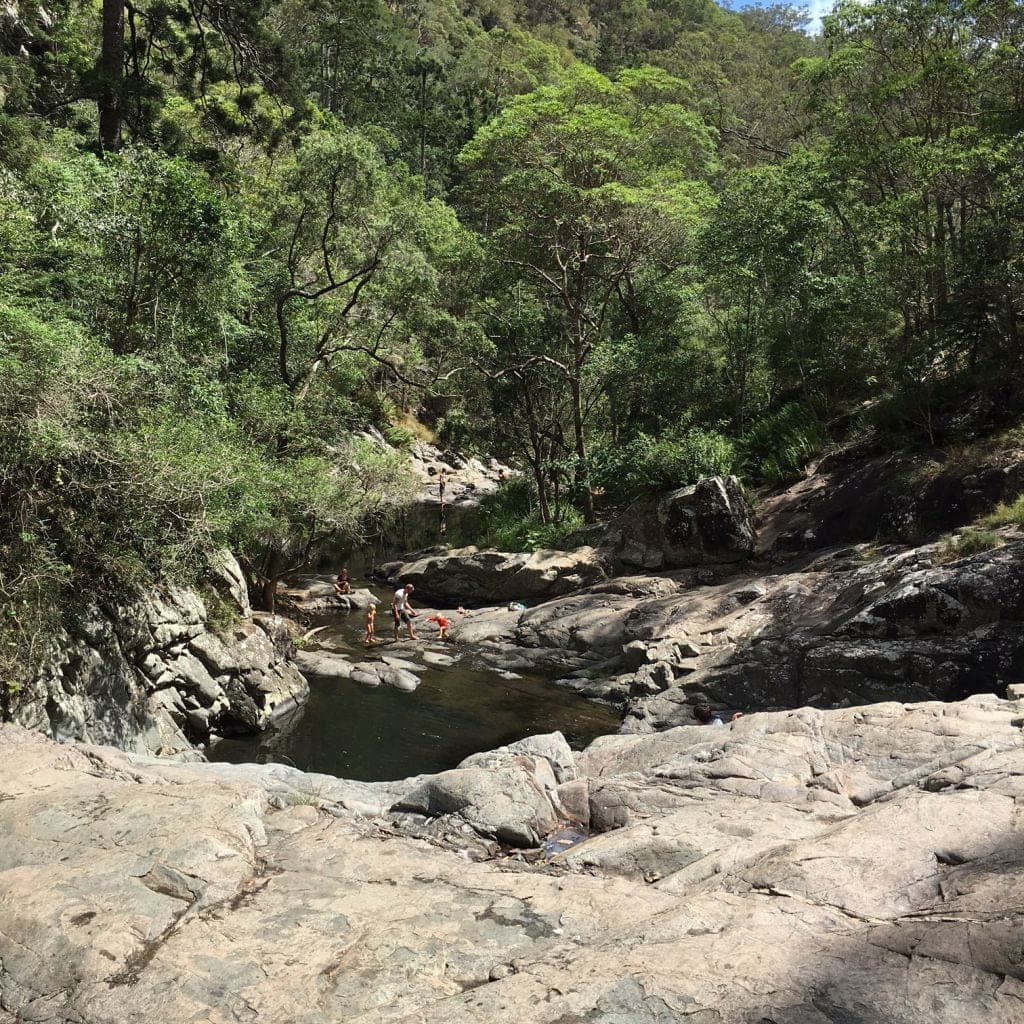 Address: Cedar Creek Falls Rd, Tamborine
If you want to get out into the hinterland and into a bit of creek swimming, then you cant go past Cedar Creek Falls at Mt Tamborine. Frequented by families with children, Cedar Creek Falls is a great natural outdoor day trip. There are three rock pools in which you are allowed to swim although the water is often very cold. It makes a great place to cool down on a sweltering summer's day. The top rock pool is quite deep, and it has a couple of ledge areas which children can sit and paddle their feet quite easily. The two other rock pools are further down the rock face. There are picnic facilities and BBQ's for us.
Families Tip: This place can get PACKED. You may well find that the car park is full by the time you arrive so anticipate a bit of a walk down to the creek. Because we live nearby, we wrote a detailed review (and made a video that shows you much more) with additional tips
37. Gold Coast Regional Botanical Gardens
Address: 258 Ashmore Road, Benowa
The Gold Coast's Regional Botanical Gardens is a delight for kids of all ages. Set on 31 hectares of lush, beautifully designed gardens, it offers a range of activities for kids including a playground, sensory garden mountains to mangroves walk and butterfly garden. Pack a picnic and encourage your kids to explore this oasis of calm just 10 minutes from the heart of Surfer's Paradise.
Click here for the Botanical Gardens details.
38. Mt Tamborine Rainforest Skywalk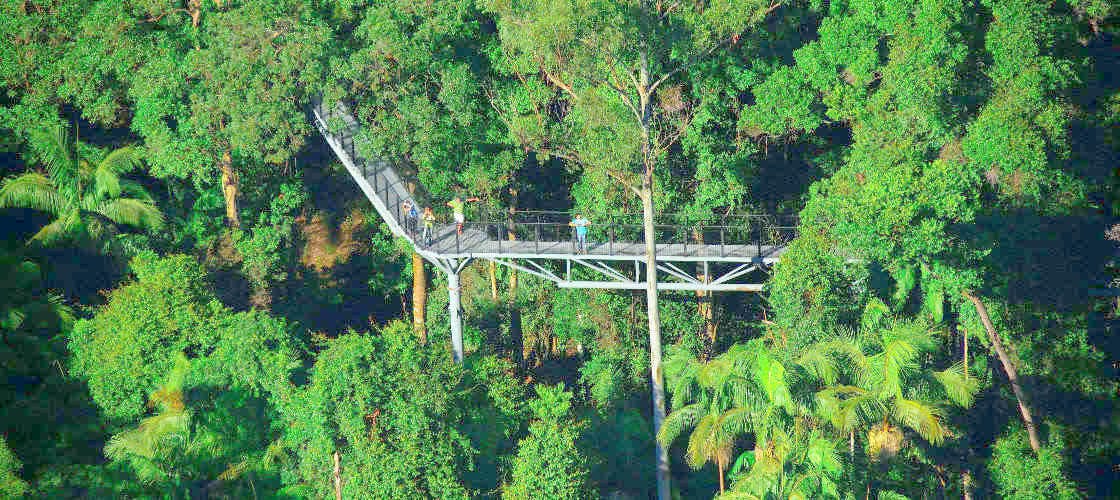 Address: 333 Geissmann Drive, North Tamborine
Another activity on the Gold Coast for kids is the Mt Tamborine Rainforest Skywalk. The skywalk is a 1.5km round trip of steel bridges and ground level bush trails that allow you to take your time as a family to experience the sights and smells of this pristine and uniquely beautiful sub-tropical rainforest.
You can get your tickets to the skywalk here.
39. O'Reilly's Treetop Walk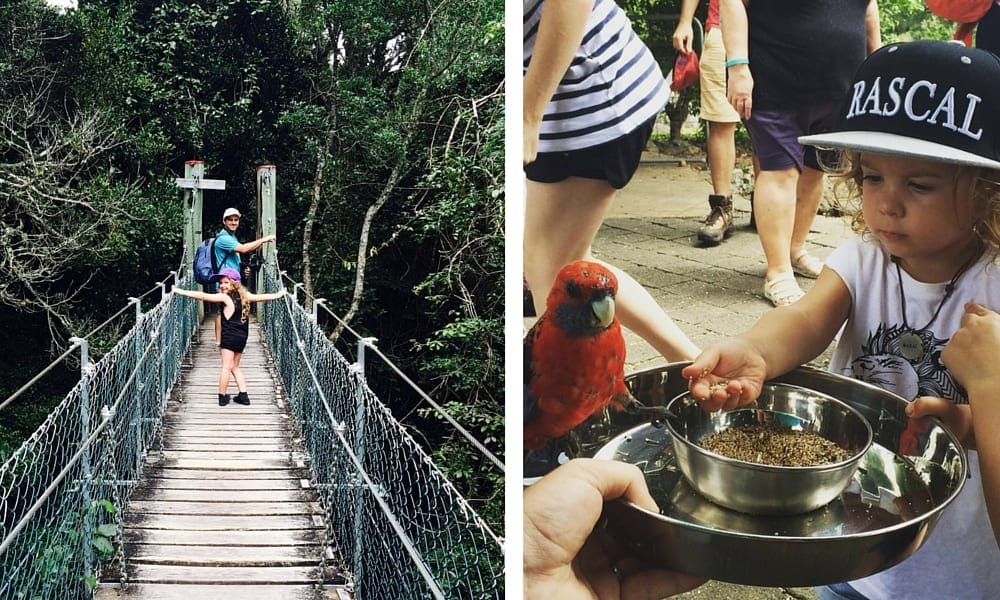 Address: Lamington National Park Road, Canungra
Perfectly positioned in the Lamington National Park, Gold Coast hinterland, O'Reilly's Tree Top walk is an easy 800 metre circuit through stunning bushland. The walk incorporates 9 suspension bridges and a gradual rise up into the sub-tropical rainforest canopy. While you're at O'Reilly's your kids can kick back and watch the bird of prey show and make friends with the rosellas and king parrots that call the rainforest home.
Click here to see a day trip out to O'Reilly's that will show you Curtis Falls, let you meet Australian wildlife and try your hand at boomerang throwing.
O'Reilly's isn't just a great destination for a day trip though, there's a great range of accommodation options on offer if you're thinking about staying longer in the area.
Click here to see some gorgeous accommodation options for your family!
40. Best of All Lookout, Springbrook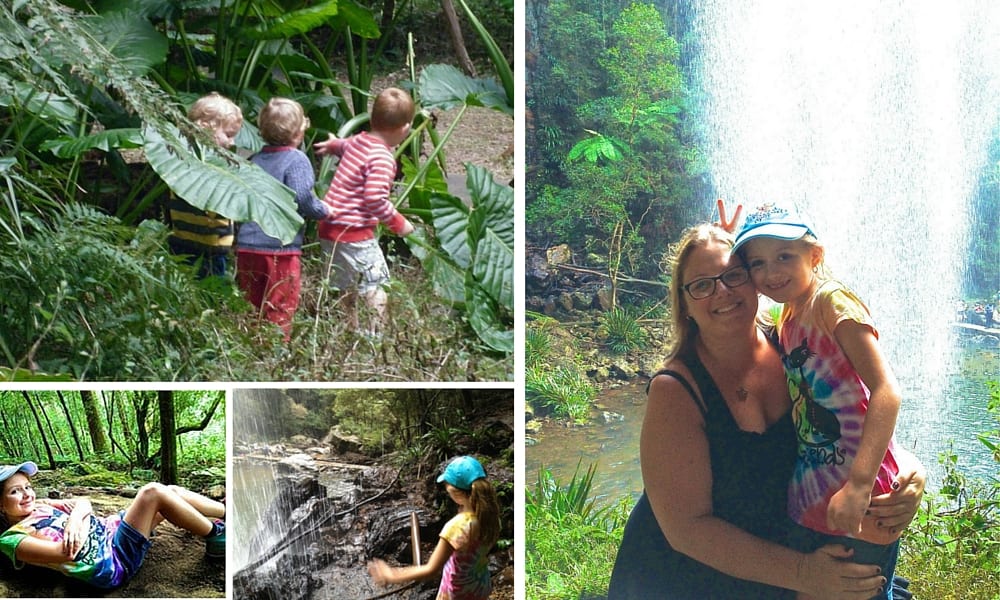 Address: Repeater Station Road, Springbrook
Springbrook National Park is renowned for its breathtaking natural beauty. The hard bit can be getting your kids out of the car and away from their tablets and devices for long enough to see it first-hand! The Best of All Lookout is a relatively short 600 metre return trip through the remains of an astonishingly beautiful and ancient Antarctic beech forest. Providing the weather is clear, your kids will be rewarded for their efforts with stunning views across to New South Wales, Mt Warning and all the way down to the Gold Coast and Pacific Ocean.
Find out why you should take a day trip to Springbrook National Park with kids.
41. Gold Coast bike ways
Looking to get away from the Gold Coast's traffic snarls and congestion? A great way of exploring the beautiful Gold Coast for kids is by bike. It's easy to hire bikes and helmets and explore some of the Gold Coast's 800 kilometres of linked bike ways, at least 36km of which skirt the spectacular Pacific Ocean.
The area's best parks and beaches straddle the most popular of the Gold Coast bike ways, making it a great way to get out and get active as a family.
We've had one of our family's personally test out Galleon Way Park. Check out their review to see what they thought.
Indoor activities on the Gold Coast
If you are looking for indoor activities or rainy day activities on the Gold Coast because the weather has not been kind to you, we have listed the best of the best here. From indoor trampoline on the Gold Coast to go-karting, bowling, ice skating and more.
Check out our list of wet weather activities on the Gold Coats below and add these to your best things to do on the Gold Coast list in case you need them up your sleeve.
42. Australian Outback Spectacular Heartland dinner and show
This awesome show is set in the Australian Outback Spectacular's iconic red barn, where you will be be transported to the outback with an all-new arena show featuring a cast of talented Australian actors and the latest technology that depicts farm life during a severe drought.
Follow the true story of farmers Reg and Marge who are struggling to keep their farm going after 5 years without rain. The story depicts the real struggles of Australian farmers and life in the outback as told through humour, quirky characters and friendship set to the soundtrack of popular Australian country music. Using the latest projection technology and with the help of some incredibly talented horses and their riders, see the arena transform into a variety of harsh outback landscapes that give the illusion of rugged plains, green fields, red dust, rocky outcrops, stampeding cattle, fire and rain.
Find out more about the show and dinner here
43. Skypoint Observation Deck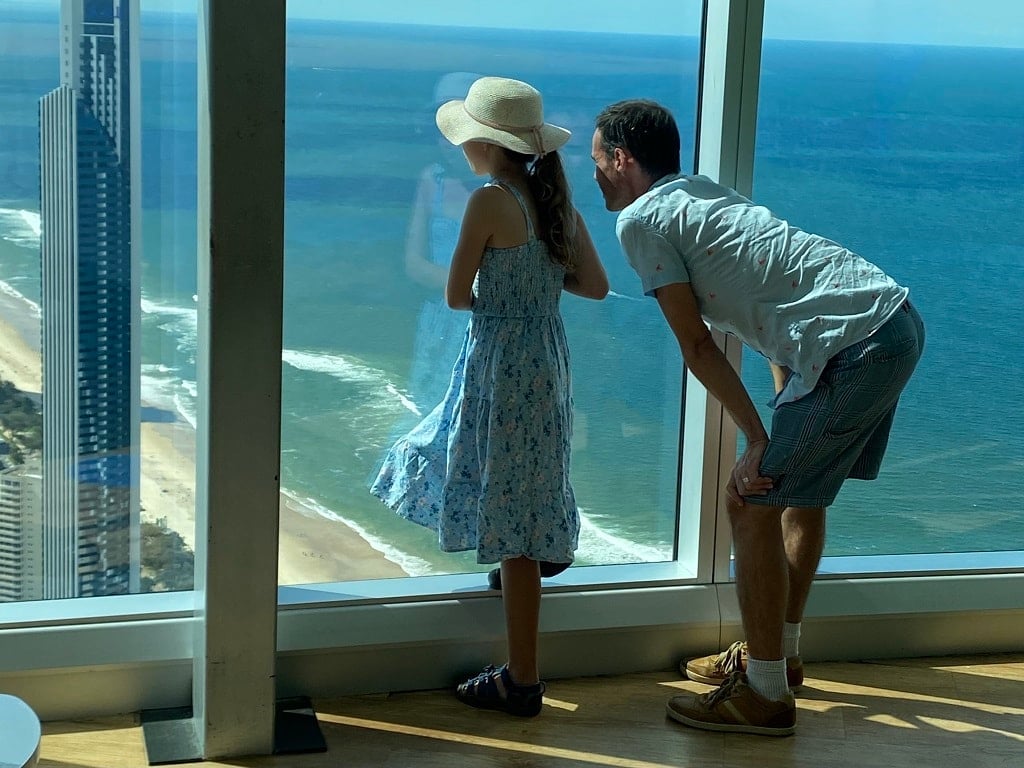 Address: Levels 77- 78 of the Q1 Building 3 / 3003 Surfers Paradise Boulevard, Surfers Paradise
The Skypoint Observation Deck is the perfect location for your kids to experience breathtaking, 360 degree views of the Gold Coast and its stunning hinterland.
At just $27 for an adults, $19 for a child or $74 for a family, this SkyPoint Observation Deck admission discount is good value for money.
If the weather is ok, you may want to climb SkyPoint. If your kids are 12 years of age or over, and at least 130 cm tall, they'll also be able to participate in a SkyPoint Climb, one of the most exhilarating experiences that the Gold Coast has to offer.
Children over 12 can climb SkyPoint – grab your discount here.
44. Game Over go-karting, laser tag, climbing & more
Address: 88 Siganto Dr, Helensvale
Game Over is the Gold Coast's largest indoor family entertainment centre. The centre caters for all ages and ability levels with Junior (1-12yo) and adult go karting, clip'n'climb adventure rock climbing, Leap of Faith experience, super hi tech laser tag, indoor zip coaster, GO-VR experiences and a range of arcade machines.
Entry to the Centre is free, and activities are priced individually depending on which ones you would like to experience, we also have a range of combo packs that provide discounts for purchasing multiple activities. The Centre is all indoors and air conditioned, perfect for wet weather or avoiding the Gold Coast heat.
You can grab a multi-pass for a discounted price here.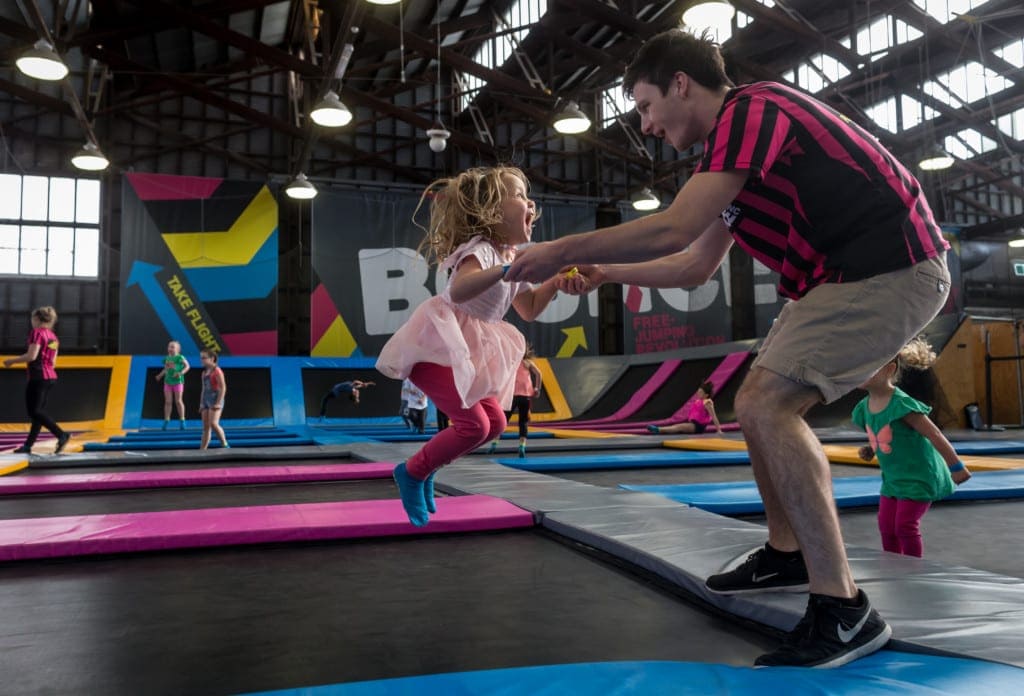 Address: 5 Sunlight Drive, Burleigh Waters
Bounce Trampoline Park Gold Coast in Burleigh Waters is Australia's biggest indoor action adventure playground! The mega venue at the massive site in Burleigh Waters has fully upgraded features and everything you love about Bounce plus heaps more, from huge performance tramps to their most fun X-Park yet. If your kids need to blow off a bit of steam and you just want to wear them out, then we highly recommend Bounce on the Gold Coast!
Click here to get more details.
46. Nerang Cinemas
Address: 52 Price St, Nerang
Nerang Cinemas & Markets are the Gold Coast's Cheapest movies these holidays (… and every day)! To escape the heat or the rain this is a great option when you are looking for things to do with kids on the Gold Coast.
47. Holoverse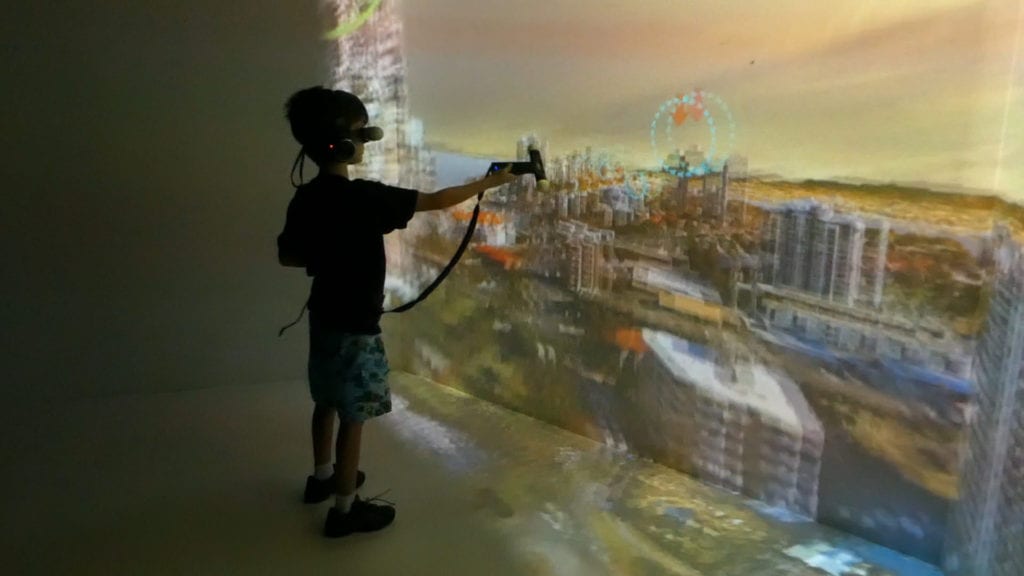 Address: 59 Nerang Street, Southport
Holoverse is a holographic entertainment centre located in Southport. The facility's 40 rooms provide a host of holographic experiences, including an African safari, patting turtles in an aquarium, walking through walls, and flying through the sky. The centre is family-friendly, encouraging children and adults to try out this advanced technology for a unique gaming experience.
You can read our detailed review – we took twins recently!
48. Indoor Skydiving Gold Coast, iFLY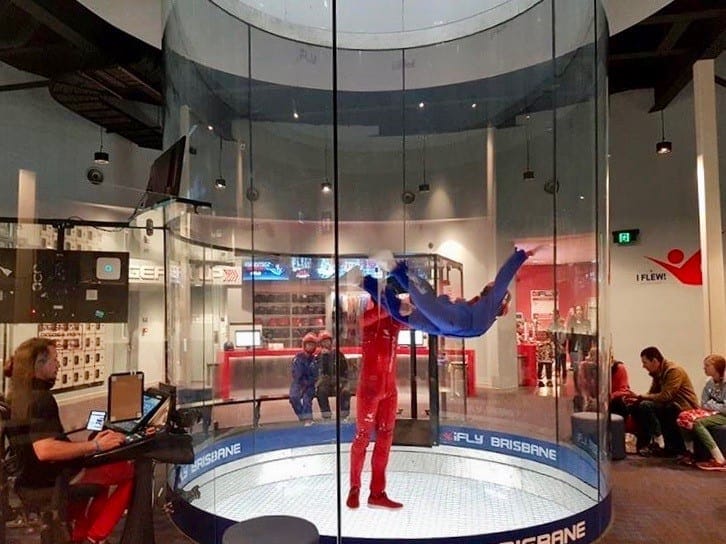 Address: 3084 Surfers Paradise Blvd, Surfers Paradise
We've got a discount voucher here for indoor skydiving on the Gold Coast! When you skydive indoors you can twist and turn, spin and enjoy all kinds of fun, without the months and months of training involved with outdoor skydiving. AND your family and friends can watch all the action from an all-glass viewing platform just a few feet away! What a super fun way to spin the day away!
Powered by multiple fans located at the top of the flight chamber, the vertical wind tunnel produces a wall-to-wall air flow that is indistinguishable from free falling during a 14,000ft skydive. Professional instructors assist you to make the most of the air flow so you can truly experience the closest thing to human flight. This is the perfect experience for all ages – from the young to the young at heart.
49. Inflatable World Burleigh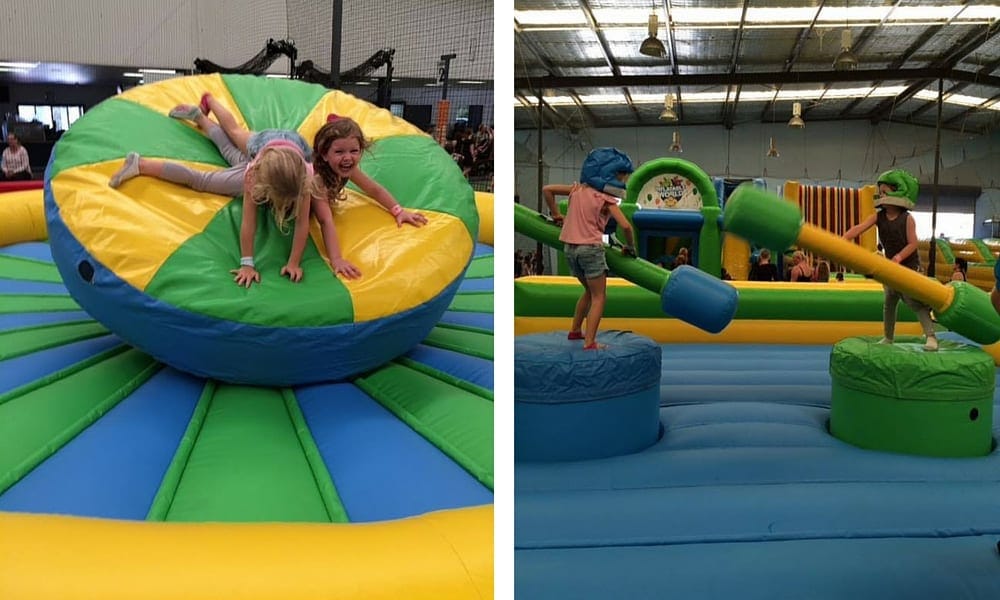 Address: 3 Fremantle Street, Burleigh West
Inflatable World is an indoor, inflatable playground experience on the Gold Coast for kids and adults alike. If your kids have energy to burn, a two-hour session at Inflatable World Burleigh is sure to have them sleeping soundly at night. A word of warning though: All children under 12 must be accompanied by a parent or guardian. Get set to enjoy the best workout of your life… and more than just a few laughs with your kids.
Click here to visit their website.
50. Infinity
Address: Ground level, shop 31 Chevron Renaissance Centre, Surfers Paradise
If you're looking for an indoor, all-weather activity on the Gold Coast for kids, you'll find that Infinity fits the bill perfectly. Infinity offers a fully-immersive sensory experience for kids aged 8 years and over, full to the brim with mind-blowing mazes and illusions that will keep your kids on their toes at every turn. We love it here and bet you will too!
Get your discounted entry to Infinity here.
Click here for more information.
51. Ice skating Gold Coast Iceland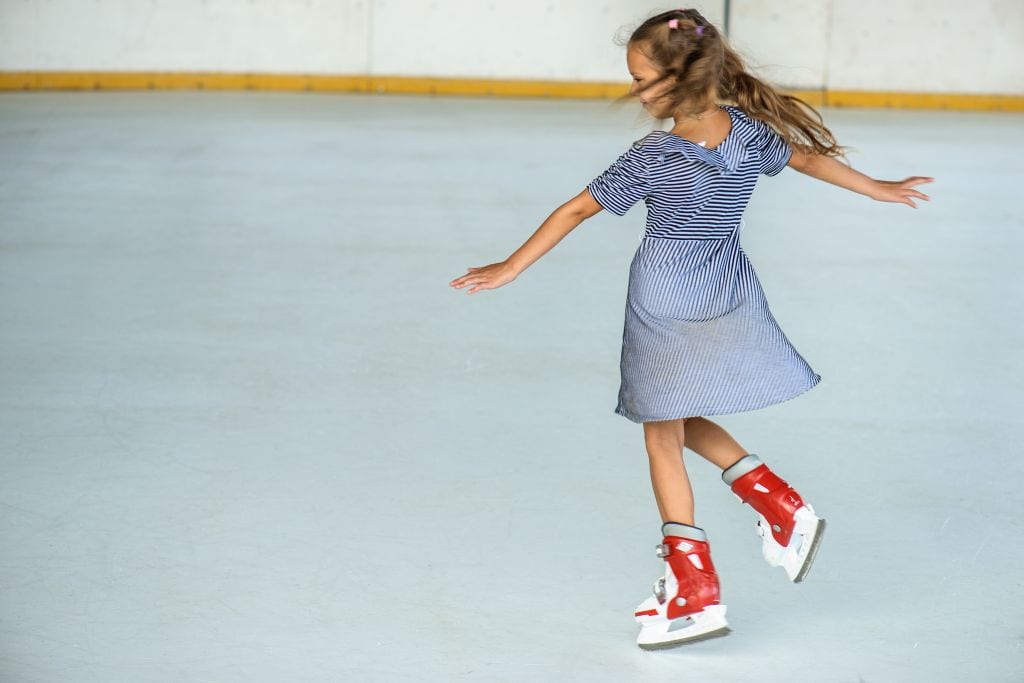 Address: 15 Strathaird Road, Bundall
Iceland gives visitors the chance to strap on a pair of blades and take to a full size ice skating rink. Master ice skating or ice hockey while escaping the heat outside. Littlies can celebrate birthdays while their parents can take some time out enjoying a warm drink and something to eat at the kiosk.
Find out more here about Iceland here.
52. Ice skating at Planet Chill in Surfers
Address: Paradise Resort, 122 Ferny Avenue, Surfers Paradise
If you are right in the heart of Surfers Paradise you may want to take advantage of the ice skating rink at Paradise Resort. Their family friendly ice skating attraction isn't just reserved for guests staying there. Planet Chill, the resort's ice skating rink, is open to everyone on the Gold Coast. If you've got kids aged 3 and older, they can experience all the thrills, spills and magic of ice skating for themselves, 365 days of the year.
Read our detailed review of Paradise Resort here.
Get your ice-skates on at these Gold Coast venues!
53. HOTA, Home of the Arts
Address: 135 Bundall Road, Surfers Paradise
The Gold Coast is a feast for the senses, but sometimes you need to balance all noise, colour and movement something a little more sedate yet equally interesting. The centrally -located Home of the Arts offers a range of kid-friendly exhibitions and activities that will help inspire your kids to dig deep and discover their own creativity.
54. Gold Coast War Museum
Address: 42 John Rogers Road, Mudgereebah
The Gold Coast War Museum gives your kids an opportunity to get up close to genuine war artifacts and the stories that will fire their imaginations and help bring history to life. The Gold Coast's stunningly beautiful Burleigh Heads is home to one of the Queensland's largest annual ANZAC day services, so the Gold Coast War Museum is a great stepping stone bridging the gap between the commemoration of historical events and the people forever affected by them.
55. Ripley's Believe it or Not!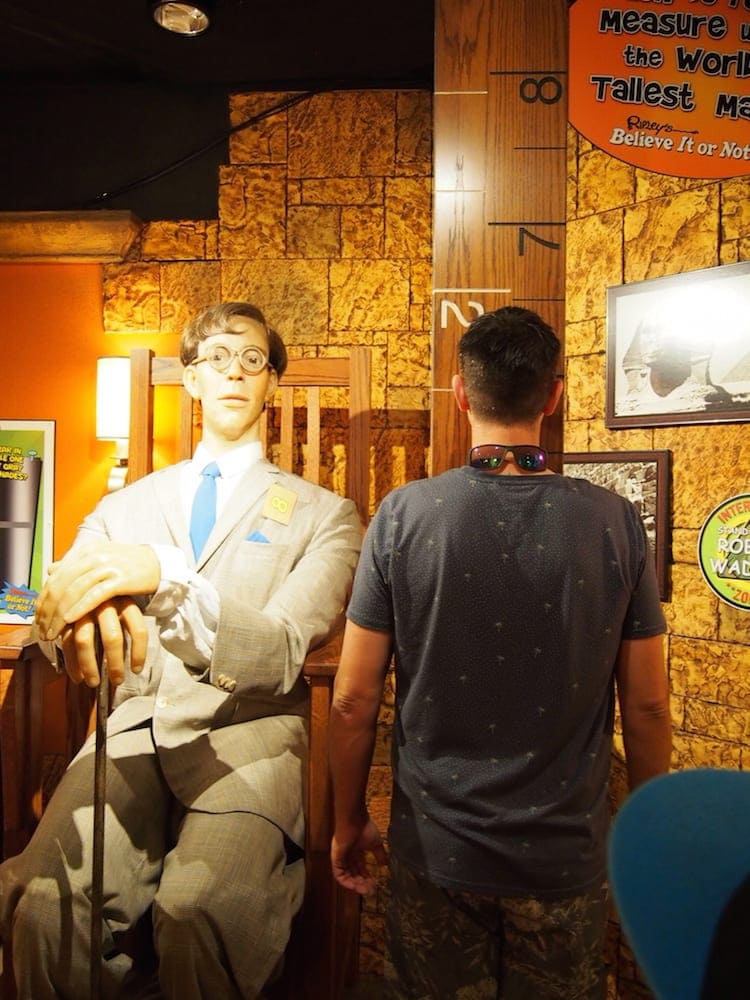 Address: Cavill Mall, Cavill Avenue Surfer's Paradise
If you're looking for a fascinating way to fill in a couple of hours on the Gold Coast for kids, Ripley's Believe it or Not! is a museum with a difference. Housing an irreplaceable and fascinating collection of oddities and curiosities, historical artifacts and mind-bending illusions, it's a great way to spend a few hours on the Gold Coast for kids.
Click here for more information.
56. Ripley's Impossible LaserRace
Address: Cavill Mall, Cavill Avenue Surfer's Paradise
Ripley's Impossible LaserRace is the perfect place on the Gold Coast for kids who want to pit themselves against the clock in the ultimate test of agility. A seemingly impossible maze of lights, music and laser beams, the LaserRace adds up to an exciting test of manual dexterity, co-ordination and forward-planning.
Click here for more information.
57. Go Bowling in Ashmore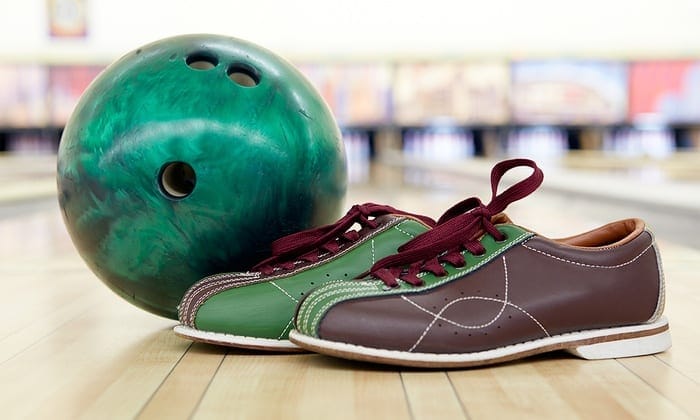 Address: 137 Currumburra Rd, Ashmore
Go Bowling provides tenpin bowling for children and adults alike. Small or large parties can enjoy group games along with music, video clips and disco lighting for an all-around experience. The venue has an on-site restaurant and fully licensed bar, making it possible to be used for corporate events, parties and special occasions.
58. Superbee Honeyworld
Located inside: Currumbin Wildlife Sanctuary, 35 Tomewin St, Currumbin.
Albert Einstein once said that if the bee disappeared off the surface of the globe, we would only have four years of life left. Superbee Honey World is the perfect place for your kids to discover the amazing properties of this incredible superfood and to appreciate why the honey bee is such a critical and threatened part of our food chain.
Find out more about entry to Superbee Honeyworld here.
Psst… it's not "Gold Coast" but if you're as bee-obsessed as we are, drive to the Sunshine Coast and visit The Ginger Factory for their Super Bee Tour.
59. Visit Surf World Museum
Address: 1st Floor, 35 Tomewin Street, Currumbin
What would the Gold Coast be without its world-class surf beaches and surfing legends? Your kids can explore the history of surfing on the Gold Coast at the Surf World Museum at Currumbin.
Click here to find out about the Surf World Museum.
Gold Coast local parks and playgrounds
Children's activities Gold Coast style just scream… PLAYGROUND!!
If you kids need to stretch their legs and blow off a little steam, a great, local park or playground could be just the ticket. There's a huge array of wonderful parks and playground on the Gold Coast for kids. They all provide a fantastic opportunity for your kids to enjoy the wonderful Gold Coast climate and engage in some spontaneous, unstructured play, the perfect antidote to any theme park experience!
Most also provide toilets and barbecue or picnic facilities, meaning that you could spend an entire day on the Gold Coast and the most you might have to pay is for the parking. To find out more about the best parks and playground on the Gold Coast for your active kids.
Our pick of the best park-based activities on the Gold Coast for kids include:
60. Laguna Park
Address: Palm Beach, Laguna Avenue, Palm Beach.
Hailed as one of the very best parks on the Gold Coast for kids, this park has a riot of brightly coloured equipment for kids of all ages. The pirate ship and pedal-powered monorail circling the playground is sure to get your kids excited, outdoors and active.
61. Washington Waters Park
Address: Marine Parade, Southport, Gold Coast Highway
Washington Waters Park is yet another of the Gold Coast's amazing parks for kids. It also boasts its fair share of rock pools for the littlies, a monorail, mini bike circuit, enclosed swimming area and plenty of space for them to run around!
62. Kurrawa Pratten Park
Address: Old Burleigh Road, Broadbeach
If you are looking for things to do in Broadbeach, this park is one of our favourites. This is a fantastic beachside park with plenty of open space, bike paths and shady trees. It's also home to Ben and Jerry's Open Air Cinema which runs throughout summer. A cinema experience with a backdrop of sparkling skyscrapers and stars…It doesn't get any more spectacular than this!
63. Pacific Pines Central Park
Address: Hotham Drive, Pacific Pines
This park is the perfect backdrop for a pirate-themed adventure on the Gold Coast for your kids. This Gold Coast playground has a lake and sunken ship-themed adventure playground, as well as stationary train and flying fox. This is a great park that encourages your kids to put the electronic devices down and get active.
64. Broadwater Parklands and Rockpools Playground Southport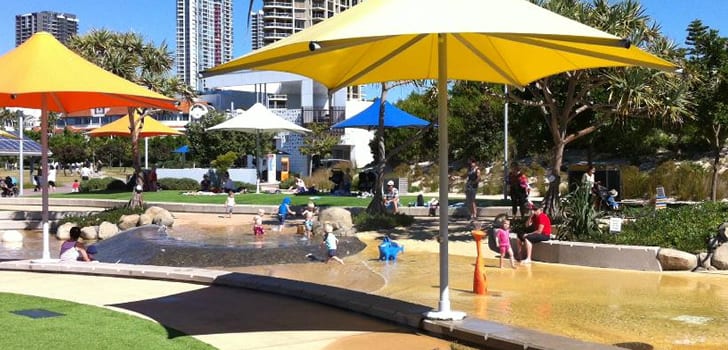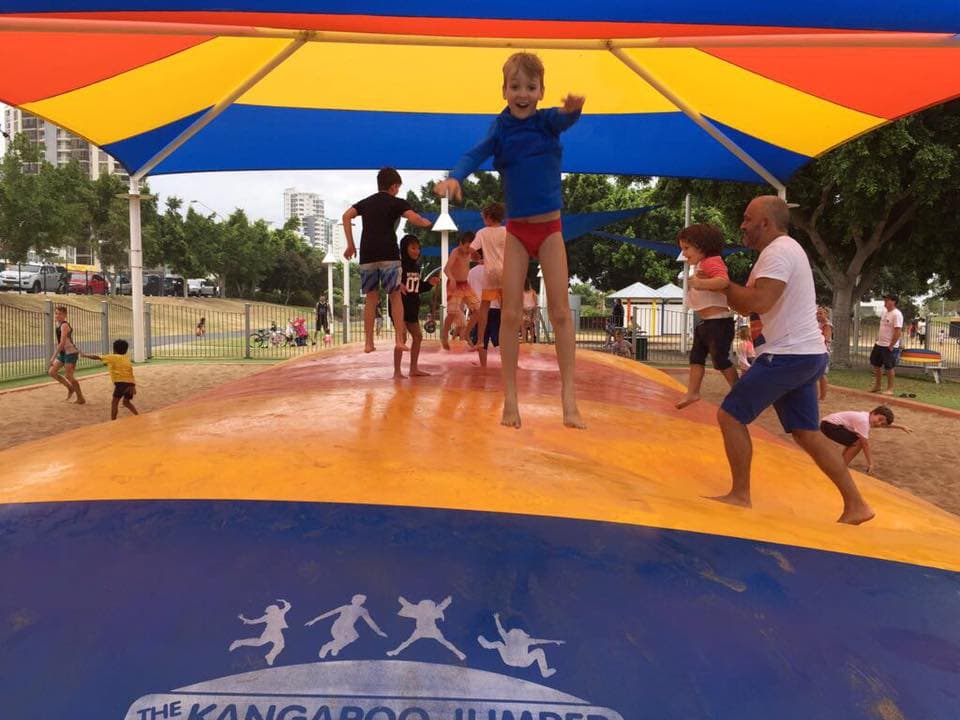 Address: Marine Parade, Southport
The Broadwater Parklands is a massive recreational area running parallel to the coast. Best of all, it incorporates a range of different play areas to suit kids of all ages. The Rockpools playground forms part of the Broadwater Parklands and is best described as a water park that mimics its natural surroundings, offering a safe way to cool off on the Gold Coast for kids.
One of the loveliest parks on the Gold Coast, the Broadwater Parklands is the perfect place for a family day out. Featuring a giant water play area, make sure the kids bring along togs so they can enjoy the fun. The parklands also feature a playground which includes swings, slides and a pedal powered monorail. For kids who love trampolines there is a giant undercover bouncy pillow. Bring along a picnic or enjoy parklands dining once you are ready for a break. The Broadwater Parklands has so much to offer and you'll be sure your kids will be sound asleep during the ride home.
65. Country Paradise Parklands
Address: 231 Beaudesert Nerang Road, Nerang
Country Paradise Parklands is a wonderful, open space, community-managed parklands situated in Nerang, including an adventure playground for the kids.
The centrepiece of the adventure playground is the 11.5m windmill with mega slide, accessed via a water-tank tunnel and swing bridge. Wrapping around the entire playground space is a creek bed with water play elements. There are toddler and primary schooler play spaces, as well as the central playground for everyone to enjoy. The water play area features water pumps, troughs and ramps, encouraging the kids to build natural channels for the water to flow. There is also a wide concrete path that circles the playground, with a few ramps and jumps built in for scooter riding.
Things to do with toddlers Gold Coast
If you're looking for some things to do with toddlers on the Gold Coast while you (potentially) grab a coffee and relax (kind of), we've got a list of the best indoor play centres on the Gold Coast.
*We've found discounts for indoor play centres on the Gold Coast here.
Whatever you choose to do on the Gold Coast with kids, you are bound to have a wonderful time with all the family friendly options on offer!
Gold Coast restaurants for families
66. Dracula's Cabaret – dinner and a show!
Address: 1 Hooker Boulevard, Broadbeach, Gold Coast
If you have kids aged 15 years and above, you may like to book into Dracula's Cabaret dinner and show.
You will spend the night being entertained by a devilishly talented cast as they pay tribute to the Carnaval de la carnage; the Mexican Day of the Dead. This energetic after dark experience will fill the room with laughter and applause as the Dracula's Gold Coast cast tease and entertain with their singing, dancing, burlesque, magic and aerial performances.
You can get tickets to dinner and a show here.
We have detailed guides to eating out with kids on the Gold Coast:
And if you are heading to the Gold Coast around Christmas, then you will want to be celebrating Christmas on the Gold Coast with these local events. You can even take a Christmas lights canal cruise to see the best lights in a unique way!
Gold Coast shows & festivals
The Gold Coast has shows and festivals on throughout the year. Here are a few of our favourite:
67. SeaFire
June each year.
Three breath-taking firework and music displays will light up the sky at 7pm and 8pm, with the grand finale at 8.45pm by the hosting fireworks provider, Skylighter, Australia's leading pyrotechnics team.
SeaFire is a FREE family friendly event that kicks off at 6pm.
68. Mudgeeraba Show
June each year
The Mudgeeraba Show offers Gold Coast families a fabulous day out experiencing a wide variety of tastes, sights, sounds and delights!
69. Gold Coast Show
August each year
The Gold Coast Show is a three day family fun extravaganza, sure to bring lots of fun and laughter to the whole family. The Showgrounds are filled with the best of the best in food, rides and entertainment as well as daily showcases of incredible local talent.
70. SWELL Sculpture Festival
September each year
Come face to face with over 50 awe-inspiring sculptures by local, national and international artists at the 20th SWELL Sculpture Festival. The free exhibition is open all hours with a selection of sculptures revealing a new verve as they are lit up under the southern sky.
Stay a little longer and discover a range of unique experiences; guided twilight walks through the artworks, artist talks next to the sculptures and artist led workshops.
Best accommodation on the Gold Coast for families
With so much to see and do on the Gold Coast you are definitely going to want to be staying at the best accommodation that is suitable for your family, but where on Earth is that? Lucky for you we have compiled our favourite 10 family friendly places to stay on the Gold Coast. We also know the best places to stay on the Gold Coast with your pets!
Travelling north
If you are travelling north to Brisbane, check out our article: Best things to do in Brisbane with kids.
If you are looking for cheap Australia Zoo tickets, find out how to get FREE tickets to Australia Zoo here.
Travelling south
If you are travelling further south, why not check out things to do between Brisbane and Sydney here.
If you're on the Gold Coast during the school holidays check out our list of the FREE School Holiday Fun activities – Gold Coast, Tweed & Byron.