Getting a dog isn't as straightforward as you might think. Which is exactly why you need this guide to the best family dog breeds for both adults and kids. There are some really good family dog breeds to choose from, but selecting which is best for your family depends on a variety of factors.
The most family friendly dogs can make a great addition to your household. While the starting point when looking for good family dogs is to think about the breed, it's also worth considering your lifestyle, grooming and amount of free time, as well as the age of your children.
Whether you want to find the best medium sized family dogs for a good all-rounder, good small family dogs that may require less walking or the best big dog breeds for families who have space for a bigger playmate, this guide will help you find the ideal family friendly dog breeds to add to your shortlist. Perhaps you will want to rescue a dog, so do read up on that option too!
The benefits of having a family dog is that they're ideal for kids to run around with. Having a pet is good for both mental and physical health. Caring for a pet also teaches kids about the importance of kindness, responsibility and understanding the needs of another creature.
Here's an outline of the top family dog breeds to think about if you are looking for a new family pet. From buying a puppy to taking in a Brisbane rescue dog, here are all the most awesome contenders as the most popular family dog in Australia!
The 20 best dogs for families
1. Cavalier King Charles Spaniel
In the era of King Charles III, King Charles spaniels as pets seem a most appropriate choice. They're among the best small dog breeds for families, and come with the bonus of super cute looks that no kids could resist.
King Charles spaniels are irresistible to look at, and therefore it's very easy for everyone to want to take care of this pet. They're easy going and fun to be with too. One of the top family dogs as recommended by the American Kennel Club – and one that's bound to win admiring glances at the dog friendly cafe in Brisbane.
2. Cocker Spaniel
A cocker spaniel is a classic dog breed for families seeking a playful, loyal and super cute pet. This gundog is a highly suitable pet for children, and has a short to medium coat. All that feathery fur can belie the fact that this is a surprisingly muscular animal.
Eye problems can be a risk with cocker spaniels, though they do generally experience a long lifespan. Thorough grooming can be required, which is a cost implication to consider when weighing up your choice.
3. Staffordshire Bull Terrier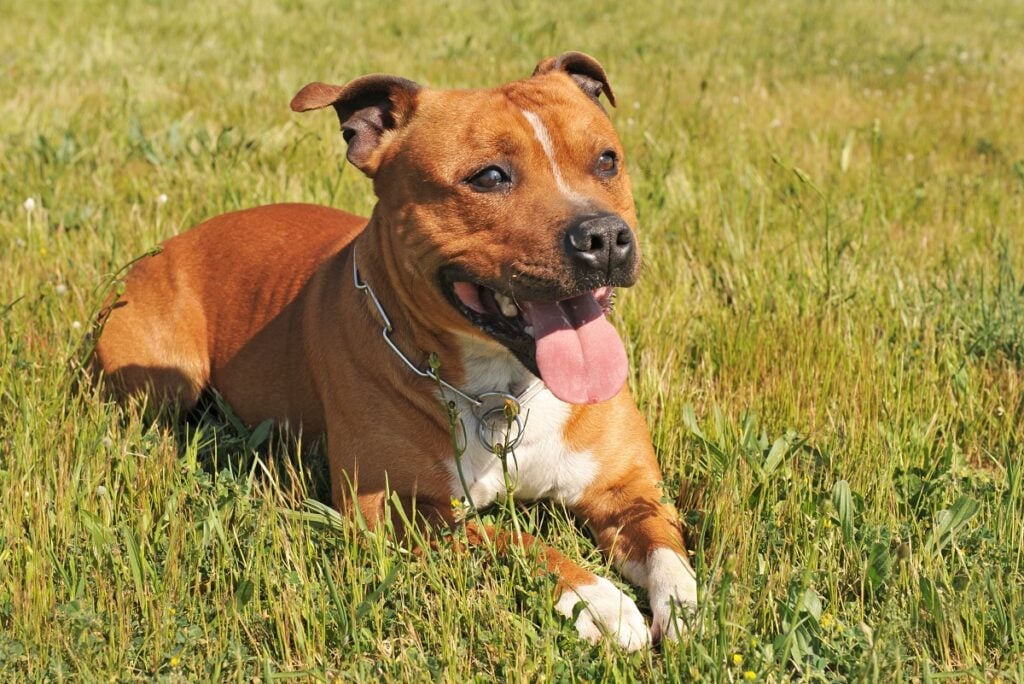 Though sometimes they have had bad press in the past, Staffordshire Bull Terriers are very popular indeed throughout Australia. In addition to their UK homeland. According to Dogs NSW, this is one of the top 10 family dogs here today.
Staffies are easy to look after, and are among the medium dog breeds for families as the breed tends to be great with kids. In general this breed enjoys good health, and is known for its love of little people.
4. Soft Coated Wheaten Terrier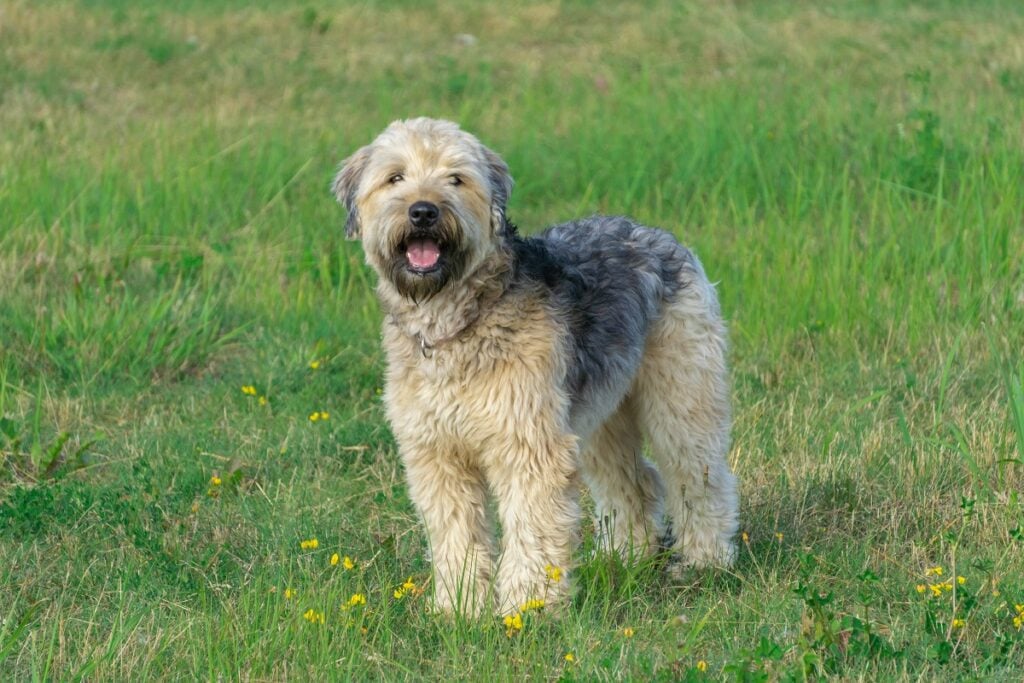 Popular in Australia since the 1970s, the soft coated wheaten terrier has Irish origins. The name comes from the colour of the coat, and this is an energetic, fun-loving dog breed. One of the best small family dogs for those seeking an intelligent, confident and mainly healthy breed.
One potential downside is the fact that soft coated wheaten terriers can require more frequent grooming than other breeds. On the plus side, though, this is one of the best non-shedding family dogs around, as dead hairs need to be removed via brushing.
5. Golden Retriever
The Golden Retriever has a reputation as one of the most family friendly dogs of all. It's the picture book family pet, and ideal for those seeking an active companion. It's hardly surprising that this is a dog that loves to play fetch!
Golden Retrievers are good fun to be around. Their longer coat means they require more grooming than labradors, however. This is a breed that looks great and plays really well when you're visiting Gold Coast beaches or Sunshine Coast dog parks.
6. Labrador Retriever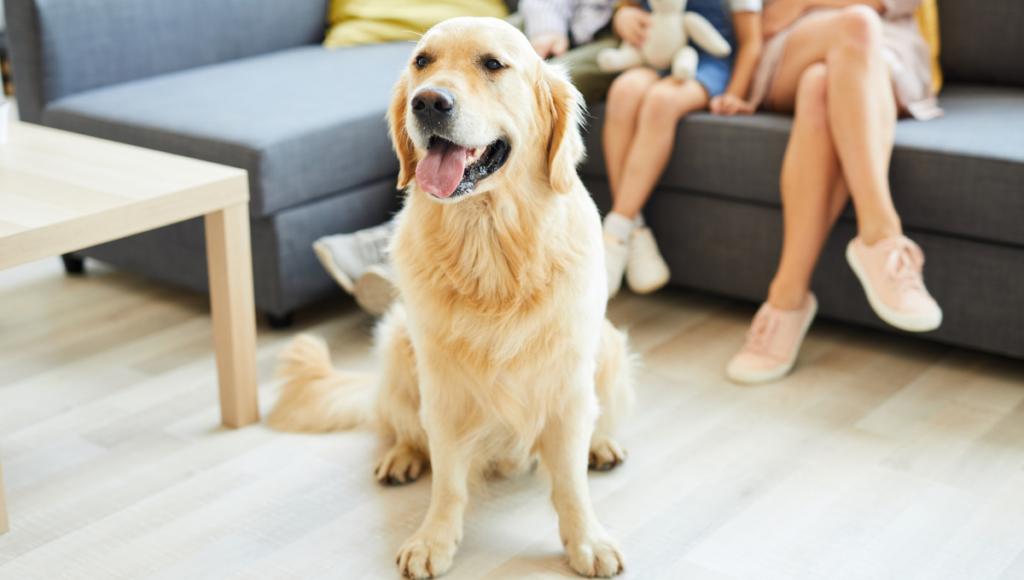 Any list of the top 5 family dogs would be incomplete without the humble labrador. This is a reliable working breed. They are often used as assistance dogs, tend to be very successful in competition and even work in conjunction with customs and the police.
The labrador is among the best short haired family dogs around. It tends to be a healthy breed that isn't too high maintenance. You do need to watch out for that appetite, though – a greedy lab would often willingly devour everything in sight if left unchecked.
7. Irish Setter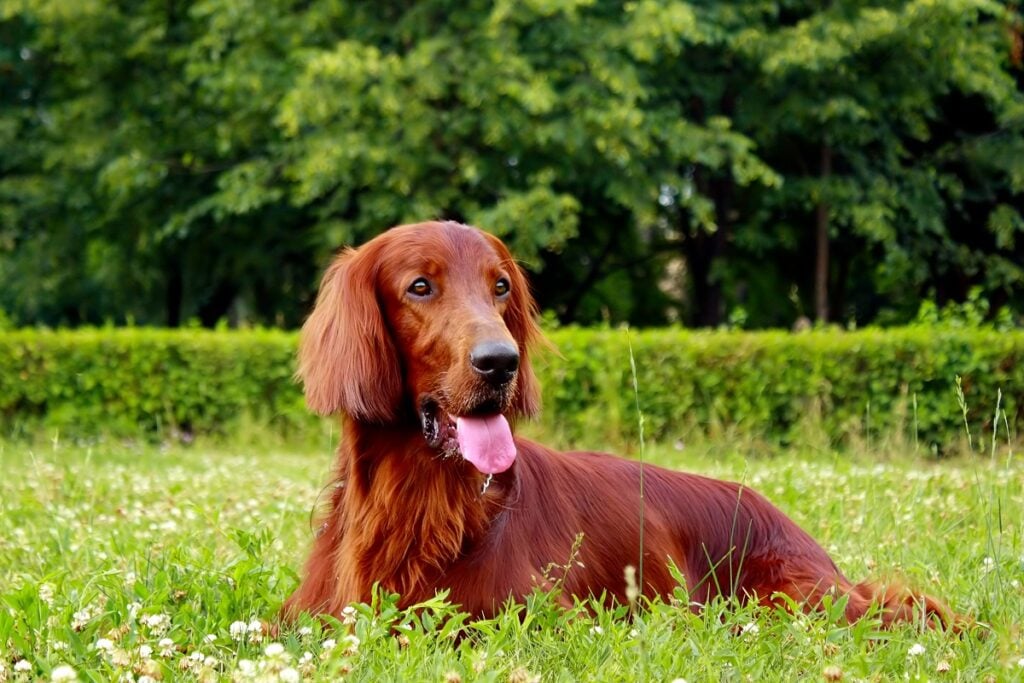 Traditionally seen as a hunting dog, the Irish Setter makes a head-turning pet. It could also be the best of the best big family dogs for you if you want a fitness partner. This is also a breed that's intelligent, affectionate, playful and independent.
When you want to turn heads while working out with a dog by your side, an Irish Setter could make the perfect family companion. If you're not fond of walkies, though, you may need to engage a Brisbane dog walker to take care of that side of things.
8. Bernese Mountain Dog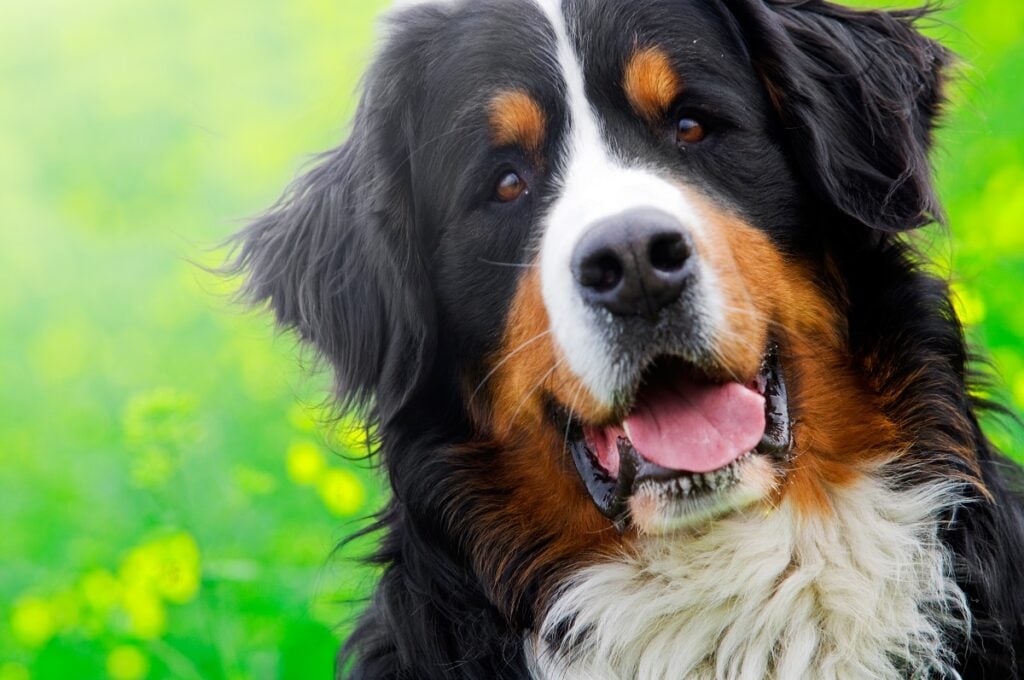 Without a doubt, one of the best large dog breeds for families is the Bernese Mountain Dog. It's a heavyweight that can sometimes reach around 50 kilos, but has a soft heart that belies its considerable size.
Stable, friendly and unwaveringly loyal, the Bernese Mountain Dog is also sociable and needs to feel like one of the family. Though placid, the sheer size can make these good family guard dogs. They will also follow your lead when it comes to welcoming visitors to your home.
9. Poodle
The ever-popular poodle is one of the best hypoallergenic family dogs for families. Though the way some poodles are clipped can make them seem high maintenance, a much simpler style is more manageable.
There are so many of the best poodle mixes for families to choose from too. You can give a home to a labradoodle, a cockapoo, a golden doodle, a cavapoo or even an Aussiedoodle. In terms of pure bred poodles, there's a trio of sizes and colours to choose from here.
10. Alaskan Malamute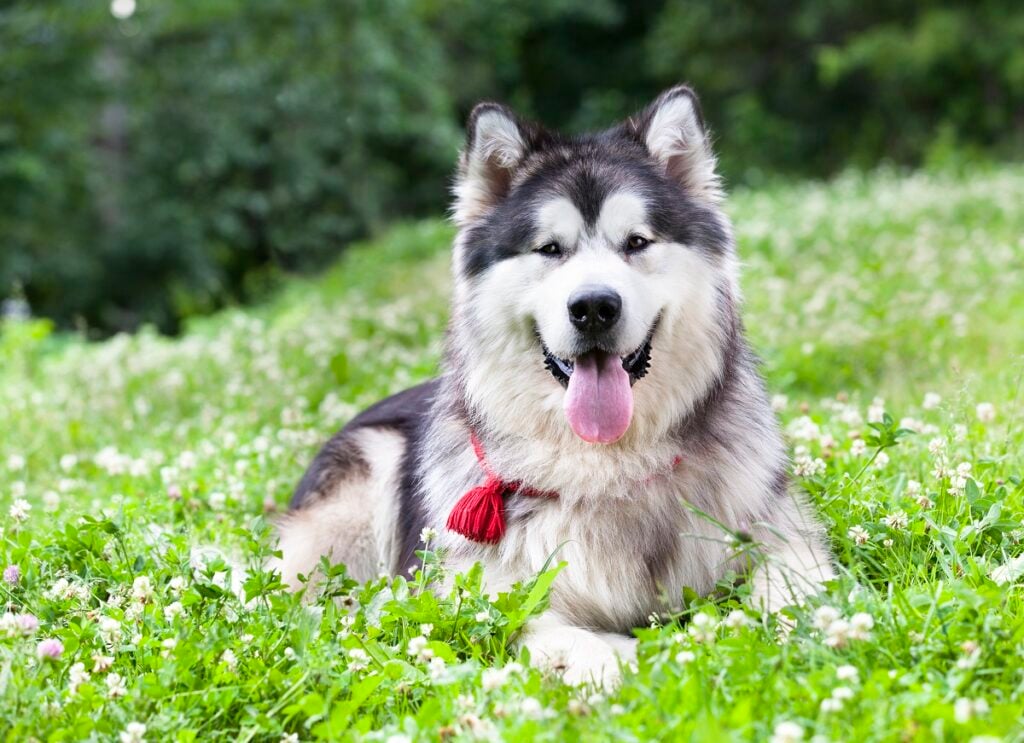 An Alaskan Malamute is the ideal pick for families in Australia who love the husky look. As our Families Magazine editor has found, you might find it hard to put the camera down when looking after one of these beauties.
You will need to make time for other things, though, as this lively dog requires lots of exercise. Originally trained for pulling sleds, these dogs require an almost-military style workout regimen.
11. Boston Terrier
If it's small family dog breeds you're searching for, then the Boston Terrier could be one to consider. Not only is this one of the best family friendly dogs around, but its compact size makes it more suitable than many for living in an apartment. This makes it good for those wanting the best dogs for working families too. Or those who tend to stay away from home often, such as when staying at Gold Coast or Sunshine Coast dog friendly accommodation.
Boston Terriers have a short, low maintenance coat. They can also be among the best family protection dogs around, though they don't tend to be annoyingly yappy like some other small breeds can be.
12. Pug
Originating in China, the pug is a dog with a thickset yet compact build. It's a distinctive looking dog that's better suited to cooler parts of the country than hotter regions. This is because of the short snout causing some ventilation issues with this breed.
As small family friendly dogs go, this is a good choice for those living in the colder southern states. The pug is a highly trainable breed, but not ideal for anyone seeking good family dogs that don't shed due to heavy hair loss.
13. Australian Bulldog
Though classic bulldogs can overheat easily and are therefore not ideally suited to hot climates, the Australian Bulldog was specially bred to cope with higher temperatures. The Aussie Bulldog was developed here in Queensland during the 1990s.
This is a strong, solid dog that's clever, good-natured and loyal. In terms of health it's a pretty good bet, with fewer risks than other breeds and a lifespan of around 12 to 15 years. It also looks really cool on those Santa Paws Christmas pet pictures!
14. Beagle
With high energy levels and good compatibility with children, Beagles are robust, well-built creatures that were formerly used as hunting dogs. They make healthy, happy pets, but can take some time to train to come when called.
Beagles are very much led by their noses, so high garden fencing or walls is recommended here. Not the best dog when it comes to recall at the local off-the-leash park! They also like to eat anything and everything where possible. Keeping them well groomed is very simple; however this breed does require a lot of exercise.
15. Collie
Collies make great family dogs with a lot of energy. They're very compatible with kids, and as anyone who's seen Lassie knows this is a breed offering a remarkably high level of loyalty. Collies have been popular the world over since Queen Victoria adopted some back in the 1860s.
Eye, oral and skin problems can be a concern at times, but these loving family pets are very much worth the risk. If you have space, collies are well-suited to free running, so there isn't necessarily the need for collie owners to spend too much time on exercising their pets. One of the best large family dogs around – and pretty adorable to boot!
16. Bichon Frise
For the best family dogs that don't shed, consider a Bichon Frise. This little cutie-pie is ideal for households where family members may suffer from respiratory conditions such as asthma. It's also a healthy and adaptable breed that's capable of living in small spaces – or even staying in a tent when your family visits dog friendly campsites!
The Bichon Frise was famously featured in many Renaissance works of art, harking back to a time when European aristocrats favoured the breed as a constant companion.
17. Yorkshire Terrier
If you want to find the best toy dog breeds for families, then you could do a lot worse than the Yorkshire Terrier. A real bonus here is this dog's hair, which has a super fine and non-irritating texture. This fur does require a fair amount of maintenance, though.
Yorkies can sometimes be a little on the yappy side, but are a cute, lively pet for children to have lots of fun with.
18. Boxer
A Boxer belongs on this list of the top 20 family dogs because it's highly suitable for households with children. It's a big dog with short, smooth fur and a distinctive look, lent mainly by the wrinkly skin around the head and muzzle.
A Boxer can be as playful as a puppy through its lifespan, so it's not the ideal dog to leave at home for long periods of time. As long as you let them know who's boss from the outset, this is a breed that responds well to training.
19. Newfoundland
Named for the Canadian area they come from, the Newfoundland is a big bear of a dog that can weigh around 45 to 70 kilos. Again, the size factor can place these among the best family guard dogs around, though really they are gentle giants.
The Newfoundland is a great swimmer that's totally at home around water. It's also a breed that's prone to drooling, so perhaps not one for those who find this off-putting when eating. Despite the impressive size, a walk of half an hour per day will generally suffice for an adult Newfoundland.
20. Brussels Griffon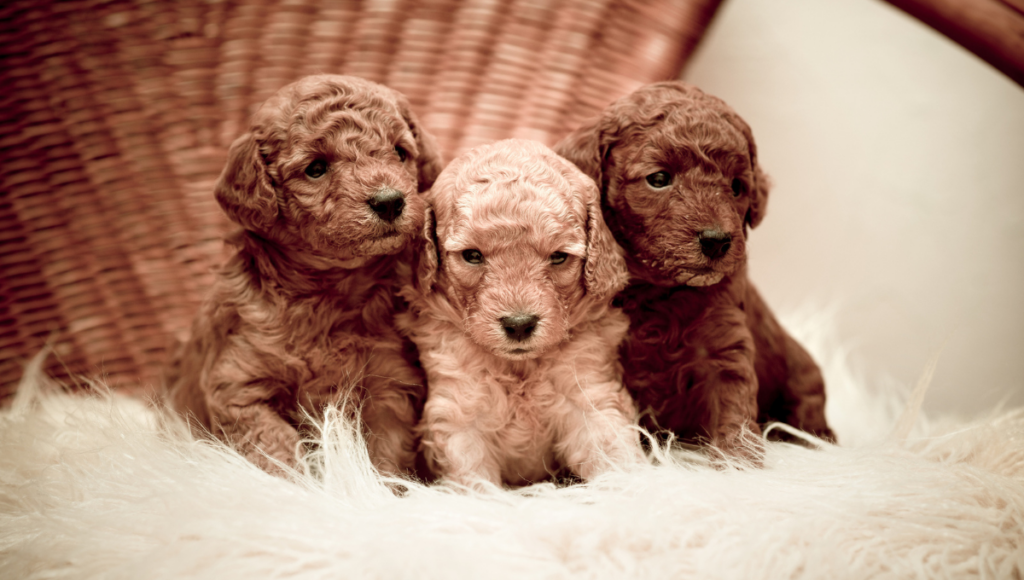 Also known as the Griffon Bruxellois, the Brussels Griffon is also a breed that enjoyed enormous popularity among the European aristocracy of the 19th century. Due to World War II, though, the breed was almost wiped out, but breeding in England saved the day.
A really appealing feature of the Brussels Griffon is its ape-like face that almost mimics a human visage. It's also an attractively mischievous dog that will devotedly follow its owner to the moon (or rather, the bathroom) and back.
Best dogs for families FAQs
What is the most family friendly dog?
Popular family dog breeds include the Cavalier King Charles Spaniel, Labrador and Golden Retrievers, Boxers, Poodles, Beagles, Pubs, Irish Setters, the Brussels Griffon, the Newfoundland and the Collie. All of these are good with children, and each offers other attractive characteristics.
What is the best small family dog?
Small family dogs that are suitable for families include the Yorkshire Terrier, the Pug, the Boston Terrier, the Bichon Frise and the toy Poodle. These breeds mix well with kids, and each has distinctive features making it stand out.
What is the best small dog for first time owners?
Some of the best family pets for first time dog owners include the Cavalier King Charles Spaniel. the Soft Coated Wheaten Terrier, the Boxer, the Poodle and the Labrador Retriever. These are among the top 10 best family dogs for new owners as recommended by the American Kennel Club.
Which is the best dog for your family?
Finding the best hound dogs for families can be pretty straightforward once you know where to look! Choosing the perfect family dog for you is simply a matter of matching the pet to your preferred lifestyle. While taking account of the cuteness factor too, of course!