When it comes to fun toddler party games, often the easy and simple ideas work the best. Keeping those little munchkins entertained can be challenging. Little kids can be impatient and have short attention spans. Birthday party games for toddlers that work best are the ones that involve everyone from the beginning, don't require them to wait too long for their turn, and are not overly structured.
If trying to work out which toddler birthday party games to play at your tiny tots party has your head in a spin, then you'll love this guide we've put together of 24 simple yet fun birthday games for toddlers. This party games for toddlers' guide includes some of the old classic party games, as well as few unique birthday game ideas for toddlers.
So check it out – here are some cute ideas for preschool party games that will turn your little one's party into a paaaaaaartaaaaaaay to remember!
Toddler party games and the pre-prep crowd
They're little, and they've got attention spans to match, so as mentioned when it comes to birthday games for preschoolers, you're definitely going to need some crowd-pleasing ideas with minimal fuss.
The party is a celebration for you as well. It's your chance to reflect on how your beautiful child is growing. The last thing you want to do is be up to your eyeballs in complicated party bits and bobs when you could be having fun instead.
These toddler and preschool party games require a bare minimum of material and planning. They're spontaneous, they're loud and they're lovable – just like your little one! If you're considering a party venue, make sure you check out our ten FAVOURITE kids party venues in Brisbane!
Before we get into our games for toddler birthday party ideas, a little tip about prizes. When it comes to preschool birthday games, to avoid meltdowns, it really is best that every kid wins a prize. While you can have a main prize, be sure to have lots of smaller items on hand as well
Anything will do really, but if you need some ideas here are a few things we think make great little prizes (make sure you consider the age of the children first):
1 Follow the Leader
When it comes to party games for toddlers to play, Follow the Leader is a fabulous game for small children to play! It's great for communication, listening and concentration skills – plus it looks SUPER cute!
You'll have a little line up of cuties following you around the garden in no time. Swap in different adults or older children to extend the game for longer. Get inventive! Grab a crazy wig or hat like this one, so the leader is easily identifiable and looks funny too.
Plus no matter if you're after outdoor or indoor birthday party games for toddlers, Follow the Leader can be played pretty much anywhere. And there is no winner as such, so give all those who participated a lollipop or small trinket.
Editor's tip: My little ones had the most fun when The Leader did funny animal walks: channel your inner bear on hands and feet with stiff straight legs; waddle like a duck; hop like a frog; be a dog with your nose to the ground following a trail; prance like a show pony, and make all the silly animal noises that go along with it. Have you ever tried Follow The Leader with land-based synchronised swimming? Hold your nose and start with a big splash, then get ready to waft and glide around the garden kicking your feet as you go.
2 Duck Duck Goose
If you're looking for 4 or 3 year old birthday party games, a game of Duck Duck Goose can be good fun. Often this is played in child centres, so kids going to daycare may already be familiar with this game.
This game is played with all the kids sitting in a circle, and one child walks around the outside tapping the others on the head one at a time saying "duck, duck, duck". Then they randomly say "goose" as they tap a child on the head, then that child must get up immediately and chase the other child around the circle. If the head tapper gets back to the spot without getting caught, the person left standing becomes the new goose. If the person gets caught, however, they continue tapping the children on the head.
There is no real winner in this game, so be sure to have a little prize for all the children.
3 Musical Statues/Bumps
Kids of all ages love music and dancing, so whether you're after 2 year old party games or 4 year old birthday games – musical statues is always a winner.
Modelling is key with tiny tots, so show the kids what to do for the first few rounds. Crank the music up and get those little butts moving! There'll be giggles galore when they topple over after they try to 'freeze'.
Little children don't necessarily like to be 'out', so a variation to try is Musical Bumps. When the music stops, the children must sit on their bottoms as fast as they can. The first one down is the winner of that round and gets to take a bow – or run around and high-five all the other players – before the music starts again.
This is another one of the perfect birthday party ideas for toddlers whether you're hosting the party indoors or out and depending what variation of the game you play there may not be a winner, so have loads of tiny prizes on hands.
4 Pass the Parcel
When it comes to party activities for toddlers or any age child for that matter, Pass the Parcel is a perennial party favourite. However this one definitely comes with a caveat for younger kids. You will really need to consider your audience for this one as not all tiny tots are good at passing the parcel along and some of them will just get bored even waiting for their turn and wander off elsewhere.
If you think that the children at the party will be alright with passing on a gift to the next person, then you're welcome to try it. Many a game of Pass the Parcel has ended in tears – approach with caution!
If you're after 2 year old birthday party games, I'd probably "pass" on this one!
5 Pass the Ball
If you want alternative games for a toddler party to Pass the Parcel, Pass the Ball is a good one to consider. Like we eluded to above, we've all seen little ones hold the parcel a little longer than they should or start ripping into it before the music has stopped? Which is why Pass the Ball is such a great alternative.
In Pass the Ball, the kids pass the ball around, and when the music stops, the child with the ball leaves the circle and gets a small prize. The game continues until there is only one child left with the ball and that child receives the main prize.
You could even purchase a super cool ball, like a toddler soccer ball and that be the prize.
Just make sure you have some other toddler party activities set up for the children who leave the circle to do. We have some toddler birthday party activity ideas further down in this guide.
6 Ball pit/ball trampoline
Like we've said a few times already, the best birthday party activities for toddlers are often the unstructured games. So having a ball pit on hand is a great idea to organise.
Hit up your local discount variety store or get online and stock up on cheap plastic balls. Fill a little paddling pool, playpen or enclosed trampoline and let the fun take over! This is an example of gorgeous chaos when it comes to party games for toddlers.
You can even have the ball pit set up for the entire party, so if any of the kids are getting bored or impatient with one of the structured toddler party games and activities you've organised they can happily entertain themselves.
Editor's tip: These little plastic balls make great 'eggs' for an egg and spoon race, and the little spades from a beach playset are the perfect 'spoons'.
7
Bubble Blast!
Fun toddler party games don't get much simpler and easier than a bubble machine. A bubble machine can provide hours of gentle entertainment for little ones. Bubbles are fun to run through, dance in, catch, blow away, and poke. Can you dodge the bubbles before they burst on you? Set up 2 or 3 machines to create plenty of bubbles for all, add some music or disco lights, then sit back and watch while the bubbles work their magic.
There are so many different bubble machines out there, like these ones. Maybe you already have one at home, or you can ask some friends to borrow a few. Whatever you do be sure to have plenty of bubble solution as you do NOT want to run out of bubbles while those kids are having fun.
If you're looking for outdoor games for toddlers party – be sure to put a bubble machine at the top of your list.
Editor's tip: Bubble machines are best used on grass as burst-bubble residue can make some floors and surfaces slippery.
8 Hide and Seek
"Ready or not, here I come!"
Hide and Seek is one of the super simple games to play at a toddler birthday party. Most little kids love to play it too. But just go easy on the pre-prep crowd during a game of Hide and Seek. Make sure that you establish safe parameters and then let the game take care of itself!
9 Dance Party
Musical party games for little ones are always a winner, and this is our FAVOURITE party game for young children! Get the dress up costumes out (like chunky beads, sunnies and glitter hats), set up a play list of popular songs and let the good times – and camera – roll!
If you have any budding singers in the group, give them a microphone like this, so they can sing along too.
10
Steal the Cheese
Fun toddler party game ideas for little kids able to play structured games include Steal the Cheese. For this game, one person is chosen to be the cat (who guards the cheese), and all the other children are the mice.
The object of the game is for the mice to tag the cat to "Steal the Cheese" without being caught. The cat stands at one side of the room or garden facing away from the mice, and the mice at the other. Then very stealthily the mice must creep up on the cat. If the cat turns around, all the mice must freeze. If the cat sees a mouse move, it can pounce and chase the mice away! If a mouse is caught, it becomes the new cat, but if all the mice make it safely back to their base, the game starts again. If a mouse is clever enough to tag the cat, it gets the cheese (a small prize) and becomes the cat. Be prepared for lots of squeals and giggles!
This game is not ideal if you're after birthday party games for a 2 year old, as the game is pretty structured, but for 3 or 4 year olds and with some adult involvement it can be good fun. And don't get overly bogged down with the rules, just let them have fun chasing each other.
You could even get cute little kitty ears like this for the cat and these mouse ears for the mice.
11 "Were Going on a Bear Hunt"
Do we all know the words? We're not scared! If you're looking for games for 2 year old birthday party or even 3 year old party games, this is such a great idea. Plus it provides the BEST alternative to party bags!
Instead of giving your guests a bag full of lollies and little toys that will soon be forgotten, your guests will love finding their very own little bear to take home! Your local variety store is a great place to find cute little bears, and often at less than the cost of the contents of a lolly bag. Or look online too – there are stacks of great options.
Before the party, or while the kids are eating, hide the bears around the garden for the ultimate kid-friendly bear hunt. For a party of younger children, allow them to keep the first bear they find (they'll be so proud of their achievement that they won't want to let go!). For a party of slightly older children who are learning to read, find swing tags in the craft section to label each bear with the name of their child and gently explain the rules; that they have their very own bear to find and if they find a bear with someone else's name on it they must carefully put it back where it was hidden and not tell.
When it comes to party games for toddlers and preschoolers activities – be sure to put this one on your shortlist.
12 Treasure Hunt
You want party games for small children to be as fair as possible, so everyone has a fair chance of winning. Unfortunately, as fun as treasure hunts are for little ones, sometimes they can work out unfair for little kids. Some kids might end up with a stack of trinkets or lollies, while another child might end up with none.this
A good way to make a game of treasure hunt more even is to give each child a colour to go looking for. That way, you can already pre-plan how many items each child will find.
Also if you don't want to hide the lollies, but are happy for them to "win" lollies – hide coloured dots of paper or different coloured marbles and have them trade them in for the sweets.
13 Walk the Plank
If you're hosting a pirate-themed party and looking for some pirate party games for toddlers, Walk the Plank is a good one.
For this game, create the plank by laying a plank of wood on top of some bricks (doesn't need to be high just 30 cms or so is fine). Get each child to take turns trying to get from one end to the other without falling off. Each child who walks the plank without falling off gets a small prize.
You will want to have a few adults around for supervision and hold some of the kid's hands who are having difficulty in walking the plank.
Once a child makes it across the plank without falling off, they win a small prize.
14 Craft Table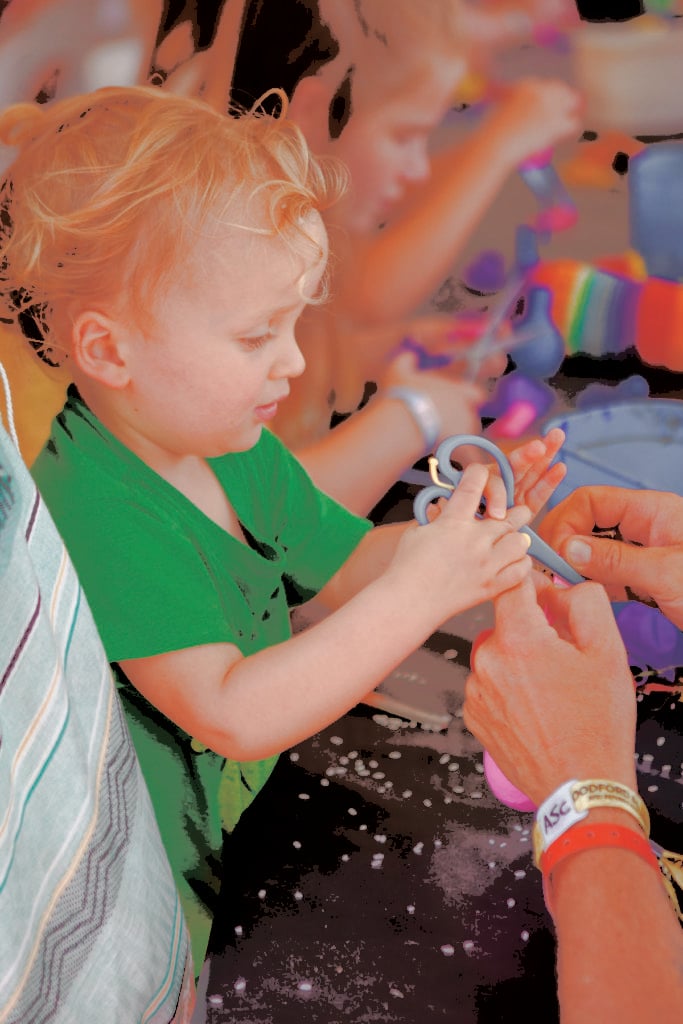 As well as party games for small kids, it's recommended to have a few birthday activities for toddlers set up, so there is always something for the little ones to do if they don't want to participate in any of the games.
One of the best toddler party activities is a simple colouring and craft table. Either buy a few different colouring in books and rip out the pictures, so there are individual pages or print a few colouring pages off from online. Make sure you have plenty of crayons and pencils and place it all out on a table.
If you want to make the craft table into a structured activity, you might buy some paints, glue and other craft items too. However having a simple colouring in table set up in the corner somewhere is perfect for little ones who need some time out, get "out" from a game or just want to do something different.
15 Dress up corner
Like the craft table, a dress up corner is great for little ones too. In fact, if you're after 2 year old birthday party activities, you don't need much more other then a few activity stations set up where they move around to as they please.
Dress up corners are super easy to arrange too. No doubt your little one has a stack of dress ups as it is. You could also grab some things from your own wardrobe or ask friends if you can borrow some dress ups.
If you want to buy some stuff, often the best place is jumping online where you can buy things super cheap. Things are that are always a hit with kids are like chunky beads, sunnies, glitter hats and feather boas.
16 Fishing
Fishing is a unique idea when it comes to birthday party games for small kids and does require a little preparation from you beforehand.
Before the party, you will need to wrap small trinkets (like pencils, crayons, matchbox cars, bracelets etc.) and tape a metal washer to each one. Then you make one fishing line with a rod and short piece of string. On the end of the string, you attach a small magnet.
To play the game, you then place the wrapped trinkets on a table and have a child stand on a chair and lean over with their fishing rod. They then fish and catch a present.
What you wrap up as presents is up to you. You can make them all the same or have some boobie prizes in there too.
It is best to have some activity stations set up, so the little ones who aren't "fishing" have something to do while they are waiting for their turn.
If you don't mind going to a little effort beforehand, this is one of the super fun birthday games for toddlers.
17
Pin the Tail on the Donkey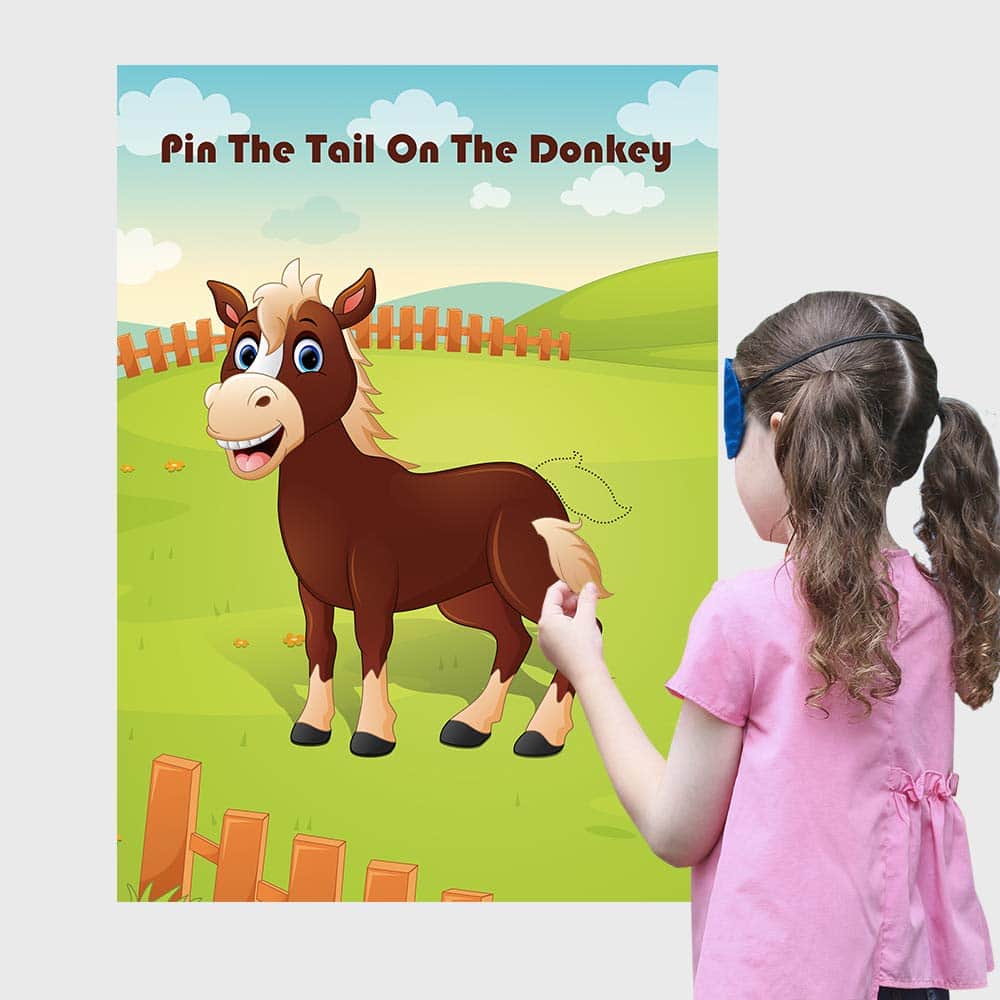 You can buy these "Pin the Tail" packages very cheaply from any store or online. Children are blindfolded and take turns 'pinning' (use blu tack) the tail on the poster to see who can get closest to the tail.
These days there are plenty of different versions of this game where you can pin the something or rather on … well, whatever you can think of. Here are some other options to consider:
18
Musical Chairs/ Cushions
Musical chairs is a personal favourite of mine and one of the games that are suited to children of all ages. However when it comes to games for a toddler birthday party, I like to switch it up a little to musical cushions. It's just chairs are too high for toddlers (unless you have toddler chairs) and they can be a little unsafe for boisterous kiddies.
If you don't have enough cushions, you could even just stick coloured sheets of paper or something similar to the ground.
19 Pinata
Another one for kids of all ages is a pinata. What child doesn't love seeing a stack of lollies come flying through the sky? My only suggestion in terms of birthday party games for little kids is perhaps don't blindfold them when it comes to swinging at the pinata. This makes it a little easier for them and safer too.
Pinata's come in all different shapes and sizes – you can check some out here.
20 Play Doh
Another idea instead of games for toddler's birthday parties is having a Play Doh station set up. All you need is a range of different coloured tubs of small tubs of play-doh and various simple cutters for them to use. The children can come and play at the table whenever they need a break from the rest of the party or get "out" from a game they are playing.
When it comes to little kids like if you're after games for a 2 year old party, you don't actually need much more than a few of these free play stations set up.
21 Block Corner
A block corner is another free play activity idea. A block corner is a perfect activity for toddlers. Whether you put out some Mega Bloks or a set of wooden blocks, or maybe both – this is a great place for kids to come to throughout the party if they need a break from the structured little kids' party games.
22
Doughnut on a string
This one is a lot of fun to play and to watch! Attach a doughnut on some string then hang it from somewhere above (like a horizontal pole or a beam). Set up as many as you need for your party guests (or do it one at a time if you are limited on space). Give everyone a time limit and see who is able to eat the most of their doughnut WITHOUT using their hands or licking their lips! Really it's just a lot of fun seeing the kids attempting to eat a doughnut that keeps flying away from their mouths!
23
Potato printing
For little ones that love craft, this is a great idea. Prepare some potatoes in advance by slicing them in half and cutting shapes into them with a knife (pro tip, you can use cookie cutters to mark out shapes to cut by pressing the cutter into the potato and cutting around with the knife so you're left with the perfect cookie shape!) Give the kids some saucers of paint and hey presto – let your little artists go to town creating epic pieces of art that they can take home! (It's a good idea to warn other parents in advance about this one so they don't come dressed in their best clothes as it can get messy!)
24 Dinosaur bath / car wash / doll salon
Kids love water play, so combine their favourite toys with a few buckets or bowls of water and some soap suds and small towels and make it bath time for their favourite toys! You can make it a car wash (give them a tooth brush so they can give the cars a proper deep clean!), a doll salon (they can redo their hair and dress them again afterwards) or give the dinosaurs a wash! Who knew something so simple could entertain toddlers for so long!
25 Make musical instruments and then play them together!
You can make musical instruments like drums and shakers with all kinds of household objects like toilet paper tubes, cardboard boxes, empty tins with lids, dried pasta, rice and wooden spoons! The kids will love decorating their new instruments with stickers, pens and paint. The only thing they will love more than making them is playing them!
Party games for toddlers and kindy kids

What birthday party game ideas for toddlers do you recommend? We'd love to hear from you!
If you are looking for ways to deal with the 'terrible threes' check out this article!
This article featured in Issue 34 of our printed magazine, published June 2019.