Glow Worm Spotting on the Gold Coast
Did you know that you can see glow worms on the Gold Coast?
Arachnocampa Flava glow-worms are a primitive fly species found only in Australia and New Zealand, and we're lucky enough that our part of the world provides the perfect habitat.
So, why not transport yourself and your family to a magical world where fairies and pixies cavort and party with glow worms deep within caves on the Gold Coast Hinterland. Or just go and check them out because it's really pretty cool to see bugs that glow up close and personal. It's a great way to get kids a little more excited and interested in the natural world and might be the very thing that sparks off an interest in bugs and insects and a career in entomology!
Here's our list of places to go glow worm spotting on the Gold Coast:
Mt Tamborine Glow Worm Caves
Where: Cedar Creek Estate Corner Long and Hartley Road 104 – 144 Hartley Road North Tamborine QLD 4272.
Open: 10am to 4pm daily
Phone: (07) 5545 1666
More information: glowwormcavetamborinemountain.com.au
The Mt Tamborine Glow Worm Caves at Cedar Creek Estate are actually artificial, man made caves designed to recreate the very specific conditions that glow worms need to thrive so that you can be guaranteed a cave filled with thousands of glowing worms all year round.
Don't let the fact that the caves are artificial put you off, they're extremely well done and filled with extremely realistic stalagmites and stalactites. The controlled environment means that you won't be disappointed on your glow worm spotting adventure.
When you've finished with the glow worm caves be sure to check out the frog hollow and find yourself a shady spot to enjoy a picnic in the beautiful grounds of the Cedar Creek Estate.
Natural Bridge, Springbrook National Park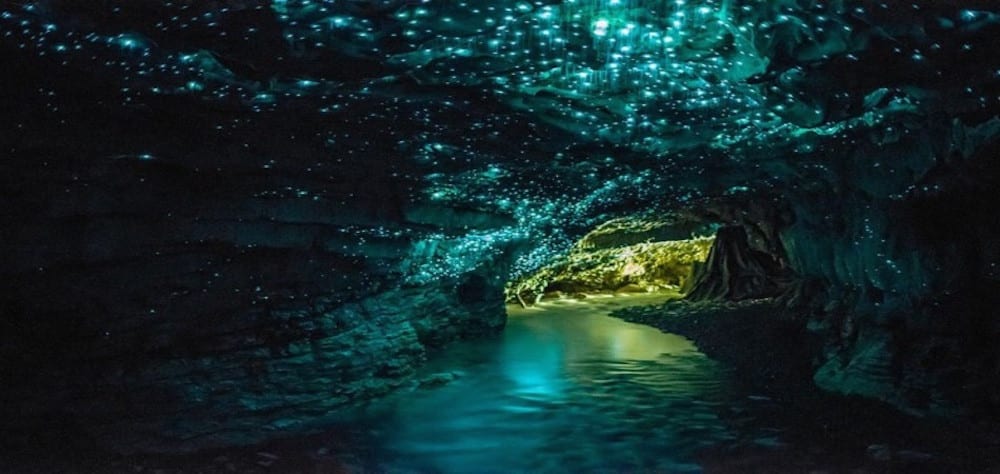 Image credit: Gold Coast Australia Tours
Where: Nerang-Murwillumbah Road, Springbrook QLD, 4213
Phone (07) 5545 1666
More information: Qld Government National Parks: Springbrook
The Natural Bridge rock arch is an easy one and a half kilometre circuit track walk through spectacular Gondwana rainforest. The glow worms can only be seen at night and there are local tours available if you don't fancy bushwalking in the dark by yourself. During the summer months you can also see glowing fungi and fireflies adding to the magic of the experience.
Being a natural cave formation, weather and seasonal variation in the colony of glow worms can impact the number of glow worms you can actually see, but the truly amazing setting makes it well worth a visit.
Most guided tours also take advantage of the lack of lights in the national park and include a star gazing session to observe the stars of the Southern hemisphere.
Find a discounted guided tour here.
Some glow worm visiting rules:
Glow-worms are sensitive to changes to their environment, so please follow some basic cave rules:
Bring sufficient torches—allow at least one torch between two people.
Do not shine torchlight directly on the glow-worms at any time. This can cause the glow-worms to stop glowing and interrupts their feeding.
Do not use flash photography—it disturbs the glow-worms. Allow for longer exposure on your camera to capture the glow-worms at night.
Please keep noise to a minimum.
Smoking is not permitted in the cave—smoke can kill glow-worms.
Apply any insect repellent before entering the park—repellent can kill glow-worms.
Keep group sizes to a minimum—a maximum of 10–12 per group is recommended.
Following these simple procedures ensures maximum enjoyment for you and other park visitors. It also minimises visitor impacts on the glow-worm colony, ensuring the population will be here for future generations to enjoy.
The best bioluminescence displays are usually during the warmer, wetter months of the year (December to March). Glow worms are found in only five locations within Australia and two of these are on the Gold Coast! So take advantage of the amazing opportunity to see glow worms on the Gold Coast and enjoy the beautiful and lush rainforest of the hinterland at the same time.