Primary aged children in that 5-11 year age group really do have the best of everything at Dreamworld and WhiteWater World. Fitting nicely into that bracket of 'not yet too big for the cute little kid stuff' and 'just big enough to step it up and try out some thrill rides', school-aged kids seem to have the best of ALL worlds. Head to the Gold Coast to make new memories at Dreamworld for primary aged children!
What's to love at Dreamworld for primary aged children?
Dreamworld has themed areas throughout the park, including Corroboree, Dreamworks, ABC Kids World, Main Street and Ocean Parade. All offer a different experience and have something to cater for all primary children from prep to teen! If you have other children, we've also written about Dreamworld for toddlers and pre-schoolers, and Dreamworld for 'tweens and teenagers.
Corroboree
Corroboree is the place to go with your animal loving kid! Dreamworld's Corroboree is home to around 500 native animals and birds, including tree kangaroos, dingoes, emus, crocodiles and brolgas.
At Corroboree your primary aged child can see keeper presentations about the resident animals and birds, and meet many of our Aussie favourites. There's a great little Vintage Car Ride tucked behind Corroboree; you'll find it by taking the path between the emu enclosure and the bilby house.
Corroboree is suitable for all ages
Riders must be 120cm to ride unaccompanied on the Vintage Car Ride. Children under 4 must be accompanied by an adult or person over 14 years old.
DreamWorks Experience
DreamWorks Experience is home to movie favourites Shrek, Kung Fu Panda and Madagascar. It's the perfect place at Dreamworld for primary aged children with a colourful and exciting mix of thrill rides and gentler rides, live performances, and activity.
DreamWorks Experience rides
Younger primary children – and those not quite ready for big thrill rides – will enjoy Shrek's Ogre-Go-Round carousel and Dronkey Flyers. Those a bit braver can step it up with Gingy's Gliders, Puss In Boots Sword Swing (both flying rides) and the Skadoosh Bumper Cars. Your thrill seekers will love taking to the air on the Escape From Madagaascar rollercoaster and swinging upside down in a Pandamonium rickshaw!
Shrek's Ogre-Go-Round – guests under 110cm must be accompanied by an adult
Dronkey Flyers – guests under 105cm must be accompanied by an adult (note: ride closed for maintenance until April 30, 2021)
Gingy's Gliders – guests must be at least 105cm to ride; max weight 125kg
Puss In Boots Sword Swing – guests must be at least 110cm to ride; max weight 77kg
Skadoosh Bumper Cars – guests must be between 90cm and 120cm to ride, with riders under 120cm to be accompanied by an adult
Escape From Madagascar – guests must be between 110cm and 195cm to ride, with riders under 130cm to be accompanied by an adult
Pandamonium – guests must be at least 120cm to ride; max combined weight per carriage 300kg
Other DreamWorks Experience Attractions
Mad Jungle Jam – If your kids have a little energy to burn, while you could do with a rest, they can let off excess steam in the Mad Jungle Jam. The Mad Jungle Jam is a multi-level climbing and play centre filled with hundreds of squidgy balls, air cannons, foam fountains, rope bridges and lookout towers. There are no height restrictions in Mad Jungle Jam, so fun loving parents can have a blast too!
King Julien's Theatre – Drop into King Julien's Theatre in the Wild and enjoy the 20-minute DreamWorks Animation Madagascar Live! Prepare to Party Show. Check for show times when entering the park so you don't miss out!
Madagascar Water Fun – Great fun for kids on a hot day, Madagascar favourites Marty, Alex, Gloria and Melman are waiting to squirt water at you as you walk by!
DreamWorks Experience is ideal for memory-making photo opportunities. You can put yourself in the picture with staged displays, or meet roving Dreamworks characters keen to strike a pose with your child.
Other rides and experiences for school aged kids at Dreamworld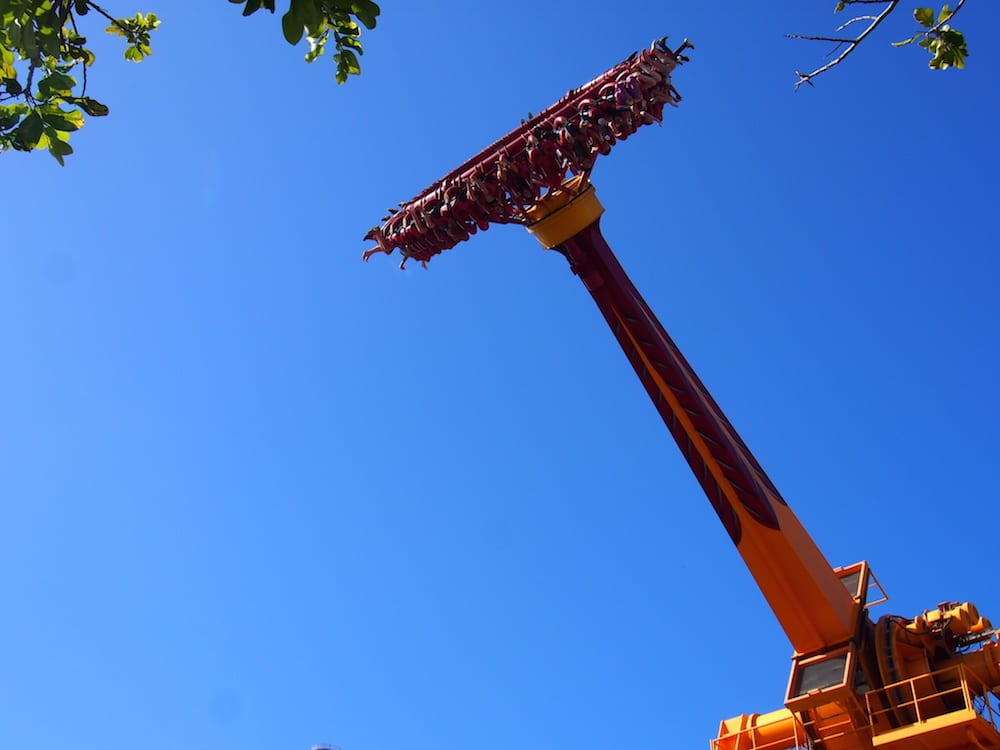 As you stroll through Main Street and Ocean Parade you will find family rides and thrill rides, from those that amaze and delight (Sky Voyager!) to ones to get the adrenaline pumping.
Sky Voyager takes you on a multi-dimensional journey across Australia. As you soar over virtual landscapes you will tilt and swoop, feel the wind in your hair, and sea spray on your face. It's a ride experience like no other! Guests must be a minimum height of 100cm and minimum age of 4 years old. Children under 130cm must be accompanied by a rider over 14 years old.
One of the most iconic rides at Dreamworld is The Claw. It's one of those must-do rides that lower primary kids aspire to, but there is a minimum age requirement of 10 years old and a minimum height requirement of 120cm, putting it firmly in the upper-primary thrill ride bracket. Riders on The Claw are spun full circle whilst swinging up to 8-storeys high at up to 64km an hour. Mums, this is one you have to try too – don't let the kids have ALL the fun!
Head to the Dreamworld website to see a full list of all the rides and attractions available at Dreamworld for primary students and to plan your day with your family.
WhiteWater World – a splashing good time for primary aged kids!
On hot summer days there's no better place to be with your school-aged kids than WhiteWater World. WhiteWater World is open all through the summer holidays, and seasonally for the remainder of the year.
WhiteWater World is right next door to DreamWorld, and as a Dreamworld ticket holder you can come and go between the two as you please.
At WhiteWater World your kids can experience the thrill of numerous water slides and rides, splash out in the Cave Of Waves fully-patrolled beach style wave pool, or run wild in the Pipeline Plunge.
Pipeline Plunge is an adventure playground with scramble nets, slides and climbing areas – with the added attraction of water! There are fountains and water cannons, and a huge tipping bucket to give the kids a drenching!
Your entry ticket to Dreamworld includes access to WhiteWater World, but you can also purchase entry to WhiteWater World separately if you want to spend the whole day there. The best way to enjoy a full day at WhiteWater World is by hiring a cabana. Each Cabana comes with deck chairs, couches, a coffee table and mini refrigerator, making it an ideal base to set up your family's 'relaxation station'.
The best way to enjoy it all
With so many opportunities to make new memories, you will want to go back to Dreamworld and WhiteWater World again and again. The best way to do this is with a Locals Annual Pass. For just a little more than the cost of a one-day entry, the Locals Annual Pass allows you to visit as often as you want over a 12-month period, with entry to Dreamworld, WhiteWater World, and SkyPoint Observation Deck (Surfer's Paradise) included.
Your annual pass will also gain you entry to one Happy Halloween event, one ice-skating entry at a Winterfest event, plus a free digital photo pass and discounts on food and merchandise. Find out more about Locals Annual Passes and tickets here.
Here is everything you need to know about Dreamworld: