Nerang Cinemas and surrounds are one of the Gold Coast's best kept secrets. A family friendly destination – with markets and playgrounds nearby, it's a top day out! We sent one of our writers on a 'field excursion' with her kids. Read on to find out why you should add this to your 'day trip bucket list'!
When we head to the movies, we typically go to our local, but yesterday I made a discovery, there are MUCH cheaper options out there, and taking a drive came with another BIG side benefit. But before I go into that, I'll set the scene.
We went to Nerang Cinemas and ended up spending the majority of the day doing things all within walking distance of each other… we went to the markets, had lunch and spent time at the local playground (with epic climbing trees!).
Here's what we found…
Nerang Cinemas
If you're looking for a really cheap day out at the movies and if you are looking for a different or new option, or if you are on the Gold Coast already, the Nerang Cineplex offers year round cheap movie tickets from as little as $5.00 for kids and $8.50 for adults. Check their Nerang Cineplex for full prices for movie tickets and Nerang Cinemas session times.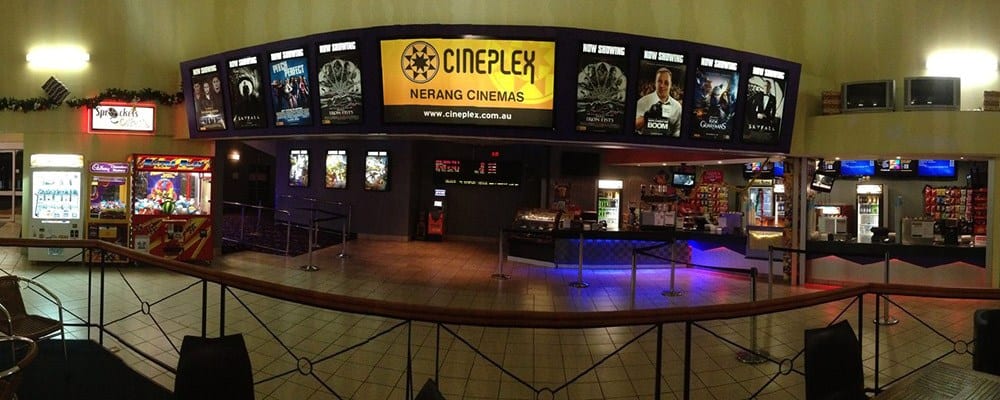 But as we all know, the cost never stops there, there's popcorn, drinks and additional items that our small humans can't possibly live without. We made the journey with a $50 voucher in our pocket, given our group contained 2 adults and 3 children, I was more than confident that we wouldn't have a problem spending it.
I was pleasantly surprised when we purchased popcorn, water, a slushy, a few packets of snakes and a choc top ice-cream and the cost barely made it over the $20 mark. That's some cheap move snacks right there!
So of course… we went back for round 2 and bought more slushies, more popcorn, another ice-cream and more water… (and we still came home with money on the movie gift card).
I have no idea how long the Nerang cinemas have been around, but the cinemas looked brand new, they DIDN'T have allocated seating (which I loved), but besides this, they were the same style as our local.
(The face expressions are due to a particularly "intense" scene in Smallfoot, an amazing movie by the way!)
Did I happen to mention the choc-top ice-cream? As far as I'm concerned, these aren't optional. At $3.50, they are made on site, come in every flavour you can imagine and are absolutely divine. My friend Ann Louise agreed, but wasn't impressed with me taking the photo, I've made it small she won't be so mad at me.
So… you're looking at a family of 4 getting in for around $27 (movie tickets) and a candy bar cost of around $25. The total being approximately $52… for tickets and food… without skimping on the food.
Nerang Markets
The Nerang Markets, officially called the "Lavelle Street Markets" are on every Sunday morning from 6:30am to 12pm. The Nerang Markets on the Gold Coast are walking distance from the Nerang Cineplex, the local playground and plenty of cafes.
The Sunday we were there they had a jumping castle, which was free… I'm not sure if this is a normal occurrence, but we took advantage of this and sat down at the nearest coffee shop and let them wear themselves out while we inhaled our beautiful, beautiful caffeine filled beverages and listened to live music.
We spoke to the event organiser, she advised that they plan on expanding the kids entertainment soon.
The markets consisted of lots of fresh produce (seriously… 5 avocados for $5), soaps, handmade clothes and more. Check out our photo gallery for some of the things we saw.
Where to eat in Nerang
There are actually a lot of food options, most of them are much cheaper than what we're used to paying for lunch. We chose a nice little Cafe inside the Nerang Cineplex, it's called "Coffee Break". The menu was really extensive, the food was fantastic and the prices were amazing.
Bischof Pioneer Park Nerang
Bischof Pioneer Park is a lovely small playground in Nerang, and it's walking distance from the Nerang Cinemas, the local cafes and the Nerang markets. It's a great place to spend some time in between other activities.
We went along with 3 x 8 year olds and we spent 1/2 hour between the markets and lunch, then an hour between the lunch and movies.
In addition to the playground, there are some lovely climbing trees….
…. and a big ship that they wandered around… and we stopped them climbing on.
Public transport to the Nerang Cineplex
You can catch a train to the Nerang train station and then a taxi or Uber (which takes 5 minutes) to the Nerang Cinemas. As you can see there is plenty to do in the immediate vacinity of the cinemas for a day trip.
Nerang Cinema is right near the Nerang RSL
Just down the road from the cinema is the Nerang RSL which might be somewhere you want to have dinner if you are spending a full day in the Nerang area?
Other things to do near Nerang
If you want to have a big day out, couple your adventure with one of the following:
Nerang – in summary
Here's what I learnt…. occasionally we go to the movies, for lunch, the local playground and markets, but we tend to do one or two of these places in a day…. and ONLY if the times are in synch. with each other.
We went to Nerang to visit the markets and the movies, but given we ordered our 2pm movie tickets and got there MUCH earlier, than we expected, we had time in the middle. Time to just chill out and let the kids play. The kids spent at least 1.5 hours at a "local style" playground. A school Mum and I had a great time drinking a coffee and having a chat, the kids never asked to leave… not once. Typically if we go to a playground, we are rushing to get somewhere, not just spending time with them, helping them to climb trees and pushing them on the swings.
There was no rushing, we made the most of each place we went and the kids were relaxed.
If we were in our local area, we would have gone home in the middle. I would have cleaned the house, they would have done their own thing.
Heading out of our local area was not only a change of scenery and much cheaper than our local movie prices, but we had forced relaxation time…. which was lovely.
The Nerang Cinema… the Cineplex, is a great movie theatre, coupled with the Sunday markets, the little cafes and the local playground, it was a lovely "close to" full day out!