There are so many amazing festivals Brisbane has to offer right through the calendar year! If you're looking for something fun that the whole crew can enjoy, then we might have just the activity you've been looking for (and some of them are cost-free, woohoo!)
If you're looking for the best Brisbane festivals, consider this your ultimate guide. We know where to go (because we go, too!)
Festivals in Brisbane are a great opportunity to really take part in what our beautiful city has to offer. From riverside delights to cultural celebrations to everything food – there truly is something for everyone.
Here are a few tips on making the most of Brisbane's festivals. Make sure you also keep a close eye on our constantly updated festivals page so you don't miss a minute of the fun!
Festivals in Brisbane FAQs
What are the biggest festivals in Brisbane?
There are many Brisbane festivals throughout the year but some of the most popular the the Brisbane Festival (including Riverfire), the Brisbane Marathon Festival, and EKKA.
What are the best festivals for kids in Brisbane?
All of the festivals on this list are kid-friendly but a few of the best ones include Little Splendour, Winterfest, and the World Science Festival.
What are the best free festivals in Brisbane?
The Oxley Community Festival, Buddha Birth Day Festival, Darra Community Festival, Luminous Lantern Festival, and Riverfire are all free to attend.
The best family festivals Brisbane in January 2023
1. Lunar New Year Festival 2023 | Brunswick Street Mall, Fortitude Valley
Experience Lunar New Year in the heart of Fortitude Valley and enjoy the unique flavours and vibrant culture that Chinatown has to offer. Book a table at your favourite venue and enjoy the roving entertainment, including lion dances and Japanese drumming. Events take place 4pm – 8pm.
2. Australia Day 2023 | Various Venues
Australia Day is celebrated at various venues and in many ways across Australia. Most council regions will host their own events, usually including citizenship ceremonies and fireworks. Here are some ideas of things to do on Australia Day with kids and things to do on the Gold Coast with kids on Australia Day.
3. Oxley Community Festival 2023 | Oxley
The Oxley Community Festival is back on 26th January 2023, from 1pm-8pm. This year will be bigger and better than ever before! Head along to this family friendly event to enjoy free rides, a splash pool, live music and plenty of fun entertainment for all the family.
Got any great family festivals in January? We'd love to hear about them! We'll continue to hunt for them and update this section when we find 'em.
The best family festivals Brisbane in February 2023
4. Moreton Bay Region Lunar New Year 2023 | Caboolture
The Moreton Bay Region Lunar New Year event is once again bringing the vibrant celebrations of the East to Caboolture. It is sure to be a jam-packed, family-fun evening to celebrate the start of the Chinese New Year! Event takes place at 8pm.
5. BrisAsia Festival 2023 | Across Brisbane
Are you ready to try something new at BrisAsia Festival? From the city to the suburbs, see an array of diverse live entertainment, outdoor activity as well as healthy and active events. There is something for everyone to enjoy with a range of events across Brisbane that celebrate the diversity of food, music, dance and art within Asian culture. From dumpling making to lion dancers, a rooftop dance party and weekend food festival, Brisbane city and the suburbs will come alive and ring in the Chinese New Year in style. Find out more here.
6. Mind Body Spirit Festival 2023 | South Brisbane
The Mind Body Spirit Festival, Australia's largest health, well-being and natural therapies event is coming to Brisbane.
Learn from over 200 exhibitors, attend inspirational seminars, book yourself a psychic reading, try some body pampering, watch stage performances, join a meditation session and taste some delicious health foods!
See, try and buy unique products and gifts including jewellery, cosmetics, music, books, gift ware, clothing, crystals, educational courses, body treatments and more! Find out more here.
7. Brisbane Holi – Festival of Colours 2023 | Rocks Riverside Park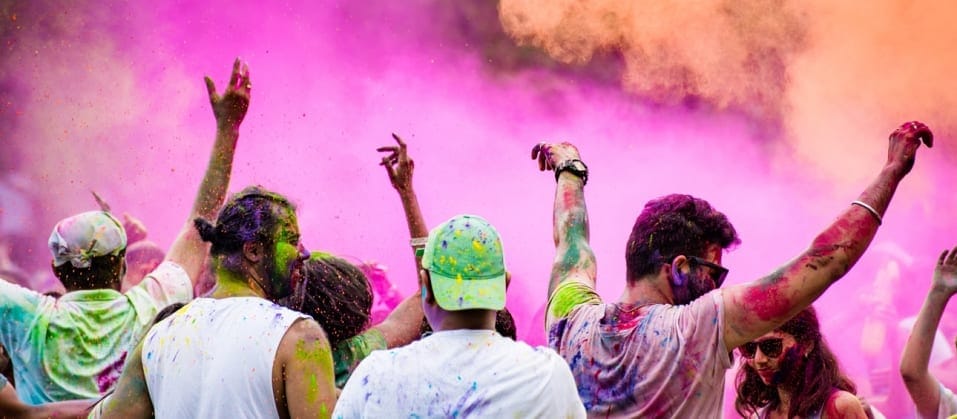 Brisbane Holi – Festival of Colours celebrates Brisbane's vibrant multicultural communities. Organisers are promising that this year the colors will be extra vibrant and the atmosphere extra joyful! Originating in India many centuries ago, Holi is a widely anticipated annual event across the globe, with many forms of celebrations taking place to share in the joy and happiness of colour, dance and music. Find out more here.
The best family festivals Brisbane in March 2023
8. The Hills Festival 2023 | Multiple locations
The Hills will come alive this March with fireworks, rides, entertainment and workshops for the month-long program of Hills Festival.
Just north of Brisbane encompassing the suburbs of Arana Hills, Bunya, Draper, Everton Hills, Ferny Hills and Albany Creek, The Hills District will be stacked with an expansive program of unique events and activities spanning the entire month of May. Find out more here.
9. Sunflower Festival 2023 | Kalbar
The 2023 Sunflower Festival will return to Kalbar in March. This year, organisers have planted ONE MILLION sunflowers for your enjoyment! Plus, there will be lots of new props and photography areas for you to get that special family shot. Take a stroll through the sunflowers, be a-mazed at the 4-acre sunflower maze, enjoy the live entertainment, pick some flowers to take home and get a professional photo taken. There is so much to do!
10. World Science Festival 2023 | South Brisbane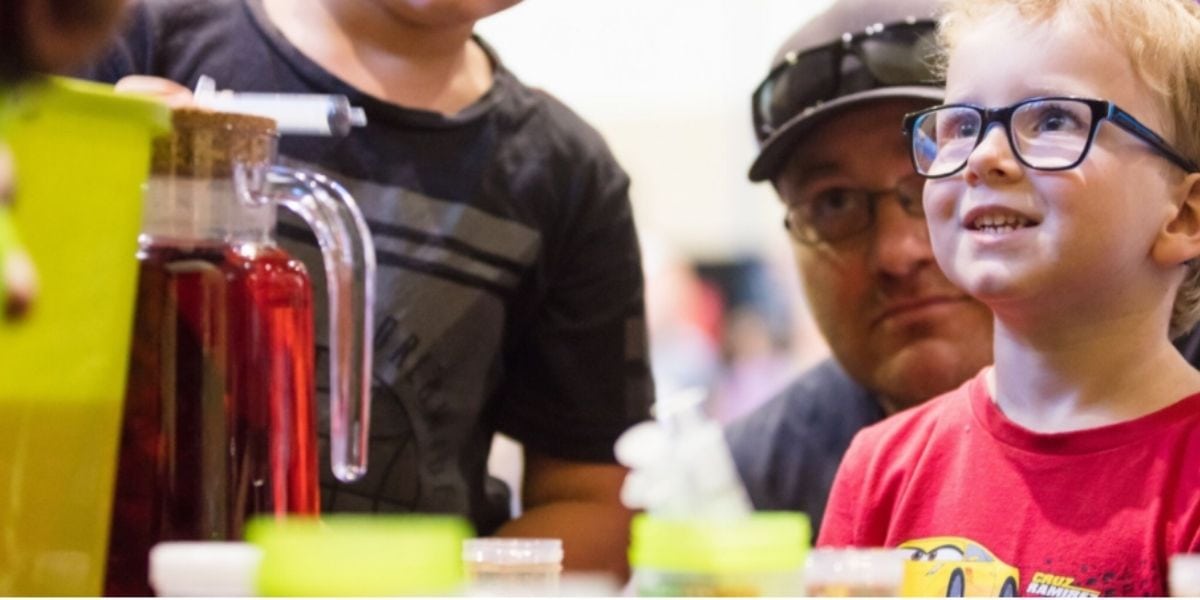 This is one of our favourites. The World Science Festival showcases a huge variety of all things science. From engaging and enthralling conversations with leading scientists and experts to a collision of science and art. There is something for all ages at World Science Festival Brisbane. The festival will once again hit the road! World Science Festival Queensland is returning to Regional Queensland throughout the year to Townsville, Chinchilla, Gladstone, Toowoomba, and Ipswich. Definitely NOT one to be missed! There is plenty to see and do.
11. Brisbane Cycling Festival 2023 | Various Locations
The Brisbane Cycling Festival will return in 2023, with a jam-packed line-up of rides, races, events, expos and entertainment to light up Brisbane. From the elite right through to mass participation events there is something for every cyclist of all abilities. The citywide celebration of cycling will come together again at Brisbane Showgrounds with a free pop-up Festival Village welcoming riders and spectators alike.
12. DogFest | Victoria Park
DogFest 2023 is coming to Victoria Park! Hosting a paw-some line-up of dog-friendly stallholders, human-friendly food trucks, live entertainment, training demonstrations, activities, and competitions for everyone to enjoy! DogFest is an innovative and informative doggy event not to be missed by paw-rents.
13. Curiocity Brisbane 2023 | Various Locations
Let your imagination roam free! Curiocity Brisbane is a celebration of science, art and tech, where new possibilities play and big ideas collide. Explore a packed program of interactive installations and events including World Science Festival Brisbane. Watch as the city around you is transformed into a world of discovery. Curious visitors of all ages can explore, create and play with the physical and digital Curiocities.
The best family festivals Brisbane in April 2023
14. Caboolture Festival 2023 | Caboolture
Caboolture and surrounds will be a hive of activity for the entire month of April 2023, with a jam-packed program set to bring live music, entertainment and family friendly events to the area!
The festival will have an event for everyone featuring art exhibitions, family-friendly activities, an extravagant high tea, yoga, boxing and more!
15. Bluewater Festival 2023 | Shorncliffe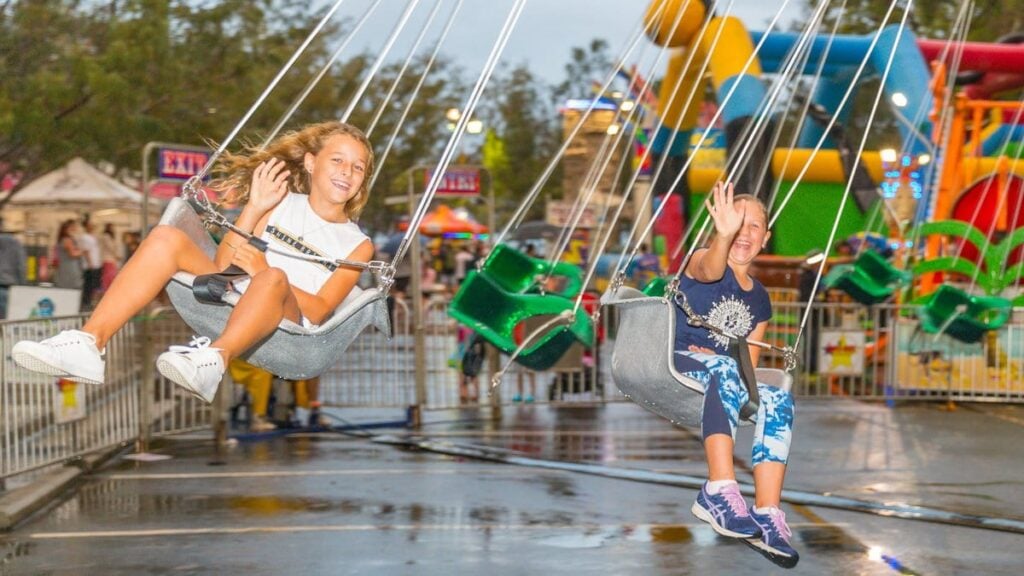 Organised by the Sandgate Bayside Chamber of Commerce, the famous Bluewater Festival held at Shorncliffe Pier is an event not to be missed. Held on the scenic foreshore at Shorncliffe in conjunction with the annual Brisbane to Gladstone Yacht Race it's the perfect vantage point to watch the start of this iconic race. Head to Lower Moora Park, Shorncliffe for FREE entry to the food festival, markets, entertainment throughout the day including live bands, kids' activities, rides, and fireworks in the evening.
16. Straddie Easter Carnival | Dunwich
Where better to celebrate Easter Saturday on the 8th of April 2023 than on Stradbroke Island!
This annual Easter community event coordinated by Straddie Sharks Rugby League Club has rides for the kids, showbags, animals, market stalls, and a spectacular fireworks display to end a fantastic day out. Find out the details here.
17. Brisbane Comedy Festival 2023 | New Farm
Comic musings, side-splitting stories and tear-inducing tales…Brisbane Comedy​ Festival returns in 2023, bursting at the seams to host a hand-picked selection of the funniest folk in the country. Get skit-faced with many of your favourite rib-tickling rascals from across Australia. From stand-up to improv and sketch comedy, they've got your tastes covered, plus they'll shine a light on the best new talent, here and now! Bookings required. Brisbane Powerhouse, The Tivoli and The Fortitude Music Hall.
18. Buddha Birth Day Festival | Priestdale 2023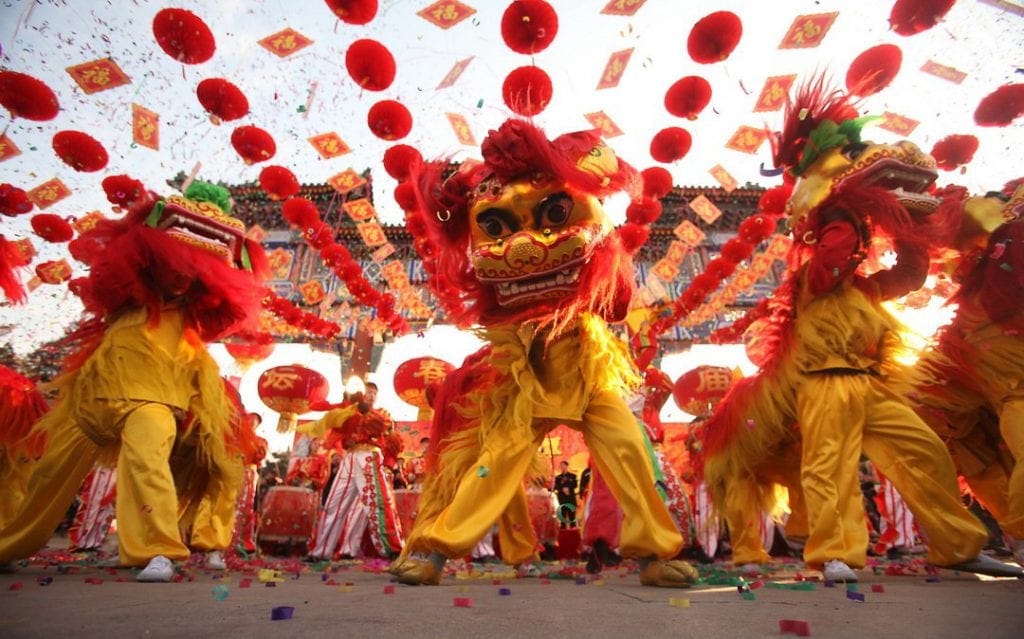 The Buddha Birth Day Festival celebrates Australia's harmony and diversity, and this year the festival will be held at Chung Tian Buddhist Temple. The festival includes unique experiences such as traditional Chinese tea ceremonies, multicultural performances, meditation, vegetarian food stalls, Buddhist talks, Baby Blessing ceremony and much more! Entrance to the Buddha Birth Day Festival is FREE and open to the whole family.
The best family festivals Brisbane in May 2023
19. Anywhere Theatre Festival 2023 | Multiple Locations
4 – 21 May 2023 – (some events free, some ticketed)
Anywhere Festival is days of performances anywhere but a theatre in Brisbane, Sunshine Coast, Noosa, Ipswich, Moreton Bay and from anywhere online 4 – 21 May 2023. You can expect theatre in car parks, comedy in laneways, opera in reservoirs, dance in stairwells and quirky workshops exploring arts and craft.
20.Mould – A Cheese Festival 2023 | Bowen Hills
Australia's favourite cheese festival, MOULD, is coming back to Brisbane for an even bigger mozzare-hella good time! MOULD will bring together the best artisan cheese producers from across the country for a day of cheese, wine, masterclasses and more. To make sure cheese-crazed fans can access as many dairy delights as possible this year they have over 25 top artisan cheese producers lined up for you. See more here.
21. Moreton Bay Multisport Festival 2023 | Clontarf
The Moreton Bay Multisport Festival is held at Pelican Park on the beautiful Moreton Bay foreshore, the event has partnered with local charity, Children's Hospital Foundation, to help raise vital funds for sick and injured kids right across the state.
Enjoy the perfect twilight running conditions and cooler evening temperatures on Saturday with distances available for all running (and walking) abilities. The triathlon on Sunday morning then features a safe swim in the protected bay, followed by a fast ride over the Ted Smout Bridge and a flat foreshore run.
22. The Brookfield Show 2023 | Brookfield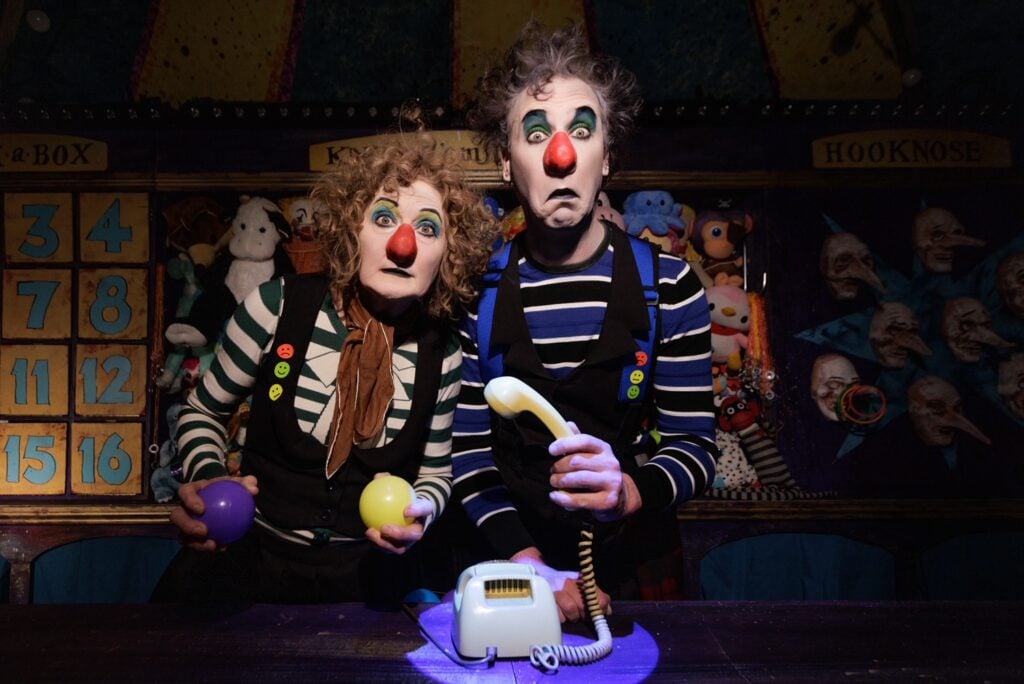 The Brookfield Show in 2023 is set to amaze and delight show-goers across three jam packed days. Known as Brisbane's biggest little country show, expect traditional competitions and new ones such as LEGO by Brick Events.
Children's entertainment includes Mini Moshers, Larrikin Puppets and the wildly popular, Bolster and Lee circus set to debut this show. Also new will be the Snake Boss show, run by Julia Baker who hosted this award winning program on Animal Planet TV.
The popular Rodeo will be held on Friday night, FMX stunt bikes on Saturday night and live music both Friday and Saturday nights. Sunday will end with a bang with fireworks!
The full entertainment schedule will be released soon. Find out more here.
23. Ipswich Show 2023 | Ipswich
The Ipswich Show is celebrating its 150th anniversary – and the festivities are going to be huge! Celebrations kick off on Friday 19 May with show favourites including animals, arts, craft, food, showbags, pig racing, nightly fireworks, sheep dog demonstrations, sideshow rides
and much more.
24. Paniyiri Greek Festival | West End
20 – 21 May 2023 – (tickets)
One of Australia's longest running festivals, Paniyiri celebrates all things Greek, including food, dance, grape stomping, plate smashing, cooking and cultural activities. Located in Musgrave Park in South Brisbane and also in the Greek Club across the road. There's always plenty happening on the entertainment stages and don't forget the legendary honey puff eating competition.
25. Teneriffe Festival 2023 | Teneriffe
Brisbane's biggest street party, the Teneriffe Festival celebrates the rich heritage and kaleidoscopically diverse community that is Teneriffe, by erupting in a fabulous fiesta of the best eats, beats, art, drinks and entertainment the area has to offer. You won't believe how much they've packed into one day!

This year, festival-goers can enjoy indie folk band Boy and Bear along with a hot line up of entertainment! With a range of kids' activities, and plenty of food and drink options there is fun for all the family!
26. Red Thunder Airshow 2023 | Cressbrook
Red Thunder brings together the experience of ex Military pilots, giving Warbird owners a snapshot of combat type operations and detailed training events. Find out more here.
27. Darra Community Festival | Darra
Come celebrate Brisbane's best suburb: Darra! The Darra Community Festival is a free community event open to all. There are local performers, food trucks and stalls, cheap rides, art and demonstration classes. It's a great time. Come along.
28. Green Heart Fair 2023 | Victoria Park
Brisbane City Council's Green Heart Fair is back and will be better than ever! The fair will feature Brisbane's leading sustainability experts ready to share practical tips and tricks to live a more eco-friendly life. You'll be treated to sustainability displays, expert talks, eco-friendly exhibitors, pre-loved clothing, flood resilience tips and so much more! Held at Victoria Park.
29. Dayboro Day Festival 2023| Dayboro
After a three-year break, the Dayboro Festival back for 2023! The Dayboro Day Festival is held in conjunction with the Dayboro Antique & Collectables Fair in the township's main street. The Festival and Fair is an opportune time for locals and tourists to explore the gorgeous Dayboro Valley area, uncover its hidden gems and experience all that this quaint rural township has to offer.
Since 1991, this festival has grown to attract over 20,000 visitors to our beautiful country town. Dayboro is located at the foot of the D'Aguilar Ranges, 21 km's N/W of Petrie. Go and experience a touch of rural hospitality from our historical town.
The best family festivals Brisbane in June 2023
30. Scenic Rim Eat Local Week 2023 | Multiple Locations
Eat Local Month has something for foodies of all ages, from free and low-cost activities for children and families, including farm tours and cooking classes through to exclusive dining experiences hosted by some of Queensland's finest Chefs.
This festival of food and farming runs during the month of June at various locations around the Scenic Rim region, which is just one hour's drive from Brisbane and the Gold Coast. Find out more
31. Steam Fair 2023 | Whiteside
Old Petrie Town will come to life for its Steam Fair from 3-4 June 2023 with the sight, sounds and smells of a bygone era when Steam was King.
Take the kids to see beautifully restored steam machines at their magnificent best showing off on the streets of Old Petrie Town. There will be heritage equipment displays showing how things were done on the farm and in the cities. Plus markets, food, heritage shops, kids activities and even a heritage hotel. Something for everyone!
Plus, each day will include with a Grand Parade of Magnificent Machinery thru the ages, chugging along the streets of the town. Find out more here.
32.
Logan Eco Action Festival (LEAF) 2023 | Meadowbrook
It's time to celebrate making small changes everyday to help our planet. Head to Logan Eco Action Festival aka LEAF and join in learning big and small tips to live a more sustainable lifestyle!
There are interactive presentations and workshops from some of our country's leaders in sustainability, gardening and waste reduction! Plus eco stall holders, sustainable cooking demos, hands-on craft making, eco-markets, plant sale, an array of food trucks, live music and fun kids' activities. Find out more here.
33. Brisbane Marathon Festival 2023 | Brisbane CBD
The Brisbane Marathon Festival is one of the oldest and most friendly events on the Australian running calendar attracting thousands of participants each year. Choose from the full 42.2km, 21.1km, 10km, 5km or 2km. The course gives you the incredible opportunity to run over the main deck of the iconic Story Bridge, before enjoying a rock star finish at the Riverstage. Bookings required.
34. Luminous Lantern Parade | South Bank Parklands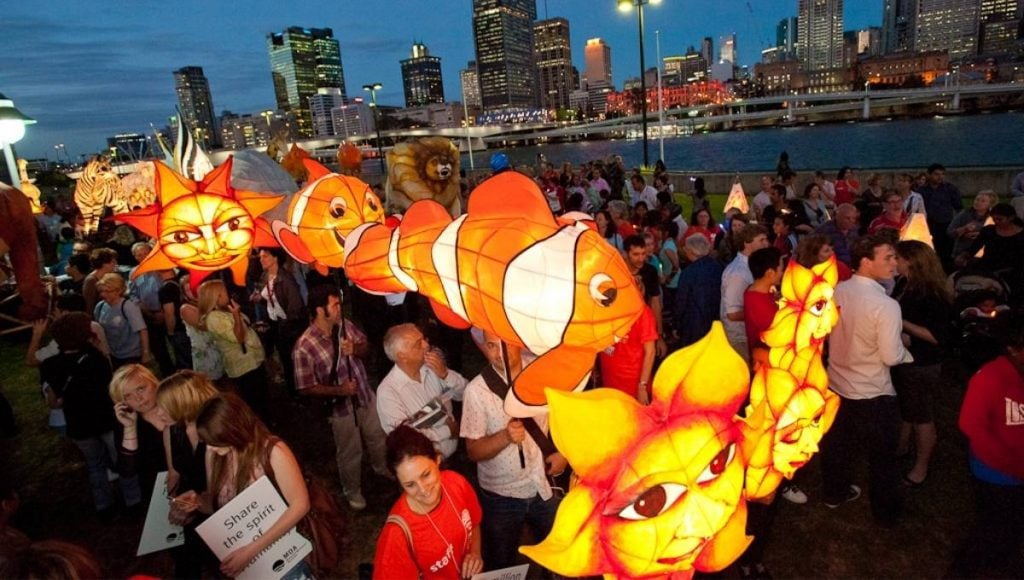 The annual Luminous Lantern Parade celebrates Queensland's culture, heritage, people, places and industry. Hosted by Multicultural Australia, the Luminous program includes events in Toowoomba, Rockhampton, local neighbourhoods across Brisbane and South Bank Parklands. Register in advance for this FREE event.
35. Cooly Rocks On 2023 | Coolangatta
Celebrate the music, memories and moments of the 50s, 60s and 70s at Cooly Rocks On. With multiple stages throughout the Coolangatta precinct, you'll be able to enjoy the very best in rock 'n' roll, swing and rockabilly music on the Gold Coast. The beachside festival will see thousands of visitors flock to Coolangatta on the Gold Coast across five action-packed days. Some of the festival's highlights include the Show 'N' Shine, Live Music, Elvis Precinct, Markets, Pin-up Pageant and more. The Strand Coolangatta.
36. RACQ MotorFest 2023 | Brisbane Showgrounds
The fun, atmosphere and excitement of RACQ MotorFest returns on Sunday, 18 June 2023 at the iconic Brisbane Showgrounds.
A unique celebration of all things motoring, this annual event is a showcase of past, present, and future and offers something for everyone including free kids' rides and family entertainment, a variety of food stalls, an array of unique, prestige and collector vehicles, as well as a dedicated zone featuring future vehicle technology and sustainable living solutions. Find out more here.
37. Fantasy Festival 2023 | Whiteside
Do you love mermaids, fairies, unicorns, wizards and dragons? Head along to The Fantasy Festival at Old Petrie Town on Saturday 24 June 2023, to meet magical friends and sing along to your favourites!
Be entertained by the festival's many enchanted friends as they help you explore a program jam packed with magical moments including workshops, roaming performers, and stage shows with magic, circus and bubbles. Of course you cannot have a Fantasy Festival without amusement rides, market stalls, yummy food and drinks! Purchase your tickets online in advance. Find out more here
38. Mudgeeraba Show 2023 | Worongary
Brisbane families might like to take a day trip to the Gold Coast's Mudgeeraba Show for a fabulous day out experiencing a wide variety of tastes, sights, sounds and delights. With live music, entertainment, displays, competitions and animal attractions plus plenty of food and drink, there is fun for all the family.
39. Redcliffe Show 2023 | Redcliffe
Enjoy three days of fun for the whole family at Redcliffe Show. With rides, shows, animals, entertainment and games, there is a packed programme of activities to keep you entertained.
40. Winterfest at Dreamworld 2023 | Coomera
Winterfest will return in 2023! Shake up your winter at Dreamworld as it turns into a winter wonderland and a foodie's haven during Winterfest, back and cooler than ever this June! From the illusion of snow throughout the park, to tobogganing, ice skating and themed entertainment, Dreamworld will become the home of winter on the Gold Coast for two weeks during the school holidays. Enjoy an action-packed Winter-themed event and ride your favourite rides at night.
The best family festivals Brisbane in July 2023
41. Bonfire Night 2023 | Sandstone Point
Selling out time and time again, Bonfire Night is back at Sandstone Point Hotel to warm up your winter night on Saturday 1st July!
Winter's hottest family-friendly event returns for the 6th year in a row, and as always, we anticipate a sell out! Buy your tickets HERE
From 3pm, spend a winter's evening rugged up under the stars with delicious food trucks, fire twirlers, marshmallow roasting, fire combat performers, kids rides, campfire singalongs and live entertainment. You're in for a serious treat, Bonfire Night's famous melted chocolate covered s'mores are back! Perfectly paired with a hot chocolate or glass of mulled wine, you'll find all your favourite winter warmers in the event precinct.
Get ready for an explosive night of EPIC proportions! Bonfire Night is bringing the heat with flame shows, pyro displays and two almighty bonfires! Find out more here.
42. Spark Ipswich 2023 | Ipswich
SPARK Ipswich, is a city-wide event celebrating the people, places, arts and culture of Ipswich. The 2023 program will deliver up fresh new festival content. Music, comedy, arts, exhibitions, circus, projection, culture, cabaret, technology, collaboration and discussion will take over the City. The full programme has been released and it is jam-packed with entertainment for all ages.
43. Le French Festival 2023 | Victoria Park, Barrambin
The Le Festival – Brisbane's French Festival is back for 2023 with a new venue, Victoria Park-Barrambin. From Friday 21st-Sunday 23rd July explore a French Market, French Bar, French and French-inspired Artists' Tent, French Kids' Corner… plus much more! Find out more here.
44. Abbey Medieval Festival | Caboolture
This is the Abbey Museum's BIGGEST event and is a drawcard every year for lovers of both history and fantasy. There are re-enactments, sizzling meats (oh, the meats) and tasty mead with which to quench your mighty thirst, and an all-round COOL historical experience. There are plenty of things for kids to do (and big kids as well) at the Abbey Medieval Family Fun event. Read our review here.
45. Noosa Alive! Festival | Noosa
NOOSA alive! Festival is an annual arts and culture festival, returning from 21 to 30 July to celebrate their 21st birthday. The program is jam-packed with special performances, including the below family-friendly events of Noosa Stars Alive, Light Stand Up Comedy and Cirque Bon Bon Encore. Find out more here
46. Little Splendour at Splendour in the Grass | North Byron Parklands
With the countdown to Splendour in the Grass well and truly on, the festival is thrilled to reveal the lineup for LITTLE SPLENDOUR, a secure, dedicated, magical kids' space for dance, play and exploration. There is so much for small people to enjoy from crafts and sports, to music and workshops. There is even a babysitting service you can use if you want to rock out at the main stage! Little Splendour runs from 12pm – 12am Friday to Sunday.
47. Mt Gravatt Show 2023 | Mt Gravatt
The Mt Gravatt Show is one of the oldest exhibitions on Brisbane's southside having been held at the iconic Mt Gravatt Showgrounds on Logan Road since 1918. With so much to do and so many exhibitions to look at, it's sure to be a hit with the whole family. You can find out more here.
48. Einbunpin Festival 2023 | Sandgate
This incredible festival, running since 1992, is a celebration of all things Sandgate. It's the village atmosphere, that gorgeous environment and the quirky and talented characters who make the area so special. Stalls, performances, games and activities make this a great day out for the whole family. Find out more here.
The best family festivals Brisbane in August 2023
49. Moreton Bay Food and Wine Festival 2023 | Woody Point
Foodies get your tastebuds ready to eat, drink and enjoy at SEQ's most delicious festival. The Moreton Bay Food + Wine Festival will run from 4-6 August at Apex Park, Woody Point.
For three delicious days, soak up the sunshine by Moreton Bay as you explore cooking demonstrations, seaside pop-up bars, local produce, live entertainment and fireworks on Friday and Saturday at 8pm. Find out more here.
50. Pine Rivers Show 2023 | Lawnton
One of the biggest exhibitions on the Northside, the Pine Rivers Show is a grand extravaganza that the whole family can enjoy. The show features a host of activities, carnival rides, displays, concerts and competitions that everyone is sure to love.
51. GreazeFest 2023 | Redlands
Held every year in the Redlands, just outside of Brisbane, GreazeFest brings you a crankin' weekend of cool cars, rockabilly music, fashion parades, pinups, vintage bikes, lowrider cycles, low brow art, pinstripers, tattoos, markets and heaps more. Tickets on sale now. Redlands Showgrounds.
52. Dayboro Show 2023 | Dayboro
Enjoy a traditional country fair complete with side show alley, show bags, rides and kids entertainment. Of course, there will be the classic wood-chopping, rodeo and dog show displays plus heaps more agricultural family fun. When the sun goes down prepare yourselves for Walter Whip and the Flames show plus an amazing fireworks display in the main arena. Dayboro Showgrounds. Find out more here.
53. The EKKA – Royal Queensland Show 2023 | Fortitude Valley

At Families Magazine, we LOVE the EKKA! We believe when it comes to festival, Brisbane's beloved EKKA is the cream of the crop! It's been around since 1876 (if you can believe it!) and showcases all the best things about living in Queensland. Rides, showbags, displays, agricultural pursuits, games, media displays and so much more are on offer for families looking to have a brilliant day (or couple of days) off. We've even got some advice on how to do the EKKA on a budget. Score!
54. BLEACH Festival 2023 | Gold Coast
BLEACH* the Gold Coast's annual contemporary arts festival is back creating experiences and telling stories that are out of the box, authentic and uniquely connected to place.
BLEACH* is proudly local, celebrating the city's best artists, welcoming renowned Australian and international artists and engaging a broad audience through a range of experiences with the magnificent coastline of southern Queensland as a backdrop. Learn more here.
55. World of Cultures | Logan
Come along to one of Logan's biggest multicultural festivals which is being held at the iconic Kingston Butter Factory. You'll get to enjoy a line up of 20 diverse artists and performers including Badu singer, songwriter, musician, and Australia's Got Talent finalist, Chris Tamwoy. There will be plenty of free activities for children and families too, plus lots of yummy food from around the world. Find out more here.
56. Pacific Airshow 2023 | Gold Coast
Prepare for liftoff! Tickets to the 2023 Pacific Airshow Gold Coast are on sale now!
The inaugural Pacific Airshow Gold Coast is set to be one of Queensland's biggest annual events turning the skies over Surfers Paradise Beach into the world's largest stage. The event will feature 4+ hours of non-stop action from some of the worlds best military aviators and civilian performers. Find out more here
57. Brisbane Kite Festival | Tingalpa 2023
Bring the family to Brisbane Kite Festival at the Murrarie Recreation Grounds on Brisbane's southside and enjoy celebrating all things that fly. With rides, food stalls, market stalls, live entertainment and live workshops, it will be an entertaining day for all ages. You can learn more here
58. Outdoor Adventure Festival | Herson 2023
Endurance athletes, BMX shows and 64 hectares of fun, where you can experience Victoria Park like never before with the brand-new free Outdoor Adventure Festival.
Spanning three zones, the Outdoor Adventure Festival will run from 10am to 5pm daily and offer up entertainment for the whole family. Find out more here
The best family festivals Brisbane in September 2023
59. Brisbane Festival 2023 | Multiple Locations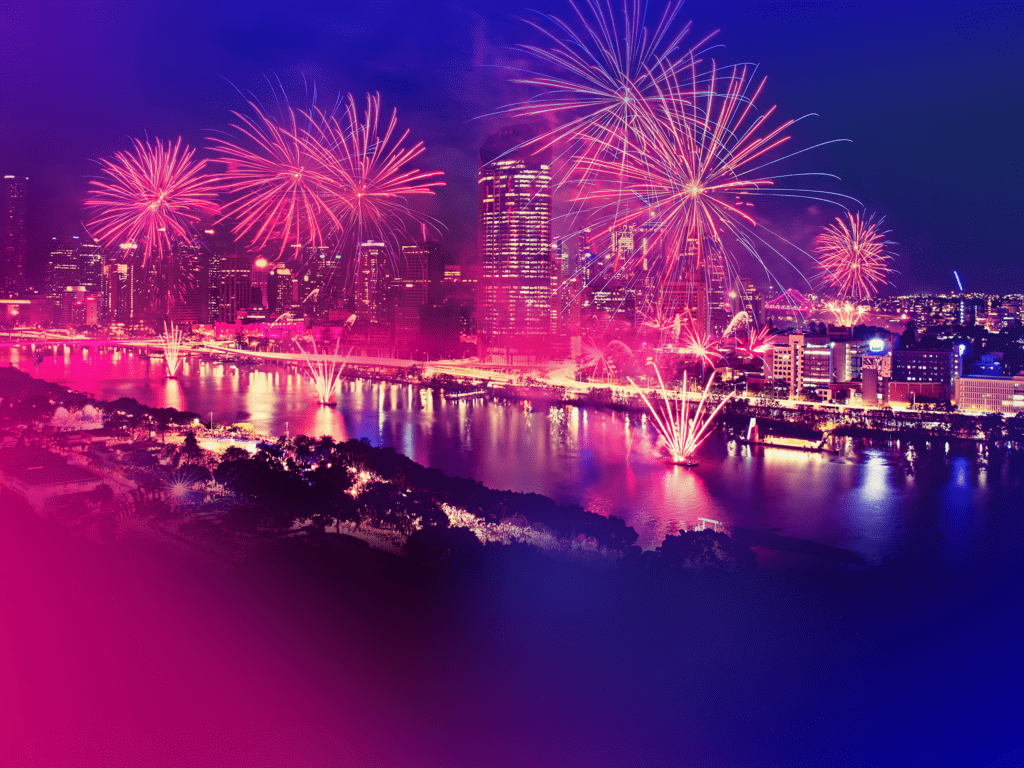 1 – 23 September 2023, Riverfire 2 September 2023
Thinking festival? Brisbane Festival is an absolute corker. Across the whole city for three weeks in September you'll find dance, music, art, drama and displays that aim to excite and delight. There are also plenty of kids shows and events to be found. Most of the action takes place at Southbank. Don't miss RIVERFIRE on 2nd September 2023! Woohoo!
60. SPRINGTIME Festival | Gold Coast
Taking over Surfers Paradise, SPRINGTIME Festival offers three days of live music on the beachfront, a pop-up skate park showcasing the talents of some of the country's best skaters, free DJ classes, live art painting and a huge interactive art installation which doubles as a massive maze / playground for people of all ages.
61. RedFest Festival 2023 | Redlands
Join in the celebrations with singers, dancers and artists from around. Families can enjoy carnival rides, reptile show, circus workshops, lantern decorating and parade, various craft activities and fireworks displays. Select from a range of food trucks and consider entering the annual Strawberry Eating Competition. RedFest has something for everyone.
62. SWELL Sculpture Festival 2023 | Gold Coast
Queensland's largest outdoor sculpture festival SWELL will return to Currumbin Beach.
Come face to face with over 70 awe-inspiring sculptures by local, national and international artists at the 20th SWELL Sculpture Festival. The free exhibition is open all hours with a selection of sculptures revealing a new verve as they are lit up under the southern sky.
Stay a little longer and discover a range of unique experiences; guided twilight walks through the artworks, artist talks next to the sculptures and artist led workshops.
Swell Sculpture Festival inspires and captures the hearts and minds of all who visit. Learn more here.
63. Nundah Festival 2023 | Nundah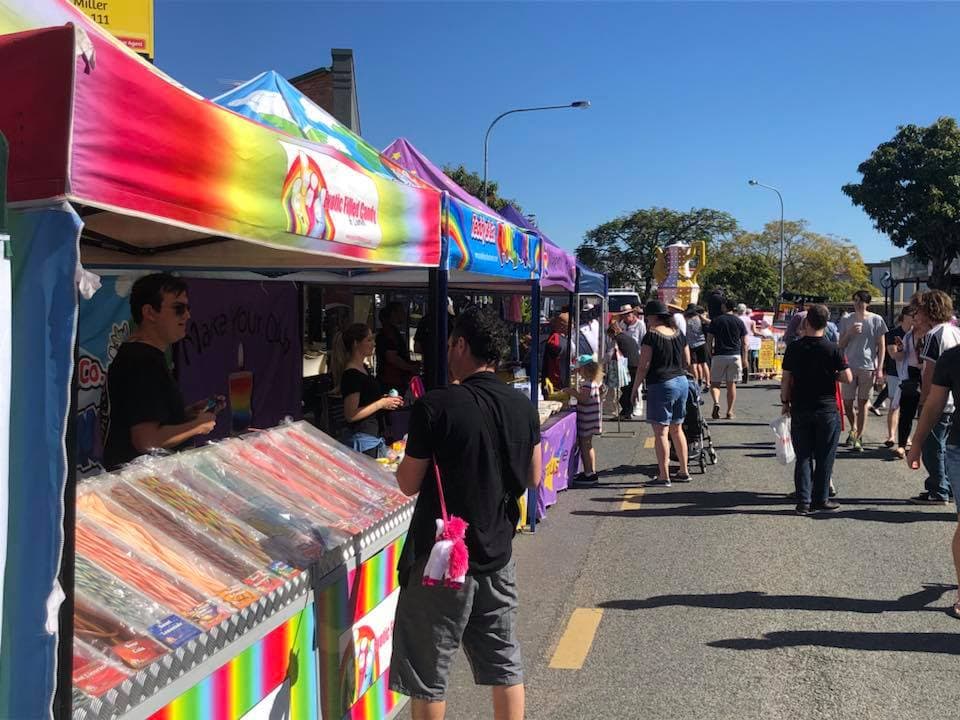 Join Nundah for the annual festival celebrating food, live music and entertainment, stalls, rides and more.
64. Mary Valley Scarecrow Festival 2023 | Mary Valley
11 September – 2 October 2023
The Gympie/Mary Valley region is hosting a wild west themed scarecrow festival and locals are currently yeehaw-ing and cracking the whip to come up with their remarkable creations!
This year, you might see scarecrows resembling Wild Bill Hickok or Annie Oakley on display – and one supporter is creating Woody the Cowboy for a scarecrow hunt competition. There are prizes to be won for visitors and scarecrow artists.
Visitors will be able to download a Google map and enjoy scarecrow spotting as they drive around the lush Mary Valley and its historic villages such as Brooloo, Imbil, Ridgewood, Kandanga, Amamoor, and Dagun. There are plenty of pubs, restaurants, and picnic spots to enjoy the superb local Mary Valley produce.
65. MOSAIC Multicultural Festival 2023 | Roma Street Parkland
Multicultural Australia's MOSAIC Festival is a vibrant celebration of the many cultures that make up our great state. MOSAIC celebrates the contributions all of us bring to our multicultural Queensland through dance, music, spoken word poetry and storytelling, visual arts and crafts, children's and family activities and delectable foods and cooking demonstrations.
This year, MOSAIC will feature over 70 leading multicultural performers from across Queensland and Australia, sharing their incredible talents from across the world. Highlights include the 'Cultural Kitchen' cooking demonstration by refugee and migrant community cooks, sharing their settlement stories through food and the International Drumming Workshop and a MOSAIC Choir performance. Bring your whole family to this free event and enjoy all MOSAIC has to offer.
66. VAN JAM™ 2023 | Willowbank
Get your kids ready to rock out at an Australian-first music festival and caravanning / RV experience, VAN JAM™, a rock showcase, featuring some of the country's top artists and emerging talents.
VAN JAM™, is an epic three-day festival for all ages, giving families the opportunity to combine their love of camping with rock 'n' roll from September 22 to September 24 at Willowbank Raceway, presented by Caravanning Queensland.
Parents can boogie away to 8 Ball Aitken, Adam Brand, Daryl Braithwaite, Eskimo Joe, Fanny Lumsden, Frente, Lecia Louise, The Radiators, Russell Morris, Sue Ray, Thirsty Merc and Vixens of Fall to name a few, and the kids rock out with special guest appearance from none other than children's television rockstar, Bluey at miniVAN!
The kids can join in on the family festival lifestyle at miniVAN, an experience for kids of all ages to rock out participating in a wide variety of arts, crafts, and activities. In addition, a fully supervised, paid child-mining service, will give parents an opportunity to enjoy the music and festivities.
2 Day Festival Pass: $186 Adult, $82 Youth | 1 Day Festival Pass: $98 Adult, $48 Youth | VIP 2 Day Festival Pass: $380 Adult. You can get your tickets here!
67. Strawberry & Dessert Festival 2023 | Sandstone Point
The Strawberry & Dessert Festival you know and love is back from 2pm on 24 September 2023 and it just got even sweeter!
The sweetest event of the year returns with strawberry eating competitions, dessert food trucks, dessert cooking and cocktail making demonstrations, live music, fireworks, kid's rides plus so much s'more! Find out more here.
The best family festivals Brisbane in October 2023
68. The Oyster Festival 2023 | Sandstone Point
The Sandstone Point Hotel is home to a GREAT family day out.
Dive into an ocean of things to see and do! Experience the fresh seafood market, oyster eating comps, prawn peeling comps, celebrity chef demos, live music, and more! You shrimply won't want to miss this!
In its prime during the 1900s, the Oyster Shed boasted over 30 dredging sections and provided employment to more than 25 families – a remarkable feat for its time. Today, the beautifully restored Oyster Shed Beach Club has been serving delicious seafood on the waterfront of Sandstone Point Hotel since 2015, paying tribute to its vibrant history.
69. Tamborine Mountain Scarecrow Festival 2023 | Tamborine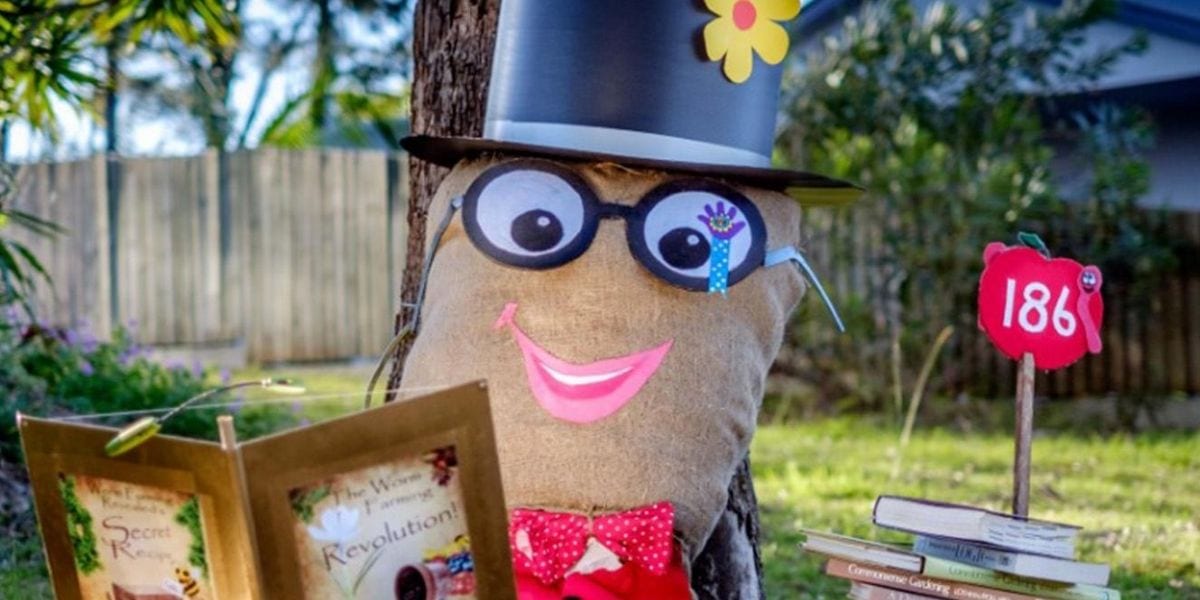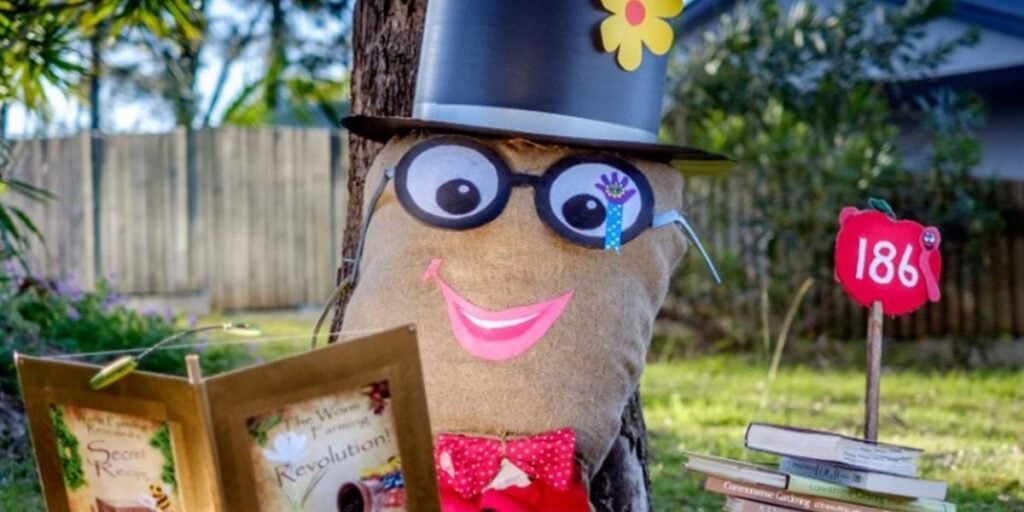 The Tamborine Mountain Scarecrow Festival is an annual event to celebrate the great lifestyle enjoyed on the Mountain. It is essentially a huge Sculpture Show with the subjects being Scarecrow-related!
The Scarecrows on the Discovery Trail can compete in several categories, for great prize money and local fame. Young, old, clever, and artistically-challenged all participate, and the result is hundreds of scarecrows that have to be seen to be believed. Families can enjoy market stalls, rides, games, street performers, pig racing and food trucks. Gold coin entry fee.
The best family festivals Brisbane in November 2023
70. Valley Fiesta | Fortitude Valley
Brisbane's music scene is ready to party this spring with the return of Valley Fiesta from 3 – 4 November.
The music epicentre of the River City will come alive with outdoor stages, featuring a huge line-up of artists including headliners Mallrat, Mildlife and Hatchie, along with local acts curated by the team at Brisbane's iconic Tivoli Theatre.
The program also features a packed schedule of events and parties that will electrify the Valley precinct – and the best part – it's completely free.
The festival kicks off with the much-loved family-friendly King Street Food Fiesta on Friday 3 November featuring some of Brisbane's favourite emerging artists on the outdoor stage, roving entertainment and a fantastic array of pop-up dining options from King Street restaurants.
There are lots of exciting things for families to enjoy.
71. Supanova! 2023 | South Brisbane
This is for lovers of all things pop culture! Supanova is a celebration of the small and big screens. It's held at the Brisbane Convention & Exhibition Centre in South Bank – expect to see some Cos Play! (People dressed in costume as their favourite characters)
72. Wynnum Fringe Festival | Wynnum
15 November – 3 December 2023
Wynnum Fringe is back – Bigger, better and bolder in 2023!
Enjoy three weeks of big-name artists, legendary ambassadors and spectacular performances. Hundreds of interstate and Queensland artists and entertainers will converge on Australia's latest and greatest performing arts hub from 15 November to 3 December 2023 for the third annual Wynnum Fringe.
73. Sherwood Community Festival
The Sherwood Community Festival is a not-for-profit family-friendly event, organised entirely by a team of volunteers who give their time willingly to make it happen. And, thanks to the support of the Brisbane City Council and local businesses, and to the hard work of the organisers, this event is free – a gift to the community.
The best family festivals Brisbane in December 2023
74. Christmas in Brisbane 2023!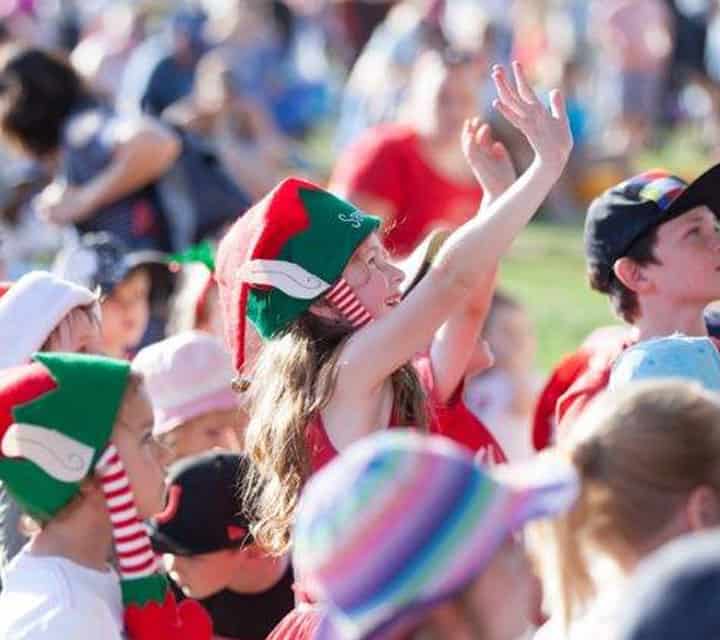 Christmas is the BEST time of year in Brisbane and we couldn't close this article without mentioning it. While it's not *technically* a festival, there's SO MUCH to see and do in the city at this time of year! Check out our wrap up here!
73. Woodford Folk Festival 2023 | Woodford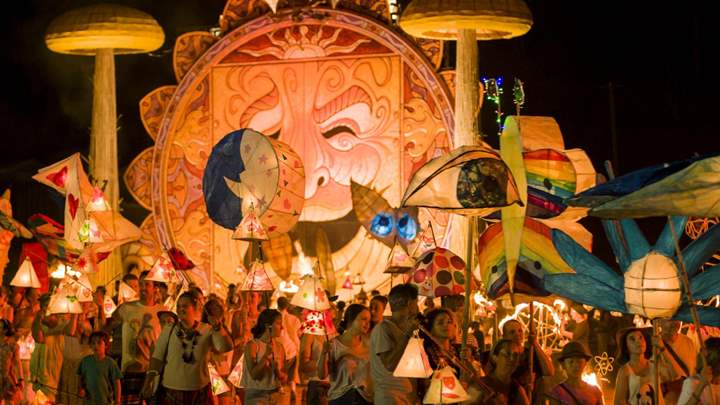 27 December 2023 – 1 January 2024
As well as the fun stuff for the kids, you'll find a wide variety of folk music as well as other genre on display for your listening pleasure. There are comedy acts, visual arts, theatre, circus tricks and oh-so-much more. You can camp or caravan onsite too. It's a peaceful yet exciting way to round out the year. You can even pitch your tent on Christmas Day! Find out all the details here.
Previous festivals in Brisbane
Check back as these past events may confirm for 2023.
The Winter Village | Hamilton dates TBC
Discover The Winter Village, an outdoor pop-up event running from June 3 – August 29. This magical winter wonderland is a must-visit destination perfect for the whole family. Perched by the Brisbane river, enjoy ice-skating, snow showers, food trucks & pop-up bars and of course, the magical igloo village. With a full season of events and activities to explore, The Winter Village is open 7 days a week. Bookings required. Northshore Hamilton.
Grazed & Grown by Regional Flavours | South Bank TBC for 2023
Hosted by Alastair McLeod and Matt Kirkegaard, Grazed & Grown will be sure to dish up a buffet of skillful cooking demonstrations featuring seasonal produce, food philosophy and sustainability. Taste test the very best produce and innovative ingredients in The Marketplace, filled with producers and artisans from within 250km of Brisbane City. Unwind to live music while soaking up the winter rays with a cool craft beer from a home-grown brewer or a signature cocktail from The Country Club bar. Kids under 12 enter FREE. Bookings required.
Out of the Box Festival | South Brisbane TBC for 2023
Dates and times to be confirmed for 2023
This festival is carefully curated to offer connected arts and educational experiences for children aged eight years and under. In 2022 QPAC's Out of the Box will have a different format. A number of Out of the Box productions will be presented throughout the year and will complement QPAC's year-round program for children and young people.
The best family festivals Brisbane in July 2022
NAIDOC Wild Foods and Cultural Festival | Beenleigh TBC for 2023
This free community event on Sunday 3 July at Spirits of the Red Sand in Beenleigh will feature a talented line-up of Aboriginal and Torres Strait Islander artists, amazing Wild Foods menu, live cultural and cooking demonstrations, market stalls, kids' activities including arts and crafts, games and face and boomerang painting and more. Bookings essential. See more here.
The best family festivals Brisbane in August 2022
Storyarts Festival | Ipswich Next held in 2024
Ipswich's biennial StoryArts Festival returns in August! Presented by the Ipswich District Teacher-Librarian Network, the festival brings you award winning authors, illustrators, storytellers and performers from all over Australia to deliver an exciting program of literary experiences through an eight-day schools, family and adult program.
The best family festivals Brisbane in October 2022
Oktoberfest 2022 | Brisbane (No longer running)
Australia's Largest German Festival is not just for grownups! Just like in a real German Festival there's lots to keep the kids entertained from the minute you enter. Sundays are the best days for families, as they have a relaxed and chilled out atmosphere. Oktoberfest has plenty of kid-friendly entertainment including singing and dancing plus fabulous yodelling and German dancers, always a favourite – the youngest dancer is only five. Kids can join in the Hat Dance or groove along to the Chicken Dance. Find out more here.
Festivals Brisbane – did we miss your fave?
Let us know what your favourite festival in Brisbane is in the comments!