Paradise Country offers families a hands on, authentic Aussie farm experience only 40 minutes drive from Brisbane. You can choose to visit Paradise Country for the day, pop in for a fun family dinner or lunch experience or even stay overnight!
Paradise Country is one of our favourite family day out options for a heap of reasons that we'll share with you in this article.
MOTHER'S DAY AT PARADISE COUNTRY ==> Looking for a special place to spend Mother's Day 2022? Why not head to Paradise Country's Festival on the Farm to celebrate in style. Find out more here!
Location, location
If the idea of spending a day driving out to a farm or zoo on dusty unsealed roads sounds too hard then Paradise Country is definitely for you. You get the whole farm and native animal experience without having to leave the comfort of well signed, bitumen roads. Tucked away behind Village Roadshow Studios, Topgolf and the Australian Outback Spectacular is where you'll find Paradise Country. We must admit to being pleasantly surprised to find this peaceful bush setting located only moments from the M1.
Heaps of hands-on animal experiences
Kids can discover Australia's unique wildlife and gorgeous farm animals via a wide array of habitats and experiences at Paradise Country. Here's a quick overview of each area you can explore during your visit.
Wildlife Walkthrough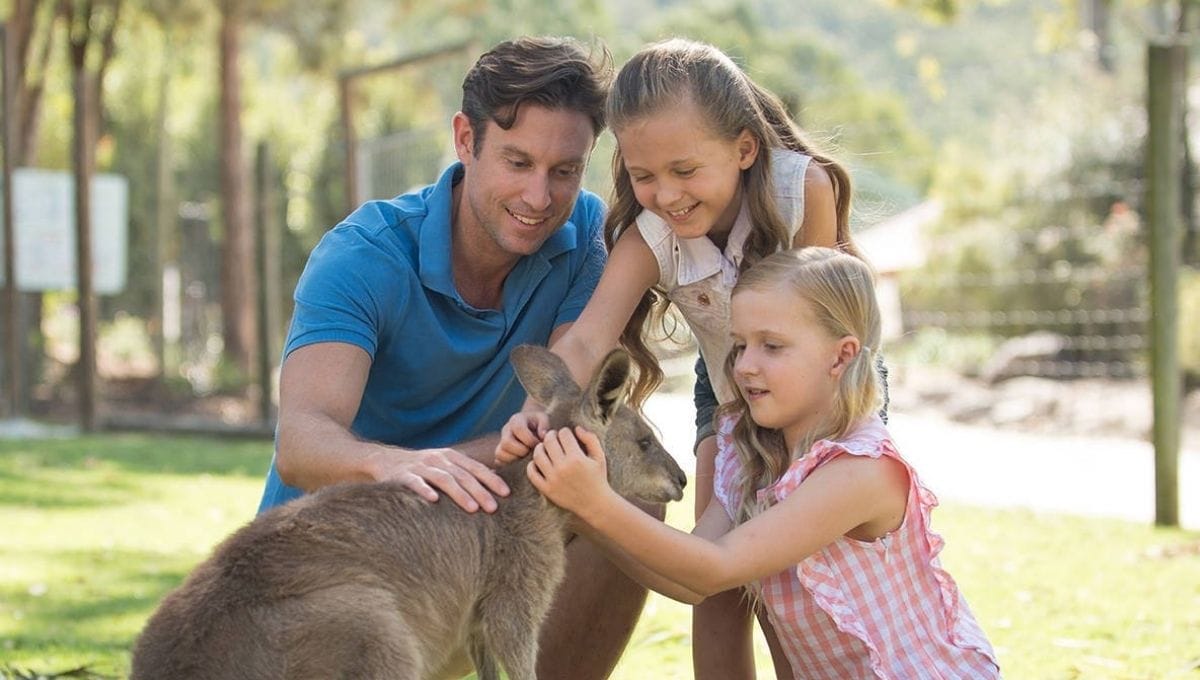 The Wildlife Walkabout is just that, a chance for you to interact with beautiful kangaroo families and marvel at the sleepy yet lovable koalas in a stunning natural setting. In this area, you'll also see Tasmanian devils and the resident wombat. The kangaroos are very friendly and are always eager to meet new families. You can also arrange to have a photo taken with a koala or snake for an additional fee.
If you'd like to make your visit to Paradise Country extra special consider booking a Koala Encounter. Wildlife keepers will take you on a special back-of-house tour to meet the resident Koalas. During the experience kids can feed and pat the Koalas.
Farmyard Nursery
The Farmyard Nursery at Paradise Country is definitely one of the cutest places in the park! There's piglets, lambs, goats and guinea pigs to visit and kids love being part of the daily feeding activities.
Meerkats
Paradise Country's mischievous meerkats have arrived! Be sure to welcome Mum Aya, big sister Sarabi and twins Keeya & Maliah to their forever home when you visit.
Marmoset Monkeys
Marmoset monkeys are now calling Paradise Country home having moved into a new exhibit located at the Farmhouse Restaurant. Kids will love saying hello as these cheeky monkey's play with their family.
Dingo Den
The Dingo Den let's you get within metres of Australia's largest land carnivore, the Dingo. Kids will love meeting Dundee and Bazza, the two resident Dingo's.
Live shows
Paradise Country offers a heap of impressive live shows for all ages that will have you in awe one minute and then giggling along with the kids.
Shaun's Aussie Adventure Show
If your kids are fans of the Shaun the Sheep TV show they'll love seeing Shaun and Bitzer live on stage. There's two shows daily at The Shearing Shed. Kids can also have a meet and greet with Shaun and friends creating a perfect family photo opportunity.
Stock Horse Arena and Billy Tea Show
This show at Paradise Country gives you the chance to sit around the campfire to learn about traditional Billy Tea and damper as you experience the action of the outback. Prepare to be impressed by the Australian Stock Horse in a show full of action, speed and skill. You'll see stockman and horse's manoeuvre around and over farming obstacles. This is a great show for kids who love horses. It definitely had us on the edge of our seat!
Please note: Complimentary Billy Tea and Damper currently unavailable due to COVID-19.
So many ways to play
Paradise Country offers a fantastic family day out with so much included in the ticket price. Read on to hear about the many play areas perfect for kids of all ages and abilities.
The Pig's Playground
This is a great all ages playground offering a fun spot to sit and have a break while the kids play. Our children aged between two to seven years loved exploring the playground that is conveniently located near the Farmhouse Restaurant. The playground has multiple slides, multi-storey climbing towers and is fully fenced. The trees located beside the playground also offer shade at various times during the day. The Pig's Playground is for children under 14 years and it recommended that children under 4 years are accompanied by an adult.
Shaun's Scraps & Taps
Paradise Country has a small water play area so come prepared with a towel and even a spare set of clothes. Our kids loved manipulating the water as it flows down a heap of pipes and other fun contraptions. 
Shaun's Tractor Ride
Take a scenic spin around Paradise Country on a tractor to see if you can spot Shaun the Sheep and the Flock before the Farmer does. We had a heap of fun escaping the heat and resting our legs on the tractor ride. Adults can accompany kids on the ride and the ride is wheelchair accessible.
Shaun's Adventure Camp
Shaun's Adventure Camp is where we head to when we want to have some quite time at Paradise Country. The big barn style building provides heaps of shade and room to spread out. We have used this space to breastfeed babies while our other children watched Shaun the Sheep on the TV screens or got involved in the various creative activities on offer.
Pan for gold
Take the kids to try the Gold Panning experience (additional cost) and let the fossicking for gold, precious gems and fossils begin!
How much does it cost to visit Paradise Country Gold Coast?
Single day pass entry to Paradise Country is from $49 per person or included with a Village Roadshow One Pass or Membership. Get your tickets to Paradise Country here.
Where is Paradise Country?
Paradise Country is located just 40 minutes from Brisbane and 15 minutes to Surfers Paradise. Take Exit 60 off the M1 (Pacific Motorway). Drive along Roadshow Way located between Australian Outback Spectacular and Topgolf, then turn left onto Production Drive. The carpark is a 1-2min drive past Village Roadshow Studios.
Address: Production Drive, Oxenford Gold Coast, Queensland QLD 4210
Paradise Country is open from 10am-3:30pm excluding ANZAC Day (25th April) and Christmas Day (25th December).
There is free and accessible car parking however there are a limited number of car parking spaces so we recommend arriving earlier in peak periods. It's a bit of a walk from the carpark so be sure to bring a pram or stroller for little ones.
Farmstay at Paradise Country
Escape the city with a Paradise Country Farmstay experience allowing you the complete camping adventure in the peaceful surroundings including full access to Paradise Country and Farmstay activities such as sunrise and sunset farm activities, animal feed up, egg collecting, cow milking, nightly campfire and more. You can stay at one of the onsite tent and van sites, or sit back and truly retreat in one of the Farmstay Eco Tents. Find out more about the Paradise Country Farmstay here.
Special events at Paradise Country
Paradise Country loves to play host to a number of fun family events to make the most of special milestones throughout the year including Mother's Day, Valentine's Day and more. Here's a taste of some of the events you can enjoy at Paradise Country.
Festival on the Farm – Mother's Day
Returning Sunday 8 May, take in the true country atmosphere with soulful tunes, kids activities, delicious dining and adorable animal exhibits plus more. You can also brighten up mum's day with a buffet lunch upgrade. Find out more here.
Save a Mate Ranger for a Day
Paradise Country are on the hunt for Rangers in training! The ultimate experience for any animal lover, go behind the scenes and see first-hand a day in the life of a Paradise Country Ranger in this limited time school holiday program!
Birthday parties
Paradise Country offers birthday parties at rates competitive with hosting an event at indoor playcentres. Kids can experience a real "Children's Party on the Farm" ideal for all ages.
What other things can I do on the Gold Coast with kids?
If you are looking for fun things to do on the Gold Coast with kids, then you are going to love this article – Top 60 Things to do on the Gold Coast with Kids.
If you're on the hunt for FREE School Holiday Fun on the Gold Coast, Tweed & Byron be sure to read our article available here.