Are you looking for that perfect spot to relax and listen to the waves roll in while you tuck into something delicious? Desperate for a place where your family 'fits in' rather than 'stands out'? Where your kids are not only accepted but encouraged to play, have fun and be themselves? How about a surf club? This article will show you the best and most welcoming family-friendly surf clubs on the Gold Coast!
Where are the most family friendly surf clubs in the Gold Coast region?
Consider us lifesavers (get it?!) We've made a list that's guaranteed to deliver not only great quality eats but an all-round positive family experience that'll have you hanging ten to your nearest local surf club. Surf's up!
Southport Surf Life Saving Club, Macarthur Parade, Main Beach
Southport SLSC boasts a family friendly dining experience with an impressively expansive menu. The kids menu in particular doesn't just have the usual on offer – tempt your Little Nippers with something healthier like pasta bolognaise! (There's still nuggets, don't worry)
The Nippers program is a powerful part of the Southport SLSC that encourages young people in the area to take an active part in the protection of the beautiful coastline and those who celebrate it. There are always different functions going on so why not consider membership to take full advantage of everything the club has to offer.
BMD Northcliffe Surf Club, 51 Garfield Tce, Surfers Paradise
Get away from the gaudy glitz of Cav Ave and step into a surf club with an old-world charm. Here you'll find that kids meals at lunch and dinner come with a small soft drink AND a gelato! The menu has all your old favourites so you can relax and take in the view knowing that you'll be served some reliable comfort food. Kids eat free every Tuesday with each adult main meal purchased – members only.
BMD Northcliffe Nippers have their sign on during August and September for the following year. There are a lot of advantages to becoming a member – not the least of which is the considerable discount in the restaurant! There's also accommodation for anyone coming in from out of town to visit this gorgeous part of the world. Support your local club!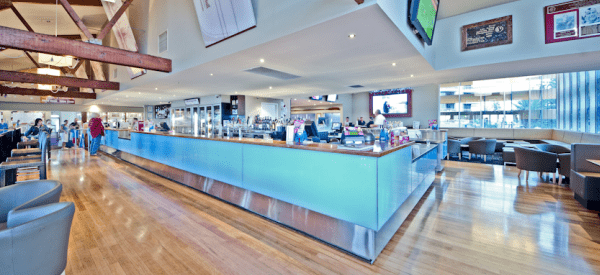 North Burleigh Surf Life Saving Club, the Esplanade, Miami
Kids eat free at this great beachfront venue every Monday and Tuesday night! There's also live music every Friday night and Sunday afternoon. Check out the menu here.
North Kirra Surf Life Saving Club, Pacific Parade, North Kirra
North Kirra SLSC not only runs a Nippers program but a Flippers program, too, for kids aged 5 & 6 years old. There is a cafe-restaurant and bar on site and the venue often hosts live music.
Kingscliff Surf Club, Marine Parade, Kingscliff
Also known as the Cudgen Headland SLSC, this is truly a family friendly surf club destination to paddle over to. Here you'll find a dedicated kids play area that's fully secure so you can allow your little ones to scarper off while you enjoy some of that all-too-fleeting adult conversation time! Music acts play at this club in rotation so make sure you look into membership and keep up to date with their website.
Nippers are in action at Kingscliff Surf Club as well and they sign on for the following season in September.
Tweed Heads & Coolangatta SLSC, Marine Parade, Coolangatta
This club is also known as the Greenmount Beach Club but with a delicious menu like this they can call themselves whatever they like, we'll still go! The kids menu is PACKED with all of their usual favourites and you'll find yourself more than enough options on the adult list. If you're interested in the perfect drink to go with your meal, the friendly bar staff will be more than happy to make some suggestions.
Family fun entertainment lives at the Greenmount Beach Club! Raffles, live entertainment, functions, promotional events – you name it! If you're a member you'll get the inside scoop and some pretty great discounts so consider getting involved with supporting your local club.
There is a proud tradition of youth development in the Nippers program here as well so plenty of ways for your family to dig yourselves into the sand and really become part of the furniture.
Mermaid Beach Surf Club, Hedges Avenue, Mermaid Beach
Mermaid Beach Surf Club is located on the famous "Millionaire's Road" you'll find an indoor kid's room with a JUNGLE GYM. Good luck getting the kids out of there when you're done! Local prices match a local atmosphere and the restaurant offers up the usual favourites with some nice surprises for the more adventurous diner. There are specials throughout the week (kids eat free on Mondays!) so make sure to keep an eye on their website.
The Nippers program is, again, in full force here so if you'd like to involve your family in the process now is as good a time as any to start making a difference and a contribution.
Jump in and make a splash!
Surf clubs on the Gold Coast are great places to take the family if you are looking for an easy, relaxed vibe. They're also a fantastic way to get involved in your broader beachside community so take the plunge, jump in and dive deep into your local area. Just wash the sand off your feet before you get back in the car!
Note: "Kids eat free" promotions subject to change. Contact the SLSC in advance to avoid disapoointment.