Are you looking for things to do in Surfers Paradise? You've found the right article! We can tell you what to do in Surfers Paradise and this article provides a huge list of the best things to do in Surfers Paradise for adults and kids!
Home to a beachside getaway alongside a bustling city; it's no wonder families are jumping at the chance to enjoy an escape to the Gold Coast. Surfers Paradise attractions for kids and adults are numerous. Surfers Paradise offers both parents and children an endless list of things to do, whether you're simply looking to relax by the pool at your Surfers Paradise accommodation or embark on a thrilling adventure or just looking for a family friendly Surfers Paradise restaurant.
With beautiful beaches for surfing and swimming, amusement parks, cinemas, museums, arcades, markets, accommodation and restaurants, we will give you everything you need to know in our detailed article.
Not sure where to start? Here are the best 21 things to do in Surfers Paradise with kids.
1. The Surfers Paradise sign
The Surfers Paradise Sign is a simple icon of the Gold Coast that many tourists flock to for photos. Many people battle their way through the crowds just to get their perfect shot, which proves to be a challenge. For the perfect shot, consider heading over early in the morning for fewer crowds and views of the sun rising over the ocean to accompany. This is a simple attraction to enjoy that also won't dent your travel budget. A visit to Surfers Paradise with kids is not complete without a photo under this iconic sign!
Price: Free
Address: 2 Esplanade, Surfers Paradise QLD 4217
2. Swim at Surfers Paradise beach
There's nothing more refreshing than a swim off Surfers Paradise's pristine beach. Offering visitors golden sand to stroll along accompanied by clear, crystal water, it's no wonder this beach is so popular. Head over with the entire family, lounge on the beach, play some games, build a sandcastle, take a dip between the flags, and embrace the calm energy of Surfers Paradise. Not to mention, with a collection of stores and cafes located just across the road, it's effortless to transition from beach-life to city-life.
Price: Free
Address: 2 Esplanade, Surfers Paradise QLD 4217
3. Infinity | Surfers Paradise
Step into the future with a visit to Infinity, Surfers Paradise. At your own pace, stroll through 20 diverse environments, including special effects, sound fields, aromas, music, and maze-like illusions. It's often described to be an indescribable venture that must be experienced to understand. Infinity also offers a gift shop and can host various groups and parties. The experience can be enjoyed by children over the age of 8. For more information on Infinity, see the website for pictures and videos.
Address: G31 Chevron Renaissance Centre, Surfers Paradise QLD 4217
For more information about Infinity click here
4. The 7-D Cinema
Take the movie-viewing experience to the next level with a visit to the 7-D Cinema. The facility uses various pieces of technology to deliver an entertaining experience in a safe environment. Plus with a variety of movies to choose from, there's a little something for everyone to enjoy.
Some movies include Adrenaline Rush, Da Vinci's Touch, The Weird Race, Santa's Legend, Panic House, Temple Of Egypt, Snow Race, Surfer's Coast, and many more. For a full list of movies, a description, and tickets, head over to the website.
Address: Cavill Ave &, Orchid Ave, QLD 4217
Visit the 7-D cinema website here.
5. Strike Bowling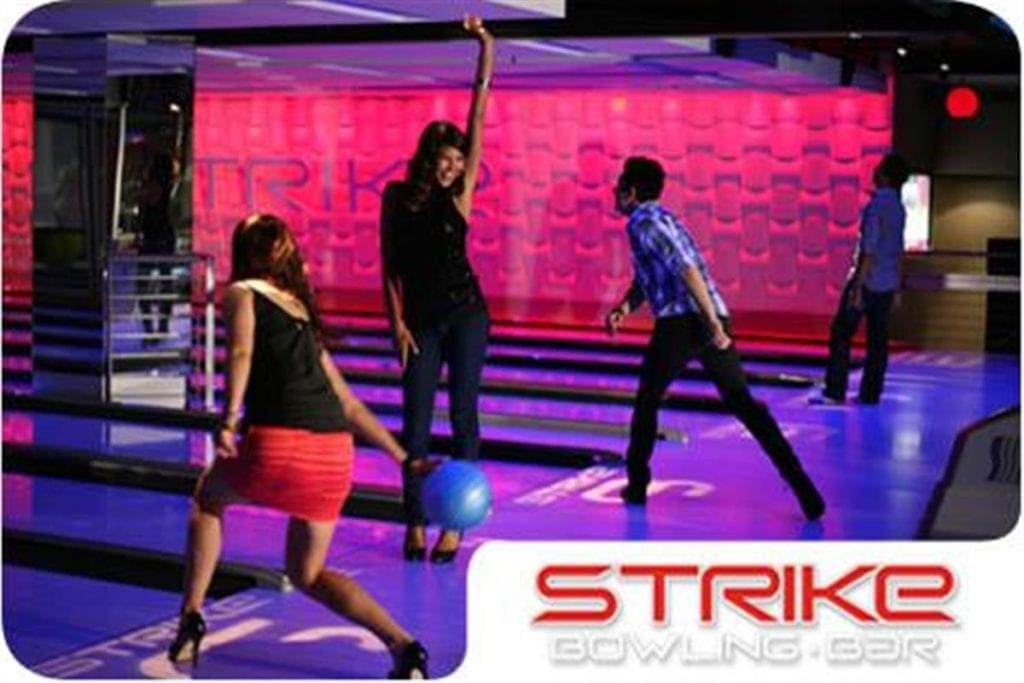 Hosting an impressive collection of activities that both parents and children can enjoy, a visit to Strike Bowling proves to be an entertaining outing for the whole family. The facility offers plenty of bowling lanes to enjoy, as well as putt putt golf and a variety of thrilling escape rooms. What's not to love? To top it off, from Monday to Thursday, Strike Bowling hosts a collection of promotions, making a visit all the more affordable. This includes $30 for unlimited activities on Tuesdays and $10 for unlimited bowling on Wednesdays. Be sure to check out the website for a full list of promotions and activities on offer.
Address: Circle on Cavill, Surfers Paradise Blvd, Surfers Paradise QLD 4217
You can find all the details about price and timings on the Strike Bowling website.
6. Holey Moley Putt Putt
Also located within Strike Bowling, Holey Moley offers an entertaining range of unique putt putt courses to tackle. Choose between a 9 or 18 hole game, comprised of unique challenges and pop-culture themed courses that won't be seen anywhere else. For example, some popular holes draw inspiration from icons such as The Simpsons and PacMan. Offering a collection of courses to suit every skill level, a trip to Holey Money offers a little something for every member of the family. It's important to note that kids aren't allowed into Holey Moley after 8 pm.
Address: Circle on Cavill, Surfers Paradise Blvd, Surfers Paradise QLD 4217
Visit the Holey Moley Putt Putt website for all the details and to book
7. Archie Brothers Cirque Electro
Archi Brothers Cirque Electro is an indoor arcade brimming with all the flashing lights and excitement that kids love. You will find dodgem cars, carousels and thrill rides, crazy shakes, arcade games, indoor bowling, laser tag, and prizes to be won.
Address: 3197 Surfers Paradise Blvd, Surfers Paradise, QLD 4127
Click here to find out what other treats are in stall for you at Archie Brothers.
8. The Gold Coast Wax Museum
The Gold Coast Wax Museum is an entertaining venture that the whole family can enjoy. Initially established in 1968, the museum has become one of Surfers Paradise's longest attractions. The facility houses a spectacular collection of wax figures, including celebrities, characters, and notable people of history. Some of the museum's exhibits include the Chamber Of Horrors, The Famous People, The Crown Jewels, and more. Information about how the wax figures are handled and made are also available. Tickets can be purchased via the website.
Address: 56 Ferny Ave, Surfers Paradise QLD 4217
Visit the Wax Museum website for more information
9. iFly Indoor Skydiving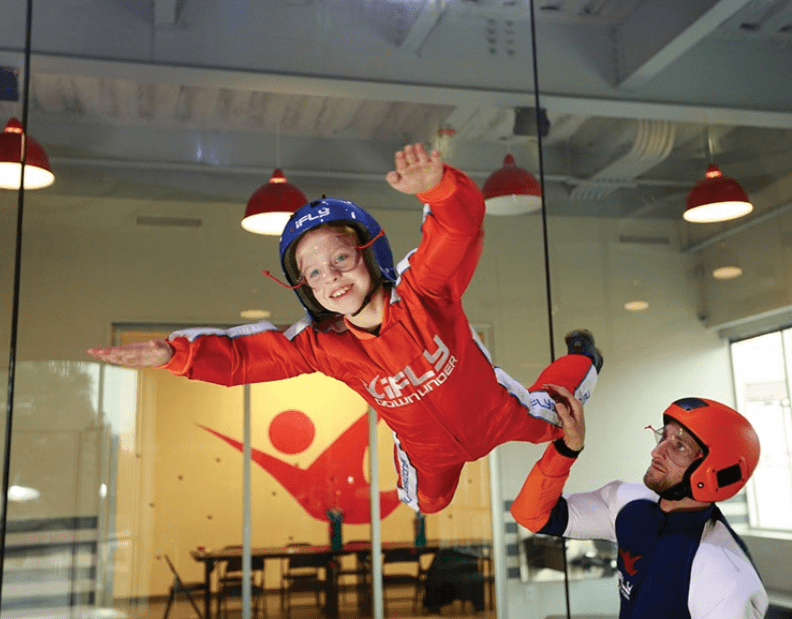 This is one of the most exhilarating things you can do in Surfers Paradise with kids. Enjoy the thrill of skydiving without the heights or the need to jump from a plane at iFly Indoor Skydiving. The attraction is very inclusive for the entire family, with an experience available for everyone.
This includes an introduction class along with a collection of other packages with different inclusions to suit a variety of needs. The sessions include a set number of flights (depending on the package), a flight suit, helmet, goggles, and a flight certificate. For a full list of products or to book a session, head over to the iFly website.
Hours: Monday to Friday (9 am to 9 pm) Saturday (8:30 am to 9 pm) Sunday (8:30 am to 7 pm)
Price: Intro classes from $72
Address: 3084 Surfers Paradise Blvd, Surfers Paradise QLD 4217
iFly has a range of options, check their website for more information
10. The Sling Shot
Those in the mood for a much more thrilling attraction can may their way over to The Sling Shot – a frighteningly acclaimed ride of Surfers Paradise. The Sling Shot, shoots guests from the ground at 160 km per hour to an altitude of 80m. Let's not forget, what goes up, must come down.
This ride isn't for the faint-hearted. Before visiting, check the website for more details and any age restrictions.
Address: 6 Palm Ave, Surfers Paradise QLD 4217
Visit the Sling Shot ride website here
11. Ripley's Believe It Or Not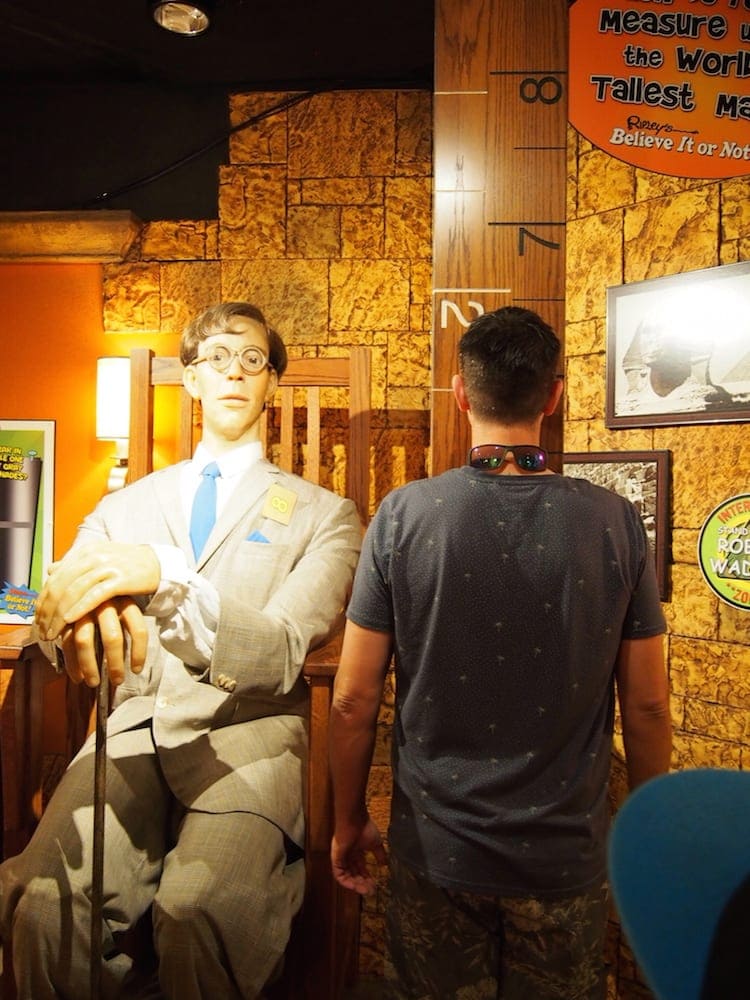 Marvel the various wonders of the world at the Ripley's Believe It Or Not Museum. The facility hosts a collection of fascinatingly mysterious exhibits to explore, ranging between a Tibetan Skull to a wedding dress made of toilet paper. The facility stretches over 9,000 square feet, offering the entire family plenty of odd sights to ponder.
Otherwise, guests seeking a bit more challenge can test their skill at Ripley's Impossible Laser Race. Duck and weave your way through a variety of moving lasers without breaking any to pass the course. A trip to Ripley's delivers an experience that won't soon be forgotten. Ripley's is one of the most famous venues to visit in Surfers Paradise with kids.
Address: Cavill Mall, Cavill Ave, Surfers Paradise QLD 4217
Make sure you check out the Ripley's website before you visit
12. TimeZone
Delivering an array of games and activities to enjoy; TimeZone proves to be a highlight of Cavill Avenue. Both parents and children can enjoy the endless stream of arcade games, with dodgem cars, laser tag, and putt putt also on offer. Earn tickets from the arcade games and choose a prize on your way out to remember the experience. If you're looking for a spot to entertain the kids for hours on end, TimeZone is a slam-dunk – especially if the weather is not great!
Address: Level 1, Paradise Centre, Cavill Ave, Surfers Paradise QLD 4217
Visit the TimeZone website here
13. Q1 SkyPoint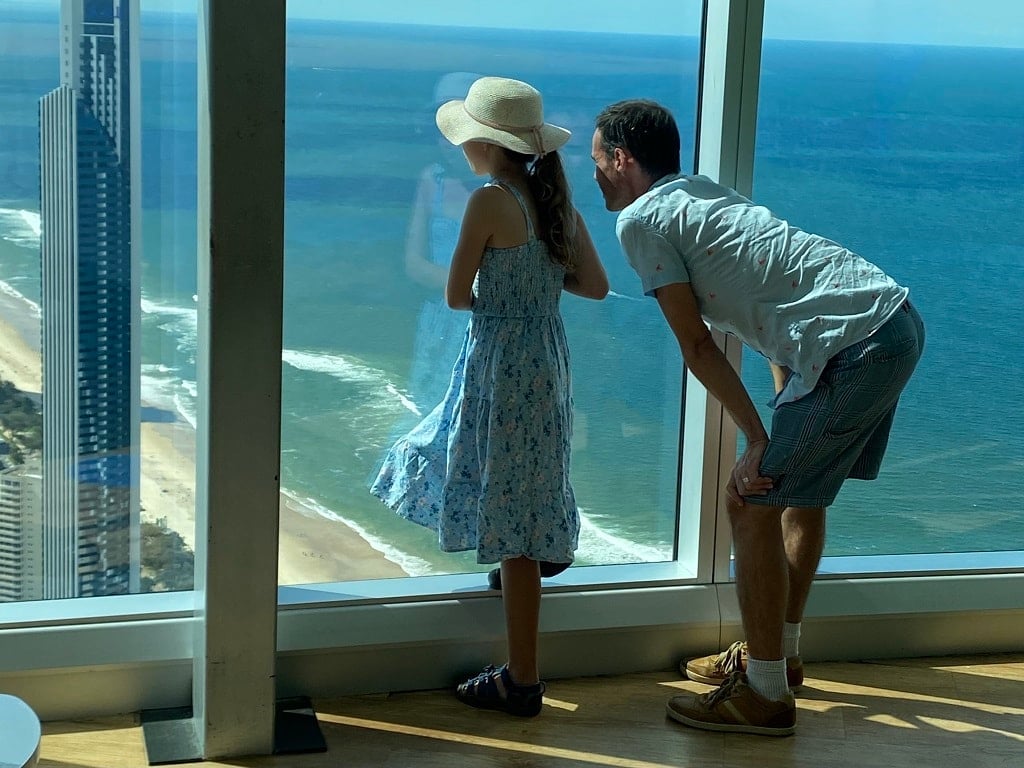 Admire sweeping views of The Gold Coast from above at Q1's SkyPoint observatory. The lookout is located on the 77th level of Q1, offering guests panoramic views of the city, ocean, and hinterlands. While appreciating the views, grab some food from the SkyPoint Bar And Bistro. So, if you're looking for a different perspective to admire the Gold Coast, you may want to consider a visit to the Q1. The tower is an 18+ venue on Friday and Saturday nights from 8 pm.
Address: Level 77, q1 building/9 Hamilton Ave, Surfers Paradise QLD 4217
Find out about the views and the food at the top of Skypoint here
14. The beachfront markets
Head over to the Surfers Paradise Sign on either Wednesday, Friday, or Sunday for the chance to take a stroll among the acclaimed Beachfront Markets. Walk among countless stalls, hosting various handmade goods and delicious treats to taste.
While you're enjoying the walk, you can admire the afternoon vibes of the Surfers Paradise Beach, glowing as the sun sets over the skyline. Proving to be an entertaining venture for the entire family, the markets also include treats for the whole family to taste. After all, who doesn't love the opportunity to explore some markets?
Address: The, Esplanade, Surfers Paradise QLD 4217
Website: Click here
15. The street performers
Scattered along Cavill Avenue is a line-up of impressive street performers showcasing their talents. While you're moving along the strip, be sure to stop and admire some of the shows, often including singers, statue-people, and more. Not only is this activity often free (depending if you decide to give a few dollars to the performers to show your support), but it also proves to be a great photo opportunity. Keep your eyes peeled for some talented acts.
16. Hang by the pool
Despite all the attractions scattered throughout Surfers Paradise, sometimes it can be just as entertaining to lounge by the hotel pool. Sit back and enjoy some well-deserved relaxation while the kids swim in the water. Take some time, relax and unwind as a family, and appreciate this opportunity to lounge about. It's a holiday after all.
17. Ice skating at Planet Chill
Planet chill is one of Queensland's newest ice skating rinks, located in Paradise Point above Penguins Restaurant. It's the perfect all-weather activity where children aged from 3-up can chill-out on the ice. There are skating aides to help novices, and music and lights to give a realy party vibe to the occasion. Bookings required.
Find out more here.
18. Holoverse Dinosaur World
Have a dinosaur adventure at Holoverse! You will go through ten different scenes where the dinosaurs look real, but they are made of laser light. They are real world sizes so some of them are very big. Pick Hologram Grass to feed a Brontosaurus, fly through the air with the Pterodactyls, visit the ocean – but beware of what could be down there!
Dinosaurs are not the only thing you can experience at Holoverse. There's also a holographic aquarium and holographic escape rooms. Duration of each experience is 30-40 minutes, with prices starting at $29 per person.
Visit the Holoverse website here.
19. Paradise Jet Boating
Experience the thrill of a Jet Blast Jet Boat Ride or a Jet Boat Adventure Ride in the waters off Paradise Point. 360° spins, high-speed drifting, power slides, beach-buzzing and all the adrenaline you can handle await in this high speed adventure, suitable for children aged 4-up. Bookings are essential and tickets are from $46.00 per person.
Address: Mariner's Cove Marina, 60 Seaworld Drive, Main Beach, QLD 4217
Find out more here.
20. Visit HOTA – Home of the Arts
HOTA is the place where art, entertainment and culture meet. At HOTA you will find exhibitions, shows, workshops, concerts, cinema, dining, markets, parklands … something for everyone!
Address: 135 Bundall Road, Surfers Paradise, QLD 4217
See upcoming events for families here.
21. Coffee, cake and cats!
The Crazy Cat Cafe is the Gold Coast's first cat cafe. Enter the cat lounge for real cat cuddles, followed – or preceded – by coffee and cake at the cafe. You can book a 25 minute lounge session, or snuggle in for a full 50 minutes. Entry prices start at $12.50 for kids 12 and under, and $17.50 for adults.
Address: 63 & 64 Centre Arcade, 3131 Surfers Paradise Boulevard, QLD 4217
Things to do in Surfers Paradise
There's an endless list of things to do in Surfers Paradise with kids, often making a trip to the Gold Coast all the more memorable. Ranging from putt putt and arcade games to indoor sky diving and amusement parks, the area can accommodate for any experience you desire.
Whether you seek a tranquil beachside getaway or a never-ending, action-packed adventure, Surfers Paradise can deliver. Next time you're looking for something to do with the whole family in Surfers Paradise, consider a few of these options.