A Day Trip to Cedar Creek Falls Mt Tamborine
27/02/2016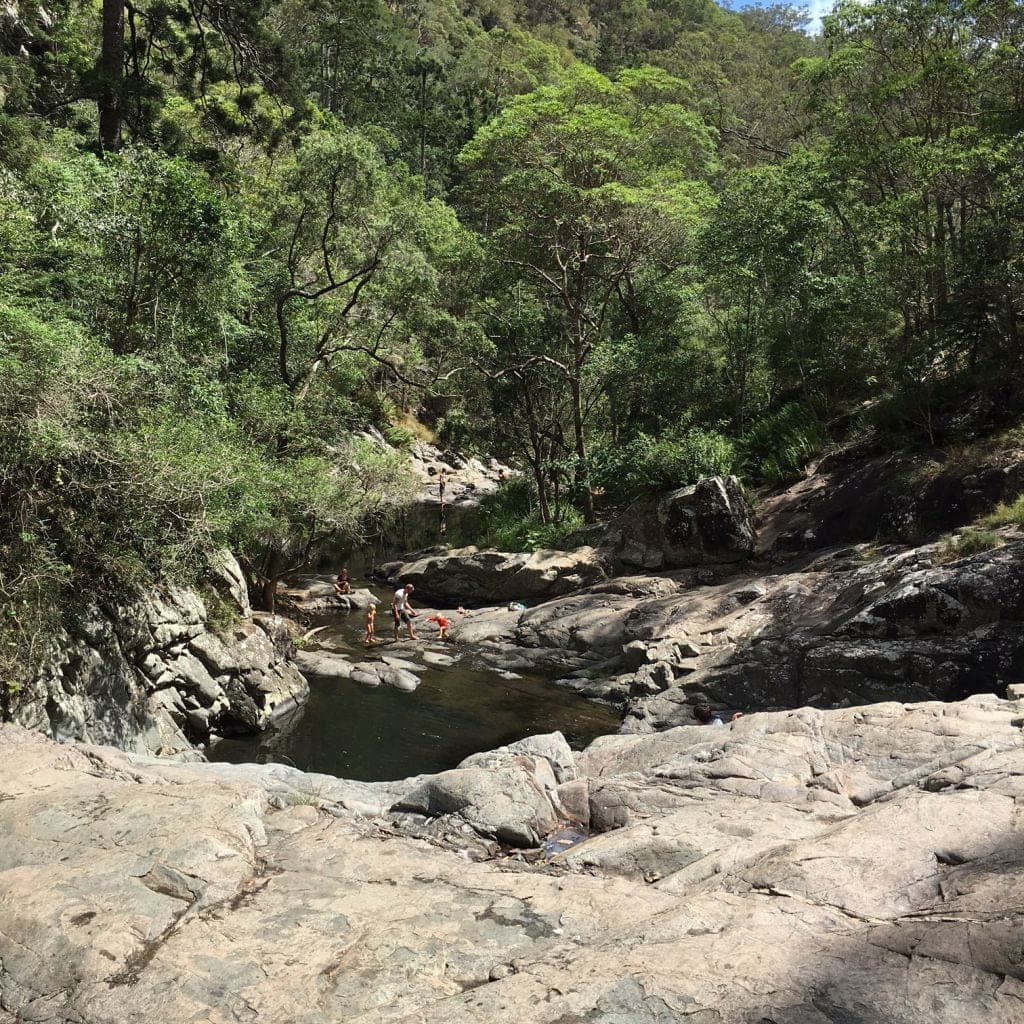 Cedar Creek Falls at Mt Tamborine is a relatively easy drive from Brisbane, the coast or inland and as you get closer to the Mountain the scenery gets prettier as well.
Cedar Creek Falls Mt Tamborine with Kids
Check out how to get there, what to do and why Cedar Creek Falls is an excellent day trip for families.
Cedar Creek Falls is not the same as Cedar Creek Samford
If you're trying to find how to get to Cedar Creek Falls, make sure you specify Mount Tamborine, as there is another place with the same name, north-west of Brisbane. We wrote about Cedar Creek, Samford here.
If you're using a GPS, put in Cedar Creek Falls Rd, Tamborine. Look out for the big "Thunderbird Park" sign on Tamborine Mountain Rd, as the road to the Falls is on the same corner as that sign.
Cedar Creek Falls Rd, is about 800m, with a car park at the end that acts as a natural cul-de-sac. Be careful though, as there are only about 15 car spaces. If you can't get a car space, you have to drive back to the top of Cedar Creek Falls Rd, as the road has yellow lines on both sides all the way along.
Parking and Facilities at Cedar Creek Falls
The parking area at the top of the road is a gravel area on Tamborine Mountain Rd, opposite the "Thunderbird Park sign. There are often motorbikes and several cars parked in this area.
The car park cul-de-sac is the entrance to the National Park and the Cedar Creek Falls rock pools. There is a toilet block which is wheelchair accessible, an information board as well as a big picnic area with several tables and BBQ's. Once you start walking along the path you will find another picnic area with a shelter and BBQ, just before the path the leads down to the rock pools.
There are no facilities at the rock pools though, so if you need bathrooms, it's back to the car park you go. No facilities also means no rubbish bins, so please make sure to take all your own rubbish back out with you.
Things to Do at Cedar Creek Falls
The viewing platform is at the very start of the path and is still accessible by wheelchair. Once you pass the platform the path becomes narrow and like any bush paths, uneven in places. There aren't too many steps on this walk, so it's relatively easy.
The steps at the very end of the pathway that lead down onto the flattish rocks, are quite large/ high steps, so be careful if you're short or have knee problems. Small children may need a steady hand as assistance to go down these particular stairs without falling.
You can SWIM at Cedar Creek Falls
There are three rock pools in which you are allowed to swim. Please remember to be respectful of the natural environment and take note of the signs which tell you the surfaces of rock which you are and aren't allowed to access. The water is often very cold but it makes a great place to cool down on a sweltering summer's day.
There are is often frequented by families with children. The top rock pool is quite deep and it has a couple of ledge areas which children can sit and paddle their feet quite easily.
The two other rock pools were further down the rock face. There are no stairs, so you have to walk over the mostly flattish rock. Children may need help the first time getting down there, but adults should also take care getting down to the lower rock pools.
It's definitely an excellent choice for an outing to get some fresh air and if you're brave enough, a swim in the cold water.
Watch our Video Review of Cedar Creek Falls at Mt Tamborine
Want more day trips from Brisbane? Check out these:
We love day tripping out of Brisbane. So much, that we have written a tonne of articles about it!
Brisbane islands day tripping ideas
South / Gold Coast day trip ideas
Springfield National Park day trip with kids
Mt Tamborine day trip with kids
Burleigh Headland National Park
North / Sunshine Coast day trip ideas
Booloumba Falls, Conondale National Park day trip with kids
Kondalilia National Park day trip
Gardners Falls day trip with kids
Day trip to the Ginger Factory on the Sunshine Coast
Bongaree Beach on Bribie Island day trip
Best things to do on a Noosa day trip
Stony Creek near Woodford day trip
Go west to these day trips
Cedar Creek, Samford day trip with kids
Winvehoe Dam day trip with kids

Mt Nebo National park day trip