Moving to Brisbane? The first thing you need to do is your research. Brisbane is the capital city of Queensland and home to over 2.5 million people. It's considered to be a friendly and welcoming city with a vibrant family lifestyle, hot summers, mild winters, great parks, and easy access to the coast and sub-tropical rainforests. It's easy to see why many more people are choosing to call Brisbane home, and if you're thinking of moving to Brisbane, here's what you need to know.
Brisbane and Greater Brisbane at a glance
Brisbane City sits either side of the Brisbane River. It has a world-class international airport, extensive public transport network, sports stadiums, bay islands, numerous theatres and entertainment venues, incredible public spaces and parklands, AND Brisbane is the host of the 2032 Olympics!
There are five Local Government Areas within the Greater Brisbane region: Brisbane City, Redland City, Logan City, Ipswich, and Moreton Bay. Logan City, Ipswich, and Redland City are to Brisbane's south, while Moreton Bay is to the north.
In the 2016 census, the median age for people living in Brisbane was 35, with children aged 0-14 years making up just over 19% of the population. Approximately one-third of Brisbane residents were born overseas, with their most commonly stated countries of birth listed as New Zealand, England, China, India, and South Africa.
Brisbane is one of Australia's major business hubs, contributing over 9% of the national gross domestic product. Imports and exports teem through Brisbane Airport and the Port of Brisbane, which is the third busiest seaport in Australia for value of goods passing through. Major industries in Greater Brisbane include tourism, banking, transportation, information technology, and international education.
Infrastructure and housing, and jobs are predicted to boom in the Brisbane region in the lead up to the 2032 Olympic Games. To ensure you can afford to live here, check out our tips for saving money on the cost of living in Brisbane.
Living in Brisbane
Brisbane is a vibrant and multi-cultural city with a strong connection to the arts and a long-held love of sport. The city centre has its own artificial beach alongside the river at South Bank, which is also home to the cultural precinct (Queensland Museum and Sciencentre, Queensland Performing Arts Centre, Queensland Art Gallery, Queensland Gallery of Modern Art, and Queensland State Library) as well as extensive parkland, gardens, numerous playgrounds, the Wheel of Brisbane, and many more attractions.
The city is also home to Botanic Gardens, accessible by both street or ferry; the River Stage, which hosts international music performers and the city's Lord Mayors Christmas Carols, and the iconic Story Bridge, which is one of only FIVE bridges in the world that offer bridge climbs.
The Ekka, Brisbane's Royal Queensland Show, takes place in August. Over nine days (which include LGA-specific public holidays), families head to the Brisbane Showgrounds for fairground rides, handicraft displays, agricultural exhibitions, animal encounters, musical performances, and produce sampling – and for the famous showbags, Dagwood Dogs, and Ekka strawberry sundaes.
In September, the city comes to life with the Brisbane Festival, a month-long cultural extravaganza of indoor and outdoor live performances and artistic installations, kicking off with a spectacular Brisbane Riverfire display.
Brisbane has something to entertain and amaze both young and old!
Housing
The median house price in Brisbane as at September 2021 is $742,500. Compared to Sydney at $1.3 million and Melbourne at $836,800, if you're shopping for houses for sale, Brisbane could score you a bargain. The prediction is that the median house price of Brisbane properties will increase significantly – to an anticipated $1.5 million – in the years leading to the 2032 Olympics.
While buying a house in Brisbane is relatively affordable in comparison to other major Australian cities, renters have it slightly tougher with the median rent in Brisbane sitting higher than the median rent in Melbourne. Renters can expect to pay between $530 and $750 per week for 3-bedroom city living an annual increase of 17.8%. More affordable Brisbane rental options can be found outside the city in its suburbs.
The city centre has extensive apartment living, with many new luxury apartment blocks being recently built. The older city suburbs are filled with character homes in the 'Queenslander' style (elevated on stilts to allow cooling airflow all around, with large verandahs and ornate railings), brick-built art deco homes, and post-war homes. Over the years, many larger blocks have been sub-divided to accommodate modern duplex homes and town houses.
Overall, there is a good variety of housing styles and options to suit most family requirements.
Just for fun: Discover the numerology behind house numbers to see if your home is lucky!
Employment
In February 2023, there were 21.2 million people in the usually resident civilian population who were aged 15 years or over, of whom: 13.8 million were employed. 1.8 million were not working but wanted to work (potential workers). Almost 23% were classed as professionals, with clerical workers making up around 15%, followed by technicians and trade workers, managers, and community and personal service workers.
Health care and education were the biggest employment sectors, with cafes and restaurants, State Government administration, and retail close behind.
Education
In Queensland, formal education can start in the January after your child turns 4.5 years old, i.e. if your child turns 4 in June, they will begin compulsory prep the following January. If your child turns 4 in July, they will begin prep around 18-months later at approximately 5.5 years old. At a minimum, children must be five years old by June 30 of the year in which they commence prep. Under some circumstances, you can opt to delay prep entry for another year of kindy if you feel your child is not ready. However, compulsory schooling does not begin until the child is 6 years old. Students are entitled to 13 years of formal education, from prep to Year 12.
Greater Brisbane has an abundance of high-quality childcare establishments, state and private primary and high schools, special schools, and schools of distance education. Early learning centres include those offering the Montessori and Reggio Amelia approach to learning, and higher education options include TAFE, Australian Industry Trade College, the University of Queensland, Queensland University of Technology, and campuses of six Australian Universities including Griffiths University, which is ranked in the top 3% worldwide.
Click here to discover how Queenslanders can save on the cost of kindy.
Greater Brisbane primary schools
State and private primary schools offer education for children from Prep through to Year 6. Some provide religious-based learning, and some are non-secular. If you want to find out more about the education performance of various schools in the area, visit www.myschool.edu.au.
Greater Brisbane secondary schools
There are many excellent state and private high schools in the Greater Brisbane region offering a range of ATAR and practical/trade pathways to future careers. Keep in mind that the public school your child attends will generally be based on catchment areas, or you can live in the area of your preference and opt for private education instead. Some state schools will take children out of catchment under certain circumstances, but many are enrollment-managed and strictly for catchment only. If your child excels in certain academic, sporting, or cultural areas, they may be able to apply for a scholarship at some private schools.
Cost for schooling varies. While tuition at public schools is free (uniform, annual stationery list, and extra-curricular/camp costs apply), private high schools across Greater Brisbane will range anywhere from $800 a year up to over $28,000, and Greater Brisbane private primary schools from $800 per year to over $23,500. Bear in mind that these are tutoring fees only and additional costs may apply.
Weather
Brisbane is sub-tropical with an average high-low temperature range over summer of 29° – 21°, and 21° to 10° in winter.
Summers can be humid with locals heading to the beach, elevated lookouts, and air-conditioned venues to keep cool. Humid days frequently end with spectacular thunder and lightning displays and the occasional storm. September is the driest month, and January and February see the most rainfall. If buying a house in Brisbane, check that the property is not in the river's floodplain. Although flood defenses have been significantly improved since the 2011 floods, insurance policies will need to be looked at carefully.
Brisbane winters offer perfect conditions of warm days often filled with sunshine which can mean more beach and pool trips all year round!
Getting there and around
Brisbane is around a 10-hour drive from Sydney and 18.5-hour drive from Melbourne. Both cities offer regular direct flights to Brisbane Airport, and interstate train services are available, though lengthy.
The Greater Brisbane area is well served by wide multi-laned motorways, linking north and south from the Sunshine Coast to the Gold Coast, and west through Ipswich and out to Toowoomba.
At peak times, traffic can move slowly in and out of the city, but a great amount of money is being invested in public transport with the new Cross River Rail set to commence service in 2025. This high-capacity rail system will link the northern and southern suburbs with a twin rail tunnel beneath the Brisbane River.
Getting around the city is fairly easy with options including buses, taxis, ferries (including the free City Hopper ferry), rideshares, and electric scooter hire. There are several vehicle and pedestrian bridges linking the river's north and south banks.
All Brisbane LGA's promote a healthy and active lifestyle with extensive cycle and walking paths. Keen cyclists may be willing to try the Moreton Bay Cycleway; 150kms of picturesque coastline cycling linking Bribie Island in the north to Redland Bay in the south.
Things to see and do around Brisbane
The city and its surrounds are full of wonderful family-friendly venues, with a great lifestyle to be had in Brisbane for kids. We've mentioned many already: the Cultural Precinct, South Bank, the Wheel of Brisbane, Botanic Gardens… but there are many more activities and venues to explore.
Mount Coot-tha offers several hiking trails, many culminating at the summit with its spectacular city views – well worth seeing both in daytime and after nightfall.
Lone Pine Koala Sanctuary can be reached by road or river ferry and is an incredible small zoo with domestic, native, and exotic species (their platypus display offers guaranteed sightings of these elusive creatures!). 
Getting out on the bay is a popular activity, with many people visiting Stradbroke Island (Minjerribah), Moreton Island (home of the Tangalooma resort where the public can hand-feed wild dolphins), and the many smaller bay islands in-between for kayaking and fishing. For a fuller idea of Brisbane 'tourist' attractions, click here.
Select Brisbane suburb profiles
While you could easily see yourself setting up home in Brisbane city, we're throwing the spotlight on a few select suburbs to give you a broader sense of the region. For a more detailed look, check out our best family suburbs in Brisbane article.
Moving to Logan
The Logan LGA covers a large area to the south and west of Brisbane. There are many suburbs in the area offering a mix of urban (Logan Central) and rural (Logan Village) living. The median house price at time of writing is $334,000 for a 3-bedroom home, with the median rental being $340 per week.
Logan has its own hospital, Entertainment Centre, water play park, and leisure centres, as well as a good selection of childcare centres, and state and private schools.
Kids will love Kingston Park Raceway, Daisy Hill Koala Centre – which has free entry and is great for families – and Karawatha Forest Discovery Centre. You can find more things to do in Logan with kids here.
Moving to Chermside
Chermside, on Brisbane's north side, is home to Queensland's largest shopping centre. It is ideally located for access to the city, Brisbane Airport and DFO shopping outlet. There are very good state high schools close by and a hospital with an emergency department.
Properties for sale in the Chermside area have a median sale price of $760,000, and rent at between $400 and $500 per week.
Chermside is fabulous for families and kids. There is so much to do, including iFly indoor skydiving, and the many adventures to be had at Chermside Hills Reserve. You can find more activities for kids and places to go around Chermside here.
Moving to North Lakes
North Lakes is perfectly situated for M1 motorway access, linking easily with the city and Sunshine Coast. It's in the heart of the Moreton Bay region, close to the beaches at Redcliffe and great shopping centres that include an Ikea and Costco.
The median house price is $565,000 for houses and $397,000 for units. Rents vary from $350-$500 per week.
North Lakes is close to conservation parks, great playgrounds, and – of course – many lakes where families can enjoy water activities and fishing.
Moving to Carindale
Carindale, south of the city, is a popular choice for families, being only 10km from the city centre and having direct access to the M1 motorway to the Sunshine Coast and Gold Coast, and the M3 and M2 motorways to head west. It has a large Westfield shopping centre, and backs onto the lush Belmont Bushland Reserve. The area is hilly, meaning you can get great city views with the right property.
Housing is more expensive than the greater Brisbane median. 3-bedroom homes are currently averaging almost $900,000 while 4-bedroom homes can be over $1,000,000. Rentals average $600-$800 per week.
Sport fans will be keen to know that Carindale is the 'park and ride' venue for the free shuttlebus to events at The Gabba.
Moving to Wynnum
Wynnum is a beautiful established beachside suburb in Brisbane's east, with views to St Helena Island (a historic museum island that offers character-led tours) and North Stradbroke Island. The median property price is just under $900,000, but as the location ticks many boxes, this is expected to rise significantly.
The seawater wading pool and Wynnum Whale Park have recently been redeveloped, providing safe water play for young families, and a modern multi-screen cinema complex has recently opened. Adding to the family-friendly fun, the area neighbours the suburb of Manly, which hosts several events and festivals throughout the year.
Moving to Springfield
Greater Springfield is unique in that its schools, TAFE, and university have all joined together to form a learning coalition to provide the best possible educational outcome for the city's students.
It's a new city area so all housing is modern, streets are wide, and parklands are plentiful. There is a huge free water park, bright modern shopping centres, and a brand-new public hospital.
The city was specifically designed to attract young families, and at the moment, property is still fairly affordable at a median of $550,000 to buy and $420pw to rent. It's definitely an area worth a closer look.
Moving to The Gap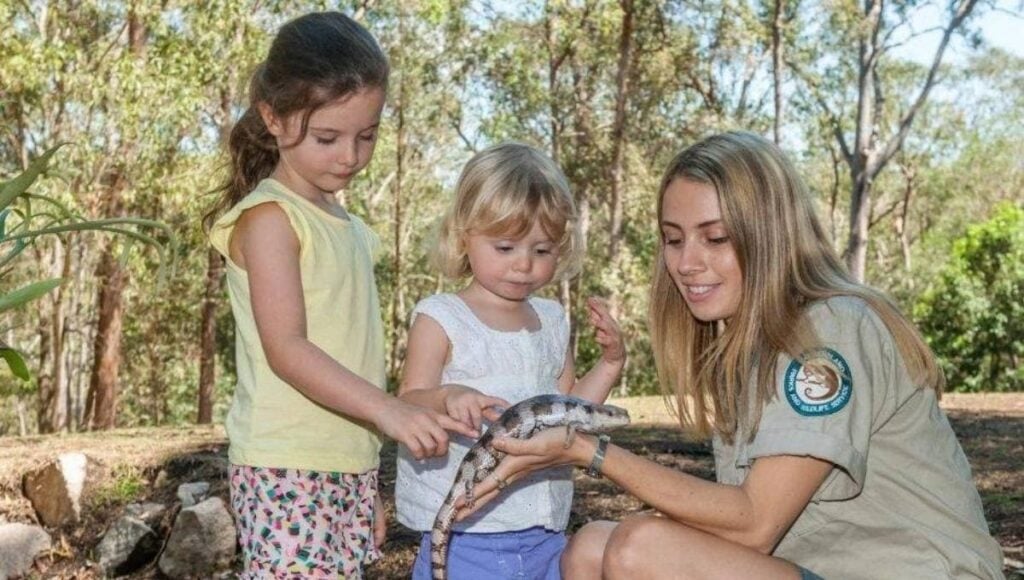 The Gap is the perfect area to live for families who like an active outdoors lifestyle. Although it is only 10km from the city, its bushland surrounds make it feel a million miles away.
The area is hilly with leafy streets and established gardens. The Gap is bordered by mountainous nature reserves offering bushwalks, spectacular views, lake activities, and the Walkabout Creek Discovery Centre.
There are no large shopping centres, but this is an exclusive area where families go for a tranquil lifestyle. The median house price is $900,000 and the median rent $565 pw.
Why you should move to Brisbane
Brisbane City and greater Brisbane can fulfill the wish list of most families. City, rural, waterside, island, and suburban lifestyles are all available and within easy reach of fantastic day trip opportunities to the coasts, hinterlands, nature reserves, wildlife parks, and bay islands.
There are many large modern shopping centres, and the city provides regular festivals, exhibitions, shows, and family events.
With top-performing schools, numerous hospitals, an abundance of sport and extra-curricular activities for kids, and that promise of equity growth as Brisbane becomes an Olympic city, it's clear that moving the family to SE QLD and investing in Brisbane properties is the way to go!
Thinking about other parts of South East Queensland? Read our guides.