UPDATED: Brisbane Riverfire 2020 | Date, Times and Vantage Points
28/09/2019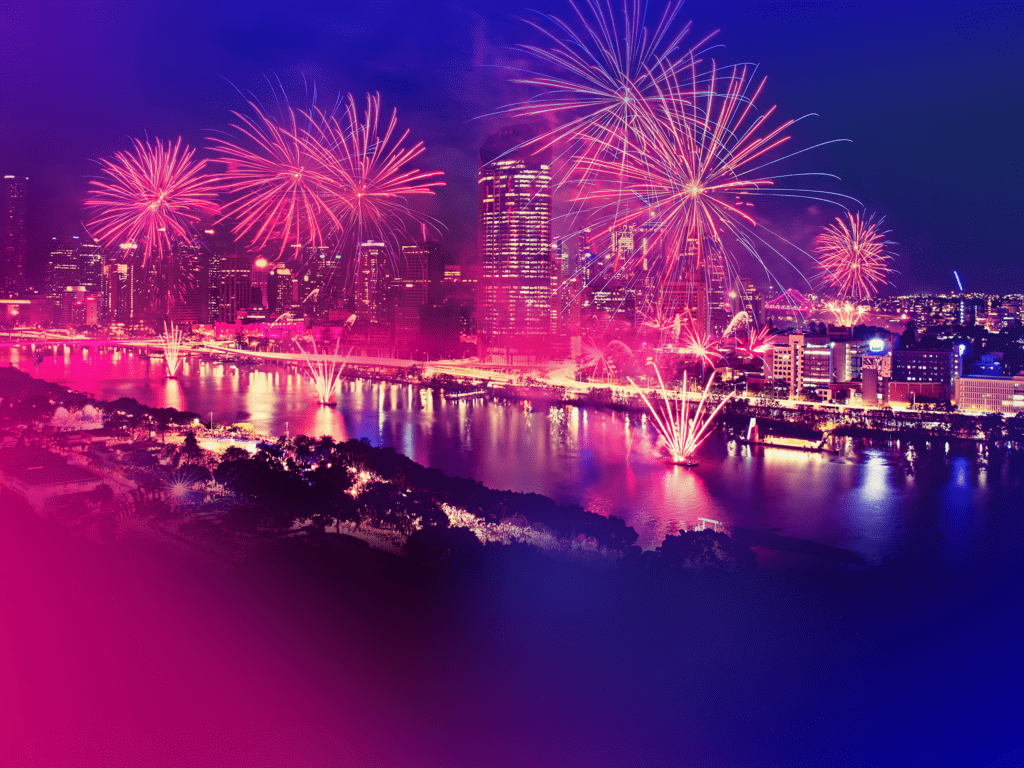 If you're new to Brisbane, Sunsuper Riverfire 2020 will be the stunning finale of Brisbane Festival 2020 . An annual event since 2009, Riverfire fireworks in 2020 are set to get bigger, better and more amazing again this year.
If you love fireworks, make plans to get to Riverfire in 2020. It is part of the larger Brisbane Festival that runs from 3-26 September 2020. Located all over the city, it is one of our favourite things to do each year – we normally see Riverfire at South Bank, but keep reading… there are lots of places to see the Brisbane Festival fireworks!
When is Brisbane Riverfire 2020?
If you are looking for when is Riverfire 2020? It is…. drumroll please… the date for Sunsuper Riverfire 2020 will be Saturday 26th September.
Sunsuper Riverfire 2020 schedule
Please note – these details will be updated closer to the event
The Brisbane river fireworks 2020 will be 20 minutes of fireworks and will be lighting up the Brisbane skyline from multiple city rooftops, barges and bridges. There will also be aerobatics displays from the Australian Defence Force, including super hornets and helicopters. The best thing about Brisbane Riverfire is that it's absolutely free!
The Brisbane river fireworks have a strict timetable, so make sure you are in position early! Riverfire fireworks 2020 Brisbane style will look like this:
Entertainment will begin at 4pm.
Triple M and Channel 9 will both broadcast live from 6.30pm.
Fireworks are due to begin at 7pm.
Best places to watch Riverfire Fireworks 2020 in Brisbane
The best places to watch the fireworks for free at River fire Brisbane are:
Victoria Bridge
South Bank
Kangaroo Point cliffs
Captain Burke Park
Wilson's Lookout
City Riverwalk including the Eagle St Pier and Riverside Centre
Read our detailed article – Best places to see Brisbane Festival fireworks 2019 – see our detailed list of vantage points to see River Fireworks Brisbane here.
Best places to see Riverfire for people with limited mobility
Best access points for Riverfire if you or a family member have limited mobility are South Bank, Eagle Street Pier, Riverside centre and Captain Burke park.
Food and drink at Brisbane River Festival 2020
All of the above sites have food and drink for sale otherwise pack your own picnic to save on money. Don't bring any glass bottles, cans or plastic only. South Bank is alcohol free.
Riverfire road closures during the event
The following roads will be closed or blocked to either pedestrians and/or traffic for various times during Riverfire 2019 are to be confirmed. In 2018 the following road closures
Victoria Bridge
Goodwill Bridge
Brisbane Riverwalk, New Farm
Story Bridge
Click here for other City and Fortitude Valley road closures.
Riverfire times – Riverfire Brisbane 2020
Please note – these details will be updated closer to the event
Entertainment will begin at 3.30pm with a 'tug boat ballet' synchronised display
There will be a C 17A Globemaster flypast at 4:20pm
There will be a FA-18 Super Hornet display at 5:30pm
Triple M and Channel 9 will both broadcast live from 6.30pm.
CityCat services cease at 6.45pm.
Brisbane Riverfire Fireworks are due to start at 7pm.
ADF Display confirmed for 2020
The Australian Defence Force aircraft display will include a C 17A Globemaster flypast at 4:20pm and a FA-18 Super Hornet display at 5:30pm, subject to operational requirements and weather conditions.
Svitzer Tug Boats ballet
At 3.30pm, see a popular highlight from Sydney's New Year's celebrations. Two tug boats from Svitzer will perform their romantic 'tug boat ballet' synchronised display on the river, which is best viewed from South Bank locations.
Riverfire timetable
There will be activities during the day at South Bank for kids prior to the aerial display.
Australian Defence Force activities on the night will be subject to availability. These times are listed just prior to the event itself as they are subject to change at the last minute.
Best parking for Riverfire
Families Magazine has teamed up with Secure Parking and we have all the best places to park with discount codes – click here.
Will Sunsuper Riverfire still be on if it rains?
Yes, Sunsuper Riverfire 2020 will go ahead as planned as the Australian Bureau of Meteorology has no current weather warnings which pose an immediate threat.
Can I take my dog to South Bank?
No. Dogs will not be permitted in the parklands for Sunsuper Riverfire. See the pet section below for recommendations on keeping your pets safe at home during the fireworks display.
Tips for first timers
Like New Years Eve, get there early if you want to secure the best spots to catch the Sunsuper Riverfire extravaganza. South Bank is fenced off for the event and access will be closed once it's full.
Plan your evening around public transport as limited parking and road closures will make taking your car difficult. Most carparks in the city predict that they'll be full from 11am on the day. There'll be plenty of extra trains and buses running on the night.
South Bank is an alcohol-free event for Sunsuper Riverfire. Please do not bring pets, bikes and scooters, drink bottles with broken seals (including bottles of water or soft drink), glass or alcohol to South Bank. These items will be confiscated by South Bank security staff.
Sunsuper Riverfire is fun for the whole family
Sunsuper Riverfire 2020 will be one of the biggest fireworks displays that Brisbane has seen and is sure to be an amazing night for the whole family. For more information on Riverfire Brisbane, visit www.brisbanefestival.com.au. Remember to bookmark our page for all the updated Riverfire 2020 date and times!
Did you know?
Riverfire is sometimes called the Brisbane Fire Festival 2020?
In 2020 the Riverfire Festival will have been running for 22 years.
2020 Riverfire has, in recent years, come under scrutiny to be cancelled due to the fire ban and drought conditions.
67 responses to "UPDATED: Brisbane Riverfire 2020 | Date, Times and Vantage Points"