Family-friendly. Safe. Outdoor lifestyle. Amazing climate. Pristine beaches. Coastal vibe. Casual. Relaxed. Surfing. Rainforests. Natural beauty. These are just a small snippet of reasons why moving to the Gold Coast is one of your best ideas yet.
In the last couple of years and particularly in the age of COVID, the Gold Coast is rapidly becoming one of the most popular destinations for families wanting to escape the southern states to the laid-back lifestyle that's on offer every single day.
Since 2018, the arrival of the Commonwealth Games kick-started new investment at around $16bn, including a new light rail system and a $200 million airport expansion. There was also significant investment made by private enterprise with the creation and upgrading of shopping centres.
Competitive house prices, compared with Australia's top cities, along with strong fundamentals – local population growth, world-class facilities, and a renewed focus on tourism – underpin the stability of the region.
What's not to love when you've got strong industry and economy coupled with an outrageously gorgeous 57 kilometres of coastline?
Here's a fun fact: Wealth Report reported the Gold Coast was rated number 1 in the world as a relocation destination – ahead of Cote d' Azur in France and the Spanish island nation of Ibiza!!
Looks like moving to the Gold Coast is your best decision yet.
Gold Coast at a glance
Situated in the south-east corner of the state of Queensland, the Gold Coast is home to over half a million people. Bordered by the Pacific Ocean to the east, and luscious, picturesque rainforests, mountain ranges and Lamington National Park to the west — the Gold Coast stretches from Coolangatta at the border with NSW to Staplyton in the north along the M1.
The city (without a pandemic) attracts close to ten million visitors each year from all over the world.
With a vibrant arts and culture scene, a beautiful natural environment and world-class tourism attractions, the city has transformed how residents live, connect and play.
Living on the Gold Coast
When it comes to your new home, everyone will have their own specific things on their list of "must-haves." Employment and housing affordability are usually at the top of the list. Other important factors include peace and quiet, good schools, public transport, local shops, and amenities like parks and playgrounds just to name a few.
Housing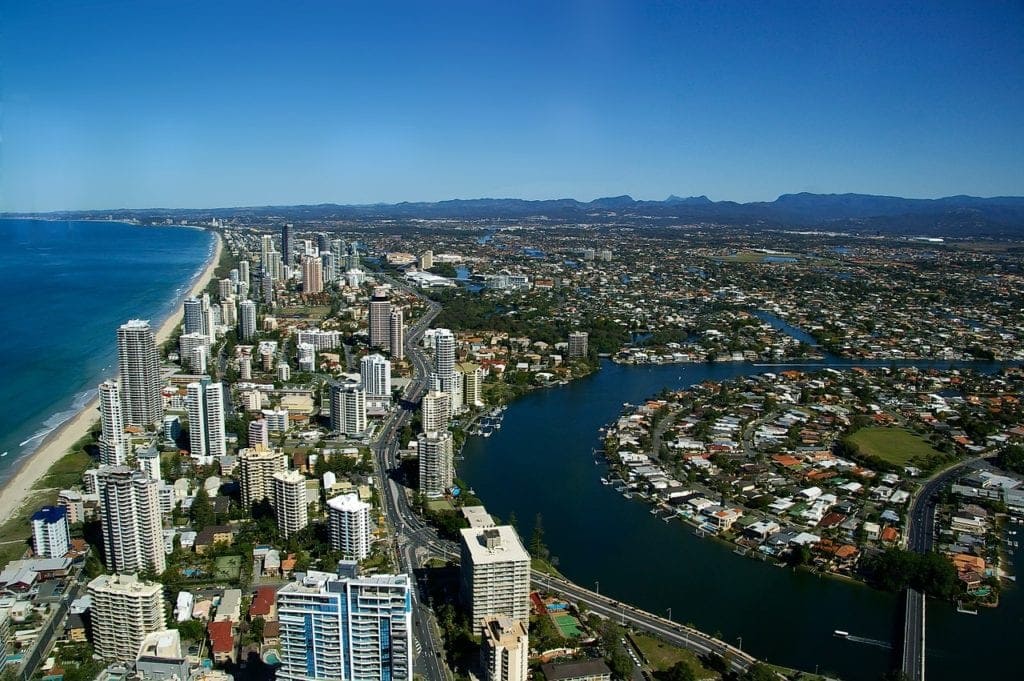 It's no secret that the market has been rising all over the country. The good news is that compared to other states, Gold Coast property is starting from a lower base. So if you're coming from somewhere like Sydney or Melbourne, then it's a win:win. In August 2021, the median house price was $787,000 and median unit price of $496,000. Depending on your requirements and the location you're interested in, there are still bargains to be had. But if you're looking at beachside living then expect to pay a fair bit more for closer proximity to the beach.
Employment
The number of employed persons in Gold Coast SA4 in March 2021 was 331,300. Gold Coast City Council advises the three most popular occupations were: Professionals, Technicians and Trades workers, and Clerical and Administrative workers.
Education
The Gold Coast has a wealth of educational facilities. With a mix of private and independent schools, state schools, and two on-campus universities, the city caters to a range of educational needs for the whole family. In Queensland, state schools are free and decided by catchment area – so your child will go to the nearest school to your home. To find out what state school catchment area you reside in, visit the Queensland Department of Education Catchment Map. Many parents base their decision on a school's performance. The My School site is a good resource to check a school's results and NAPLAN scores.
Education costs for all schools will vary. State schools offer fee-free tuition, however, with extracurricular activities, there will usually be a fee involved. Private schools range from the various religious denominations through to Steiner and Montessori just to name a few.
Gold Coast primary schools
The Gold Coast has close to 100 primary schools for children in Prep through to Year 6. There are both private schools and public education available with both girls/boys only options available at the larger schools. All state-run schools are non-gendered.
Gold Coast secondary schools
Whether you opt for private or state high school, the Gold Coast offers rich educational opportunities for your young adults as they prepare for the next phase of life.
Weather
Winter is (not) coming! The Gold Coast averages 245 days of fine and sunny weather each year. During summer, the average temperature is a pleasant 20-28°C. It can get humid during summer but often cools down with a pleasant afternoon breeze. Throughout spring and autumn, sunny days are followed by mild nights which means outdoor fun is always on the menu. Winter never really comes to the Goldie unless you think a daytime temp of 21°C is cold. There's generally less humidity and rain, but the temperature is still nice and warm.
Getting there & around
The Gold Coast has an extensive public transport system which means getting around is easy if you don't have a car. The light rail runs from Helensvale to South Broadbeach with an additional extension to Burleigh commencing in coming months and then onto the airport within the next 5+ years.
Things to see & do
Adventures awaits with a bounty of things to do in the Gold Coast all available at your fingertips.
The Gold Coast is Australia's favourite holiday destination with glorious beaches, rainforest retreats, and so many attractions to suit families. Get your discounted tickets to Currumbin Wildlife Sanctuary here to fill your days with koala cuddles, or scream your lungs out at one of the Gold Coast theme parks. Adventurers will love a Gold Coast jet boating adventure or hot air balloon flight over the region. By day, take in the scenery on a Gold Coast cruise, and when dusk falls, mum and dad can check out at Dracula's Cabaret.
If you're into footie the Gold Coast is home to the Titans and the Suns!
Theme parks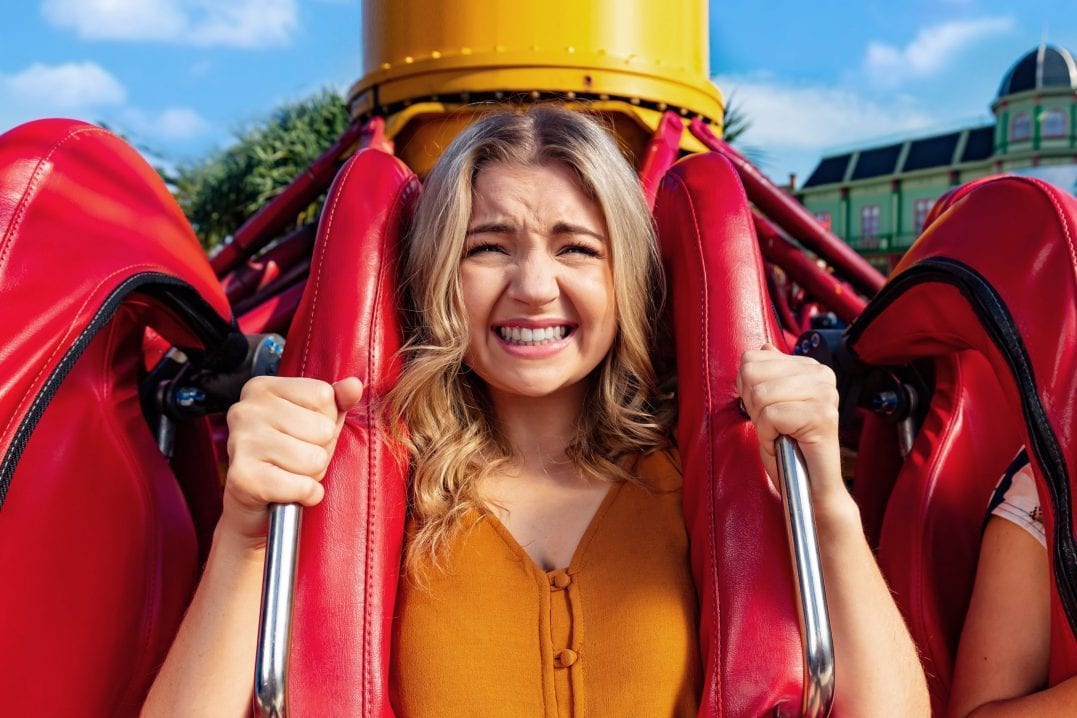 If you're in need of a little more excitement in your life, then the Gold Coast has something for everyone. It's not just about the beach, it also has some world-class theme parks. From rollercoasters to golf, from tigers, sea lions, lorikeets to outback adventures—Gold Coast theme parks cater to everyone.
Dreamworld is Australia's largest theme park, featuring over 40 rides for all ages. Or take a trip to Warner Brothers Movie World and strap yourself in for some of the best rollercoasters and experiences in the country.
Grab your boardies for a fun family day spent riding the tubes and slides at either Wet'n'Wild Water World, Seaworld or White Water World.
Take things at a gentler pace at Currumbin Wildlife Sanctuary.
Movie World also includes film studios and is the centre of the Gold Coast's movie industry.
Where to live on the Gold Coast
The Gold Coast is a wonderland of natural beauty, laid-back beach cruising lifestyles, theme parks, sophisticated residential areas, and lush, green Hinterland. You can see why there are plenty of reasons to visit, BUT there are even more to stay and play.
Check out this quick guide to a couple of terrific suburbs you'll find on the Gold Coast.
Moving to Pimpama
Pimpama is situated exactly between Brisbane and the Gold Coast. According to CoreLogic, the predominant age group is 0-9 years so if you're searching for a great family community that's affordably priced, then look no further. This fast-growing family destination has quick access by train or freeway to Brisbane and central Gold Coast for work!
With the new $82 million North Gold Coast Sports and Community Hub set for completion in 2021, Pimpama will have access to fantastic sporting amenities including a new water sports venue, community centre, tennis court, fitness centre, outdoor netball facilities, community parks and more!
Moving to Hope Island
Have you ever wondered what living in a secure, gated community is like? Yes? Look no further than Hope Island Resort. Touted as "Everything you need, want and love" we have to agree. Located on the northern end of the Gold Coast, Hope Island connects directly to the Pacific Motorway and is only 50 minutes' drive to Brisbane, 35 minutes to Coolangatta Airport and 20 minutes to Surfers Paradise.
Community facilities include a harbour front dining and shopping precinct, deep water mooring facilities, golf course, and luxury housing. Golf buggies are the preferred method of transport at Hope Island… there's an extensive network of "buggy paths" for getting around without the car. You can come home from work or school and feel like you're on holidays 365!
Moving to Mudgeeraba
Mudgeeraba is located on the western side of the M1 and stretches west to the foot of the Gold Coast Hinterland, a 15-minute drive to the beach at Burleigh Heads. Untouched by tourism, Mudgeeraba has hung onto its old-world charm with the Mudgeeraba Farmers Markets being the oldest continuous markets on the Gold Coast. This lovely area winds its way up towards Springbrook National Park. For outdoor adventures, you'll have easy access to Boomerang Farm Bike Park, and Skirmish Gold Coast offers a fun and action-packed day out with. We can't forget to mention that Mudgeeraba is adjacent to Robina Town Centre for the ultimate shopping experience featuring over 400 specialty stores including cinemas and indoor bowling.
Moving to Burleigh Heads
What's not to love about Burleigh!? The area known as "Burleigh" takes a large area from Burleigh Heads at Tallebudgera Creek to Burleigh Waters, a large suburban area with gorgeous canal and lakeside residences. Packed with things to do for everyone in the family, Burleigh delivers on fantastic facilities that cover everything from thriving James Street for some funky shopping, a Stockland shopping centre, Bunnings, Burleigh Bears Rugby League Club, well established private and public schools, a pristine beach with thriving surf lifesaving clubs, and even a "secret" golf club (shhhh)… the list goes on. Burleigh has got the lot!
Moving to Coolangatta
The secret's out. Once a Gold Coast hidden gem, Coolangatta – or "Cooly" as it's known to the locals – has been discovered! Although it's growing at a fast pace, this quiet little beachside suburb has still retained all its unassuming, small-town coastal charm. Coolangatta has great little schools with small numbers, and is within the catchment of Currumbin Palm Beach High (one of the areas high performing sporting schools on the Gold Coast).
Dropping out of city life and moving to Coolangatta means you'll have your pick of legendary, world-famous surf breaks including Snapper Rocks, D'Bah (Duranbah), and Kirra! Spotting a local surfing legend isn't hard either… when the beaches of the southern Goldie are going off, there's nowhere else you'd rather be. But it's not all about the beach breaks. Cooly is a short hop, skip and a jump from the pristine waterfalls including Currumbin Rockpools, Mt Cougal Falls, and Numinbah Valley.
Why you should move to Gold Coast
Growing from a holiday destination in the early 1900s to a world-class hive of industry and educational facilities, the Gold Coast has definitely arrived as the premium destination for families to live, work and play.
With an average of 300 days of sunshine per year, you'll be hard pressed to find such an exciting location to start your new Queensland lifestyle.
Thinking about other parts of South East Queensland? Read our guides.