Karawatha Forest Discovery Centre | Nature's best playground!
20/08/2015
Karawatha Forest Park, located 18 kilometres south of the Brisbane city centre, adjoins Compton Road at Karawatha and Kuraby. The Forest park is approximately 900 hectares in total and is one of the largest areas of natural bushland still part of and controlled by Brisbane City Council.
Brisbane City Council has built an environment centre called the Karawatha Forest Discovery Centre in the park to educate locals as well as visitors about the natural area's environmental significance. The Karawatha Forest Discovery Centre entrance can be found on Acacia Road, Karawatha (near Kuraby on the Southside) and provides indoor and outdoor places for visitors to explore and discover Karawatha Forest Park's diversity through various interactive experiences. It opened in February 2016.
Discovery Centre features
The building includes indoor and sheltered outdoor spaces that provides fun and interactive learning activities and displays. Facilities cater for school and community groups with a meeting/theatre room, outdoor classroom and additional public toilets. Sustainable design and technologies will be used.
A nature play and learning space around existing trees provides fun and interactive learning activities in a bush setting. Play elements are inspired by features and materials found in nature rather than standard park play equipment. Children of all ages (and adults who wish they hadn't grown up!) are able to explore the area and discover interesting facts and stories about the forest.
Key features at the Discovery Centre are:
a learning space with play features inspired by nature (not standard park play equipment);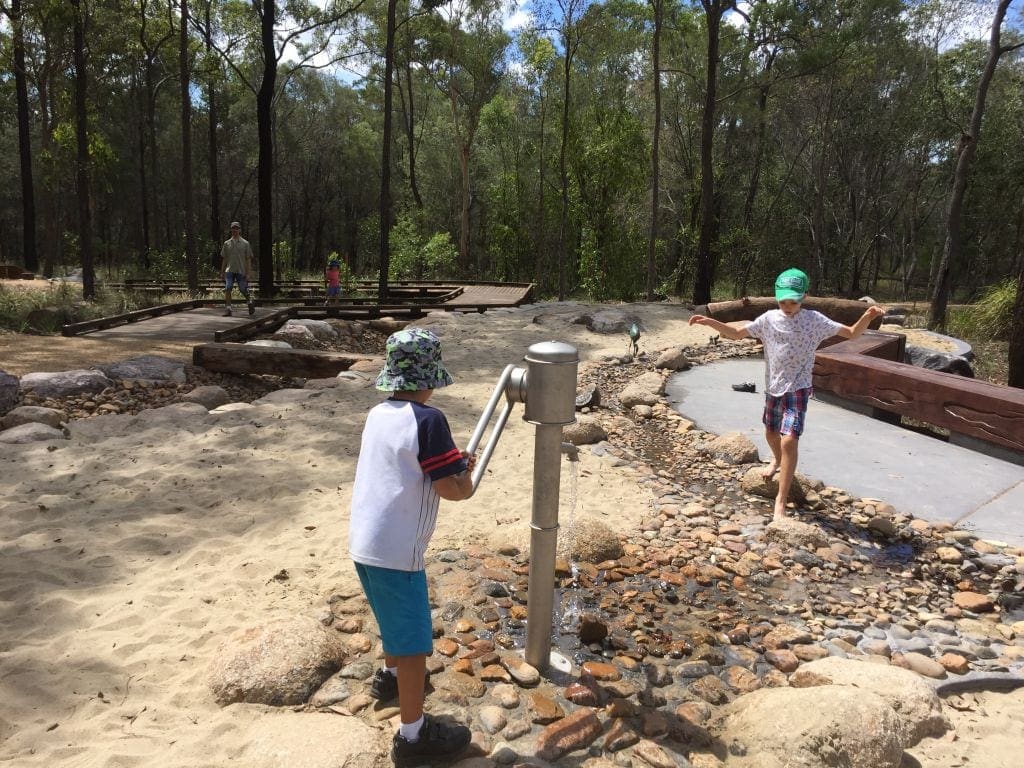 outdoor picnic and recreation spaces;
upgrades to the connecting pathways within the picnic reserve;
an upgrade to the Acacia Road entrance including a dedicated turning lane;
a new carpark area providing an additional 50 spaces
Check out out Karawatha Forest Discovery Centre video:
Picnic facilities at Karawatha Forest Park
Visitors to the reserve can enjoy picnics, bushwalks and nature study. There are two picnic areas within the forest which are open from 6am to 6pm:
Illaweena Picnic Area
You can access from Illaweena Street, Drewvale – quiet, tranquil spot to enjoy a meal beside the Illaweena Lagoon. A bridge and a trail leave from opposite ends of the picnic area leading you to the network of trails.
Karawatha Forest Discovery Centre Picnic Area
You can access Karawatha Forest Discovery Centre Picnic Area from Acacia Road, Karawatha (toilet facilities available). The shelters and tables of this picnic area are surrounded by open eucalypt forests. It is the gateway to the walking track network.
Poet's Rock
Amble up the sandstone ridges through open woodlands to Poet's Rock, a scenic outlook over the forest, and take in the view. Lagoons and wetlands Scrubby Creek rises in Karawatha's sandstone ridges and flows east into a string of lush lily-filled lagoons. Sedges, rushes and melaleucas line the lagoons, which fill after heavy rain.
Frog Hollow wet heathland area
A small wallum heath that is seasonally inundated. Contains the greatest diversity of plants recorded in the forest.
Karawatha Forest Park Track map
Read information about walks along the Karawatha Forest Park tracks or download the track map.
Find out what events are on at the Karawatha Forest Discovery Centre on our 'What's On' calendar by clicking here.