REVIEW: Lone Pine Koala Sanctuary Discount Tickets
28/12/2020
Are you looking for Lone Pine discount tickets? You've found the right place!
Lone Pine Koala Sanctuary, located in beautiful Fig Tree Pocket, Brisbane is the ideal place for a thoughtful, enjoyable and educational family outing. The Lone Pine Zoo has been a Brisbane institution since 1927 and is open 7 days a week from 9am to 5pm. Lone Pine is open over Christmas and New Year!
Keep reading to find out how to get Lone Pine discount tickets because we have them cheaper than on the gate!
If you have small children, tweens or teens with an interest in animals (so – basically all of them!) you'll find yourself spending hours in this wonderful place without even realising any time has passed.
The facilities that the Lone Pine Koala Sanctuary has put in place to cater for family groups and people with differing abilities and needs. This mean that this Brisbane attraction is a completely inclusive environment where everyone can enjoy themselves.
RELATED: We can also get your kids into Australia Zoo for FREE and we have cheap Dreamworld tickets too. If you have always wanted to go on a hot air balloon ride, we have a discount code for that too!
How do we get into Lone Pine Koala Sanctuary?
Upon entry to Lone Pine Koala Sanctuary you will be greeted with plentiful parking spots – many of which are shaded if you get there quick enough. The Riverside Café provides a scenic look at a peaceful, lazy section of the Brisbane River. It is perfect to grab a coffee before even setting foot in the Sanctuary.
You'll find catfish at the bottom of the steps here, too, if you're quiet. Free wifi is available throughout the park and instructions on how to connect can be found at many different points. Make sure you share your memories on Lone Pine's Facebook and on your Instagram account using #lonepinekoala!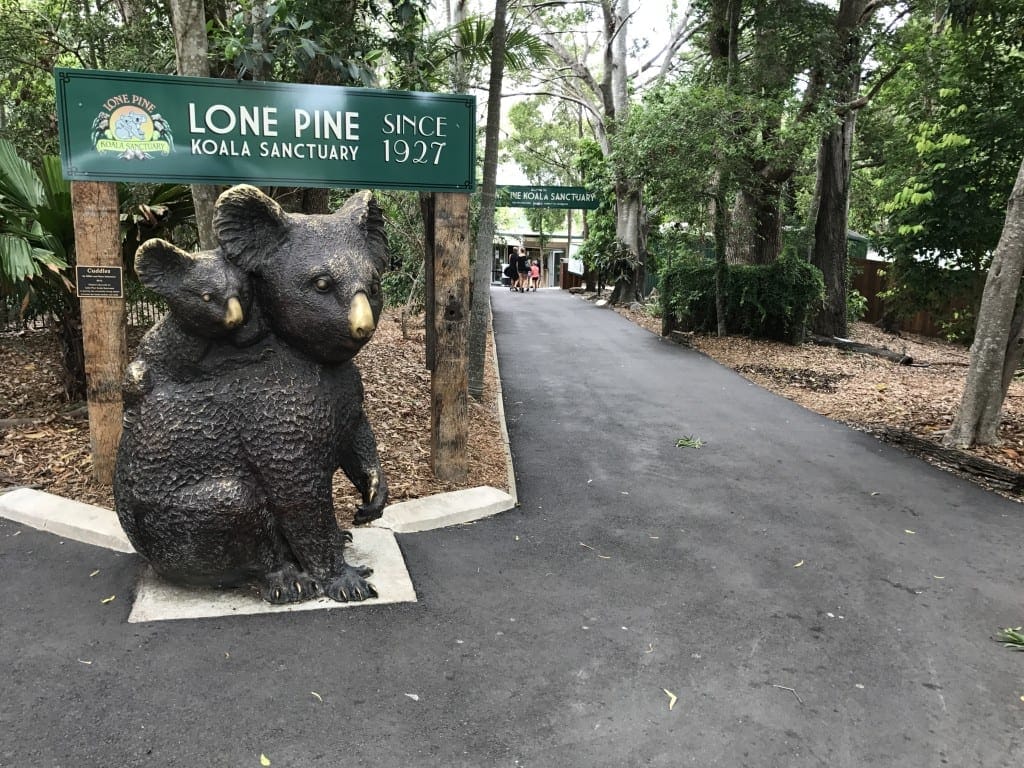 Lining up for the Sanctuary you'll notice options to purchase single entrance or yearly pass memberships. If you plan ahead and purchase your tickets online you'll find that you get a discount on an already excellent price (see our discount offer below). The pricing for the yearly passes is incredible and would make an amazing gift for the nature lover in your family.
What will we experience at the Lone Pine Koala Sanctuary?
Grab a guide book on your way through the gates so you can read up on the native wildlife you'll be encountering. On our visit, we saw:
An amazing platypus exhibit that had our son spellbound
A snake exhibit that is currently being expanded
A gorgeous array of Australian birds who were very happy to have a chat
Dingoes lazing in the sun
Tasmanian Devils scrabbling and having a bath in their enclosure
Wombats snoozing inside their enclosures
Echidnas nosing in the dirt
Wild lorikeet feeding
A fascinating sheepdog show where three dogs showed their skills and rounded some skittish sheep through a series of obstacles
A barn-area with all your usual farm favourites
Crocodiles lurking at the bottom of their pond
A vast array of lizards – many of which run around inside the sanctuary!
Cassowaries protecting their habitats
There are kangaroos at Lone Pine Sanctuary too!
The most incredible aspects of our journey had to be the kangaroo reserve. We purchased feed from the gift shop and were suddenly the most popular people at the park!
Surprisingly soft, gentle kangaroos approached children who gleefully fed them the pellets. The looks on the kids faces said it all! In the reserve we also saw sweet little wallabies who moved with surprising speed and emus who stalked over to their keepers for back rubs.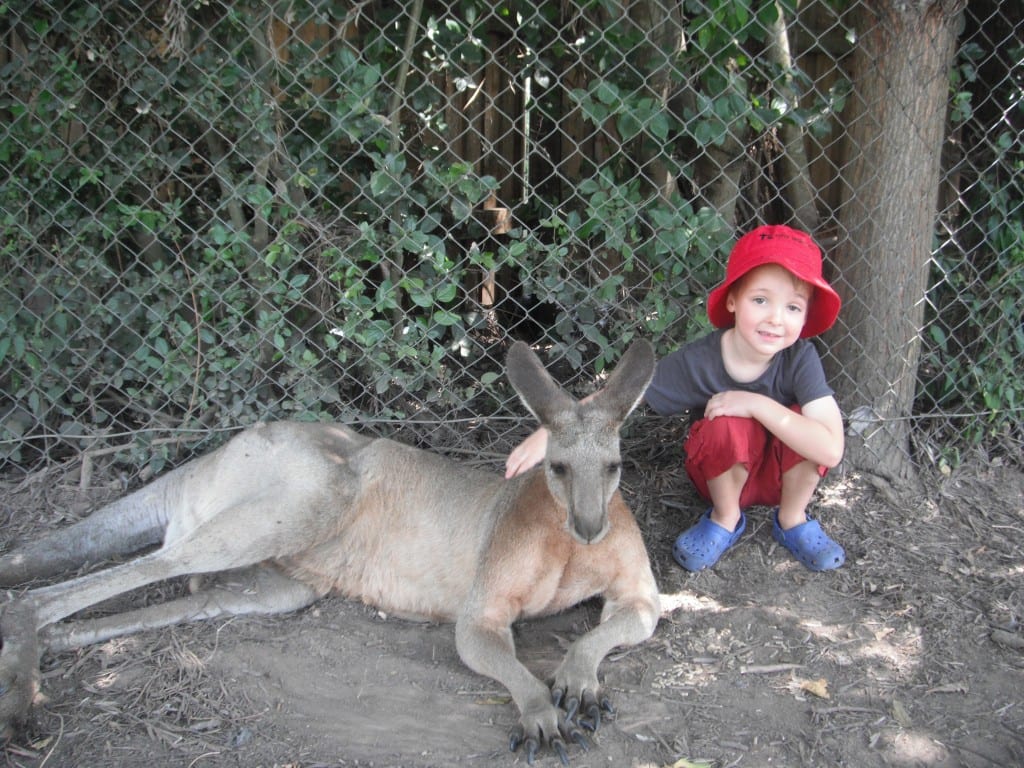 We also took had a koala cuddling photo done. You can buy your passes for these when you enter. The line moved with incredible quickness and we were very impressed with not only the skill of the handlers with the animals but how kind they were to the excited children who were waiting to get their photos taken.
A visit to the Sleep Koala Café will show you just how many celebrities have posed with the koalas over the years – including people like Pope John Paul II, Mikhail Gorgbachev, Marilyn Manson and The Queen Mother! Make sure you check the photo times in advance at the entrance and at the big screens.
What is there for families at Lone Pine Koala Sanctuary?
The Sleepy Koala Café has many options for lunch, snacks, ice blocks and cool drinks. There is a children's play area which is well positioned near the air conditioning for those excited little ones who need to cool down. If you'd like to eat outside there is a dining area that is bordered by sleeping koalas dozing in eucalyptus enclosures.
We were very impressed by the number and variety of parents room and toilet options. There were breast-feeding cubicles for mothers wanting a little privacy, uni-sex nappy change facilities with options for baby food preparation and wide doors everywhere to ensure it was easy for prams and wheelchairs. We saw one mother go into the Kangaroo Reserve pushing a double pram with squirming twins inside – too easy!
Is there anything else to know?
There's no way around this one – it can get warm at Lone Pine Koala Sanctuary. If you're going in the summer ensure you necessary sun safety precautions. Bottles of water can be purchased from a number of different locations. We would suggest taking your time and taking advantage of the air conditioning in the café if required.
In the heat of the day many animals will be sleeping so be considerate of their needs. You will see hand washing stations near the enclosures – use them!
Visit Lone Pine Koala Sanctuary
This is a 'must do' for any visitor to Brisbane and any Brisbanite. We are incredibly lucky to have a place like this within our city borders – if you've not been, go! If you've already been, go again! The beauty of these Australian animals is not to be underestimated and to see them presented in such a safe, responsible and ethical environment is truly a blessing.
Lone Pine opening hours
Lone Pine is open 9am-5pm, 7 days a week, including all Queensland public holidays.
ANZAC Day (25th April), 1:30pm-5pm.
Read Lone Pines COVID-19 updates here.
Lone Pine discount tickets
We promised you a Lone Pine discount coupon and as at November 2020 we have this option!
We have partnered with Experience Oz and have this offer: Click here to get your Lone Pine discount tickets.
This Lone Pine Koala Sanctuary discount voucher will see you paying less than you would on their front door entry prices, so it is well worth buying in advance!
Currently if you book directly online with Lone Pine it is $37.80 per adult. Children 3 – 17 years old are $22.50 and kids 2 and under are free.
HOWEVER…..
If you have kids and want to buy a family pass, it is waaaaaaay cheaper to do that via Lone Pines own website:
Family (2AD + 2CH OR 3CH) – $79.20 (same price for both)

Mini Family (1AD + 3CH) – $58.50
See all the different prices for family make-ups here.
REMINDER: We can also get you into Australia Zoo for FREE.
One response to "REVIEW: Lone Pine Koala Sanctuary Discount Tickets"