Brisbane Festival 2023 unites the city this September in a celebratory fusion of culture. Experience the wonderful, the wistful and the downright whimsical when Brisbane Festival's program of family-friendly events surprise and delight audiences.
A spectrum of city-wide encounters and productions tap into both a rich seam of nostalgia and the promise of a hopeful future; use vintage technology and the latest digital platforms; and bring entertainment to the people while also enticing them to explore their own backyards.
The programme for 2023 has been confirmed, so it's time to plan what you're going to see!
Here are some of the family-friendly shows and events you can look forward to at the Brisbane Festival.
Riverfire by Australian Retirement Trust (FREE) 2 September 2023

Saturday 2 September 2023, Brisbane River and surrounds, ALL AGES, Free
Entertainment from 4pm, ADF displays from 5pm, Fireworks from 7.05pm.
Witness one of the most electrifying fireworks displays in Australia, launched from multiple bridges, barges and city rooftops, with aerobatics from the Australian Defence Force. Riverfire celebrates the kick off of Brisbane Festival with a pyrotechnic extravaganza set to an almighty soundtrack.
Find out ALL ABOUT Riverfire here.
Click here for Riverfire parking deals.
Brisbane Festival 2023
The Brisbane Festival runs in September with a huge range of family-friendly events on offer daily. Check their website for full details for the WHOLE program and keep checking back with us for updates! Here are just a few of the highlights…
Lightscape
For the very first time Lightscape is coming to the City Botanic Gardens as part of the Brisbane Festival 2023. This internationally acclaimed multi-sensory experience is set to wow families from Thursday 31st August – Sunday 8th October 2023.
Uniquely curated to take you on a journey of the senses through light, colour and sound, enjoy the City Botanic Gardens as never before. Beginning beneath glowing tree canopies filled with colour, stroll alongside larger-than-life flowers and neon roots bursting from the undergrowth, through sparkling tunnels of light and under giant poppies suspended high in the night sky. Soak in the breath-taking lightworks created by the best local and international artists. It's an after-dark oasis of botanical brilliance.
Lightscape is a timed entry event running between 31 August and 8 October and it sells out across the world so be sure to book ASAP. Session tickets are available between 5.45pm and 8.30pm on event dates. You can enjoy Lightscape at your own pace. Organisers recommend 1.5 – 2 hours to make the most of the experience.
Find out more about ticket prices and opening times here.
Erth's Shark Dive
Take a risk or play it safe. The choice is yours!
Ever wanted to dive with sharks but been too afraid? Don't be! Come close to the Great White without getting wet at a new shark dive experience, created by world-renowned puppeteers, Erth.
Plunge into the world of sharks and choose your own audio adventure as you dive below the surface and come face-to-face with these majestic creatures. Will your performance soundtrack have you marvel in awe at their serene beauty, or be a high-energy, thrill-filled escapade?
The decision is yours. No diving experience is needed, but keep your eyes peeled and your mind open.
Tickets are priced at $29. The event takes place at Brisbane Circus Centre, 221 MacArthur Ave,
Hamilton
Dates and times:
From 17 – 29 September.
Mon – Thu, 10am – 1pm & 3pm – 6pm
Fri – Sun, 10am – 1pm & 4pm – 7pm
Sessions begin every 15mins.
Auslan Interpreted performances: Tue 19 Sep 11.15am & 12.15pm
Relaxed performances: Daily at 12.15pm, Mon – Thur 5.15pm, Fri – Sun 6.15pm
Nieergoo: Spirit of the Whale
400 drones take to the sky to light up a 65,000 year old story. Brisbane's night sky has never looked so spectacular. Join us for a Festival first, as 400 drones dazzle over Brisbane's iconic skyline celebrating our ancient stories of culture and place with a show directed by Traditional Owner and storyteller, Shannon Ruska and Tribal Experiences.
You can witness this FREE spectacle on 2 and 3 September.
Dates and times:
Saturday 2 September
Sunday 3 September
Common People Dance Eisteddfod

Sequins, sweat and spandex – the ultimate suburban party!
For the fifth year in a row Common People Dance Eisteddfod is back and bigger than ever!
Eight teams from across South-East Queensland will battle it out over two epic nights.
The mighty metro teams of suburban dance-gladiators from the North, South, East and West of Brisbane will battle it out on Saturday and then on Sunday Ipswich, Bayside, Sunshine Coast and The Gold Coast to will decide the winner of the 2023 Common People Dance Eisteddfod for all of South-East Queensland!
It's the ultimate battle of the 'burbs…so slap on some sequins, and come join the fun barracking for your favourite team.
See the drama unfold on 16 – 17 September at Sleeman Sports Complex. Tickets are priced at $25 – $35 plus booking fee.
Brisbane Festival 2023 programme
There are many more Brisbane Festival events for all the family including:
Cirque Bon Bon
10,000 Kazoos
Kidchella Westfield Chermside
Lord Mayor's Children's Programme – Circus Mixtape
and so much more!
Be sure to check out the full programme here.
Past events at Brisbane Festival
Wondering what happened Brisbane Festival's of the past? Have a look here!
Fun Outdoor Installations 2022
Last year's Brisbane Festival was stacked with a range of inspiring outdoor installations. These included:
Kaleidoscope 2022
12 August – 3 October 2022, Brisbane Powerhouse – ALL AGES, $16.50 per person (Under 5 and over 75 free)
A once simple, optical device has been taken to epic proportions. Walk within the Kaleidoscope at Brisbane Powerhouse – a mesmerising symphony of light, sound and joy, staged in a breathtaking mirror maze. Artist Keith Courtney has created a space where motion and gravity are distorted, surprising and disorienting the senses at every turn. Immerse yourself in this ever-changing utopia. Bookings essential.
Museum of the Moon, Mars and Gaia 2022
2 – 11 September 2022 (Museum of the Moon), 13 – 18 September (Gaia), 20 – 24 September (Mars) Metro Arts – ALL AGES, Free
Enjoy Luke Jerram's three-part series which fuses lunar imagery, moonlight and surround sound.
Find out more including times at the links below:
The Pool 2022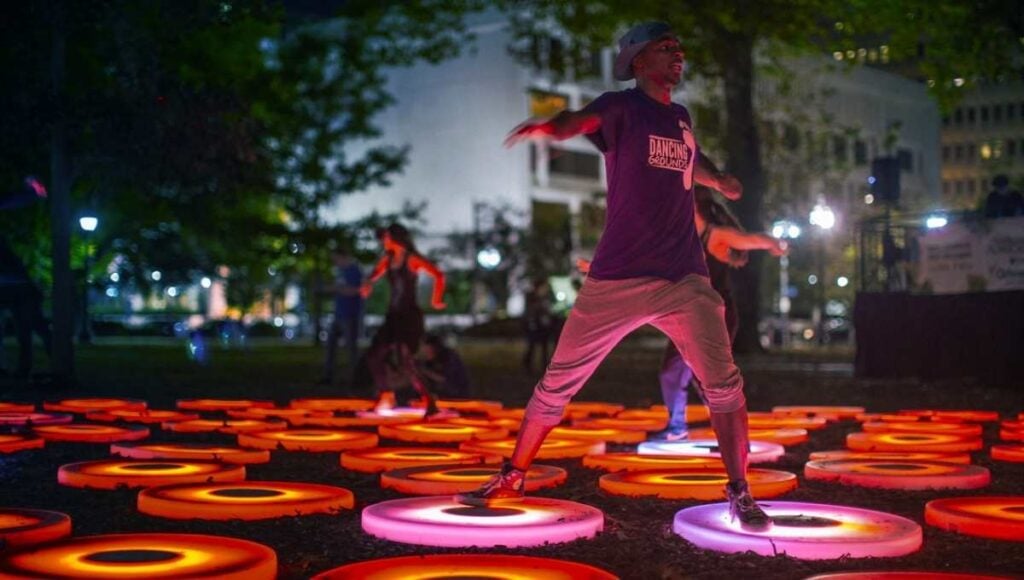 6 – 24 September 2022, BOQ Festival Garden, South Bank – ALL AGES, Free
You're encouraged to create a tidal wave of lights and colourful effects with every step as you interact with a giant field of concentric circles that swirl with colour when activated by touch, inviting visitors to jump, dance and play across the cosmos, to their hearts content!
Ephemeral 2022
2 – 24 September 2022, South Bank – ALL AGES, Free
Ephemeral is an immersive light and sound environment exploring the concept of ephemerality, representing it as that of a bubble. By day, this larger-than-life sculpture emulates the magical qualities of bubbles by using dichroic film to create the illusion of bubble-like colours and form.
Zooom 2022
7 – 10 September 2022, Metro Arts – Suitable from 3yo – 10yo, $25 plus booking fee
Combining old-school whimsy with state-of-the-art technology, ZOOOM is an enchanting story of a child alone in her bedroom, unable to sleep and curious, who begins her transformational journey with light and discovers that the dark is a magical place. The show is driven by the power of 'child logic', combined with the magic of science.
Brisbane Serenades 2022
Various dates from 9 – 24 September, Locations: Various, Free
Seven pop up (and free) bespoke concerts, celebrations and gatherings across Brisbane throughout September. Everything from roller skating, jazz, multicultural celebrations, DJs and more!
Want to know what happened at Brisbane Festival 2021?
In case you're wondering what happened at last year's Brisbane Festival 2021, here is an overview.
Sky Castle at Brisbane Festival 2021
3- 25 September 2021 – ALL AGES
This interactive installation is making its home at Northshore, Hamilton before floating down the river on Brisbane's Art Boat from 15-25 September 2021.
This incredible work changes colour as you move through its luminous arches. Light and music have been specially orchestrated to inspire joy and hope as you flow in and out.
Like a rainbow after a storm, Sky Castle is a beautiful apparition that is here with us for a short time, not a long time. Catch it before it passes.
Airship Orchestra 2021
3- 25 September 2021 – ALL AGES
Brisbane's Art Boat from 3-12 September before grounding at Northshore, Hamilton for the remainder.
Made from mesmerising inflatables, some as high as six metres, these mystical shapes light up as they perform to a choir score that will transport you to another world. If you find eyes following your every move, never fear – they mean no harm. You can book passage on the Brisbane Art Boat to see Airship Orchestra at the start of the Brisbane Festival or wait till it makes land at Northshore Hamilton for the remainder of the Brisbane Festival.
Silver City at Brisbane Festival 2021
3- 25 September 2021, Rainforest Green, BOQ Festival Garden, South Brisbane. Suitable for people 10+ years.
Tues – Thurs 6:15pm, 8pm | Fri 7:15pm, 9pm | Sat – Sun 12pm, 1:45pm, 5:15pm, 7pm – 1 hour sessions.
Single admission $40. Groups of four $35 each. Bookings recommended.
Silver City is an immersive new experience by world-renowned circus company, Circa, together with UK architects, AL_A. Inside a structure of chrome bubbles awaits a unique performance where acrobats tumble and leap as the show unfolds. Extreme skill meets bold design in this once-in-a-lifetime experience. Children under 12 years of age must be supervised by a responsible adult.
Messengers of Brisbane (FREE) 2021
3- 25 September 2021, various locations across Brisbane – ALL AGES
Six giant Gouldian Finches will fly into Brisbane to spread messages of hope this September.
Created by internationally renowned artist Florentijn Hofman and brought to life by Brisbane's Urban Art Projects, these spectacularly coloured birds invite us to look up and smile.
Perched atop iconic Brisbane locations in the inner-city river area, Messengers of Brisbane can be viewed on a leisurely stroll, bike ride, or even from a CityCat. You can even join in some Finchy Fun workshops!
Peter and the Wolf 2021
16 – 25 September 2021, Judith Wright Arts Centre – ALL AGES
Single admission $30, packages of four $110 each. 50 minute performance. Bookings required.
Performed on stage by Queensland Ballet's talented Jette Parker Young Artists and choreographed by Greg Horsman, Peter and the Wolf at Brisbane Festival beautifully retells the classic symphonic fairy tale with a contemporary twist.
Danced to an extended version of the original score by Sergei Prokofiev, this is a wonderful introduction to the orchestra that will inspire the littlest of ballet lovers and their families. there will be a relaxed performance on Saturday 25 September at 11am for families with sensory needs.
Looking for more family fun? Check out list of all the family friendly festivals around Brisbane here.