Planning things to do in Logan with kids and you really want something fun?
One of the most underrated places for family fun around Brisbane, is Logan! Packed full of things to do, places to go and experiences to be a part of, Logan offers it all. We have listed over 50 things to do that will be sure to put smiles on everyone's faces!
Places to swim and cool off in Logan
Logan Gardens
Logan Gardens is a huge parkland space encompassing a water park, playground, dog off leash areas, community gym equipment, a basketball court and much more. There really is something for everyone. Have a read of our review of the Logan Gardens Water Park before you go.
Website: Logan Gardens
Gould Adams Park Aquatic Centre
The Gould Adams Park Aquatic Centre has 3 indoor pools hosting not only a learn to swim pool but also a multi-purpose and a children's adventure pool.
Website: Gould Adams Park Aquatic Centre
Beenleigh Aquatic Centre
The Beenleigh Aquatic Centre features a kid's area designed with ideas from the local community, as well as an indoor heated pool. Spend a day here cooling off and keeping everyone happy. Find out more about this and other Logan's Aquatic Centres here.
Website: Beenleigh Aquatic Centre
Darlington Parklands, Yarrabilba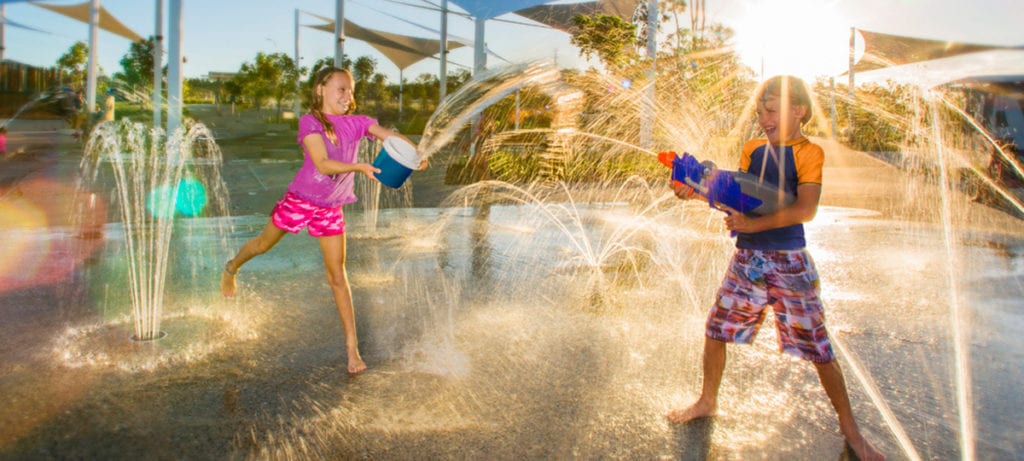 Dubbed 'the best fun you can have for free' Darlington Parklands in Yarrabilba is a super park in Logan with water play, forts, flying foxes and more for families with kids of all ages.
Take a look at our review of Logan aquatic centres here and if you are looking for other water parks and pools across Brisbane, take a look at our list.
Libraries
Marsden Library
Marsden Library on Chambers Flat Road offers 'Sensory Space', a place for children to learn by using their imagination and a music room with a variety of musical instruments. In addition, go along to Wriggle and Rhyme, a First 5 Forever program.
Website: Marsden Library
Logan North Library
Wriggle and Rhyme: Click here for details.
Family Food Fun
Devon Pixies
Take some time out and enjoy high tea, with locally blended tea and delicious treats made on site from recipes that have been handed down from one generation the next.
Website: Devon Pixies
My Pizza Pizza Diner
This family run diner is a dinner destination! It has retro booth seating and a black and white checked floor. Menu includes pizza, pasta, slow cooked ribs and homemade sauces. Yum!
Website: My Pizza Pizza Diner
Mrs Kay's
Got a craving for a burger? Head to Mrs Kay's in Springwood, where they have a dazzling array of burgers, sides and even desserts! Go on a Friday to enjoy live music with your meal.
Website: Mrs Kay's
Classes for kids in Logan
Curious Me
Curious Me a place for kids who love to do things out of the ordinary. Featuring messy play, sensory play and nature play, kids of all ages are sure to enjoy classes at Curious Me.
Website: Curious Me
Five free swimming lessons
Kids Alive do the Five run free swimming lesson for kids at Logan North and Beenleigh Aquatic Centres. Children are offered free lessons for five days in an effort to focus on water safety and swimming skills. We talked to Emma Lawrence about the importance of this program.
Website: Free swimming classes
Beenleigh PCYC
The Police Citizens Youth Club (PCYC) in Beenleigh offers a range of programs for all ages, including KinderGym. This community-based organisation is a great resource to take advantage of in Beenleigh. Here are 25 reasons why I love my local PCYC.
Website: Beenleigh PCYC
The Sewing Lair
Not only does the Sewing Lair teach the valuable skill of sewing to kids, but they also do craft classes such as making felt animals and festive macrame.
Website: The Sewing Lair
Get out in nature in Logan and surrounds
Daisy Hill Koala Centre
Located right on the edge of Logan, Daisy Hill Koala Centre in Daisy Hill is the perfect place to spend the day. Built on Daisy Hill Conservation Park, the Centre is covered in bushland and home to many koalas. Spend the day walking along the stroller friendly boardwalks looking out for koalas. At the centre, kids can have fun learning about koalas and their habitats, lives and their predators with the help of interactive activities and videos. Not only is it fun, it's informative, perfect for the little nature lovers.
Website: Daisy Hill Koala Centre
Berrinba Wetlands
At Berrinba Wetlands you'll find 8.5km of walkways and bike tracks, an interpretive centre and an impressive three playgrounds. There are a massive amount of plant, animal and bird species who call this place home, making it a wonderful educational day out.
Website: Berrinba Wetlands
Wyaralong Dam
Perfect for a day trip, Wyaralong Dam in Beaudesert is ideal for outdoor lovers. Those who love the water can kayak, canoe, stand up paddle board or go boating and fishing. Want to stay dry? With over 40km of trails you can walk, bike or even ride your horse.
Website: Wyaralong Dam
Springwood conservation park
If you love walking and hiking, then Springwood Conservation Park is for you. Bring a picnic and make a day of it, with a number of different trails on offer, including one that is wheelchair accessible. Marvel at rock formations and enjoy watching the kids race over the bridges that cross the gorges.
Website: Springwood Conservation Park
Daisy Hill Conservation Park
Not only is this park a preservation area for local wildlife, it is also the perfect place to spend time outdoors. Mountain biking, horse riding or bushwalk through the 1,500ha of bushland. Kids will love the nature play area or seeing koalas up close at personal at the Daisy Hill Koala Centre.
Website: Daisy Hill Conservation Park
Venman Bushland National Park
If you would like to see wallabies in their natural habitat, take a trip to Venman Bushland National Park. Bring a picnic and take in some nature on one of the beautiful bushwalks on offer. Take a look at our list of national parks across Brisbane here.
Website: Venman Bushland
Cultural destinations
Beenleigh Historical Village
Ever wanted to show the kids what life looked like before all of the technology they now have? At Beenleigh Historical Village kids can not only see it, but experience it! Made up of twenty buildings, this historical village includes old cottages, a general store, a post office, a school and an overnight jail cell. The village is open seven days a week (except for holidays) and offers discounts for children. Make sure you have a read of our review beforehand so you know what you can expect.
Website: Beenleigh Historical Village and Museum
Mayes Cottage
Open Thursday, Friday and Saturday, Mayes Cottage allows you to step back in time see what life was like in the pioneering age. The house has been preserved and you can wander through the rooms on a free tour with a local guide. Bring along a picnic lunch.
Website: Mayes Cottage
Spirit of the Red Sands
Experience the world's oldest culture at Spirit of the Red Sands. This family experience allows you to take a peek into Aboriginal culture and history and discover ancient customs and rituals.
Website: Spirit of the Red Sands
Logan Art Gallery
Residing in Logan City, the Logan Art Gallery is a wonderfully creative place to bring the kids to. The gallery not only houses local art, it also features a Young People's Gallery, made just for kids. This Gallery includes art made by young people and has plenty of fun activities for the kids to do. At the end of the gallery is the art store, the perfect place to pick up mementos for an awesome experience.
Website: Logan Art Gallery
Chung Tian Temple
Chung Tian Temple is a Buddhist temple giving a cultural insight into Buddhist life. Open to the public, it has a teahouse, art gallery and conducts many cultural events throughout the year. You can also go on retreat or take a meditation class. Please be sure to read through guidelines for visitors before you go.
Website: Chung Tian Temple
Logan Village Museum
The Logan Village Museum is a great chance for kids and families to discover the rich history of Logan by visiting a number of historical buildings. Entry is only $2.
Website: Logan Village Museum
Kingston Butter Factory
The original Kingston Butter Factory opened in 1907 and is today a cultural precinct. Featuring a blackbox theatre, a studio and event spaces and a living museum sharing the stories and history of the people and area.
Website: Kingston Butter Factory
Logan entertainment centre
Why not give the family a full day of excitement with a live show at Logan Entertainment Centre (LEC) and picnic lunch in the park or a visit to nearby attractions. Logan Entertainment Centre offers the perfect opportunity for an affordable day out for the whole family. Make sure you have a read of their past shows to give you an idea.
Website: Logan Entertainment Centre
Logan Markets
Creative Markets
On the last Sunday of each month, Springwood Road State School hosts the creative markets. Not only do the Creative Markets offer over 60 unique handmade stalls to browse, they provide plenty of fun things for the kids to do. This includes a jumping castle, face painting and fun craft activities for a day out in Logan kids. Since the markets are always guaranteed to be open no matter what the weather is like, you can be sure you'll have a fun day out.
Global Food Markets
Logan's Global Food Markets are sure to deliver an explosion to your senses with a fresh farmers market and over 100 authentic food stalls serving freshly made breakfast cuisines from around the world. Free entry and lots of free parking available. The markets are open every Sunday 6am-12pm (rain, hail or shine).
Website: Global food markets
Yarrabilba Mingle Markets
Held every second Friday night of the month, these night markets offer a chance for families to enjoy food and entertainment in a beautiful twilight setting.
Website: Yarrabilba Mingle Markets
Play activities in Logan
Visit Underwood Park

One of Logan's more well-known parks, Underwood Park is a huge expanse of playgrounds and fun. Along with the usual swings, slide and climbing frames found at most parks, Underwood includes a few attractions unique to its play area. These include a flying fox and bikes which sit mounted on a rail that runs around the park.
A recent addition to this Underwood Park is Funderwood Hollow. Inspired by the tale of Peter Pan, this adventure playground features towering warped cubbies, a climbing wall and heaps of weird architecture and designs which are sure to delight the kids.
Visit Albert River Adventure Playground
The Albert River Adventure Playground, in Eagleby, is set on a bend of the beautiful Albert River and has a few great spots to sit and watch the world float by. It is spacious and while it is set back from the road, it is unfenced.
It has had a refurb in 2020 and joins our growing catalogue of parks and playgrounds in greater Brisbane.
Demeio Park
Not only does this park have a flying fox, climbing tower, slides and swings it also has a bike track! Kids can ride around more than 200m of paths including a roundabout, bridges, pedestrian crossing and intersection.
Website: Demeio Park
Logan River Parklands
This huge park features two different playgrounds, both of which are covered by sails. The first playground, designed for older kids, includes swings, slides, a tunnel made of 'spider webs' and plenty of climbing frames to have fun on. The second playground, which has slides and smaller, more tactile climbing frames, is more suited to younger children.
If you're keen to have a picnic, the parklands have plenty of shelters with BBQs perfect for a day out in Logan with kids.
Playcentres
Rainbow City Children's Playcentre and Café
Designed for maximum fun for kids under 8, Rainbow City Playcentre offers jumping castles, big play structures and soft play mats to engage and entertain the little ones. With healthy and light meals at their café, this is a great environment for the whole family. The party packages are fit for all imaginations, with many varying options to meet all your party needs.
Website: Rainbow City
Lollipops Springwood
When it is just too hot outside, Lollipops Springwood is where you want to go. Kids of all ages can swing, jump, slide and run to their hearts content – while you sit down with a coffee! Featuring a multi-level play area, a toddler area and a pirate ship you can be sure they will be entertained the entire time.
Website: Lollipops Springwood
Adventurous play / get active in Logan
Underwood Skate Park
The Underwood Skate Park is located in the grounds of Underwood Park, one of Logan's better-known parks but is not actually in Underwood, but Priestdale (check the maps before you go). The skate park has a bowl, street section and huge flat bank, along with the standard rails and ramps.
Website: Underwood Skate Park
Albert River Park Skate Park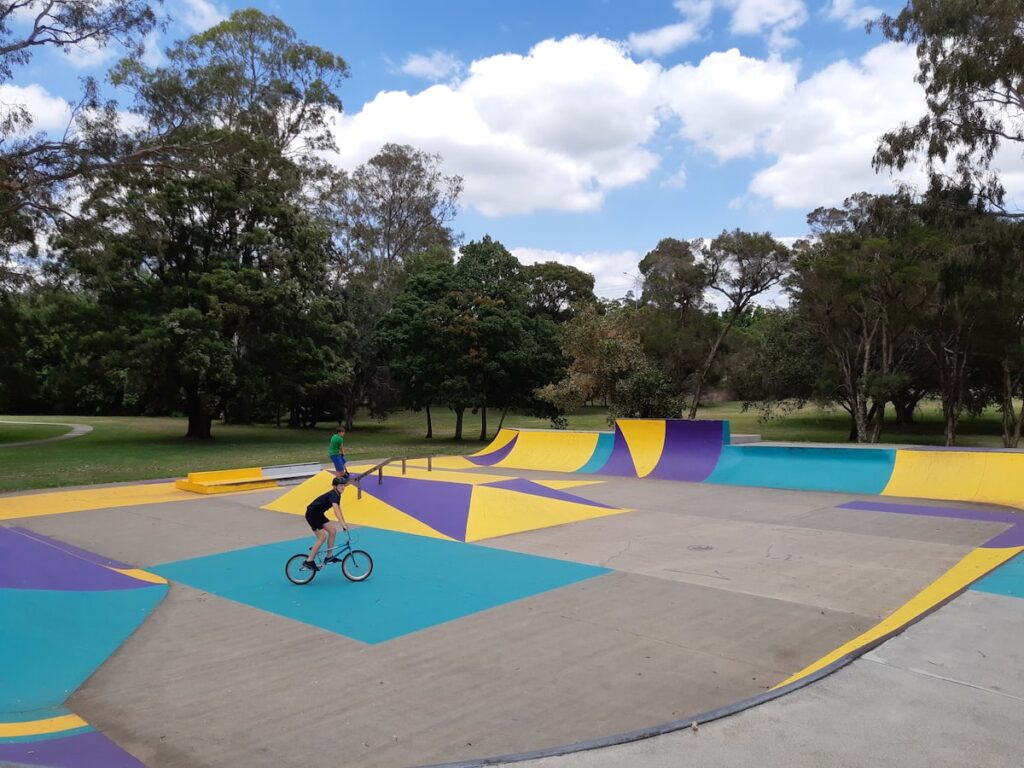 This bright coloured skate park is set in the grounds of the Albert River Adventure Playground. With ramps rails and jumps it will entertain skaters of all levels. The added bonus is that if you have other kids who don't skate, they can play in the rest of the park!
Beenleigh Skate Park (Doug Larsen Park)
Having received a $3 million upgrade, the Beenleigh Skate Park is THE destination for the skater in your family. This international standard park has been designed in collaboration with a local skating legend and is all about maximum air time. With jumps, half pipes, rail pipes and ramps, you may be struggling to get your kids away from it!
Website: Doug Larsen Park
Zone Bowling Loganholme
Located in the Logan Hyperdome, Zone Bowling is your destination for a truly fun family day out. With bowling, laser tag and arcade games your kids will have a ball. Fully airconditioned with a café onsite, grab an action zone pass for hours of fun. Also, a perfect destination for birthday parties or group events.
Website: Zone Bowling
Digi Roller Skating Rink
Looking for a 'wheely' good time? Head to the Digi Roller Skating Rink! Open school holidays and weekends for some action-packing roller-skating fun the whole family can enjoy! Have a read of our review of Digi Roller Skating Rink here.
Website: Digi Roller Skating Rink
Kingston Park Raceway
Kingston Park Raceway is one of the most exciting places to visit for families of all ages. The Raceway has over 100 go karts, and 3 great outdoor go kart tracks to test drivers' skills for speed demons of all ages and abilities. Families with younger children can also enjoy a day of fast fun and excitement in the Go Zone, riding amusement rides and kids karts on the purpose-built Indy Track.
Website: Kingston Park Raceway
Inflatable World Beenleigh – closed
Bounce along to find numerous inflatable jumping structures, obstacles and a vertical Velcro grip wall. Unlike other play centres, parents and carers can join in the fun! Sessions are for two hours per single entry fee. Please note: this venue only operates weekends during the school term.
Website: Inflatable World Beenleigh
Dodgebow
Archery meets dodge ball. This action-packed sport is suitable for kids aged 6 and above, with no experience required. Dodgebow is located in Beenleigh and open every Friday night. We think it would be great as a group activity or birthday party.
Website: Dodgebow
Bayside Wake Park
Bayside Wake Park is a full-sized cable park for all ability levels. Children over the age of 3 years can enjoy wakeboarding, wake skating, knee boarding or skiing with trained staff. A fully licensed kiosk, veranda and BBQ area overlook the lake.
Website: Bayside Wake Park
As a family
Chambers Flat Strawberry Farm
Want to reap the fruits of your labour, literally? Head to Chambers Flat and get the kids picking their own punnet of strawberries. You can pick you own from August till October however their shop is open from June till November for the most delicious strawberries around. Head to our website for a full list of strawberry picking locations across Brisbane and the Sunshine Coast.
Website: Chambers Flat Strawberry Farm
Shark and Ray Gardens
Located within the grounds of Nielsen's Native Nursery, patrons can stand in the shallow water of a lagoon to pat 10 different species of animals – including baby sharks and stingrays. You can watch our video review here.
Website: Shark and Ray Gardens
EcoPark – Fishing Park and Farm Stay
At EcoPark Fishing Park and Farm Stay, as well as feeding and patting a range of farm animals, families can enjoy a huge range of things to do. On offer are activities like putt putt, a jumping castle, off road buggies, paddle boats, pedal go-karts and giant-sized board games. Families are invited to stay the night while enjoying full use of all facilities.
Website: EcoPark – Fishing Park and Farm Stay
Hills Golf Course
A fun but challenging mini golf course, The Hills Golf Course is sure to entertain the whole family. If you love it enough to play twice, the second round is half price. You can book in for night golf under lights and even hire a jumping castle for birthday parties!
Website: Hills Golf Course
Logan Model Engineering Society Inc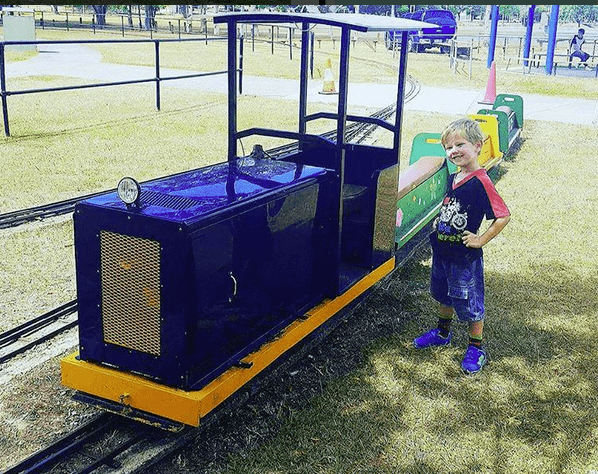 Who doesn't love miniature train rides? Head to Woodridge every second and fourth Sunday of each month for some great fun and train rides. Please note that enclosed footwear is required to ride trains.
Website: Logan Model Engineering Society Inc
Considering moving the kids to Logan?
Logan offers families plenty of lifestyle options from affordable to affluent. It's famed for its diverse culture and excellent shopping! Logan is home to huge infrastructure spends, new housing developments and plenty of options for families – from units, to rural blocks making it an excellent option for families in Greater Brisbane. (Disclaimer: If you're considering buying in Logan, always do you due diligence. Speak to your lender and always get a building inspection on Logan homes) Logan boasts a variety of schools including leading private and state schools. There's easy access to hospitals and health care and plenty of things to do with kids both in the city centre and in the many natural reserves in the area.
Need more ideas? You can find heaps more ideas for days out around Brisbane here.