Christmas in Brisbane City 2021 | A Guide for Families this Year
18/11/2020
Your guide to the best free events to celebrate Christmas in Brisbane – the most magical time of year. This year, make plans to celebrate ALL of the fabulous FREE festivities our city has to offer! This is the best list of things to do with kids in Brisbane this Christmas!
Due to COVID, there have been a few changes to the 2020 Christmas Brisbane program and we are still getting more information each day. Events listed below with 'Confirmed for 2020' are definitely going ahead although some may now be online only.
The great news is Brisbane's inner-city will still be a magical destination once again this Christmas, hosting free festive celebrations all across the CBD and South Bank. A visit to the city to see the giant Christmas Tree, City Hall lights and other fantastical festive delights are must-do's on every family's holiday wish list.
Each year for 4 weeks Brisbane celebrates Christmas in tinsel-filled style. There are plenty of free Christmas events so pull out your calendar and pencil in some of these crackers!
Lighting the Brisbane City Christmas Tree
It's one of Brisbane's most favourite traditions. Heading to King George Square to watch the lighting of the HUGE Christmas tree squeezed in with hundreds of other Brisbanites. 2020 will need to look different due to COVID but the good news is we're not going to miss out on watching the tree come to life marking the start of the festive season!
This year, Brisbane households can join in the Lighting of the Brisbane Christmas Tree live-streamed via the Brisbane City Facebook page at 6:30pm on Tuesday 1 December. Hosted by Brisbane's singing sweetheart Naomi Price, Lord Mayor Adrian Schrinner will turn on the 22m-high Christmas tree's twinkling lights accompanied by two special Christmas musical performances to get you in the festive mood.
Where: Online via the Brisbane City Council Facebook Page
When: Tuesday 1 December at 6:30pm
Gold Lotto City Hall Lights Spectacular
Confirmed for 2020: FREE shows running every 15 minutes from 4-24 December.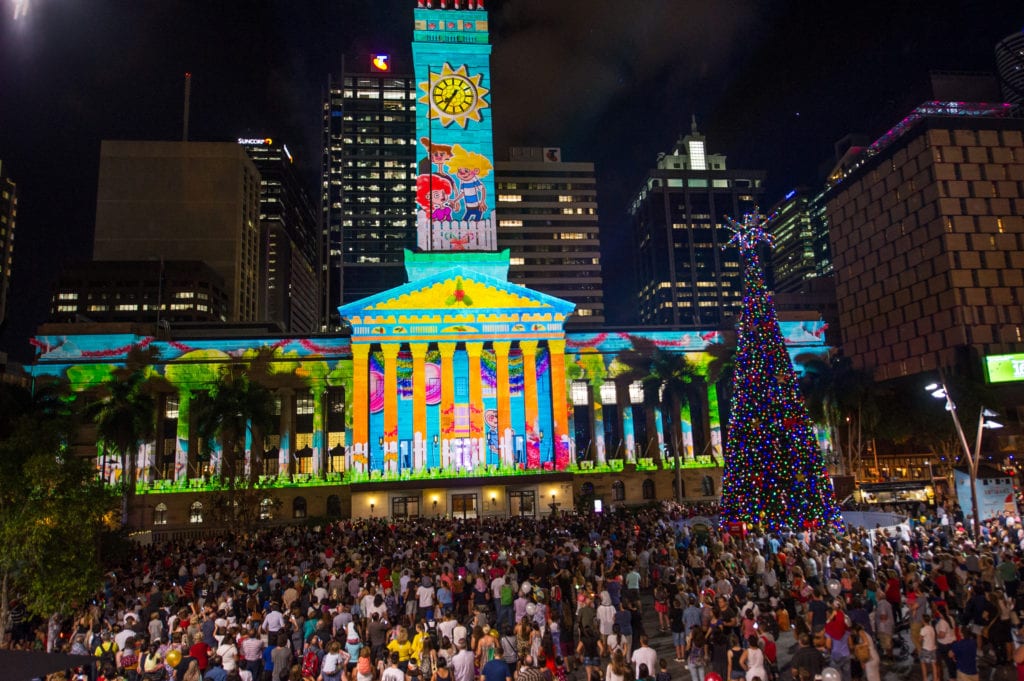 We're so excited that this event is still going ahead! This is absolutely a must-do at Christmas for all families and a great event to tag on to a visit to the Enchanted Garden. King George Square will once again host the Gold Lotto City Hall Lights, a dazzling visual and sound display of fantasy and magic that will transport you to a winter wonderland in Brisbane. Your family can wonder at glistening ice castles and Santa's buzzing workshop animated against the Brisbane City Hall façade accompanied by a festive soundtrack.
It's the perfect story-time end to a night in town doing some late-night shopping, seeing a Christmas movie or having dinner at one of the many eateries in the CBD.
When: 7:30pm to midnight from 4 – 24 December (display runs every fifteen minutes)
Where: King George Square
Lord Mayor's Christmas Carols
Confirmed for 2020: A special event not to be missed is the Lord Mayor's Christmas Carols at the City Botanic Garden's Riverstage on Saturday 5 December.
We're so impressed that this year's event is going ahead despite COVID although we have heard that numbers will be strictly limited. At this year's Lord Mayor's Christmas Carols revel in cherished Christmas carols and festive faves performed live by Brisbane's best entertainers when they take to the Riverstage on Saturday 5 December from 4pm. From Joy to the World to Silent Night, sing-along at this all-ages joyous outdoors event in Brisbane Botanic Gardens. Charli Robinson will host a jam-packed line-up of dynamite artists including Dami Im, Mirusia, Graeme Issako, Murphy's Pigs and Queensland Chamber Orchestra.
Tickets are limited, so be sure to reserve your free seats for this popular annual event.
Date: Saturday 5 December
Time: from 4pm – 9.15pm
Entry is FREE however bookings are essential to attend.
Tickets will be available from late November.
Christmas in the Queen Street Mall
Confirmed for 2020: Enjoy the magic of Christmas in the Queen Street Mall with daily pop-up performances and roaming entertainment that's sure to delight all ages. The festive performances and entertainment will be throughout Queen Street Mall. Don't miss the roving festive fun.
When: 4-24 December 11am-2pm, plus 5pm-8pm during late-night trade
The Enchanted Garden at Roma Street Parkland
Confirmed for 2020: For the ultimate Christmas light experience, make your way to The Enchanted Garden at Roma Street Parkland.
The Enchanted Garden is a magnificent evening walk, set amid winding pathways bordered by towering trees and lush foliage, lit with the warm glow of mesmerising lights. This year's newly extended program will ensure ample time to meander the Parkland's twinkling tracks, with four 45 minute sessions taking place each night of operation.
The Enchanted Garden opening times
Dates: Fri 4 Dec 2020- Sun 17 Jan 2021
Times: 5pm – 9.30pm nightly
Entry is free but bookings are required
You can find out all the details about The Enchanted Garden at Roma Street Parkland here.
Christmas at South Bank
Kids Craft & Storytelling
Confirmed for 2020: Entertain your littlies with festive arts and craft activities and storybook tales at Flowstate in South Bank Parklands. Santa's elves will recount favourite festive tales and lead children in making their own wombat crowns for a very Aussie Christmas in The City. Tickets are free, but registration is required at least one hour before each session commences.
When: Five sessions nightly from 4pm – 8:45pm from 8–23 December
Where: Flowstate, South Bank Parklands
Christmas Tree Spectacular supported by ABC Brisbane
Confirmed for 2020: Head to South Bank Piazza for Christmas entertainment that'll light up the stage. The Christmas Tree Spectacular show is a riot of circus acts, singing, and dancing to ignite joy and wonder for the whole family. Entry into the Christmas Tree Spectacular is on a first come first serve basis and crowd management will be imposed throughout. From what we know so far you can't pre-book for this event.
When: There will be 2 sessions each night at 5:30pm-6:15pm and 7:30pm-8:15pm from 18-23 December
Where: South Bank Piazza, South Bank Parklands
Santa's Stop Over
Confirmed for 2020: We all know the kids love to be there when Mr and Mrs Claus come to town! This year, your family can visit the Clauses on their annual visit Down Under amid a festive towering fig tree and light installation. You can even capture your own pics with our friends from the North Pole, social distanced style of course!
When: Santa's Stopover has four sessions nightly running between 4pm- 9pm from 18-23 December
Where: Flowstate, South Bank Parkland
Entry to Santa's Stopover is free, but to manage crowd numbers, free tickets must also be obtained to take part in activities. Ticketing booths will open one hour prior to scheduled activities at Flowstate.
Christmas Cinema
Confirmed for 2020: Does your family love to cuddle up to watch your fave Christmas movies each year? If yes, we highly recommend heading to River Quay Green in South Bank Parklands for free festive outdoor screenings. Pack a Christmas picnic and rug to watch beloved Christmas cinema classics while the sun sets over the Brissie skyline and river. To ensure no obstruction of views, chairs will not be permitted on the lawn. Furry friends are welcome, permitted they are kept on a lead at all times.
When: Christmas Cinema sessions are on at 6pm and 8pm nightly from 19-23 December
Where: River Quay Green, South Bank Parklands
Festive Beats
Confirmed for 2020: Delight in the smooth vocals of 30 different local artists across River Quay and Little Stanley Street Lawns, as they serenade guests with original tunes and cheerful Christmas covers, with no one artist performing twice across the program.
When: 4pm-9:45pm 18-13 Dec
Where: Various locations across South Bank Parklands
Christmas in Brisbane Map
Brisbane has everything covered for celebrating Christmas this year, carols, light shows, performances and a great big lit-up Christmas tree. Christmas in Brisbane means 4 weeks of fun nights out with the whole family.
Christmas in Brisbane Event Guide
See the official Christmas in Brisbane Booklet here thanks to Visit Brisbane.
RELATED: If you are looking for ideas in other cities check out the Christmas in Australia website!
Christmas in Brisbane events NOT going ahead in 2020
The Lights of Christmas at St Stephen's Cathedral
Update for 2020: This event will not be going ahead in 2020 due to COVID-19. It will be back better than ever in 2021.
David Jones Christmas Parade
Update for 2020: This event will not be going ahead in 2020 due to COVID-19.
It's Christmas time in the city!
Ring a ling! To plan your family outing to the CBD this Christmas, check out the FULL Christmas program in Brisbane when it is relesaed.
What else is on this Christmas in Brisbane 2020?
We've got your comprehensive list of where to see the BEST Christmas lights in Brisbane here.
Wanting to head out to some festive Christmas Markets? We'll tell you where you can buy the ultimate gifts for your loved ones this Christmas from your local community markets!
If you're ready to belt out a few carols at one of Brisbane's many Christmas Carol events read this article.
3 responses to "Christmas in Brisbane City 2021 | A Guide for Families this Year"