Christmas in Brisbane City 2019 | A Guide for Families
8/11/2019
Your guide to the best free events to celebrate Christmas in Brisbane – the most magical time of year. This year, make plans to celebrate ALL the fabulous FREE festivities our city has to offer! This is the best list of things to do with kids in Brisbane this Christmas!

Brisbane's inner city reaches are magical destinations once again this Christmas, hosting free festive celebrations all across the CBD and South Bank. A visit to the city to see the giant Christmas Tree, nightly parade and other fantastical festive delights are must-do's on every family's holiday wish list.
Each year for 4 weeks Brisbane celebrates Christmas in tinsel-filled style. There are plenty of free Christmas events so pull out your calendar and pencil in some of these crackers!
Christmas in Brisbane Queen Street Mall!
There are so many things to see and do just in the Queen Street Mall itself! There are a number of HUGE Christmas themed statues to get up close and personal with.
And, of course, there are the Myer Centre Christmas Windows. They're practically a Brisbane right of passage! Gaze in wonder at these beautiful, intricate displays.
Lighting the Brisbane City Christmas Tree
The annual Lighting of the Brisbane City Christmas Tree, in King George Square takes place on Friday 29 November. This year the 22m tall tree is decorated with thousands of glittering fairy lights, and a huge colourful star, all powered by a solar-charged battery. The big switch won't be flipped until night has fallen, so settle in early with some snacks and enjoy the fun-filled concert in front of City Hall while the sun is setting. It's a great way to kick off a month of festive celebrations with family and friends with the lighting of the Christmas tree!
There's always a HUGE crowd for this family event so plan to use public transport and aim to get there early to ensure you get a good spot to watch Santa and Brisbane's Lord Mayor officially launch Christmas in Brisbane with the lighting of the Christmas tree.
Friday 29th November at 6.30pm.
The tree is then lit every night until Christmas Eve
Find out more about the nightly events here.
David Jones Christmas Parade
As classrooms close, even more festive fun begins in the City. From Friday 13 December, the Christmas Parade presented by David Jones marches its merry way through the Queen Street Mall and Albert Street right into King George Square. The parade will take place at 7pm every night until Sunday 22 December, so there's plenty of opportunities to see the performers and amazing glowing floats light up little faces. Each parade features a special appearance by Santa and some of his elves too, for an extra dash of magic.
7pm from 13th to 22nd December
You can find out all the details about the David Jones Christmas Parade here.
Gold Lotto City Hall Light Spectacular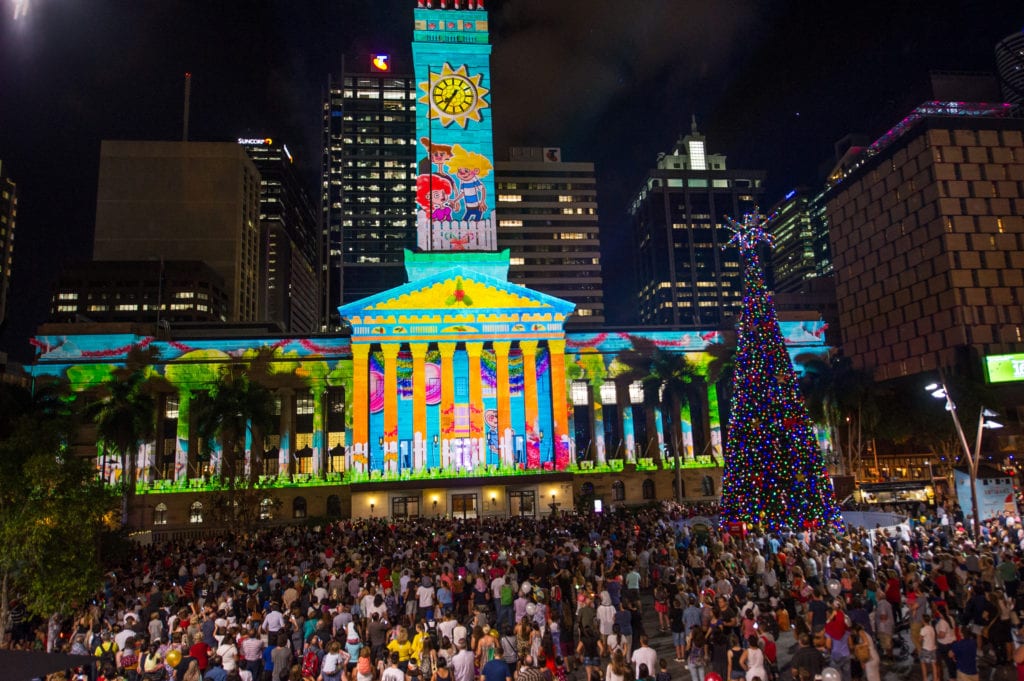 The Gold Lotto City Hall Lights return with an enchanting, brand new story of an Aussie Christmas with an international twist. Showing nightly from December 6 to 24, the custom designed animation wows crowds every fifteen minutes between 7.30pm and midnight. It's the perfect story-time end to a night in town doing some late night shopping, seeing a Christmas movie or having dinner at one of the many eateries in the CBD.
Running from nightly from 7.30pm til midnight, this magnificent display celebrates peace, joy and goodwill on the fully restored building from Wednesday 12 December through to Christmas Eve.
7.30pm to midnight from 6th to 24th December (display runs every fifteen minutes)
You can find out all the details about the Gold Lotto City Hall Light Spectacular here.
The Enchanted Garden at Roma Street Parkland
For the ultimate Christmas light experience, make your way to The Enchanted Garden at Roma Street Parkland.
Set amid winding pathways flanked by towering trees and dense plant-life, The Enchanted Garden treats visitors to a magnificent evening walk, thick with the warm glow of mesmerising fairy lights.
Commencing at The Hub, The Enchanted Garden takes patrons through a series of shimmering gardens, a guard of delicately-lit weeping figs, the treetops of a twinkling rainforest, and down to a tranquil lake where you can enjoy superb food truck eats and live music. Plus, if you look closely, you can spot glittering fairies nestled among the trees, dotted throughout your walk.
The Enchanted Garden opening times
Dates: 29 November – 13 December
Times: 6.30pm – 10pm nightly (last entry at 9.45pm)
Entry is free.
This event has been running for three years and shows no sign of slowing down. The Enchanted Garden is a twinkling track of light displays, illuminating the lush and expansive parkland. Visitors are encouraged to enter and exit via multiple access points throughout the Parkland to create their own enchanted experience.
You can find out all the details about The Enchanted Garden at Roma Street Parkland here.
South Bank's Christmas Gift Market
The Collective Markets will return to their home on Little Stanley Street and Stanley Street Plaza, showcasing a wealth of Christmas gifts and bites by independent retailers, unique to South Bank.
The Collective Markets will take place from 13 to 19 December from 10am until 9pm, and from 20 to 23 December will undertake extended trading hours until 10pm.
You can find out all the details about South Bank Christmas Village Markets here.
Lord Mayor's Christmas Carols
A special event not to be missed is the Lord Mayor's Christmas Carols at the City Botanic Garden's Riverstage on Saturday 8 December. More than 500 performers will light up the stage with song, dance and more, hosted by Channel Nine's Charli Robinson. This event is always very popular, so plan to arrive in the afternoon with a full picnic and games for the kids. The pre-show starts at 4pm with the star-studded concert commencing after sundown.
This event is always very popular, so plan to arrive in the afternoon with a full picnic and games for the kids. The pre-show starts at 4pm with the star-studded concert commencing after sundown.
Date: 7 December
Time: from 4pm – 9.15pm
Entry is free

The joyous celebrations continue at The Lights of Christmas at St Stephen's Cathedral, with a magnificent light and sound show taking place from Wednesday 11th December through until Christmas Eve.
Find out more here.
Carols Extravanza at South Bank
We wish you a merry Christmas – and one filled with joyous song! South Bank Parklands' Extravanza makes the South Bank Pizazza its home
Times: from 6-8pm
Dates: 20 – 23 December 2019
Tickets from $5
This is an exciting Christmas production with 8 jubilant performances across four nights. Free entry for children under 2 years if seated on a caregiver's lap. Tickets are limited and are on sale from Monday 2nd December.
Find out more about the Carols by Twilight here.
South Bank Parklands comes to life at night this festive season! Commencing Friday 1st December, the parklands will become lit with lighting displays, as the renowned arbour trail transforms into a twinkling tunnel, festoons hung throughout and River Quay's celebrated fig tree shining brightly. Not to be missed!
Santa's Stop Over
Located at Flowstate and set amongst a magnificent fig tree and light installation, resides Santa's Sop Over. This quintessential Christmas setting is the perfect photo moment for loved ones to get a snap with Santa. From 4pm to 7.30pm storytelling and crafts will entertain children at lawns nearby.
Festive Beats & FIREWORKS!
This will showcase emerging local talent, serenading visitors with originals and joyful cover tunes across Streets Beach, Rivery Quay, Rainforest Green and Little Stanley Street Lawns. Pack a picnic and round up your loved ones for an evening of live performances and celebratory gatherings from 4 until 10pm. And because it's not Christmas without a dazzling finale – venture to the Clem Jones Promenade for the Fireworks Spectacular, presented by eatSouthBank, taking place at 8pm every night from 20 to 23 December. This is a free event!
Celebrate Christmas in Brisbane
Brisbane has everything covered for celebrating Christmas this year, there's fireworks, carols, light shows, pantos, parades and a great big lit up Christmas tree. Christmas in Brisbane means 4 weeks of fun nights out with the whole family.
It's Christmas Time in the city!
Ring a ling! To plan your family outing to the CBD this Christmas, check out the FULL Christmas program in Brisbane right here.
One response to "Christmas in Brisbane City 2019 | A Guide for Families"