Christmas in Brisbane City 2018 | A Guide for Families
8/11/2018
Your guide to the best free events to celebrate Christmas in Brisbane – the most magical time of year. This year, make plans to celebrate ALL the fabulous FREE festivities our city has to offer!  This is the best list of things to do with kids in Brisbane this Christmas!

Brisbane's inner city reaches are magical destinations once again this Christmas, hosting free festive celebrations all across the CBD and South Bank. A visit to the city to see the giant Christmas Tree, nightly parade and other fantastical festive delights are must-do's on every family's holiday wish list.
Each year for 4 weeks Brisbane celebrates Christmas in tinsel-filled style.  There are plenty of free Christmas events so pull out your calendar and pencil in some of these crackers!
Christmas in Brisbane Queen Street Mall!
There are so many things to see and do just in the Queen Street Mall itself! There are a number of HUGE Christmas themed statues to get up close and personal with.
And, of course, there are the Myer Centre Christmas Windows. They're practically a Brisbane right of passage! Gaze in wonder at these beautiful, intricate displays.
Lighting the Brisbane City Christmas Tree
The annual Lighting of the Brisbane City Christmas Tree, in King George Square takes place on Friday 30 November. Celebrations are presented by St George Bank, and this year the 22m tall tree is decorated with thousands of glittering fairy lights, and a huge colourful star, all powered by a solar-charged battery. The big switch won't be flipped until night has fallen, so settle in early with some snacks and enjoy the fun-filled concert in front of City Hall while the sun is setting. It's a great way to kick off a month of festive celebrations with family and friends with the lighting of the Christmas tree!
There's always a HUGE crowd for this family event so plan to use public transport and aim to get there early to ensure you get a good spot to watch Santa and Brisbane's Lord Mayor officially launch Christmas in Brisbane with the lighting of the Christmas tree.
Friday 30th November at 6.30pm.
The tree is then lit every night until Christmas Eve
Find out more about the nightly events here.
David Jones Christmas Parade
As classrooms close, even more festive fun begins in the City. From Friday 14 December, the Christmas Parade presented by David Jones marches its merry way through the Queen Street Mall and Albert Street right into King George Square. The parade will take place at 7pm every night until Sunday 23 December, so there's plenty of opportunities to see the performers and amazing glowing floats light up little faces. Each parade features a special appearance by Santa and some of his elves too, for an extra dash of magic.
7pm from 14th to 23rd December
You can find out all the details about the David Jones Christmas Parade here.
Gold Lotto City Hall Light Spectacular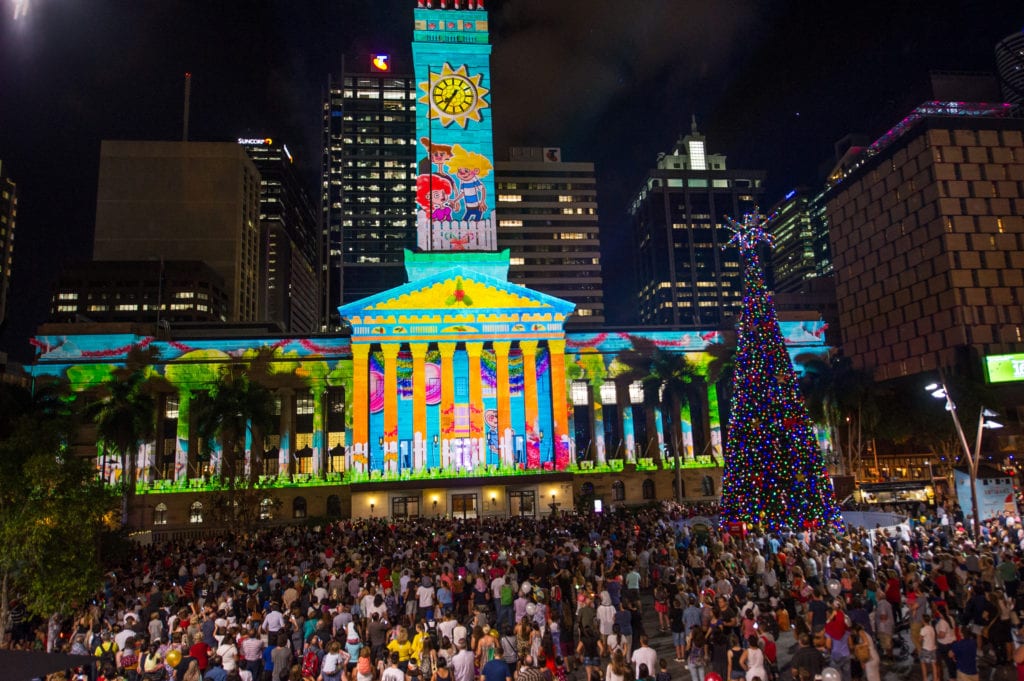 The Gold Lotto City Hall Lights return with an enchanting, brand new story of an Aussie Christmas with an international twist. Showing nightly from December 7 to 24, the custom designed animation wows crowds every fifteen minutes between 7.30pm and midnight. It's the perfect story-time end to a night in town doing some late night shopping, seeing a Christmas movie or having dinner at one of the many eateries in the CBD.
New this year is a second light and sound show, illuminating the historic St Stephen's Cathedral on Elizabeth Street. Running from nightly from 7.30pm til midnight, this magnificent new show celebrates peace, joy and goodwill on the fully restored building from Wednesday 12 December through to Christmas Eve.
7.30pm to midnight from 7th to 24th December (display runs every fifteen minutes)
You can find out all the details about the Gold Lotto City Hall Light Spectacular here.
The Enchanted Garden at Roma Street Parkland
For the ultimate Christmas light experience, make your way to The Enchanted Garden at Roma Street Parkland.
Set amid winding pathways flanked by towering trees and dense plant-life, The Enchanted Garden treats visitors to a magnificent evening walk, thick with the warm glow of mesmerising fairy lights.
Commencing at The Hub, The Enchanted Garden takes patrons through a series of shimmering gardens, a guard of delicately-lit weeping figs, the treetops of a twinkling rainforest, and down to a tranquil lake where you can enjoy superb food truck eats and live music. Plus, if you look closely, you can spot glittering fairies nestled among the trees, dotted throughout your walk.
The Enchanted Garden opening times
Dates: 7-19 December
Times: 6.30pm – 10pm nightly (last entry at 9.45pm)
Entry is free.
Based on the success of the last two years, 2018's event has an exciting new format – the footprint is much bigger, opening hours are longer and queuing to see the lights is not required. Please remember that The Enchanted Garden's beautiful plants are delicate, so visitors are asked keep to the paths and refrain from touching the display while enjoying the event. Want to take a happy snap? There will also be special points throughout the garden for visitors to stop and take photos at.
You can find out all the details about The Enchanted Garden at Roma Street Parkland here.
South Bank's Christmas Gift Market
Set up in the style of a traditional olde worlde Christmas market along the cobbled streets of Stanley Street plaza.  South Bank Christmas markets are a great place to grab a unique Christmas gift for that had to buy for person and are one of the best ways to really get into the Christmas spirit with market food, twinkling lights, the scent of pine trees, live carol singers and children's entertainers.
14th to 23rd December 3pm to 10pm
You can find out all the details about South Bank Christmas Village Markets here.
Lord Mayor's Christmas Carols
A special event not to be missed is the Lord Mayor's Christmas Carols at the City Botanic Garden's Riverstage on Saturday 8 December. More than 500 performers will light up the stage with song, dance and more, hosted by Channel Nine's Charli Robinson. This event is always very popular, so plan to arrive in the afternoon with a full picnic and games for the kids. The pre-show starts at 4pm with the star-studded concert commencing after sundown.
This event is always very popular, so plan to arrive in the afternoon with a full picnic and games for the kids. The pre-show starts at 4pm with the star-studded concert commencing after sundown.
Date: 8 December
Time: from 4pm – 9.15pm

Entry is free



Find out more here.
Carols by Twilight at South Bank
We wish you a merry Christmas – and one filled with joyous song! South Bank Parklands' Carols by Twilight makes River Quay its home
Times: from 6-8pm
Dates: 14 – 23 December 2018
Entry is free
Settle in by the gently-lapping Brisbane River while cherub-lipped musicians warble sweet melodies from Christmas carol classics, as the sun goes down. There'll be Cigany Weaver, SCAT and the Queensland Show Choir to name just a few. All sessions are free to watch.
The soft, green lawn is also perfect for enjoying an in-show picnic, or some take-away goods from the surrounding River Quay restaurants. If you're 18+, the area is licensed should you wish to bring a bottle of wine to enjoy with your meal.
Find out more about the Carols by Twilight here.
Afternoons at South Bank
South Bank transforms into a merry wonderland from Saturday December 15 right through until 27th January. The perfect place to spend a day of the school holidays, South Bank's Christmas Village has loads of fun planned each afternoon, when the heat of the sun has passed.
Kids of all ages will love to ride the Xpress Train, which will weave its way along the main pathways of South Bank, stopping regularly for passengers to hop on and off. Look out for the candy-striped train stops throughout the Parkland for your opportunity to hop on between 10am and 5pm each day– keep some small change ready, train tickets are all $5 each. The train may operate later on some days but those will be determined by the operators. The train will be CLOSED on the following dates – 25, 26 and 31 December 2018 and 1 January 2019.
Holly Jolly Kids activities on Little Stanley Street will be a natural hub of creativity each afternoon too. Youngsters can choose to decorate a Christmas ornament, make a reindeer crown; be part of an interactive Christmas Carols performance or dance along to the steps from Queensland Ballet's The Nutcracker.
Santa will be updating the Naughty and Nice lists in Stanley Street Plaza each evening and be available for a cute family photo.
Brisbane Christmas Fireworks at South Bank
In the lead up to Christmas, South Bank Parklands becomes an energetic, celebratory hub, with shimmering fireworks whizzing, dancing and bursting above.
Where: South Bank
Dates: 20th – 23rd December 2018
Times: 8pm
Entry is free
Head to the Clem Jones Promenade for the crème de la crème of views, though other popular viewing locations include Streets Beach, River Quay and the Cultural Forecourt. Please note that unlike firework displays throughout the year, these fireworks are best viewed from South Bank. To ensure safe crowd flow, chairs and other types of portable seating are not permitted on the Clem Jones Promenade.
You can find out all the details about South Bank Christmas Fireworks here.
South Bank Christmas Cinema
The Christmas Cinema springs to life offering a smorgasbord of free, family-favourites that will add a twinkle to your eye and make you feel warm and fuzzy inside. Unfurl on River Quay's inviting lawn, surround yourself with tasty snacks, sip on a cool drink and welcome in Christmas the relaxing way. River Quay is licensed, so those aged over 18 years of age are welcome to bring their favourite drop along with their meal.
Dates: Friday December 14th – Sunday 23rd December
Time: 8.15pm
Entry is free
You can see more about the movies that are playing each night by clicking here.
Celebrate Christmas in Brisbane
Brisbane has everything covered for celebrating Christmas this year, there's fireworks, carols, light shows, pantos, parades and a great big lit up Christmas tree.  Christmas in Brisbane means 4 weeks of fun nights out with the whole family.
It's Christmas Time in the city!
Ring a ling! To plan your family outing to the CBD this Christmas, check out the FULL Christmas program in Brisbane right here. 
One response to "Christmas in Brisbane City 2018 | A Guide for Families"