Things to do on Australia Day with Kids
21/01/2019
This article will give you a detailed list of things to do on Australia Day with kids in Brisbane and beyond.
Things to do on Australia Day with Kids 2019
There are so many things to do on Australia Day with kids this year in Brisbane and beyond. We've broken them down by region (Brisbane, Ipswich, Gold Coast, Sunshine Coast, Toowoomba) so you can visit somewhere locally or decide to go a little 'further afield'.
In 2019 Australia Day falls on a Saturday – meaning you've got yourself a long weekend with a cheeky holiday on the Monday 28th January 2019! Woohoo!
Want to make the MOST of all your public holidays this year? Check out our guide to getting more bang for your buck – you can turn 20 days of annual leave into EIGHT family holidays!
Things to do on Australia Day, 26 January in the
Brisbane

area

There are plenty of excellent choices for things to do in Brisbane for Australia Day with kids. For a comprehensive list of swimming pools, beaches, and other awesome school holiday ideas for things to do with kids and places to take them in and around Brisbane

In the list below we have listed specific events that are open and on Australia Day.

*Editor's Australia Day meal pick
Phat Elephant – Brisbane City
If you are planning a day out in Brisbane city, add the Phat Elephant to your lunch or dinner time plans! Located at the upper level of Post Office Square, Phat Elephant offers a casual blend of authentic Thai street food with relaxed sit-down dining, offering a vast range of dishes for a reasonable price point.
We were recently hosted by them to experience their family friendly dining and we were pleasantly surprised by their range of dishes to suit all range of taste buds (including Miss 8 who can be quite fussy!)
We enjoyed starters of satay skewers, money bags, spring rolls and dumplings and mains of currys (green thai was a bit too spicy for Master 10) and pork belly and beef massaman and Thai salads.
Their staff are super lovely and attentive, the food delicious … If you are a fan of genuine flavours and quality ingredients, add the Phat Elephant to your 'eating out with kids' bucket list this Australia Day (and beyond)!
1. The Cube, QUT Brisbane
The Cube offers a wide range of activities for kids aged 5 and up! We love QUT and you can find more information here about what's going on that your kids might like. We're talking robots, art and coding!
2. APT9 at GOMA and the Art Gallery
The Asia Pacific Triennial is back again. This is a fantastic exhibit currently showing all throughout the Cultural Centre. It's interesting, it's evocative and it's incredibly engaging. Find out more here! (Pssst… it's also air-conditioned…) Find out details here!
3. Queensland Museum & Sciencentre Brisbane
Download our engaging activity sheets before you go!
The Queensland Museum and Sciencentre is located in the city on the South Bank of the Brisbane River. It is open for Australia Day and is a great place to teach the children about Queensland's history and marvel at the interactive displays in both the museum and Sciencentre. Most of the Museum is free – the visiting exhibits usually have an entrance fee. The Sciencentre has an admission, but the exhibits inside are free. There is a family friendly café on the premises which is great for a quick coffee or lunch. It is pram friendly and a place where you can set your own pace.
Sciencentre prices
Adult: $15.50
Concession/Full-time Student: $12.50
Child (3-15) (must be accompanied by an adult 18+) $12.50
Family: (2 Adults/Concessions & up to 4 Children) $46
Opening Hours are 9.30am – 5pm daily.
4. Museum of Brisbane Clock Tower Tours
A fantastic way to take in a bird's-eye view of Brisbane city for Australia Day with kids. You can walk out onto an observation platform to absorb the unique view of Brisbane. Go and explore a small but integral part of Brisbane's history. They are conveniently located in King George Square, right in the city centre. Wait times can be long on public holidays so arrive early as only 8 people can fit in the lift at any time. 10.15am – 4.45pm, every 15 minutes. FREE
5. Australia Day at South Bank
Head to South Bank on Saturday the 26th of January! There'll be live music at the River Quay Green from 1pm to 5.30pm before the fireworks SPECTACULAR at 7.30pm. Your best vantage point is either Clem Jones Promenade, the Cultural Forecourt or River Quay itself – South Bank expects that 40,000 people will be there on the day!
This is a family-friendly event and, as such, the whole parklands (even the places that are usually licensed) will be alcohol free on Australia Day. You can share your highlights on the day using the hashtag #visitsouthbank.
The fireworks will have more than 25,000 individual pyrotechnic effects and the display will last for ten minutes. Green and gold will have pride of place and there'll also be jet ski performers! There will be five fireworks barges located between the Victoria and Goodwill Bridges. An all-Aussie soundtrack will be featured.
The live music section of the festivities is called "Australia Day on the Green" at River Quay. Birdman Randy, The Ivory Street Preachers and special guest DJs will keep toes tapping during the day.
All the cafes, bars and restaurants will be open as usual during the day. The car park WILL be open but public transport is a great way to get out and about. Head to the Translink site to plan your journey.
Want to know more? Head to Visit South Bank to find out more!
6. Queensland Maritime Museum, South Brisbane
You can discover historic vessels of all shapes and sizes at the Maritime Museum. It is located on the banks of the Brisbane River at South Bank. You can take a complimentary audio guided tour to make the most of your visit. The kids will enjoy the big exhibits such as the warship Diamantina. It is open on Australia Day from 9.30am – 4.30pm. Adult $16. Child $7. Family $38 (includes 2 adults and up to 3 children under 15) Pensioners, Senior and Students with valid card $14.
7. Australia Day Lunch & Dinner Cruises on the Brisbane River –
The Kookaburra Queen is celebrating Australia Day 2019 by inviting your whole family aboard for a lunch or dinner cruise. The dinner cruise has to added bonus of being able to view to fireworks – what a fantastic way to celebrate Australia day with kids without the intensity of the crowds!
Lunch cruise: 2.5 hour cruise with seasonal buffet, drinks and live entertainment
Dinner cruise: Best views of the city, seasonal buffet, drinks and live entertainment
8. Aussie Beach Party, Bribie Island
Join in the celebrations at the gorgeous Brennan Park, Bribie Island for an easy-going, Aussie time. Australia Day on Bribie Island is free to attend and one the whole family can enjoy.
Live music
The perfect Australia Day needs live music, and we've got you covered. From 3pm to 7.30pm the Australia Day on Bribie Island stage will host a huge array of live performers. Get ready for the Lamington Eating Contest!
Beach activities
Hit the golden sands for an Aussie cracking fun time with beach cricket, beach sack races and beach volleyball. Or cruise out in the beautiful water with the Float 'n' Fun Paddle Boards and Peddle Boards. There'll also be food trucks aplenty!
Garden Games
There'll be a mechanical surfboard you can try your balance out on as well as a jumping castle!
Fireworks finale
This fantastic Aussie Day event will finish with a brilliant fireworks display from 8.00pm.

9. Australia Day in Redcliffe
Join in the celebrations at the gorgeous Suttons Beach in Redcliffe for an easy-going, Aussie time. Australia Day in Redcliffe is free to attend and one the whole family can enjoy. There's live music from 3pm with fireworks at 8.00pm. Enjoy a range of free inflatables including Shark Slide, Dart Soccer, 3 in 1 Sports Game and Ninja Junior! This fantastic Aussie Day event is a toast to the beautiful foreshore region and cannot be missed!
10. Australia Day at Samford Museum
Australia Day at Samford Museum is something to be remembered for a long time. The day is very busy with lots of entertainment for young and old alike.
As this is a day about Australia, its past and its future, the Museum endeavours to incorporate things about our past that have made this, our wonderful country, so unique in its attitude to life and living, as well as those things from the past of our indigenous inhabitants from whom we are still learning.
The early pioneering days are reflected in the displays that are opened for the public and all are specifically there because they showcase a particular facet of our past.
11. Australia Day Celebrations at the Village | Caboolture
January 26th is coming up fast and the folk at the Village are busy planning another great Australia Day event for all. It is one of the biggest days of the calendar for the Village and there is a lot being planned. First of all, make a note in your diary. Invite your family and friends to help us make it the biggest day yet. Gates open at 9am with children under 16 free (adult entry is $10).
12. Celebrate Australia Day at Victoria Park Bistro | Herston
From sack races to tug of war, you will find plenty of activities at Victoria Park to celebrate Australia Day 2019 with spirit! Fun activities on the day will include tug a war, sack races, a jumping castle, GIANT outdoor games, kids playground and great food and drinks offers. Victoria Park's fun 18 hole Putt Putt course and Driving Range will also be open all day.
13. Australia DAY 2019 | Redland Bay
Break out your dress thongs and best singlet because Australia Day 2019 is here!!! Come and enjoy an Aussie Pub Lunch and the fun begins from Midday with Mud Crab Racing, Jumping Castle for the kids and Heaps of other activities and giveaways for the afternoon
14. Australia Day by the Bay | Sandgate
Wayne Swan and Councillor Jared Cassidy have teamed up once again for Australia Day by the Bay 2019 held at the VMR on Cabbage Tree Creek.
There will have a full day of activities for the community once again this year staring with our citizenship ceremony in the Sandgate Town Hall at 10.30AM.
There'll be a community afternoon with live entertainment, face painting and delicious eats!
To finish the day we have the world famous Cotton Street billy cart races starting from 3.00PM – sponsored by Stirling Hinchliffe once again.
15. Australia Day Arvo Pool Party | Lawnton
Running from 2pm until 9pm, this is a great way to cool on down at Lawnton Aquatic Centre. Music, rides, disco, games comps and a movie! (The Greatest Showman from 730pm). This sounds like an awesome time and there'll also be the obligatory Aussie Day sausage sizzle. Sweet!
16. Talk a stroll on a public art or heritage trail | Various Places
There are a number of public art trails within the CBD of Brisbane and heritage trails to be found in a variety of suburbs. This is a great idea for those wanting a quieter day filled with contemplation and appreciation.
Find out more about walking trails and heritage trails here.
Things to do on the
Gold Coast

for Australia Day

The gorgeous Gold Coast offers families a range of great, FUN Australia Day activities. Choose any of the below and you're guaranteed to have an excellent day out making the most of great weather and greater company.
1. City of Gold Coast Australia Day 2019 Celebrations
Festivities will be held at the Broadwater Parklands, Southport on the 26th of January.
There'll be plenty of great live music on the day including an impressive array of local talent. This FREE event starts at 4 and finishes with a fireworks display at 7.45pm. There will be food vendors, an Aussie Activities Zone, beach volleyball and a mini Commonwealth Games. The Rural Aid Australia stand will be making donations towards the drought stricken farmers so make sure you spend some dollars there!
Bring a picnic blanket and enjoy family, friends, food, fun and fireworks on the Great Lawn at the Broadwater Parklands!
2. Take the kids on an adventure!
Our Things to Do on the Gold Coast with kids is CHOCK FULL of heaps of cost-free (or low cost) options for Aussie Day. Whether it's snorkelling at Tallebudgera Creek, exploring the Glow Worm caves or making the most of the gorgeous bushwalks and swimming holes – the Gold Coast is pumped full with everything that makes Australia the most beautiful place on earth.
3. Hit the Theme Parks!
We love the Gold Coast theme parks and Australia Day can be an awesome opportunity to explore all they have to offer as a family.
We've a run down of which of the theme parks are best if you've got small children. It's a great way to have a hell of a day out that's got something for everyone – even mum and dad!
Things to do on the
Sunshine Coast

for Australia Day

The Sunshine Coast is a mecca for seekers of sun, sand and sweet times. It's got a laidback vibe that's really appealing to the Australia Day fun seeker – it's family friendly and it's big on fun. Here are some great ideas about how you can celebrate in this sun-soaked paradise!
1. MooloolaBaBQ Festival, Mooloolaba
What's more Aussie than a BBQ? This is an AWESOME thing to do on Australia Day with kids as this is a celebration that will have the whole family wanting more.
It's a BBQ competition using a variety of food and flavours with ten teams battling it out to be champions. And, of course, you'll be right there to sample their hard work. There'll also be food trucks lining the streets with sliders, German sausage, ribs, burgers and skewered meats (vegetarians may want to bring their own lunch…) as well as craft beers from a local brewer.
Lots of great entertainment on offer for the kids as well! Jumping castle, petting zoo, face painting and fireworks at 8pm. Woohoo! There'll be live music as well. How tempting does this sound?! See you there!
2. Cool down at a Sunshine Coast water park!
Jump on in! Nothing says Australia Day like having a swim at the pool with your mates. We've got a list here of the best water parks that the Sunshine Coast has to offer!
3. Make the most of the coast with kids!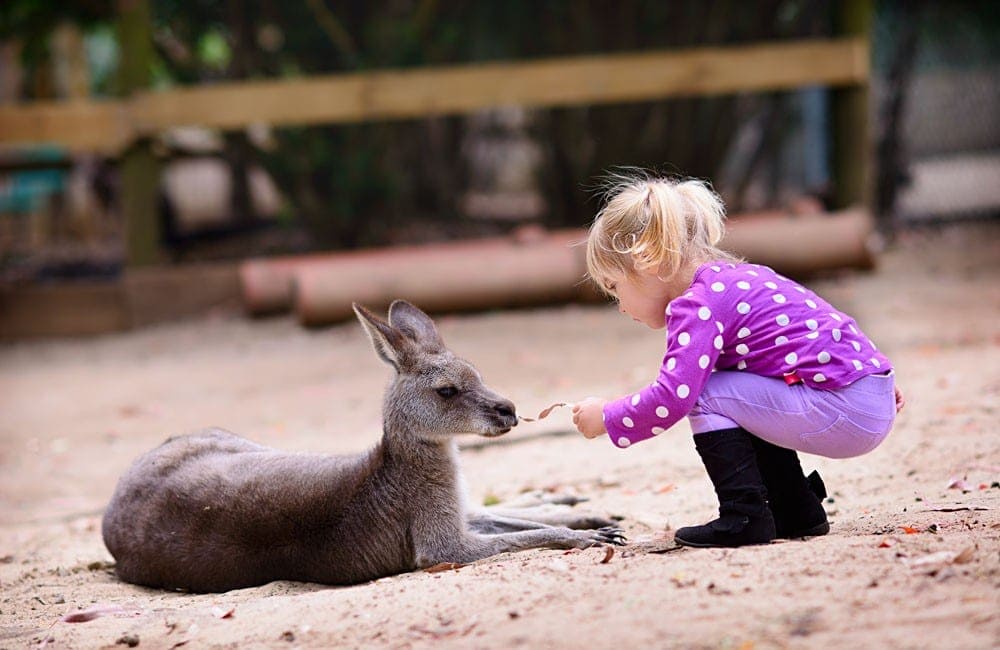 There are so many incredible things to do on the Sunshine Coast with kids. Visit beaches, take a trip to Australia Zoo or the Ginger Factory, visit national parks and go swimming in natural swimming holes – and that's just the start!
For some unique ideas as to what you can get up to on Australia Day with the kids, check out our overview of all things kid friendly on the Sunny Coast.
Pssst… after cheap Australia Zoo tickets? We know where to find them!
4. Australia Day at Aussie World | Palmview
Open all day until 5pm, this is the place to be on Australia Day! Live entertainment, rides, food and games ahoy! Don't miss out on the Dunny Race, Tug of War and heaps of other family-friendly entertainment and activities. Get there for breakfast and coffee is our tip! All the usual rides will also be open as well, what a great way to spend Australia Day with kids!
Things to do in
Ipswich

for Australia Day

As one of the fastest growing cities in Australia, Ipswich is a thriving mecca for families and the list of 'things to do' in Ipswich keeps getting longer and longer. We've picked our favourites and made sure that they are open for Australia Day 2019!
1. Robelle Domain Parklands
The Robelle Domain parklands, in Springfield Central, offer visitors a rainforest walk, waterfalls, water play areas, bike tracks, the country's first Icon on Galaxy interactive play equipment in an all-abilities playground, and more. The largest park precinct built in Queensland since Brisbane's Roma Street Parklands, Robelle Domain has an 11 kilometre pathway network for family fun during the day and also at night when the 9-metre high light tower installations give off a spectacular light and sound show.
Across a footbridge is Orion Lagoon – an amazing oasis of interconnected pools of varying depth. There is an amphitheatre with public events held at Robelle Domain, so, this Australia Day bring your own picnic or barbecue treats to cook, or take advantage of the delicious offerings in Robelle Café which is fully licensed and open 7 days.
2. Ipswich Art Gallery – Playing with Light
Light is intrinsic to our lives, from natural phenomenon like rainbows to advanced technologies including communication, security and medicine, to the simple light bulb. It has a multitude of applications and influences how we see the world. Step out of the darkness and into Playing with Light.
This full-body interactive exhibition explores our big bright, colourful world full of light, lasers and lenses. With over 22 interactive exhibits, Playing with Light explores the role light plays in our life and in our world.
Sneak past laser light security beams
Step inside a giant kaleidoscope
'Paint' with infrared light
Freeze your shadow on a wall
$5 per person or $15 for a Family Pass (admits up to 5 people. Must include at least 1 adult).
FREE for under 2s
Read our Ipswich Art Gallery Review and watch our video too!
3. Australia Day at CSI | 5A Lowry Street, North Ipswich
There's a jam packed day of fun waiting for you at CSI. This is an Aussie Day spectacular filled with food and drink specials, great entertainment and games, raffles and lucky door prizes. It'll be a hoot! The day starts at 10am with live music from 1pm to 10.30pm.
Things to do in
Toowoomba

for Australia Day
1. Saturday 26 Jan Australia Day at the Woolshed, Jondaryan
Celebrate Australia Day at the Woolshed at Jondaryan. There are plenty of good ol' fashioned Aussie activities on the day as well as DELICIOUS food at the Woolshed Cafe or the Damper Hut. Yum!
2. Picnic Point celebrates Australia Day
Celebrate Australia Day in Toowoomba with a free family event at Picnic Point.
There will be activities running in the morning up until about 1pm!
3. Highfields Pioneer Village – Australia Day Activities
Check out what life was like 'back in the day' with these activities for your family at the historic Highfields Pioneer Village. Open 9am – 5pm – Australia Day
9:00am Country Music Entertainment (62)
9:30am Milking the cow, separating & butter making (19)
10:00am Schools In (59)
10:30am Working Draft Horse (20) (Billy Tea & Damper all day (8))
10:45am Sheep Shearing (2) Country Rock Entertainment until 12noon (62)
10:50am Family Games & Sheaf Tossing Competition (63)
11:00am Tour of the Toowoomba Fire Brigade Museum (61)
11:20am Rope Making (16)
11:30am Bee Keeping Demonstration (12) Aboriginal Dance Workshop: Don Nikkelson (62) A visit from
Miss Piggy- lovable mascot from Bendigo Bank
12:00noon Lunch Break, Damper Making Demonstration & Comp (9) A visit from Ned Kelly! (17) And
judging period costume (62)
12:30pm Music by Cactoblastis
1:00pm Whip Cracking School (22)
1:15pm Farmer's Ingenuity Show (32)
1:25pm Family Games (63)
1:30pm Wheel Tyring at the Blacksmith's Shop (10)
2:00pm Official Awards Ceremony for AUSTRALIA DAY: (62) ·
2:30pm- 3:30pm Free Billy Tea & Damper sponsored by Toowoomba R Council
3:30pm – 5pm Bush Band Entertainment sponsored by Bendigo Bank
Other Attractions during the day:- Blacksmithing, Tinsmithing, Silversmithing, Animal Nursery, Mini
Steam Train, Stationary Engines, Beekeeping, Markets, Raffles, Sausage Sizzle, Food & Drinks, Billy Tea &
Damper, Scouts & Guides, Music, Aboriginal Art Display, Didgeridoo Performance by Don Nikkelson.
Got something fun planned for Australia Day that we've missed? Please let us know in the comments!