Things to do on Australia Day with Kids
10/01/2021
This article will give you a detailed list of things to do on Australia Day with kids in Brisbane and beyond.
Things to do on Australia Day with Kids 2022
There are so many things to do on Australia Day with kids this year in Brisbane and surrounding areas. We've broken them down by region (Brisbane, Ipswich, Gold Coast, Sunshine Coast, Toowoomba) so you can visit somewhere locally or decide to go a little 'further afield'.
In 2021 Australia Day falls on a Tuesday. Want to make the MOST of all your public holidays this year? Check out our guide to getting more bang for your buck – you can turn 20 days of annual leave into EIGHT family holidays!
Things to do on Australia Day, 26 January in the Brisbane area
There are plenty of excellent choices for things to do in Brisbane for Australia Day with kids. For a comprehensive list of swimming pools, beaches, and other awesome school holiday ideas for things to do with kids and places to take them in and around Brisbane
In the list below we have listed specific events that are open and on Australia Day.
1. Museum of Brisbane | Brisbane
You may be surprised to learn that the Museum of Brisbane (MoB) is tucked away in Brisbane City Hall. MoB brings our city's vibrant art, culture and history to life through exhibitions, workshops, tours, and MoB Kids children's activities. If you haven't visited you simply must add MoB to your Australia Day plans if heading into the Brisbane CBD. You can check out the interactive and family-friendly The Storytellers exhibition.
While you're visiting you can take in a bird's-eye view of Brisbane city for Australia Day with kids with a City Hall Clock Tower Tour. You can walk out onto an observation platform to absorb the unique view of Brisbane. Go and explore a small but integral part of Brisbane's history. They are conveniently located in King George Square, right in the city centre. Bookings are required.
2. QUT The Cube | Brisbane
The Cube offers a wide range of activities for kids aged 5 and up! We love QUT and you can find more information here about what's going on that your kids might like. We're talking robots, art and coding!
3. GOMA and the Queensland Art Gallery | Brisbane
There's ALWAYS something fun to see and do at this mecca for parents with kids looking for fun. Find out more here! (Pssst… it's also air-conditioned…) Find out why we love GOMA here! Exhibitions currently on for families include The Motorcycle: Design, Art, Desire and Now is the Time.
4. Queensland Museum & Sciencentre | Brisbane
The Queensland Museum and Sciencentre is located in the city on the South Bank of the Brisbane River. It is open for Australia Day and is a great place to teach the children about Queensland's history and marvel at the interactive displays in both the museum and Sciencentre. Most of the Museum is free but the visiting exhibits usually have an entrance fee. The Sciencentre has an admission, but the exhibits inside are free. There is a family friendly café on the premises which is great for a quick coffee or lunch. It is pram friendly and a place where you can set your own pace. You can receive concessions if you pay a membership fee. This Australia Day you can check out the Sea Monsters exhibit.
5. Australia Day Slip N Slide | Sandstone Point
Strewth! It's going to be a g'day on Australia Day at Sandstone Point Hotel! From 12 noon slip, slop and slap for a day out in the sun with plenty to do for the whole family! BYO inflatables under 1 metre wide or ride solo on the 50 metre MEGA Slip N Slide ($2 per slide)! The day wouldn't be complete without a barbie, get your taste buds around an Aussie lamb BBQ or register for the FREE lamington eating competitions!
6. Australia Day Celebrations at the Historical Village | Caboolture
The folk at the Village are busy planning another great Australia Day event for all. It is one of the biggest days of the calendar for the Village and there is a lot being planned. Invite your family and friends to help to make it the biggest day yet. Find out more here.
7. Australia Day Aussie Arvo Pool Party | Lawnton
It's back for 2021! Celebrate Australia Day at Aussie Arvo! It's a free pool party for the community at the Lawnton Aquatic Centre on Tuesday 26 January from 2pm to 7pm. Enjoy free entertainment, competitions, games, amusement rides plus a poolside disco for the whole family and so much more.
8. Celebrate Australia Day at Victoria Park Bistro | Herston
Spend your Australia Day at Victoria Park surrounded by relaxing views of Brisbane's city skyline and the rolling green hills of the golf course while you enjoy time with family and friends. The Bistro is open for breakfast, lunch and dinner serving their fresh summer menu! Free parking is available on-site for all guests and Victoria Park's fun 18 hole Putt Putt course and Driving Range will also be open all weekend.
Australia Day activities include:
Magician for the kids

Live Music

Giant Games
9. Australia Day Fun Fair | Redcliffe
The team from QLD State Fair is rolling into Redcliffe to celebrate Australia Day 2021! Kick off your thongs, slap on some Aussie zinc, and snack on a smorgasbord of carnival food including dagwood dogs while you hit the awesome EKKA style rides on offer! Get ready for heaps of carnival fun and laughter for the whole family.
10. 2021 Australia Day Celebration | Bribie Island
Join in the celebrations at the gorgeous Brennan Park, Bribie Island for an easy-going, Aussie time. Australia Day on Bribie Island is free to attend and one the whole family can enjoy. Food stalls, and a fireworks finale from 8pm.
11. 2021 Australia Day in Redcliffe
Aussie-themed festivities and free family fun will take over Suttons Beach, Redcliffe from 4pm – 8pm on Tuesday 26th January for the Ultimate Australia Day guaranteeing families a ripper of a time at the beach.
12. Great Australian Bites on Redlands Coast | Multiple Locations
Celebrate Australia Day on Redlands Coast with friends, family, home grown entertainment and a feast of local food. Enjoy free family friendly events across four locations including Cleveland, Wellington Point, Capalaba and Mount Cotton.
13. Talk a stroll on a public art or heritage trail | Various Places
There are a number of public art trails within the CBD of Brisbane and heritage trails to be found in a variety of suburbs. This is a great idea for those wanting a quieter day filled with contemplation and appreciation.
Find out more about walking trails and heritage trails here.
Things to do on the Gold Coast for Australia Day
The gorgeous Gold Coast offers families a range of great, FUN Australia Day activities. Choose any of the below and you're guaranteed to have an excellent day out making the most of great weather and greater company.
1. Australia Day Pool Party | Southport
Grab your friends and family and splash into Australia Day at the Gold Coast Aquatic Centre Pool Party. The main party gets underway from 11am with giant inflatables, a sausage sizzle, and DJ on the deck until 2pm. Normal pool entry fees and charges apply.
2. Take the kids on an adventure!
Our Things to Do on the Gold Coast with kids is CHOCK FULL of heaps of cost-free (or low cost) options for Aussie Day. Whether it's snorkelling at Tallebudgera Creek, exploring the Glow Worm caves or making the most of the gorgeous bushwalks and swimming holes – the Gold Coast is pumped full with everything that makes Australia the most beautiful place on earth.
3. Hit the Theme Parks!
We love the Gold Coast theme parks and Australia Day can be an awesome opportunity to explore all they have to offer as a family.
We've put together a rundown of which of the theme parks are best if you've got small children. It's a great way to have a hell of a day out that's got something for everyone – even mum and dad!
4. Australia's Biggest Inflatable Obstacle Course | Coomera
Tuff Nutterz, Australia's biggest inflatable obstacle course has arrived at Westfield Coomera this Australia Day! Tuff Nutterz, is fun for the whole family! A place to relax while the kids have a blast or rediscover your inner child and join in the fun.
5. Jurassic Creatures | Robina
Over 30 animatronic dinosaurs are on display at Robina Town Centre, from the Tyrannosaurus Rex to the Triceratops and Stegosaurus. You'll feel like you've just stepped onto the set of Jurassic Park! Budding palaeontologists will love chipping away at fossils in the interactive fossil digging zone, getting creative with an array of arts and crafts, catching some serious air on the 3 dino jumping castles and frolicking in the Jurassic ball pit. Plus there are amusement rides including everyone's favourite spinning teacups.
Things to do on the Sunshine Coast for Australia Day
The Sunshine Coast is a mecca for seekers of sun, sand, and fun times. It's got a laidback vibe that's really appealing to the Australia Day fun seeker – it's family friendly and big on fun. Here are some great ideas about how you can celebrate in this sun-soaked paradise!
1. Cool down at a Sunshine Coast water park!
Jump on in! Nothing says Australia Day like having a swim at the pool with your mates. We've got a list here of the best water parks that the Sunshine Coast has to offer!
2. Make the most of the coast with kids!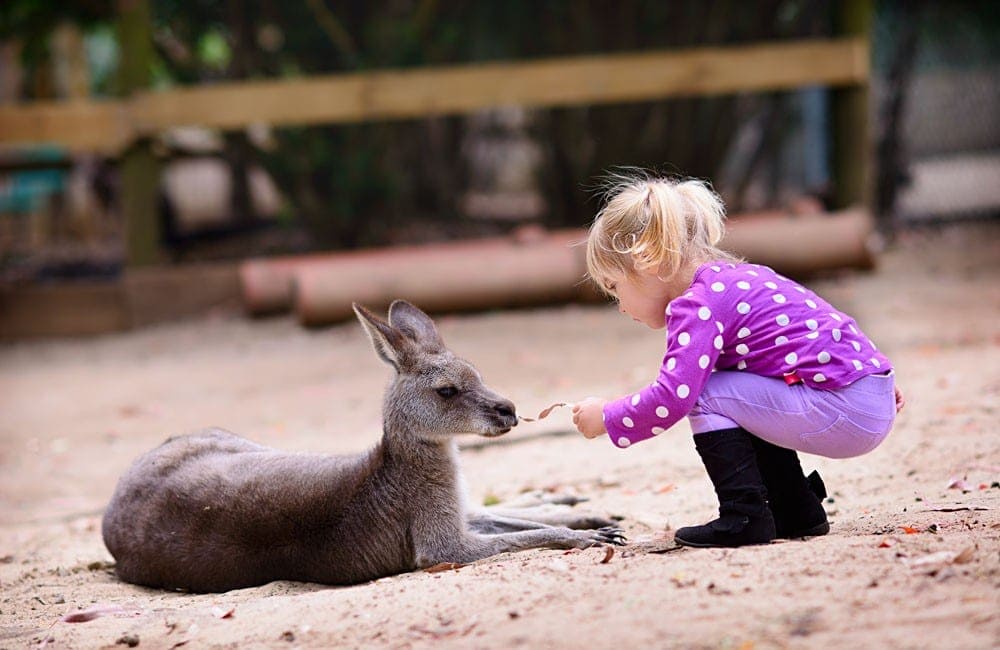 There are so many incredible things to do on the Sunshine Coast with kids. Visit beaches, take a trip to Australia Zoo or the Ginger Factory, visit national parks and go swimming in natural swimming holes – and that's just the start!
For some unique ideas as to what you can get up to on Australia Day with the kids, check out our overview of all things kid friendly on the Sunny Coast.
Pssst… after cheap Australia Zoo tickets? We know where to find them!
Things to do in Ipswich for Australia Day
As one of the fastest growing cities in Australia, Ipswich is a thriving mecca for families and the list of 'things to do' in Ipswich keeps getting longer and longer. We've picked our favourites and made sure that they are open for Australia Day 2021!
1. Robelle Domain Parklands
The Robelle Domain parklands, in Springfield Central, offer visitors a rainforest walk, waterfalls, water play areas, bike tracks, the country's first Icon on Galaxy interactive play equipment in an all-abilities playground, and more. The largest park precinct built in Queensland since Brisbane's Roma Street Parklands, Robelle Domain has an 11 kilometre pathway network for family fun during the day and also at night when the 9-metre high light tower installations give off a spectacular light and sound show.
Across a footbridge is Orion Lagoon – an amazing oasis of interconnected pools of varying depth. There is an amphitheatre with public events held at Robelle Domain, so, this Australia Day bring your own picnic or barbecue treats to cook, or take advantage of the delicious offerings in Robelle Café which is fully licensed and open 7 days.
2. Wind Tubes | Ipswich
Wind Tubes is a FREE hands-on exhibition that challenges you to make a flying creation out of everyday materials and launch it into large, clear vertical tubes of moving air. It's a playful way to explore the effect that moving air has on objects. There's ample opportunity to experiment and modify your design, and possibly set the record for the longest flight time.
3. Day out with Thomas | Ipswich
What's not to love about spending a Day out with Thomas the Tank Engine! The world's most-loved blue steam engine and his friends are enjoying the summer school holiday at The Workshops Rail Museum with hands-on train building fun, the chance to climb onboard a variety of trains plus a great cafe and gift shop at the venue.
Things to do in Toowoomba for Australia Day
1. Australia Day fun at Highfields Pioneer Village | Highfields
Highfields Pioneer Village has traditionally hosted many thousands of people from near and far celebrating Australia Day in a unique heritage location. From 9am the day kicks off with the Milking of the Cow, then Beekeeping, Blacksmithing, Working Draught Horse and Whip Cracking School. There will be plenty of good Aussie tucker, meat pies, vegemite sandwiches and Billy Tea and Damper plus guest artists will perform. Take in the Aboriginal art display, cut loose in the family games and children will love the baby animals in the nursery. Entry is $5 per person to support the heritage village, and kids under 15 years are free.
2. Cobb + Co Museum | Toowoomba
Come face to face with more than 50 epic exhibits showcasing the incredible innovations, machines and technology that shaped the mighty Roman empire in the new Ancient Rome exhibition.
Got something fun planned for Australia Day that we've missed? Please let us know in the comments!