If you're looking for the best picnic spots in Brisbane you'll find plenty of beautiful locations to choose from. If you don't fancy doing the catering yourself (or if you are planning a surprise for someone!) keep reading as we'll also tell you where to buy delicious hampers ready to go!
Best picnic spots in Brisbane City
Brisbane City is an obvious choice for an easy picnic spot, and with good reason! There's heaps of cheap parking and plenty of space. For an awesome day out in Brisbane, take a picnic rug and cushions or camp chairs and head to one of these park or riverside locations.
Kangaroo Point Cliffs
Kangaroo Point offers the best of both worlds. Picnic at the top of the cliffs for the breeze and stunning views or at the bottom for riverside dining. Parking can be limited at Kangaroo Point but you can park at South Bank Parklands and take a leisurely 2km stroll along the river to the foot of the cliffs.
Families Tip: Check out One Fish Two Fish below for a seafood treat at Kangaroo Point.
Kangaroo Point Cliffs is a popular spot, but if it's a little too crowded for you, you won't have to travel too far for an equally beautiful location.
RELATED: Grab our favourite picnic blanket here.
South Bank picnic spots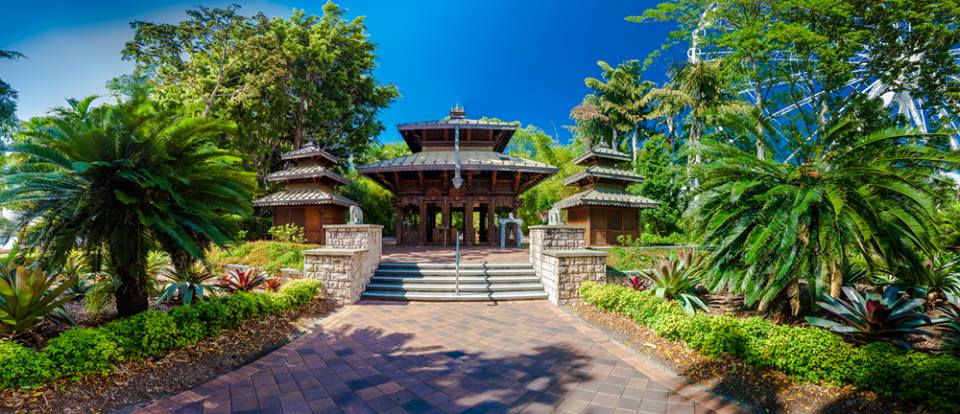 At South Bank you are spoiled for choice for places to spread your picnic rug. There are lots of grassy lawns and shady trees, themed gardens and waterside locations, and plenty of room to play and explore. Pictured: Buddhist Temple at South Bank.
Roma Street Parkland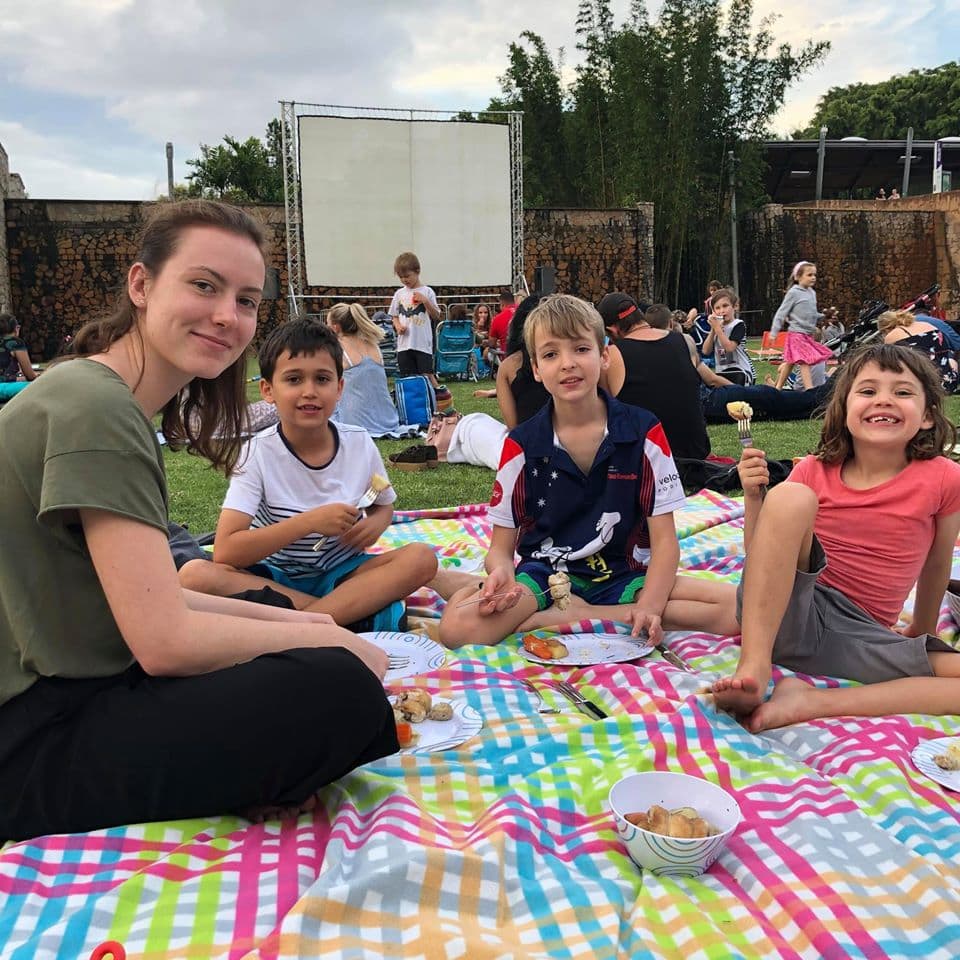 Roma Street Parkland is a beautiful place to relax and play any day. We'd advise that children take their scooters because you will definitely want to explore the two incredible playgrounds! Just like South Bank, Roma Street Parklands has expansive lawn areas, water features and themed gardens to enjoy. (Also how awesome is our picnic blanket? Check out all the picnic blanket range here.)
Howard Smith Wharves
The Howard Smith Wharves, beneath Brisbane's iconic Story Bridge, has been rejuvenated and the results are amazing! The Wharves now boast parklands and public open spaces ideal for picnicking, with a convenient lift to the top of the cliffs for spectacular views. There's also plenty of restaurants available with delicious gourmet takeaway options.
Brisbane City Botanical Gardens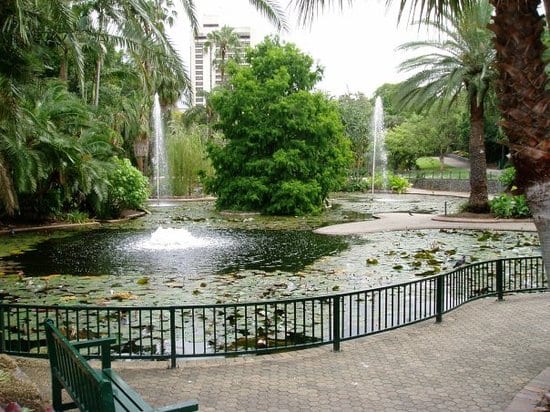 Brisbane City Botanical Gardens is an urban oasis and a pleasure to visit. There's room for the kids to kick a ball while you can relax and enjoy the view, and afterwards you can tour the gardens to spot wildlife and learn about the native plants.
Government House
Have a Sunday picnic at Government House from 11am-2pm on Sundays. Bring your own blanket, basket, food and thermos and find a shady spot in the beautifully manicured 4-hectares of formal gardens surrounding Government House – including by the statue of Her Majesty The Queen or under the majestic West Indian Cedar Tree which has shaded the lawns at the front of the House for well over a century. Entry to the site on these picinic Sundays with be FREE!
NOTE: These will NOT happen every Sunday. More picnic days will be held throughout the year, including on Mother's and Father's Days in 2023.
Best picnic spots on Brisbane beaches
Being by the water is both soothing and rejuvenating – perfect soul food for busy families in need of a break. If you love the refreshing sea air and sand between your toes, then a nearby foreshore will be your best bet for the best beach picnic spots in Brisbane. If sand is not your preference then Brisbane's reservoirs are another great waterside spot, lined with shady trees and abundant with wildlife. These are destinations the whole family can enjoy.
Sandgate Foreshore
A gently sloping beach and a 6.5km stretch of scenic promenade, accessorised with a string of beautiful parks and picnic areas, makes Sandgate Foreshore the perfect family destination. Take the kids' scooters and enjoy a sea-front stroll, or let them run around in Arthur Davis Park. You might even spot a few fairy doors along the way!
Wynnum-Manly Foreshore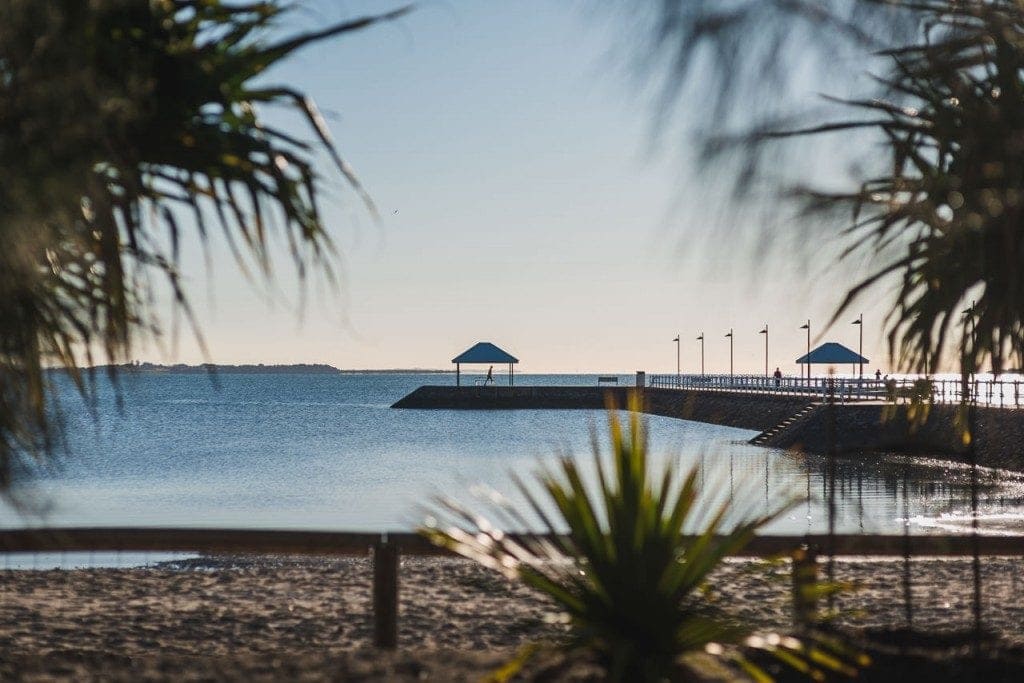 The promenade along the Wynnum-Manly Foreshore stretches for kilometres and includes a pier and the Wynnum Mangrove Boardwalk. There's a small sandy beach sheltered beside the pier, and lots of grassy space ideal for picnicking. If you're lucky you might even spot dugongs enjoying the sea grass!
RELATED: If you are going to the beach, you will need this sand-free picnic blanket!
Wellington Point Reserve
Wellington Point Reserve is a favourite family spot with its safe sandy beach and awesome climbing trees. If you time it right with the tide, the family can walk out along the sandbar to historic King Island. There are great views in every direction from Wellington Point Reserve, but the reserve isn't huge and parking is limited so be prepared for it to be quite busy!
Redcliffe Peninsula
The Redcliffe Peninsula offers something to suit every Brisbane families taste and lifestyle. The gorgeous Redcliffe Lagoon is an ocean-side tropical paradise for families, Suttons Beach is a safe spot to paddle or relax on the sand, and Redcliffe Botanic Gardens is the surprising hidden gem. Pack a three-course picnic and go to them all!
Enoggera Reservoir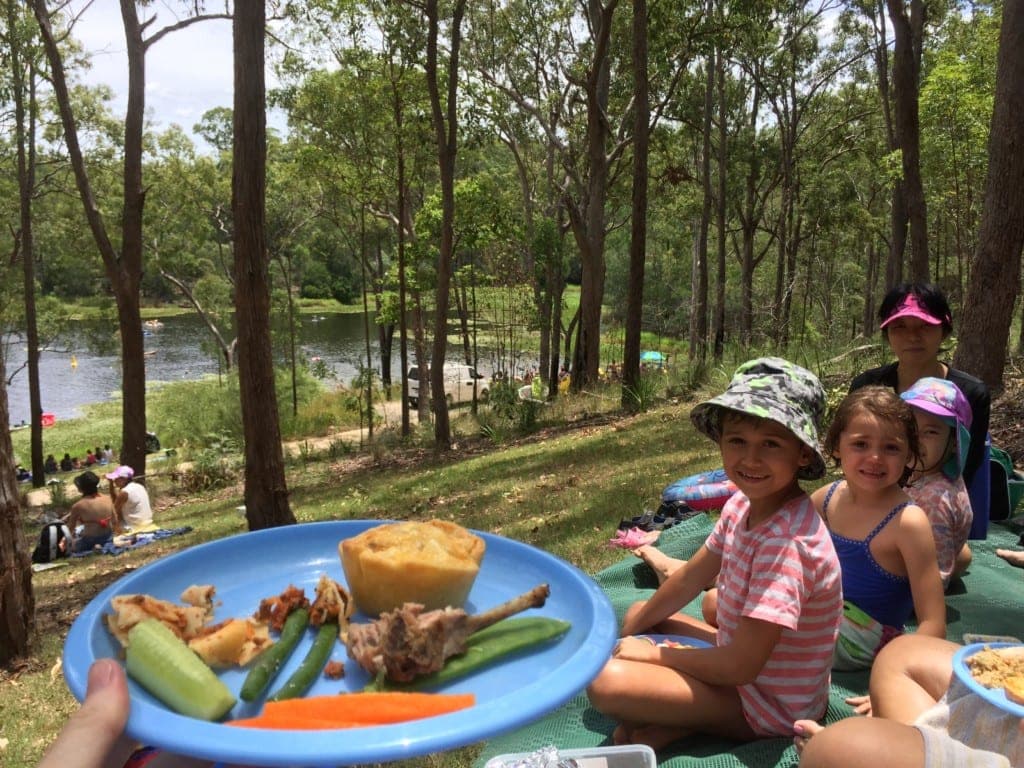 For an old-fashioned picnic (no supplied tables or BBQ facilities) head to Enoggera Reservoir. There is plenty of shade beneath the trees and lots of wildlife to spot. There is even a small sandpit for the kids. Check out our Enoggera Reservoir video review.
RELATED: Need a picnic basket? Check out the variety and sizes of picnic baskets here.
Best picnic spots in Brisbane parks
If you love open spaces and shady trees, manicured gardens and maybe a water feature or two, then a picnic in one of Brisbane's parks is ideal. You can stick to your favourite local park, explore a new park in your area (check your council website for a list of all their parks), or try one of these beautiful locations.
Sherwood Arboretum
As the name suggests, Sherwood Arboretum has an abundance of leafy trees to shelter beneath, and trees that the kids can climb. There are wide grassy spaces overlooking the Brisbane River for relaxation and play, and beautiful boardwalks along the pristine man-made wetlands. Take a look at the official Sherwood Arboretum website to discover more.
Capalaba Regional Park
Just off Pittwin Road, Capalaba, you will find 14 hectares of glorious parkland. The awesome playground has something for all ages and there is masses of open space to explore or lay out a picnic rug, while enjoying the lovely scenery.
Daisy Hill Conservation Park
Famous for being the home of the Daisy Hill Koala Centre, Daisy Hill Conservation Park has over 400 hectares of space to explore and spread out a picnic blanket. After your picnic, take a stroll along one of the walking trails to see if you can spot any koalas! If your family loves bike riding you can also explore some of the best SEQ mountain bike trails during your visit. This park has BBQ's and a number of sheltered picnic areas however they are very popular so get in early.
New Farm Park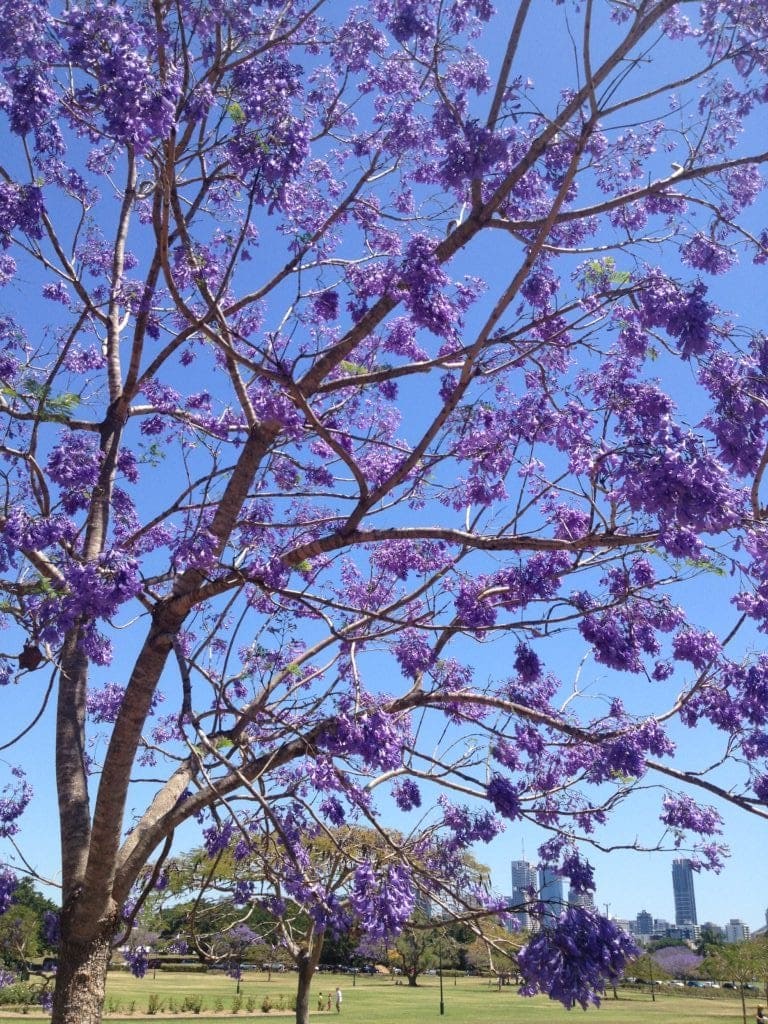 New Farm Park is located next to the Brisbane River, with an abundance of places to picnic. There are beautiful pathways meandering through trees and gardens, and a pram-friendly walk to follow all the way to Newstead House. This is a super popular location, but it is also huge. We recommend getting in early to grab the best park picnic spots in Brisbane!
Read our New Farm Park review here.
Families Tip: See below to find out how to have a beautiful picnic ready and waiting for you at New Farm Park!
Picnic spots in Brisbane's national parks
Brisbane's national parks are as varied as they are beautiful. We have mountain parks, forests and waterfalls all within 50 kilometres, and most are open to the public! Get amongst the trees or dip your toes in a creek with a picnic at one of these stunning national parks.
Tip: Pets aren't allowed in Brisbane's national parks (sorry Fido!) and you must remember to take all your rubbish away with you and 'leave only footprints'.
Kholo Gardens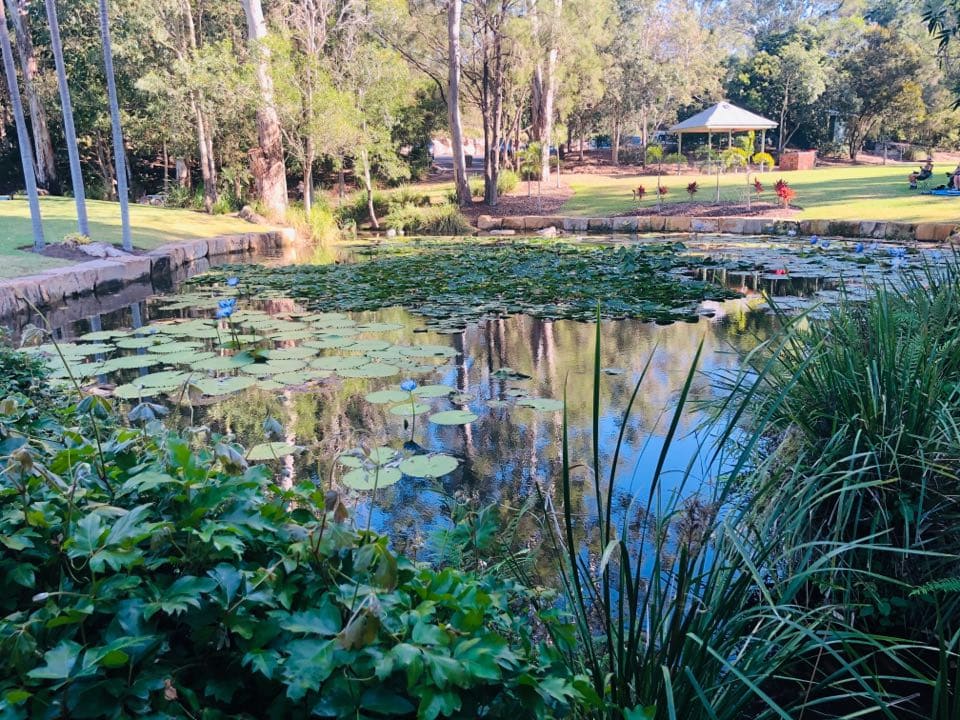 Kholo Gardens is a hidden gem for families. Set up a picnic by the lily pond and enjoy the tranquility before exploring the historic grounds. There's plenty of room for a game of frisbee, and beautiful walking trails through the trees and by the creek. You can find out more in our Kholo Gardens video review.
Mount Coot-tha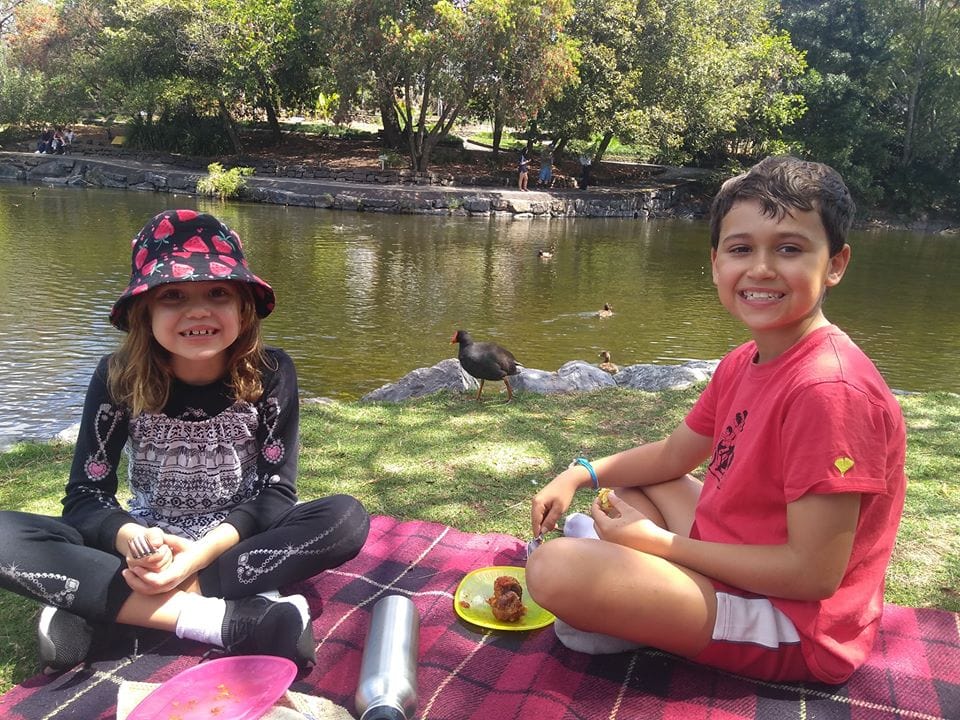 Mount Coot-tha is perhaps Brisbane's most famous national park. It's home to the Mount Coot-tha Botanic Gardens, the Mount Coot-tha Lookout with views over the city, the Sir Thomas Brisbane Planetarium, and JC Slaughter Falls.
JC Slaughter Falls has plenty of space ideal for picnicking. If you are feeling adventurous after your picnic you can try one of the walks to the summit, but they can be challenging and are not pram-friendly. An easier way to the summit is to drive.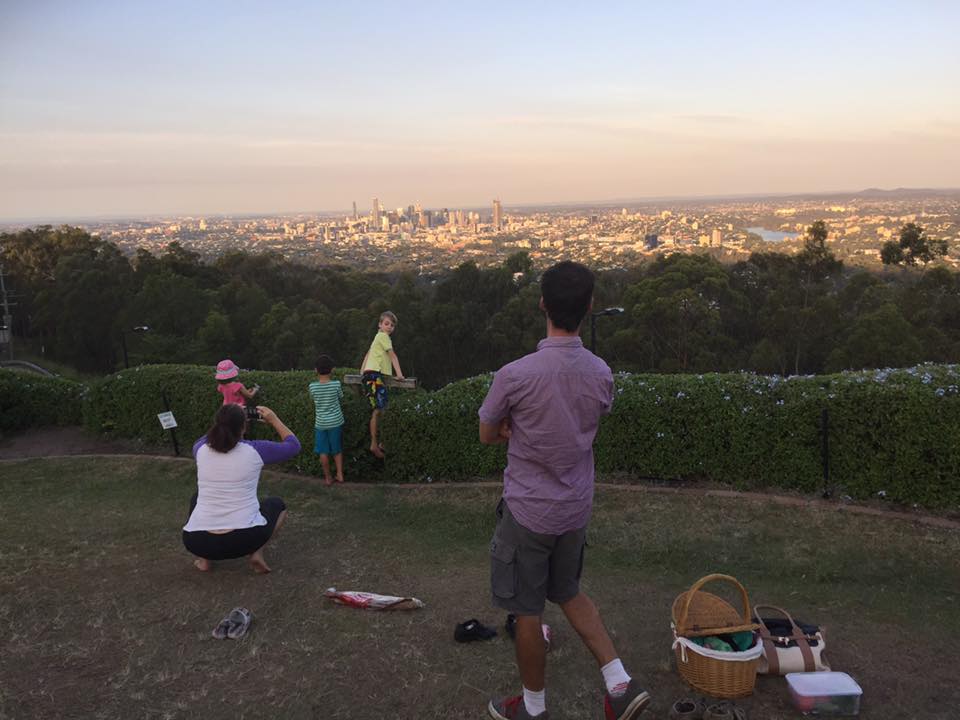 At the top you can purchase refreshments from the Summit Cafe, and there are lawns available for picnicking. If you're planning on picnicking at the summit you might have to get there early to snag a spot – it's another popular destination!
Karawatha Forest Park
Karawatha Forest Park is a huge area of natural bush land just 18km south of Brisbane. The Discovery Centre is a great space to learn about the fabulous landscape, plus there's an outdoor natureplay area with water pump fun, cubby house building and the Discovery Centre even loans lawn games! Karawatha Forest has many shaded picnic areas and beautiful meandering paths taking you into the heart of nature. Find out more with our review of Karawatha Forest Discovery Centre.
Mount Glorious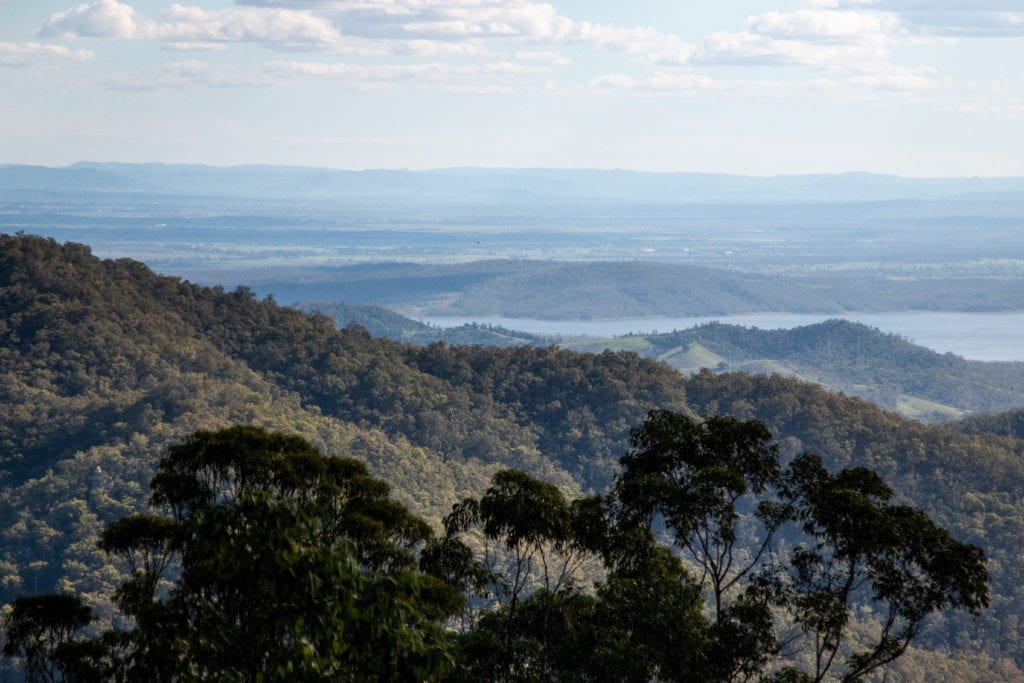 Mount Glorious is the perfect location for active families. If hiking is your thing and you're happy to pull sandwiches out of your backpack during a rest stop, then consider leaving the city behind and venturing along one of the stunning Mount Glorious hiking trails.
Mt Nebo – Jollys Lookout
If you love views that take your breath away you need to add Jollys Lookout to your list! Jollys Lookout was named in 1930 by the then-mayor William Jolly who thought it "a fine place to have a picnic". He was not wrong!
You can access Jollys Lookout via the 4km Thylogale Walking Track or drive up the sealed road to the summit. Once there, you'll find ample places to lay out your picnic in the grass or at one of the plentiful picnic tables and shelters. Then simply sit back and enjoy the breathtaking view over the D'Aguilar ranges.
Best picnic hampers
If you're planning a surprise for someone, or simply don't fancy self-catering, we have some wonderful businesses in Brisbane taking orders for picnic hampers and grazing platters.
The Vintage Picnic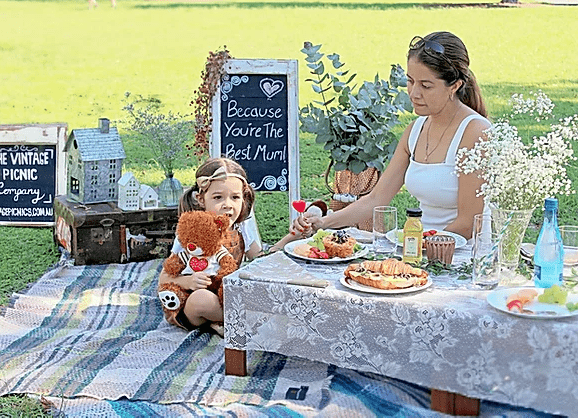 The Vintage Picnic is offering a range of exquisite gourmet Mother's Day picnics to be enjoyed at New Farm Park. They'll do ALL the work for you! Your picnic will be beautifully staged under a shady tree with delicious food and drinks ready to be enjoyed. For those planning a surprise for Mum, this is the ultimate! Visit The Vintage Picnic website for more info.
New Farm Deli & Cafe
Let New Farm Deli cater for your Mothers Day picnic. Choose from a selection of delicious deli platters, salads, traditional pastas, tasty gourmet rolls or petite finger food options.
Aimee Provence High Tea Parlour
Aimee Provence is taking orders for delivery of a Mother's Day High Tea hamper brimming with delicious treats to Brisbane, the Sunshine Coast and Gympie. Find out more here.
One Fish Two Fish
This Kangaroo Point fish and chip shop is famous for its takeaway packs. Find out more here.
Botanica
With gourmet salads, gluten free savoury tarts, sensational cakes and more Botanica can help you prepare a picnic feast to remember.
Lettuce Eat Cafe & Catering – West End
Lettuce Eat can help with a range of healthy platters including wraps, gourmet sandwiches, fruit and pastries!
The Croft House
Get a great spread at The Croft House, who pride themselves on providing locally sourced modern Australian food, made with seasonal and authentic ingredients.
The Picnic Co
The Picnic Co have a range of picnic packages to suit your needs for groups as small as 2 people, up to our larger groups of 80 people. Their main goal is to take the stress out of the planning, and for you and your guests.
Best picnic spots in Brisbane
Did we list your favourite picnic spot in Brisbane? If not, let us know in the comments. Take a look here for more Days Out with kids ideas.