The Complete Guide to Brisbane Parking | Easy, Cheap or Free Parking in Brisbane
11/06/2018
If the thought of Brisbane parking fills you with dread, fret none, we've found easy, cheap or free parking across this big beautiful city!
Cheap Brisbane parking – does it exist?
It can feel like chasing a white whale, can't it? Driving into the city or surrounds, kids in tow, to try and find that mythical perfect park. Not too far away, safe, easily accessible and that you won't have to sell an organ to be able to afford!
We HEAR you. What we've done is tried to compile a list of the best Brisbane parking spots for families. If you've had success somewhere and you want to share it (we understand if you want to keep that info to yourself, though!) please let us know and we can add it to our guide.
Free parking in Brisbane
• Shopping centre carparks are generally FREE for the first couple of hours. Make sure that you keep your parking ticket with you.
• Spring Hill Marketplace has free parking for city-goers. It's free for the first two hours and you do need to be a customer. It's a hike into the city from there but if you're willing to walk it's achievable.
Cheap Brisbane parking in the CBD
All of these places require online booking ahead of time. You can do it on your phone but it will require you inputting your credit card details.
King George Square / Wickham Terrace BCC Car Park offer a flat rate of $5 on Saturdays and Sundays. You can enter after 7am and exit before 11pm.
You can park at the Myer Centre on Saturdays, Sundays and Public Holidays for $5 if you book online ahead of time.
Families Tip: Sometimes parking further away and getting an Uber to your city location can be a thrifty surprise. We've parked ALL DAY outside the 'controlled parking district' and paid $6 each way to Uber into the city! Great for weekdays when city parking is uber expensive, but an Uber isn't… (did you see what I did there!) 😉
Secure a Spot – Brisbane parking in the city –
USE CODE: FAMILIES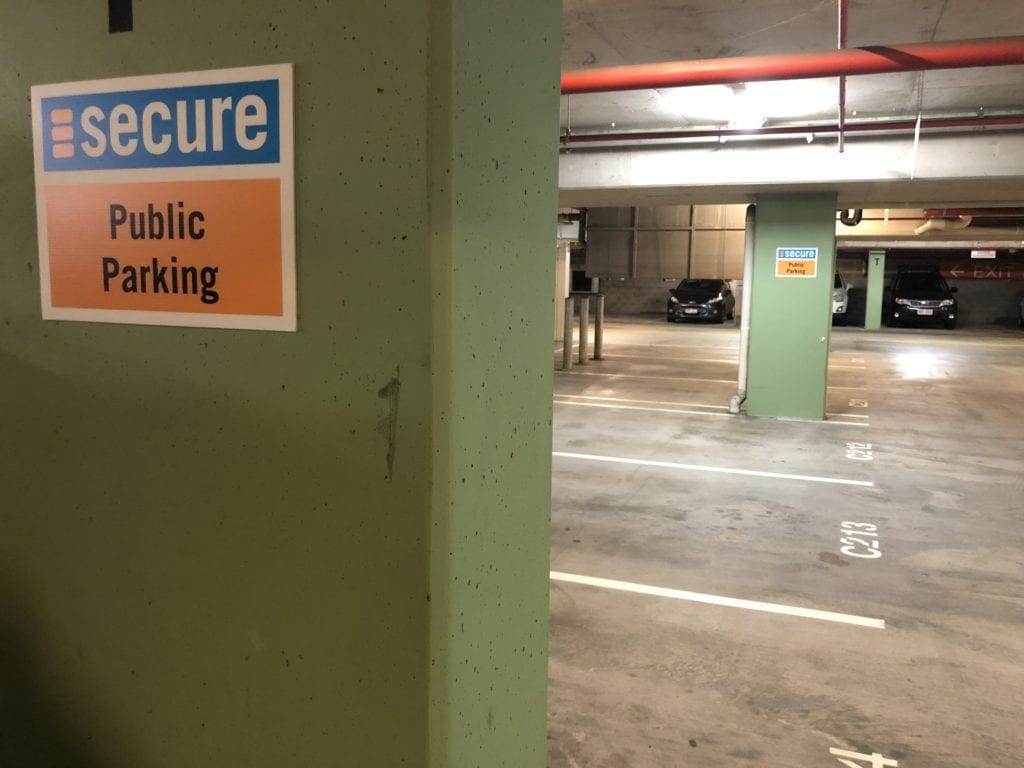 Families Magazine has partnered with Secure Parking and we have a code that will give you a discounted fee. The trick is that you have to book online in advance – super easy to do and you can have a nice big window to arrive in. We would definitely recommend arriving quite early (is there any other option when you've got kids?) to make the most of the day. You can save up to 60% if you book online and then receive and additional 25% discount on TOP of that rate!
Secure Parking have lots in Elizabeth Street, Roma Street, North Quay, Queen Street, Edward Street, MacArthur Central, Adelaide Street, Cathedral Square, Mary Street, Makerston House, Turbot Street and Albert Street (best for River Stage). You can also find them in inner city suburbs like Paddington and Milton. They're the best choice for parking over at South Bank as well – particularly for a visit to GOMA or South Bank Parklands we park in SW1, but there are 3 carparks over there to choose from! Check them out and book here.
Parking discount code
If you are attending any of these events in June/July, check out ALL these parking discounts:
General School Holidays – promo code FMWINTER 18 – Save 50% – park at South Bank, CBD, Surfers Paradise
Paw Patrol parking – promo code PAW18 – Save 50% – park at SW1 – $10 All Day
Snow4Kids – use weekday promocode SNOW4KIDS18 – $20 at SW1
Skating At Festival – use code SKATE18 – Save 50% – park at Queens Plaza, Post Office Square or Wintergarden
State of Origin – NO CODE – click here for the automatic best price
Go to the Secure Parking website and use the appropriate code to get the discounted price – click here
Myer Centre parking voucher code
Located at 66 Elizabeth Street, Brisbane's Myer Centre can also offer good rates for parking if you want to park in the Brisbane CBD. Although they don't have a Myer Centre parking voucher code that we know of, we think these prices are a good deal for parking in Brisbane!
As always booking online in advance is the cheapest way to go!
My Centre online pre-booked rates Monday to Friday (Peak)
0 to 1 Hr – $10
1 to 2 hrs – $15
2 to 3 hrs – $20
Over 3hrs – $25
Myer Centre Weekend and Public Holiday Parking
Saturdays, Sundays and Brisbane Gazetted Public Holidays – all charges recommence daily at 7.00 AM with the new day's standard rate.
Day Standard Drive Up Rates are $10 and the online pre-booked rate is $7​. Find out the prevailing rate for your trip here.
Do you have any secret Brisbane parking spots?
Willing to share? We've sleuthed our hearts out but surely there are more hidden gems available for city-goers. If you're willing to give us the scoop, let us know in the comments!
One response to "The Complete Guide to Brisbane Parking | Easy, Cheap or Free Parking in Brisbane"