Staying at a Brisbane inner city hotel for the evening, I was surprised by how much Brisbane has to offer families these days.  Like most parents, a trip to Brisbane is usually about visiting the Museum, GOMA, QPAC, Roma Street Parklands or the occasional appointment in the city.  I never really considered Brisbane's inner city a place to take kids for a day out.  We stayed at Royal On The Park right opposite the Brisbane Botanical Gardens and found so much to see and do for kids that we didn't even venture up to the mall!  Brisbane Botanical Gardens have grown up.  If you've not been in a while, there's a lot more to do there with kids these days than ever before.
Brisbane Botanical Gardens on wheels
Of course, the first thing kids will notice about Brisbane Botanical Gardens is the long, straight, hilly pathways just calling out for a skateboard! The botanical gardens are well set up for riders and there are city bike options nearby if you want to grab a temporary (adult) bike for the day. For those with specific kinds of wheels, The Brisbane Botanical Gardens is an excellent destination with prams and wheelchairs including wheelchair accessible toilets and play equipment. If you are planning a day out at the Brisbane City Botanical Gardens, bringing the scooter or skateboard is a good option as there are so many long, sloping paths to navigate. Just be careful as they're all bordered by precious botanical finds. Highlighting the various signs on trees and shrubs is a good opportunity to discuss conservation with your children!
The fab fairy lights at the foot of the Goodwill Bridge
No, the bridge is not on fire… the fab fairy lights display is well worth staying after hours to visit.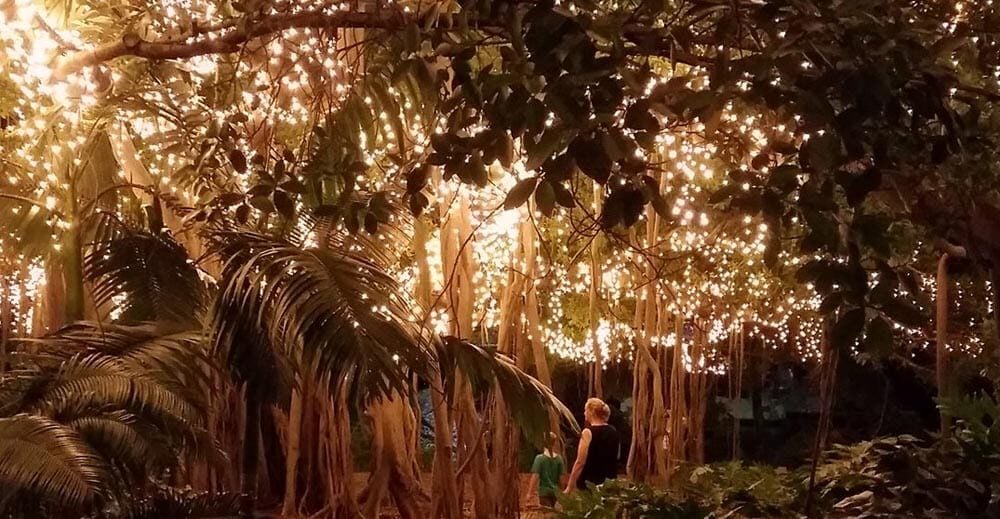 The shower of tiny lights is a delight for kids and grown ups a like and it's a great place to wander about. The stunning old fig trees with their long dangling roots make a magical setting for the beautiful big display. Note that this area is also a favourite location for Brisbane's less fortunate population. Avoid crossing from one display to the other using the under-bridge pathway. Not only is it perilously slippery, you may disturb the sleep of a local.
The Brisbane Botanical Gardens sensory playground
Jam packed with inspiration for little senses, this gigantic playground is among Brisbane's most impressive destinations for little people. The playground is made up several key areas. There's a massive sandpit with a whole host of digging apparatus ideal for the under 4s who like to 'get the job done".
Ride on toys, communication toys, sensory slides, visual play and even an amazing musical set up that is surprisingly inoffensive to parents! The playgrounds are jam packed with things to do for kids of all ages and are especially great for those with heightened sensory or special needs. Kids with mobility issues don't miss out – with special attractions that are designed for wheelchair accessibility. There's also a mums and bubs swing for very little people and bigger "ride on" attractions for older kids. Families of all ages and requirements will love this playground. The Brisbane City Botanical Gardens playground is a stroll from the front gate and close to the public toilets and large shaded areas. Unfortunately the playground itself isn't shaded during the hottest parts of the day, so take a hat and some sunscreen!
Wildlife spotting in the Botanical Gardens
Day time or night time there's plenty of wildlife for Brisbane kiddies to observe. While feeding the wildlife is not permitted, there's more than enough going on in the wild to excite the kids.
Possum Spotting in Brisbane Botanical Gardens
The possums come out at around 8pm and are best viewed in the grassy areas bordering QUT's A and B blocks. While there are possums all over the gardens, this area offers them plenty of fruit bearing trees coupled with wide open spaces – making them easy to spot. The area is also jam packed with flying foxes and bin chickens… sorry Ibis…. so look up or you might fall victim to some overhead poop!
Bird life in the city gardens
Budding bird watchers can pack their books and binoculars and set out across 49 acres of bird country. The Brisbane City Botanical Gardens form one of the few inner city habitats for native and migratory birds. From the birds that frequent the popular picnic spots around the entry pond, to the water birds along the mangrove walk, there's plenty of birds to spot and watch an your walk.
Lizards, eels and flying thingies!
Around the main pond you'll find dozens of lazy lizards enjoying the warmth and occasional bug snack. The pond near the entrance at the corner of Alice and Alberts streets is teeming with life. You'll find a collection of butterflies, dragonflies and.. being Queensland, flies hovering around the colourful water lilies and nearby cottage gardens. The pond is a little ecosystem teeming with life – including little fish and meter long eels who aren't the least bit shy about popping up to say hello! If you're doing the mangrove walk, be on the look out for mudskippers, crabs, birds and fish!
Riverside Sunday markets
The Riverside Markets are a fairly low key event these days but happen in the Gardens on Sunday mornings. With a mix of handmade, gift and fresh food markets, they're a nice place for a stroll if you're out and about on a Sunday. There's not much there for kids (a face painter and a few trinkets maybe) but it is a good place to pick up some fresh fruit snacks for your walk around the gardens. Of course, there's the obligatory Bin Chickens there too!
Mangroves, views, Botany tours and flowers fit for fairies!
Dubbed the most important non-Aboriginal reserve in Brisbane, there's plenty of botanical delights, clearly labelled and explorable by kids. The gigantic cottage garden to the right of the play area is the ultimate fairy habitat and can spark big imaginations with the right encouragement. The Mangrove Walk is a wonderful place to talk to kids about the role mangroves play in biodiversity while taking a shaded stroll through the pathways along the river, overlooking the Kangaroo Point cliffs. This is a great walk to take at night when the cliffs and the Story Bridge are lit up and sparkling on the water.
One of the top things to do in Brisbane City at night with kids!
At the hotel I had the opportunity to talk to a dad from Geelong visiting Brisbane with his two girls. He said that he'd always bypassed Brisbane and headed straight to the Sunshine or Gold Coasts for nearly a decade. He, like me, felt that Brisbane City isn't the best place to take kids for a family break. After this weekend, I stand corrected. Brisbane City Botanical Gardens was more than enough to fill a day and evening – and my child wanted nothing more than to return and do it all again!
We stayed at the Royal On The Park on a family weekender package which meant that when my child finally started to tire out after the big walk around the gardens and all there is to see and do, we could head back to the hotel for a much needed sleep. If you have the means, I thoroughly recommend spending a night in Brisbane city with kids. There's so much to do and see, and we only really tapped on little corner of it – granted the Brisbane Botanical Gardens is a pretty special corner of Brisbane to visit!