Today we went for a drive to Kholo Botanical Gardens. If you haven't been to visit this area yet, boy are you in for a treat. We had read about the gardens previously, but never visited.
I can hand on heart tell you that it is one of the most secluded, gorgeous, quiet locations in SE Queensland. I promise, if you add it to your day trip bucket list, you will not be disappointed!
Where are the Kholo Botanical Gardens?
Kholo Botanical Gardens are just a short drive off the Warrego Highway and only 12 minutes from the centre of Ipswich.
Kholo Botanical Gardens are located at 243 Riverside Drive, Muirlea, Ipswich. The gardens are situated right on the Brisbane River with impressive views.
History of Kholo Botanical Gardens
Kids can also enjoy a bit of a history lesson while they're at Kholo Gardens too. It was here that the earliest recordings of coal were made in 1825. In 1878, the site of Kholo Gardens was the location of a water pumping station which supplied clean water to Ipswich from the river. Although the station stopped operating in 1922, you can still see the historic well the Brisbane River walking trail (see below).
What to do at Kholo Gardens in Ipswich?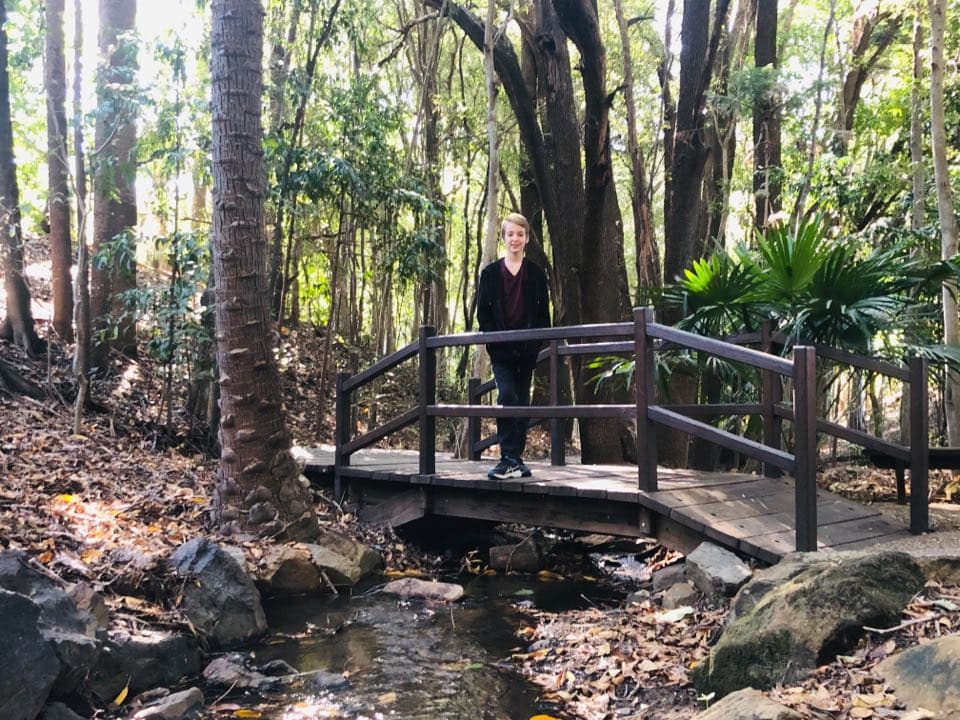 Kholo Gardens are probably the best kept secret in Ipswich. The area really is one of the most welcoming and beautiful parks in the area. And it is huge! Featuring almost 40 hectares of stunning grounds, multiple bushwalks, a giant lily pond, a picturesque church and charming Queenslander style function centre, you will find that it is a quiet, low-key place to relax with your family.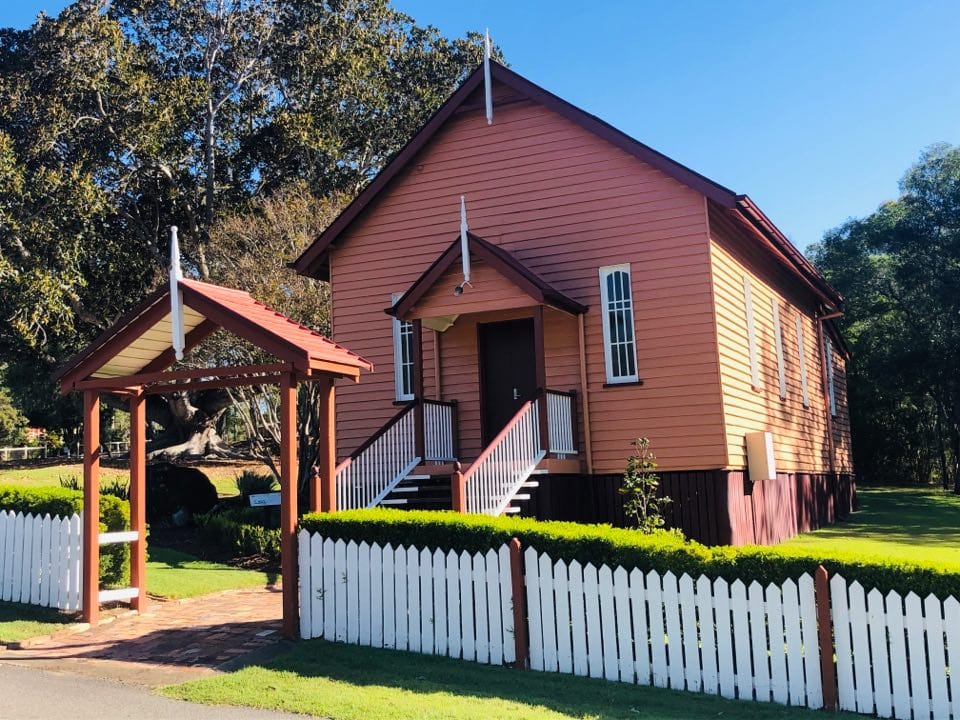 At Kholo Botanical Gardens you can:
Bushwalk along the tracks and boardwalks;
enjoy the meandering creek;
spot wildlife in the sub-tropical rain forest;
fish or kayak in the mighty Brisbane River;
kick a football or throw a frisbee;
look for fish and ducks in the huge lily pond;
have a picnic;
have a BBQ.
Kholo Gardens are jam packed full of adventure and discovery waiting for kids and families amongst the garden's serene flora and fauna. There are so many things to do amongst these gardens so don't forget to bring along your walking shoes, ball games, frisbees and cameras.
Walking tracks at Kholo Botanical Gardens
A number of different walks meander through the garden's bush land and tropical settings, with distances ranging from 320m to 760m, most of the walks are easy for the little ones and some are even suitable for prams.
Coal Creek Walk 760m (return)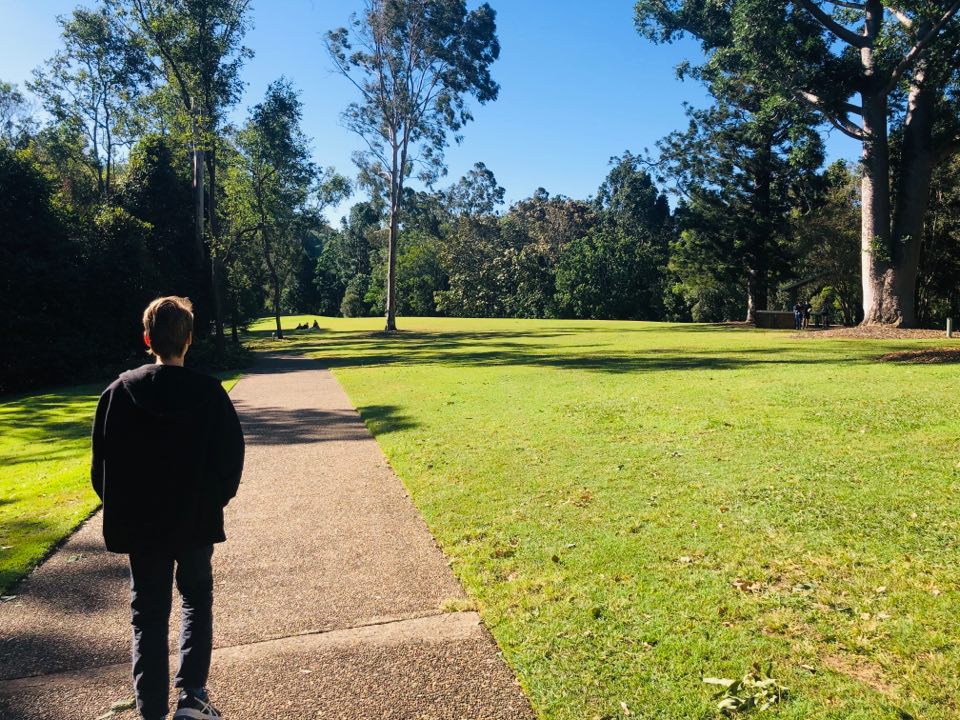 This is the walk that is closest to the car park. At the beginning it passes alongside the picnic/football/frisbee open space and then progresses into the bush. It is well signed and an easy walk with a few steep places. It has small bridges to cross Coal Creek in two places.
Brisbane River Trail 610m (return)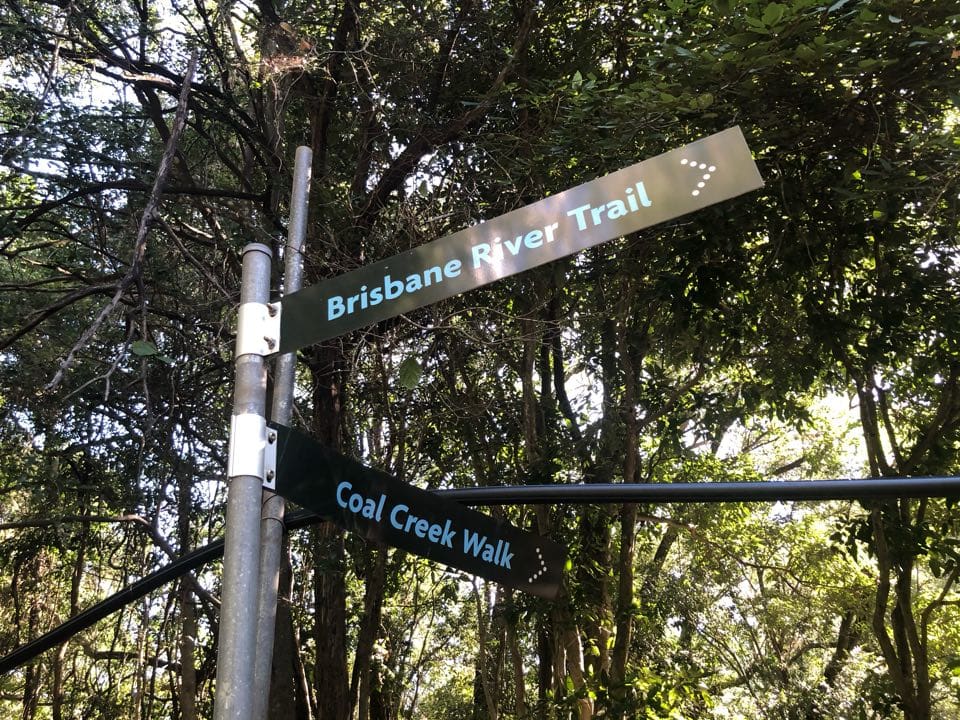 The Brisbane River Trail starts on the other side of the pond from the car park. It is considered a moderate level track; suitable for average fitness levels; it has some uneven surfaces and is steep in places. It has junctions sign-posted.
Tree Fern Lane 320m (return)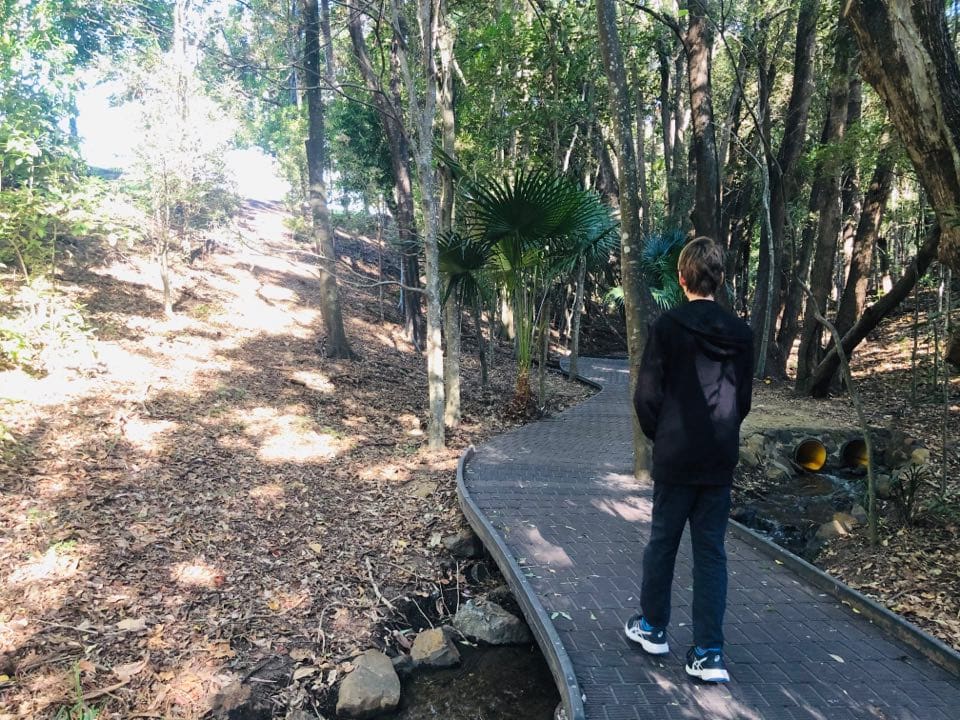 Tree Fern Lane is my favourite walk here. It has been updated with a well constructed path and a resting place to sit down and take in the beauty of the area (see our video below). A small creek flows alongside the path and I would suggest this is the best path for small kids who like to play in the water as they investigate the rain forest.
Palm Grove Circuit 455m (return)
Palm Grove Circuit is a simple little walk along uneven surfaces (so not suitable for prams) down a small embankment and alongside the creek. Some of the circuit is concreted and some is still dirt or gravel paths. This walk is another good one if you want to get off the man-made paths and let the kids feel like they are actually having a little bush walk.
Bush Tucker Trail 660m (return)
This would be considered the *hardest* of the 5 tracks. It has some rough surfaces; steep inclines and less signage than the other tracks. You can get to it from the Coal Creek Walk towards the Brisbane River. It is more suitable for more experienced walkers with bush walking experience and average fitness levels. It is not a long walk though, so it is easy to turn around and return if you are not keen to continue.
It's during these walks that you and the kids can partake in some bird spotting, marvel at the array of plant life, watch leaves travel down trickling streams, listen to the sounds of nature and admire the Brisbane River from the lookout.
Map
You can download a map of the area to help you plan your time at the gardens by clicking on the image below and saving to your phone.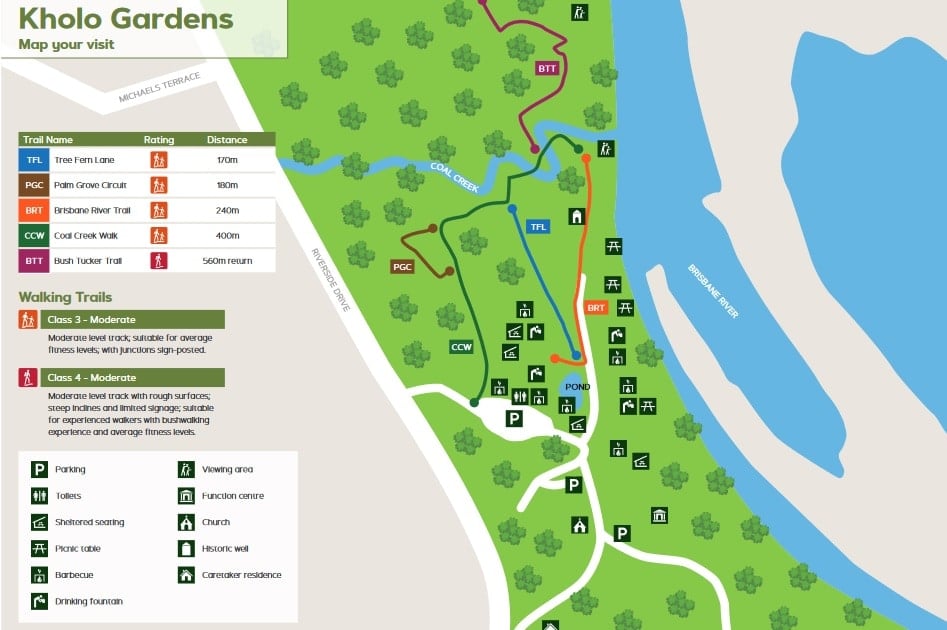 Facilities at Kholo Botanical Gardens
After some walking, animal spotting, history lessons and relaxing around the lily pond, it's likely you and the kids will be ready for a bite to eat.
Kholo Gardens is well equipped with facilities including:
BBQ's,
covered picnic areas,
drinking water,
public toilets.
Just look out for the bush turkeys who wouldn't mind a bite of your lunch, too!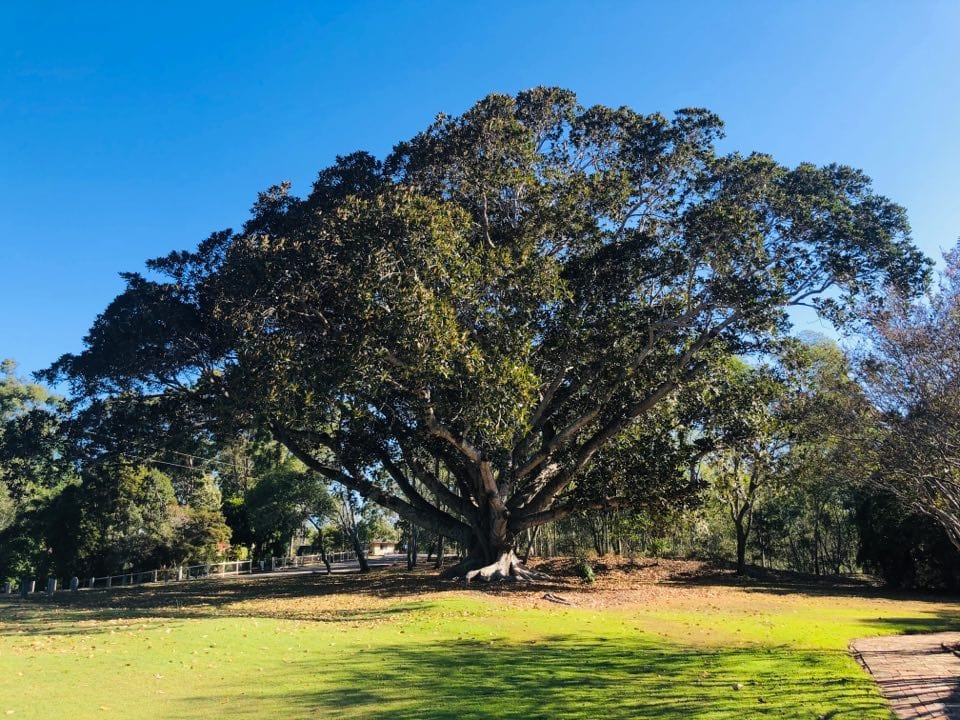 After your food has settled and the kids have regained their energy, there's a huge grassed area perfect for a game of cricket or ball sport. Alternatively, kids will have a great time playing hide and seek amongst the trees that surround the picnic areas. Or if they are keen tree climbers, check out the huge tree in the photo above, on the other side of the church.
If your child is more of a creative type, Kholo Gardens is the perfect spot for amateur photography with loads of great photo opportunities.
Families Tip: Pets (e.g. dogs and cats) are not permitted in Kholo Gardens.
RELATED: If you are looking for a plant nursery that welcomes kids and dogs, we have a list of family friendly nurseries here.
Kholo Botanical Gardens video review


Visiting Kholo Gardens isn't just a great day out with kids, it's a nature and history lesson and the perfect opportunity to get your family out and enjoying the great outdoors.