Kids spell love T. I. M. E!
Our lives are so busy throughout the year. We all want to make conscious connections with our loved ones. They are so important, so loved and so special… but the time evaporates and all of a sudden we are looking down the barrel of Christmas … again.
*My son and I were away overseas for the whole of 2019, so we created these Christmas envelopes with a gift of time for my niece and nephew (who we missed so much!)
Christmas envelopes | The envelopes that gift T.I.M.E
Last Christmas, my son I sat down together an created for my niece and nephew an 'Envelopes of Time' box, with 12 envelopes in them – one for each month of the year. In each envelope we wrote a short note on a card and inside the card we are gifting them an 'experience' for them to spend TIME with their parents. These are gifts that actively create a special outing every single month so that the kids can spend TIME with their parents… with love… from me and my son!
There are free activities and paid for activities (for some I used discount vouchers/*Groupon or Scoopon etc), and everything in these envelopes gifts time with their parents each and every month.
These are my ideas, for around Brisbane where we live. Some of these ideas are for things they have done with us before, some are brand new experiences for them.
Here are my 12 Christmas envelope ideas to gift T I M E to kids next year.
January – Wheel of Brisbane & swim at South Bank
In January's envelope, seeing as it is still school holidays, I found a cheap deal for a ride on the Brisbane Wheel at South Bank. I know it has been ages since they have been on a ride up there and I found a great offer on *Groupon right here. After I printed out the voucher and put it in the envelope, I wrote a note and suggested they pack their swimmers and enjoy Streets Beach while they are in there too!
February – Eat Street Markets
How long has it been since you have been to the Eat Street Markets? In their February envelope I printed out some information from the Eat Street website and put in $10 each. What I love about this outing is that kids 12 years and under are free and parents are only $3. I wonder what they will buy? In their card in this envelope also asked them to send me a photo of them with their food!
You can find out more about the Eat Street Markets here.
March – Movie of the kids choice at Event Cinemas
Who doesn't love a good movie?! Did you know you can buy gift cards for the movies? You totally can!! I found them here. (You can even buy your candy and popcorn vouchers there too!)
The kids March envelope of time contains a family movie pass for their whole family! #winning (You can find out what is on for kids at the movies right here!)
April – Urban Xtreme pass
I've taken the kids to Urban Xtreme in Hendra twice now and they are totally addicted. For those that don't know, Urban Xtreme is an indoor adventure park with skiing, trampolines, laser tag, ninja warrior & parkour course, a tots indoor playland and more.
In April, my niece and nephew will get the opportunity to go to Urban Xtreme with their parents and enjoy the park for 2 hours. You can read more about Urban Xtreme in our detailed review.
May – Strike Bowling – Wintergarden
Our friends at Strike Bowling helped me out with this one. Strike Bowling is located in the Wintergarden on the Queen Street Mall in the city and gifted us some bowling passes for my niece and nephew! DO keep an eye on our Facebook page, because we often give prizes away for families to win there.
If you don't want to leave it to chance, you can book in your own bowling session (or even laser tag) at Wintergarden Strike Bowling here.
June – Brisbane Arts Theatre – Children's Shows
Another place that 'it's been too long' since we went. The Brisbane Arts Theatre have a fantastic calendar of Children's Shows for 2024 You'll find it difficult to choose! 
They would have loved them all….. you can find out more about the children's shows at the Brisbane Arts Theatre by clicking here.
July – Sea Life Mooloolaba
Yippeee!!! Both Miss 7 and Master 9 love sea creatures. So in July they are going to hang out at SEA LIFE on the Sunshine Coast!
Check out the prices of tickets to SeaLife here.
Did you know?
SEA LIFE Sunshine Coast is a multi-award winning visitor attraction for a reason. There's no other place on the Sunshine Coast that can take you on an amazing journey from the coast to the depths of the ocean and get up close to over 10,000 creatures!
Sea Life is great in all weather – they are completely undercover, so, whether you're looking to escape the Summer heat or get out of the rain, you will not find a more interesting place to spend a few hours of your day. You'll be mesmerised as you walk through Jellyfish Kingdom and entertained by the playful residents at Seal Island. They are also the only place in Queensland where you can go and see the majestic Grey Nurse Sharks in their Ocean Tunnel. The kids are going to LOVE this day out!!
For more information visit their website.
August – Bribie Island Butterfly House
Because I know they don't go to the EKKA on the Wednesday ('People's Day'), this is the perfect opportunity to go to the Bribie Island Butterfly House. It's only open on Wednesdays and Sundays from 10am – 4pm … too perfect! Missed 8 is obsessed with butterflies and bugs, so she will especially love this. I popped in $17 in each envelope (a family pass is $34 for 2 adults and 2 kids) with a flyer from the Butterfly House.
I've also suggested they go to Woorim Beach for a free splash at the beach if it is warm enough and a play in the nearby playground. Find out more about the Butterfly House here and more about Woorim Beach and playground here.
September – The Tamborine Mountain Scarecrow Festival
The Tamborine Mountain Scarecrow Festival is an annual event to celebrate the great lifestyle on the Mountain. It is essentially a huge Sculpture Show with the subjects being Scarecrow related!
They have NEVER been to this event, but often talk about making the trip. So in September (usually around the middle of the month) I have suggested they go there. I've printed out some information for them and a map of the area.
There are a bunch of activities on all weekend and on the Saturday night there is a Scarecrow Lantern Parade… it looks epic and I can't wait to see their photos!
October – Karawatha Forest & Discovery Centre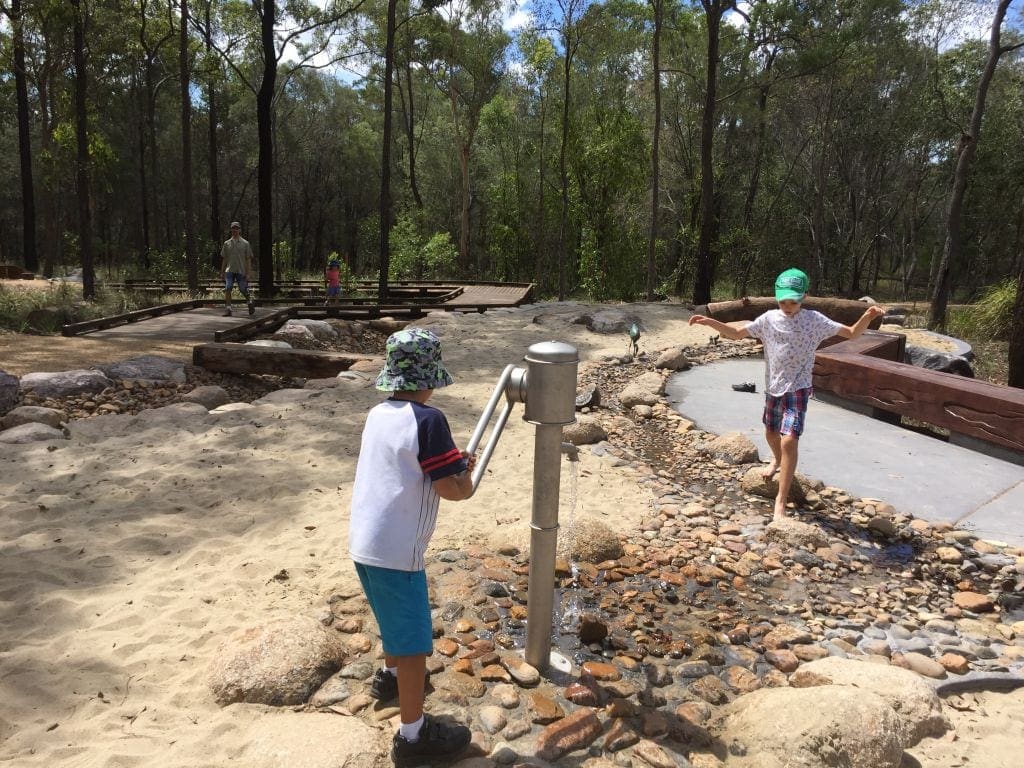 We love, love LOVE the Discovery Centre and playground at Karawatha Forest on Brisbane's Southside. They love bush walking too, so this is their October suggestion – a picnic, a play and a bushwalk at Karawatha Forest & Discover Centre. We've been before, a few times, but not for well over a year. Check out our video from when we were first there – click here.
November – Kondalilla Falls
By November it is going to start getting hot again… so another place we love but haven't been to in ages is Kondalilla Falls. Located just over 100km north of Brisbane, near Montville, in the Sunshine Coast hinterland. Its is a beautiful natural and serene place to explore with the whole family and being reasonably close to Brisbane it is perfect place for a day trip.
I have printed out a map and some information from our website and suggested this as their November outing to spend some family time together. Here is our video review from a previous visit.
December – Victoria Park Mini-Golf
Victoria Park is one of our 'happy places'. I have saved this one until last hoping we will be back in time to join them! I want these guys to enjoy a morning outing of mini golf and a play in the playground and with the giant games and jumping castle. The grounds are so beautiful and the mini-golf course is arguably the best in Brisbane – with fantastic views of the city! Adults play mini-golf at kids' prices when you play as a family!!
Another great thing is that there is a tonne of free onsite parking and a yummy bistro. I hope we can be back in time so that we can enjoy this trip with them. Find out more about Victoria Park family friendly activities here.
You can make Christmas envelopes too!
It doesn't matter what you put in the Christmas envelopes! As long as the kids get to spend time with their special adults throughout the following year, they really wont care what the activity is as long as it is with you!
I found the boxes and the envelopes at a 'cheap shop' – the boxes were $2.99 and the envelopes with cards were there too for $3.99.
Let me know if you are going to create Christmas envelopes too… I'd love to know what you included and how your kids reacted. I am SO excited for Christmas Day now! (I think I will probably let them open January's Christmas envelope on Christmas Day so they get the gist of what kind of surprises will be happening for them each month!)
Now to start on their Christmas Eve boxes…
Merry Christmas everyone!