DISCOUNT VOUCHER: Urban Xtreme – Ski, Jump, Laser Tag and Play in Hendra!
18/08/2018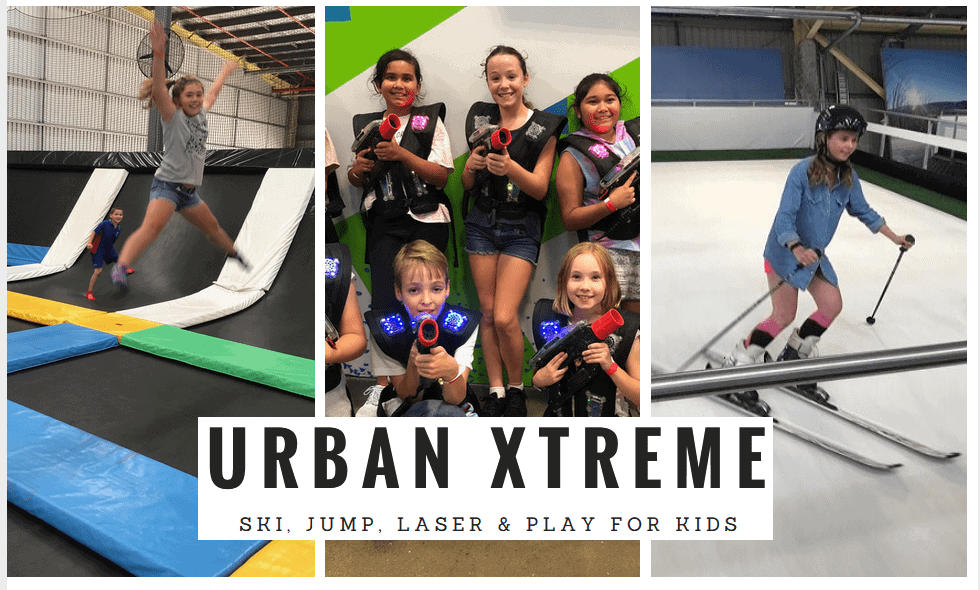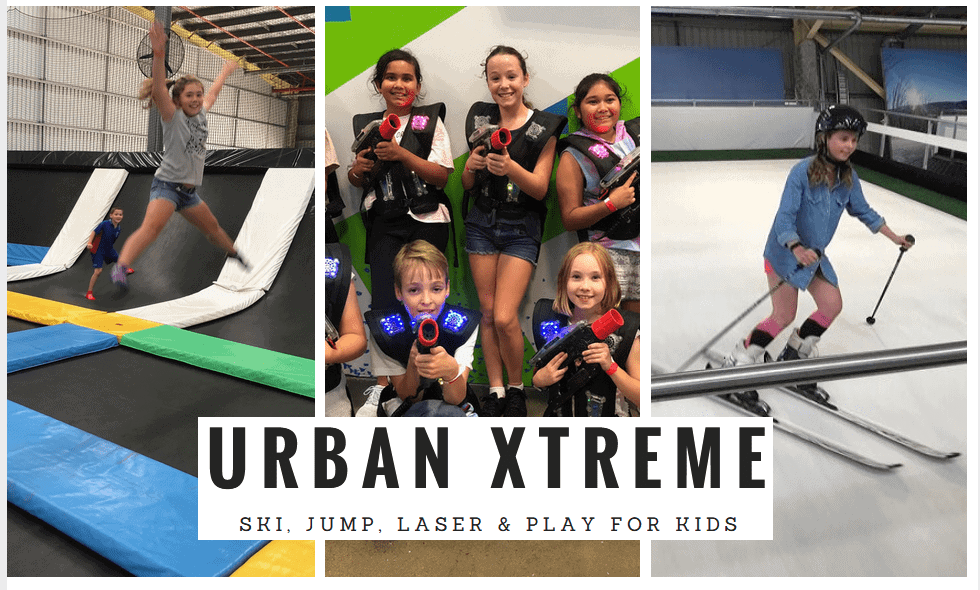 Urban Xtreme is here, it's in Hendra and it's the hottest place to chill out on the snow, bounce on their indoor trampolines and laser tag and play to your hearts content!!
Not been yet? Come on in and get cool, man… we went for an EPIC tween birthday party, but here's the skinny on what is open right now!!
Is Urban Xtreme suitable for families with kids?
It sure is! Here's what you can do at Urban Xtreme…
Indoor Skiing – Xtreme Ski
Head to 4/370 Nudgee Road, Hendra for the chillest time this side of Thredbo. This is Australia's largest indoor snow and sports centre and it's now open to the public!
Families Tip 1: I really struggled to find the venue – so take note: Put the address in your sat nav/phone and when you are directly across from the Hendra Polic Station's driveway it is on the other side of the road. Drive down the long driveway and turn left. THEN you will see it!!
The best thing about Urban Xtreme is that it offers Sunshine State families the chance to have a go at skiing and snowboarding without the requirement of expensive (and super heavy!) snow gear. The dry ski slopes are perfectly designed to help you learn these skills WAY faster than you would on real snow – without the snowburn, dehydration, lifts, queues OR freezing cold weather. Achoo!
Urban Xtreme lets you practice inside machines that give you a half hour of skiing and snowboarding time on revolving slopes. If you were to do this in the real world, you'd be covering more than 20,000 vertical feet! (Yikes!)
Indoor trampoline park – Xtreme Jump
We were so lucky to have the trampolines included in our party because the Xtreme Jump Trampoline area is NOW OPEN and ready for non-stop action. Prepare to bounce, flip and jump your way to exceptional fitness and fun. The kids loved bouncing, playing and soaring on the over 500m2 of interconnected awesomeness! They played dodge ball and other trampoline games with the staff during out visit!
The trampolines are suitable for ages from 4 to adult so you should definitely consider this options for ages other than tweens!
Families Tip 2: Use code FAM20 at checkout for 20% off  Ski & Snowboard sessions, Park Passes & Playland entry & Totts. NOT available in school holidays!

Indoor laser tag – Xtreme Laser
This is truly EPIC!! Featuring a multi-level Laser Tag arena, and the worlds most advanced "Helios" Laser Tag system, we took our kids to Xtreme Laser to celebrate a birthday recently. It was dubbed 'the best part of the birthday party' by the 10 kids we took to try it out!! The Xtreme Laser course was so much fun for the kids to run around hiding and seeking with their birthday party compadres!
Coffee and snacks?
Families Tip 3: Head to the cafe while the kids are bouncing or lasering…
When is Urban Xtreme open?
Opening times are:
Tuesdays – Fridays: 4pm – 9pm
Saturdays: 9am – 9pm
Sundays: 9am  – 7pm
Families Tip 4: Go on a week day after school – it was SO QUIET but I assume it won't be forever, so be quick!!
Discount voucher for Urban Xtreme
Use code FAM20 at checkout for 20% off  Ski & Snowboard sessions, Park Passes & Playland entry & Totts.  See their website here.
Other activities for kids at Urban Xtreme
They are also going to be opening Xtreme Playland (indoor climbing frame for kids), Xtreme Climb (bouldering walls) and Xtreme Ninja…. watch this space for more information as we find out!