Where to take kids in Logan | Days Out You May Not Have Thought Of!
10/06/2017
Want to know the best places to take your kids in Logan?
The City of Logan is a thriving hub of family-friendly and children-oriented recreational opportunities. Whether you enjoy visiting indoor recreational facilities, partaking in outdoor adventures, engaging with nature or simply relaxing in beautiful parklands – this city has something to offer for all members of the family.
Where are the best places to take kids in Logan?
Let's see…
Inflatable World Beenleigh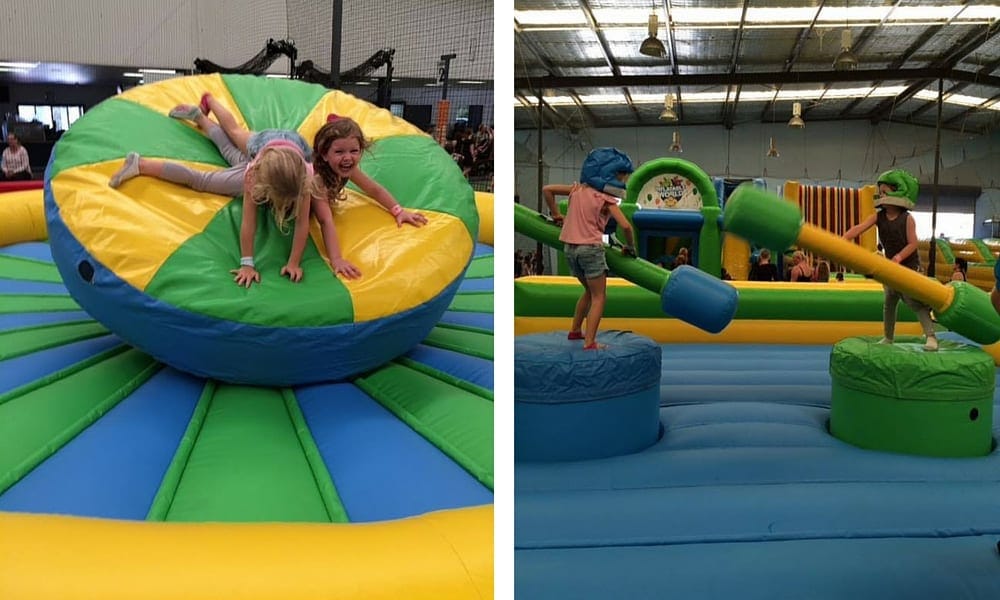 Bounce along to (5 Thorsborne Street, Beenleigh) to find numerous inflatable jumping structures, obstacles and a vertical Velcro grip wall. Unlike other play centres, parents and carers can join in the fun! Sessions are for two hours per single entry fee. Please note: this venue only operates weekends during the school term.
Rainbow City Children's Playcentre and Café
Head to (Unit F, 5-15 Lapis St, Underwood) to find a city themed centre designed specifically for children under the age of 8 years. It features 4 designated play areas, including a fenced baby area, fenced junior area, jumping castle and a large playground. An onsite café and free Wi-Fi access are available for all patrons. See what it is about Rainbow City that makes kids in Logan go crazy!
Hills Golf Course
This awesome venue (Lot 4 Johanna St, Jimboomba) offers an 18 Hole Mini Golf Course. Night Time Mini Golf also available (pre-booking essential).
Chipmunks Playland & Cafe Underwood
This absolute pick-of-the-litter is at 39-45 Compton Road, Underwood. It features a fully fenced baby recreational area, fenced playground area for children under 5 years of age, a large inflatable jumping castle and a multi-tier playground for older children. Three fenced amusement rides operate for an additional cost. An onsite café and ample dining tables are available for all patrons. Find out about all Chipmunks Playland & Cafes across Brisbane here.
AMF Loganholme
Head to Cnr Pacific Hwy and Bryants Rd, Loganholme to find 20 lanes for bowling, 26 arcade games and laser skirmish options. It is fully air-conditioned with an onsite licensed cafe. An awesome spot for kids in Logan to spend some quality time in a family friendly environment.
Kingston Park Raceway
This HECTIC family-friendly venue boasts over 100 karts – 6 levels of go-karts on 3 separate and specifically designed tracks. Suitable for children over 5 years, this facility also features amusement rides, bungee jumping, and an onsite cafe.
Daisy Hill Koala Centre
This is a dedicated koala education facility with a large outdoor koala enclosure and various indoor interactive displays and activities. Raised walkways through the surrounding trees allow for viewing of koalas from two different levels. More adventurous guests can climb an observation tower to experience a koala's view of the world. Read all about Daisy Hill Koala Centre here.
Bayside Aqua Park
Set course for 80 Ferry Road, Carbrook, to experience an array of inflatable obstacles and sporting equipment. Suitable for children over the age of 3 years, life jackets are provided and included with entry fees.
Also located at this address is the Bayside Wake Park, a full sized cable park for all ability levels. Children over the age of 3 years can enjoy wakeboarding, wake skating, knee boarding or skiing with trained staff. A fully licensed kiosk, veranda and BBQ area overlook the lake.
The Australian Shark and Stingray Aquarium
Head to 49-51 Beenleigh Redland Bay Rd Loganholme! This place has only recently opened within the grounds of Nielsen's Native Nursery. Patrons can stand in the shallow water of a lagoon to pat 10 different species of animals – including baby sharks and stingrays. You can watch our video review here.
Logan Model Engineering Society Inc
Located at 16 Netball Drive, Woodridge. Here you'll find miniature train rides on the second and fourth Sunday of each month. Children 5 years and under must be accompanied by an adult (supervising adult rides for free) and enclosed shoes must be worn.
Kerenza Korostovetz is the primary content writer and owner of Go Duckling – a quality family guide to the City of Logan and surrounding areas.
Go Duckling provides information to parents and educators of relevant events, places of interest, activity programs, classes and services.