Swimming is an excellent activity for fun and fitness. It exercises the whole body and provides a gateway to a huge range of water-based activities. Not only that, swimming lessons are fun and learning to swim can save lives!
At what age should swimming lessons start?
There is no age limit to learning to swim, but starting young can lead to a lifetime of healthy habits.
Babies are surrounded by water in the womb, and warm gentle baths are an excellent way to maintain a baby's affinity with water in the early months before swimming lessons can begin. Most babies find the buoyancy and movement of water soothing – and many parents agree that a calm bath before bedtime can help their baby sleep.
In Australia, babies can begin water confidence and swimming in some programs from around 4 months of age. Classes are small and a parent or guardian must be in the water in full supervision of their child throughout.
From around 3-4 years of age, children can begin formal swimming lessons without their parent/guardian in the water with them.
What will my baby/toddler learn?
Babies and toddlers will begin by learning water confidence. This includes:
controlling breathing
floating without ingesting water
turning unaided
independent propulsion
Water confidence and the cross-lateral movements associated with swimming have the following added benefits too:
improved muscle tone
increased cognitive ability
improved coordination and balance
better sleep and appetite
Formal swimming lessons
Once your child has gained sufficient water confidence and mastered the above basic skills, formal lessons can begin.
Formal lessons will teach your child a variety of swimming strokes and different breathing techniques. Lessons are designed to be fun, and can lead to squad training if your child wants to focus on the advanced skills of competitive swimming.
When should swimming lessons stop?
Accidents around water can happen in any season and at any age, and taking a break from lessons over winter can lead to a loss in water confidence and skill. Maintaining lessons all year round ensures your child retains and reinforces their swimming ability, and with all the other social and fitness benefits of swimming lessons, why would you ever want to stop?
Choosing a swimming school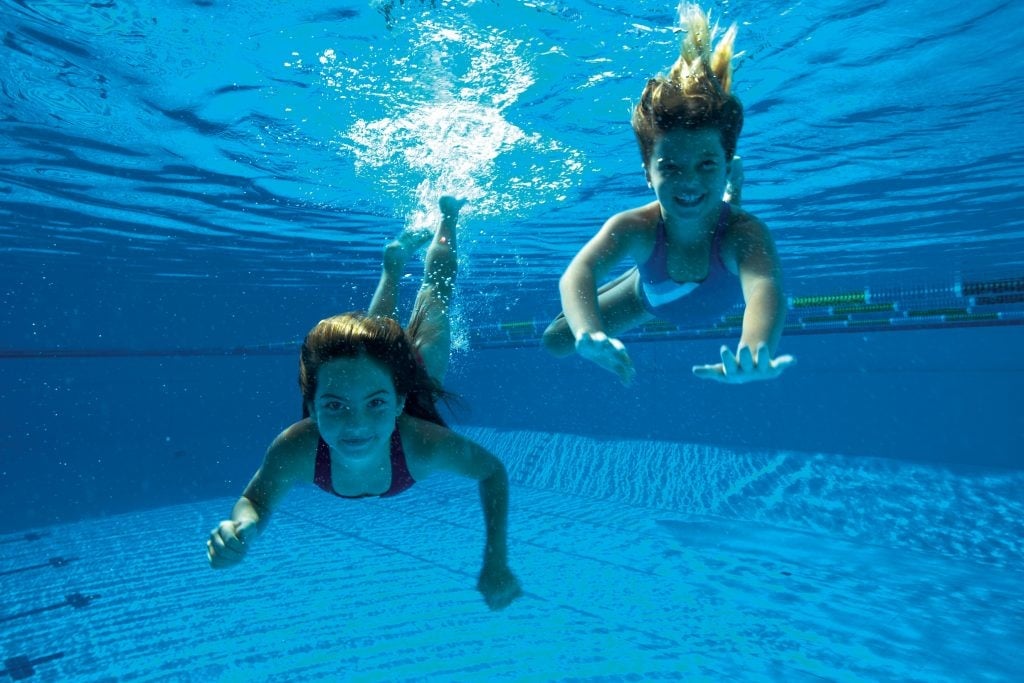 Choose a swim school with a great reputation and friendly staff. Reviews and word-of-mouth are a good place to start.
The pool should be well maintained with clean, safe facilities and a comfortable water and air temperature.
Don't be shy to ask about qualifications. Are the staff well qualified and experienced? Do they hold Blue Cards? Do the instructors hold a current Cardiopulmonary Resuscitation certification?
Swimming lessons shouldn't be stressful. A school with a child-centred philosophy recognises that every child is different, and that some may need more time and encouragement than others. Think about your own child's needs, their social confidence, and ability to focus when deciding on the right swim school for your family.
Learning to swim as an adult
If you are an adult lacking in water confidence, swimming lessons are available for you too. Swimming is ideal for building muscle tone and improving aerobic ability. As a non-weight-bearing exercise, it's perfect for those recovering from injury or with bone and joint problems.
Getting into the pool with your child, or splashing at the beach, is great way to play and bond – and learning to swim means you can join in with confidence!
This article was featured in Issue 42 of our printed magazine, published October 2020.