Kids will love journeying to a place in the past where washing took hours and classrooms were super strict when they visit the Beenleigh Historical Village and Museum.
Journey back in time
In today's world kids are used to instant gratification and classrooms are packed with technology and colourful charts and games. Washing and dishes are cleaned by a machine and food is cooked using electricity.
At the Beenleigh Historical Society and Museum you'll be thrust back in time to a place where washing is done by hand and milk comes from a cow not a container and colourful pens and pencils that smell nice weren't even imagined.
What is on display at the museum?
You'll see is a collection of early Australian heritage organised as a village, which visitors are welcome to explore. The society is dedicated to preserving the cultural legacy of the old Beenleigh region for current and future generations.
For example, kids will get a kick out of seeing tinned food, cramped sleeping quarters, a house that has two rooms and sleeps four and an outhouse where toileting is done. The old post office with a collection of typewriters and computers is always a favourite.
What buildings are on site?
You can see the old St. George Anglican Church, The Beenleigh Council Chambers, Willkie's General Store, the old Dodge fire engines, family homes, the Loganholme One Teacher School, the Post Office and much more.
The extensive collection has been either donated to the village or are the original products/items belonging in the homes that are on site. There's also a range of machinery and blacksmith set up as well as a milking shed and farm shed.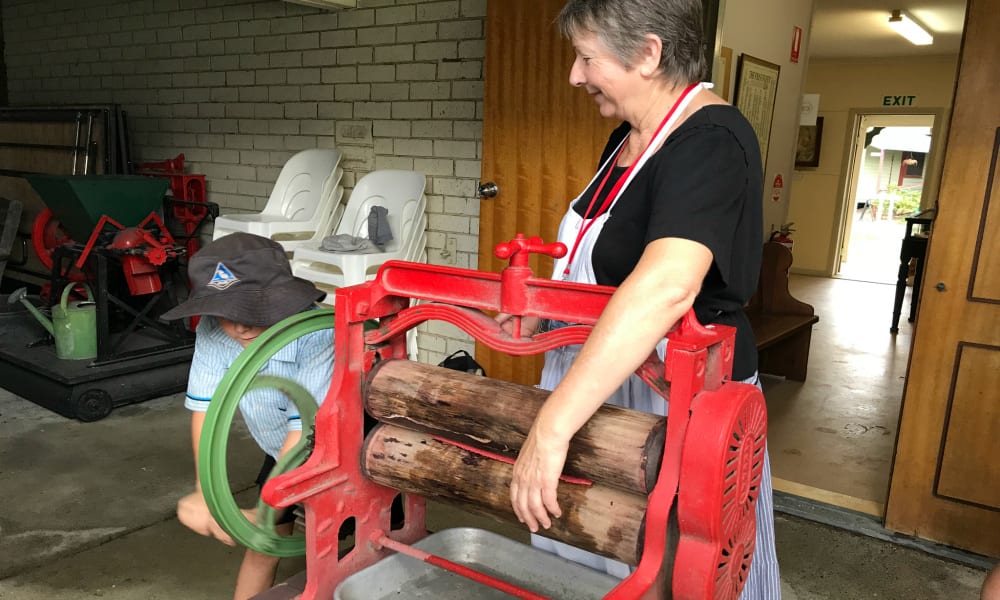 Will adults enjoy Beenleigh Historical Village as much as kids?
Yes, some might love it MORE than children because chances are they will have seen some of the collection in their grandparent's possession at some stage.
Probably children who are about seven or eight will appreciate visiting this historical village, any younger and they might not understand its significance.
Kids will love visiting visit more than 20 heritage buildings filled with original items used by those who lived in the 1860s and onward. Once you explain about each of the items on display they will be amazed at how things have changed.
The 1800s school room is quite a shock to the system, with slates and the uncomfortable wooden bench seats. On the walls are rules of the classroom and there's even a dunce hat!
It's also the popular tourist destination for schools to visit, and usually volunteers bring out an old fire truck, complete with siren. Kids are allowed to can take turns using the fire house and learn about how they fought fires back in the day.
Is there food and amenities available?
A recently refurbished eatery, The Village Cafe, now opens the same days and times as the historical village. It services breakfast and other meals as well as coffee, tea and cold drink – and of course scones and jam!
For those art lovers at the Beenleigh Historial Village, The Gallery in the Corridor is open seven days; here is a range of professional artwork by locals that's for sale. Just be warned if you've got younger kids it might be worth carrying them as the artworks are very inviting but shouldn't be touched.
The Essentials
Adults $8, concession card holders $6 and kids $4
Yearly pass is $12 per person, $24 for two adults and two kids
You can hire MP3 player to take a self-guided tour of the village
Volunteers are usually nearby to answer any questions
The village is open seven days from 9am to 3pm
Closed on Christmas Day, Good Friday, Easter Sunday and ANZAC Day
Pram friendly area with toilets onsite
Eftpos facilities are available
Group tours and school excursions available
Village can host car and bike clubs, and special functions such as weddings
Where exactly is the Beenleigh Historical Village and Museum?
It's situated at 205 Main Street, Beenleigh. The village is easy to access and is right beside the South East Freeway in Logan City.
Logan is halfway between Brisbane and the Gold Coast.
To get more details call 3382 0608 or visit the village's website here or Facebook page here