Strawberry Picking Brisbane! It's almost a rite of passage for kids. So if you are you looking for the best places to go strawberry picking Brisbane has to offer, we know all of the best places to go!
We're lucky to have so many local strawberry picking farms right on our doorstep. Prepare yourself for juicy, ripe, sun-kissed strawberries just begging to be dipped in cream or chocolate. Plus the kids just love the concept of *pick your own strawberries* in Brisbane.
This article will detail where all the best strawberry picking Brisbane day trip options are and is a local's guide to strawberry farms Brisbane.
Find a strawberry farm Brisbane – pick your own!
There are 6 places to go strawberry picking around Brisbane:
Rolin Strawberry Farms Elimbah
McMartin's Strawberry Farm
LuvaBerry Farm
Chambers Flat Strawberry Farm
Cooloola Berries
Oasis Berries
How can you make sweet, juicy and delicious strawberries infused with Queensland sunshine even better? Pick them yourself with the kids! Check out all the amazing pick your own strawberry farms Brisbane has to offer and add it to your *days out from Brisbane* bucket list!
Not only do you get to take home your own freshly picked strawberries and pink juicy grins, but you're getting your family out of the supermarkets to see where real food comes from. Turn your strawberry picking adventure into a home kitchen science lesson and dust off your favourite jam, shortcake or choc dipped strawberry recipe when you get home.
There are several strawberry farms near Brisbane that allow you to pick your own strawberries. Most cater for family visits with cafes, toilets and even play areas. Prams and strollers will easily maneuver through the rows of strawberries but the ride may get a little bumpy! Wheelchair access to pick strawberries is limited.
When is strawberry season in Brisbane?
Strawberry picking season in Brisbane is generally June to November each year. The season can vary slightly depending on the weather so if you're planning a strawberry picking adventure early or after mid-October it's a good idea to phone beforehand to avoid disappointment.
Entry is mostly free and you're charged per kg for your freshly picked strawberries. The cost varies throughout strawberry season and is generally cheaper in the warmer weather when strawberries are at their peak.
Where to go strawberry picking Brisbane
Whilst there are not any strawberry farms right IN Brisbane, we have rounded up all the strawberry farms near Brisbane and mostly they seem to be to the north (except one). Below are our picks for Strawberry picking north Brisbane.
Rolin Strawberry Farms Elimbah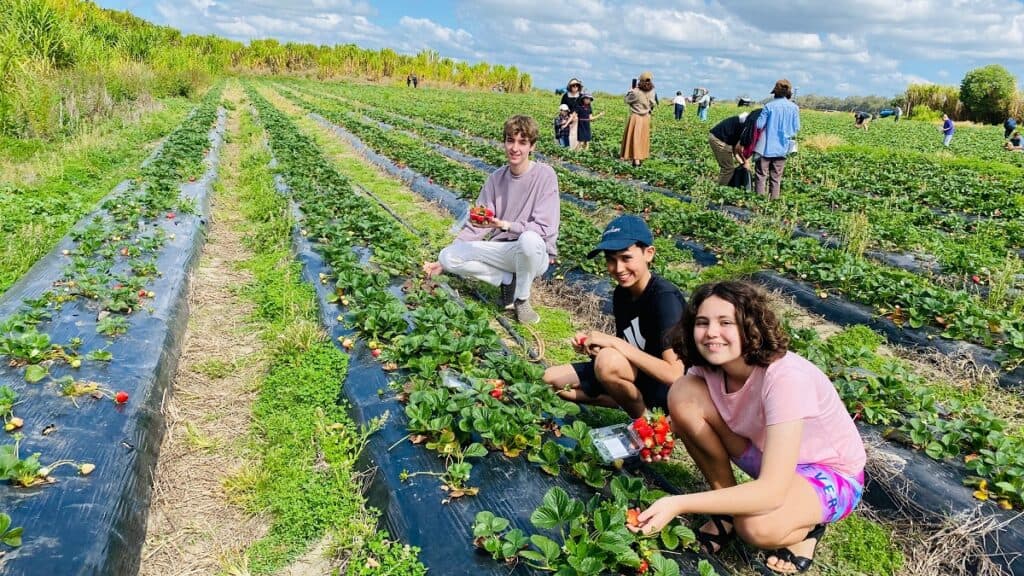 124-190 Rutters Road, Elimbah QLD 4516
Phone: (07) 5497 4253
Rolin Farms on the Sunshine Coast, about 12 minutes up the road from Caboolture (45 minutes north of Brisbane), is THE places to pick your own strawberries near Caboolture.
It is open every day from 8:30am to 4pm on weekdays and 8am-4pm on weekends during strawberry season (June through October) [Please note: Opening hours for the 2023 season haven't yet been confirmed, so be sure to check before you travel].

You can pick-your-own strawberries usually from mid-August and September, so be sure to check with them for the latest updates.
They cater for bus tours, playgroups, school visits, birthday parties and even weddings. During school holidays there are fun, inspiring and healthy strawberry-themed activities organised for the kids. There is a strawberry farm Brisbane store that sells pre-picked strawberries, homemade strawberry ice-cream and chunky home style jam. There's also a playground available for the kids and onsite car parking which can accommodate buses and large vehicles. Find out more about Rolin Farm here.
McMartin's Strawberry Farm
Lot 7, 105 Sports Road (next to Maroochy Wetlands), Bli Bli QLD 4560
Phone: (07) 5448 4912
They're offering limited pick-your-own strawberries (at the time this post was updated) or buy from the stall between 9am – 4pm, Tuesday to Sunday. Check back for updates through the season as things change. The farm is located on the Sunshine Coast just outside the town of Bli Bli on your way to the Maroochy River. Selling strawberries and other fruit and vegetables when available. Home-made gourmet ice creams and jams, Devonshire tea, souvenirs and much more. This is another great strawberry-picking Sunshine Coast option for families.
Find out more about McMartin's Strawberry Farm here.
LuvaBerry Farm
Ziviani Road, Wamuran QLD 4512
Phone: 0417 741 692
Looking for a more intimate strawberry picking experience? LuvaBerry's family farm is the answer. Located 15 minutes out of Caboolture, during strawberry picking season LuvaBerry is open every weekend (weather permitting). Pick your own slots can be pre booked from 9am to 3pm.
They offer Peckish Picking- where you can eat as many strawberries as you like in the field (price includes a box to take home as well), and a Farm Gate stall selling lots of other fresh local produce from jams and chutneys to avocados and ice creams and even do morning yoga! A great day out for kids and adults alike, with complimentary farm tours available plus tea, coffee and locally made biscuits! If you are looking for a strawberry farm Caboolture style, this is it! You can also buy freeze-dried strawberry goods to keep you going when the strawberry season ends.
Picking costs $16.50 per adult, $10 per child (5 – 12) and $5 per infant (2 – 4 years) which includes eating in the field and 500g eco box of juicey strawberries each (you can pick more and will be charged by the kilo at the end). You can prebook your Peckish Picking tickets online as spaces are limited.
Find out more on the LuvaBerry website.
Chambers Flat Strawberry Farm
912 Chambers Flat Road, Chambers Flat QLD 4133
Phone: (07) 5546 3652
Located in the Logan shire area of Brisbane, Chambers Flat strawberry picking is run by third generation strawberry farmers. At the Chambers Flat Strawberry Farm Brisbane, you can pick your own juicy strawberries from their beautiful fields or buy them freshly picked along with jams and other strawberry delights from their farm store. You simply MUST try their strawberry ice cream! They are HUGE and very tasty with freshly blended strawberries and ice cream. Yum!
Open seven days from June to November including public holidays (pick-your-own is available August, September and October). Opening hours for the farm shop are (at the time of writing) 9am – 4pm Monday to Friday, Saturday and 9am to 3pm on Sunday 10am to 3pm. When pick your own commences (from mid-August), strawberry picking usually finishes 30 minutes before closing time (hours vary through the year, so double check before visiting).
Facilities include: car park, small cubby house for kids, picnic area with some tables, toilets and shaded areas to stop and rest when you're weary from picking strawberries. Visit the Chambers Flat Strawberry Farm Facebook page.
Cooloola Berries
856 Tagigan Road, Wolvi Qld 4570
07 5486 7512
Cooloola Berries is a working farm located on Queensland's Sunshine Coast. Pick your own sweet, ripe, delicious strawberries and blueberries fresh from the farm. PYO strawberries is available from roughly May to November (depending on the season) and PYO Blueberries from December-January each year. Their cafe serving delicious local produce re-opened on 2nd May 2023 and will remain open until 3rd October 2023. It operates from Monday to Sunday from 8am to 5pm.
Visit their beautiful lavender fields which flower most of the year round. The venue is also suitable for weddings, birthdays and anniversaries. You can take tours of the farm too.
This year, the strawberry season is starting late and they hope to commence pick your own in July or August. When it opens, picking is from Wednesday to Sunday.
Twice a year, the farm takes part in the Cooloola Farmers Trail where they open the farm to showcase their farm to the public.
Oasis Berries
434 Bribie Island Road, Caboolture, Qld 4510
0421 166 324
Oasis Berries is a family-owned farm that has been growing and selling sweet strawberries since 1998. Towards the end of the season, you can come along and pick your own box with the family for a bargain price while also eating as you pick (details of this to be confirmed later in 2023). During their annual PYO event, you can enjoy food trucks including the Dagwood Dog Guy, and they sell strawberry ice cream on site. Kids can take part in a treasure hunt with toy prizes worth upwards of $100, and the adults can take part in prize draws too. Find them on Facebook.
Jarvis Fresh Strawberries
Update: No longer offering strawberry picking but still has a shop.
445 Rochedale Road, Rochedale QLD 4123
This farm is gaining popularity. They sell strawberries in containers in the shop, so you won't leave empty-handed. It's a good idea to check their Facebook page to see if they have posted any notes about availability, particularly at the end of the season (typically strawberry seasons are June to October). Remember to take your own container! Find them on Facebook.
The Strawberry Farm Gold Coast
Update: Permanently closed.
1 Pimpama Jacobs Well Road, Pimpama, QLD
Phone: (07) 5546 6245
The Strawberry Farm has operated for well over 20 years and is well known to locals and tourists alike. Old-fashioned service and country charm see people relaxing at this stop for hours. Situated conveniently next to the M1 Pacific Motorway midway between Brisbane and the Gold Coast it proves to be a popular stop for motorists with plenty of parking and amenities available.
Children love the free animal farm as they can walk amongst, feed and be delighted by so many different animals. Delightful treats include the famous "Strawberry Cone" – a giant cone filled with vanilla ice cream, strawberries and fresh cream topped with strawberry ice cream then a dollop of cream and another strawberry!
Twist Brothers Strawberry Farm
Update: Closed to grow turf instead.
447 Chevallum Road, Chevallum QLD 4555
Twist Brothers offered an authentic picking experience set against a gorgeous natural backdrop. Locals and tourists alike rated it very highly in terms of easily picking delicious fresh fruit. This venue for strawberry picking on the Sunshine Coast was a great choice if you were on the way to, or coming back from, visiting other local sites.
Strawberry Fields Palmview
Update: Strawberry Fields closed in 2021.
133 Laxton Road, Palmview QLD 4553 – Exit 190 off Bruce Highway
Phone: (07) 5494 5146
Strawberry Fields farm on the Sunshine Coast is open 7 days a week from 8am to 4pm throughout the year. They offer pick your own strawberries sessions from June to November. This farm is your best strawberry picking Sunshine Coast option.
Strawberry Fields has been a family owned strawberry farm Brisbane since 1980. They run educational tours for school groups and also cater for birthday parties. Kids activities include tractor rides, a playground and hay bale climbing.
Picnic tables are provided so you can relax and enjoy the beauty of the surrounding green country side and manicured gardens while eating lunch. Their café sells a range of scrumptious strawberry themed delights (think fresh strawberry ice cream, strawberries and cream, parfaits, pancakes and more). They also stock a range of local crafts and locally grown produce. Regulars tell us that this is the best strawberry farm Brisbane has to offer for kids and activities!
Brisbane strawberry picking
Do you know of other great strawberry picking near Brisbane options? Let us in on your sweet, sweet secret – tell us below. You can always pick up some delicious strawberries at your local Sunday markets too. If you're open to going further afield you can also check out these Sunshine Coast Strawberry Farms. To celebrate a great day of picking delicious fresh produce, why not blitz up one of these delicious strawberry cocktails!
This article was published in Issue 22 of our print magazine, June/July 2017.