Ekka Rides Prices & Passes | How Much Are Ekka Rides this Year?
31/07/2019
The Ekka 2020 has been cancelled
It is just the third time in the Ekka's 143-year history that the show has been cancelled. It was previously cancelled in 1919 due to the Spanish Flu epidemic and in 1942 when the grounds were used as a World War II staging depot. The Ekka looks forward to bringing the community together once again in 2021.
Missing your showbags? Find out where to buy showbags online here.
Will we still get the Ekka holiday in 2020?
The answer is YES! We WILL still get the Ekka Wednesday show day in Brisbane.
The EKKA holiday for Brisbane City Council area will be Friday 14th August, 2020.
Ekka 2019
The Ekka comes but once a year and Ekka rides and Ekka ride passes are one of the best things about the show!
We have the low-down on all Ekka prices and passes on offer in 2019! We also hot hot tips on discount Ekka ticket prices 2019 here. As always if you PRE-PURCHASE your entry tickets and ride passes you will save money.
We've listed the SINGLE PRICE cost of each ride, but many offer bulk buys – eg $10 each but if you buy 4 tickets it is $35. This will keep you Ekka cost down when you buy in bulk.
Super Ride Tuesday & Super Food Sunday 2 for 1 days – 2019
This means families can purchase 2 for 1 rides on Tuesday 13 August and 2 for 1 food items on Sunday 18 August.
Super Ride Tuesday – 2 for 1 rides on Tuesday 13 August at participating rides between 10am to 5pm. Claim at ride.
Super Food Sunday – 2 for 1 food items on Sunday 18 August at participating outlets between 10am to 5pm. Claim at outlet.
Super Seniors Day
Adding to the great value on offer in 2019 are the three super saver passes, including the new Super Seniors Day on Thursday 15 August.
Seniors will get a ten per cent discount on their $25 pass online, plus there is increased seniors entertainment including performances by famous singers Normie Rowe and Jackie Love.
Ekka Ride Passes for 2019
Last year the Ekka created an Ekka ride card so you could purchase more rides for less money. As far as we know, the Ekka is NOT doing an Ekka ride pass again in 2019. But as we said above, you can buy Ekka ride tickets in bulk from the rides directly to gain cheaper show rides.
Ekka Rides 2019 and Ekka Ride Prices 2019
Ekka 2019 rides are an awesome selection available for every type of Ekka enthusiast – from the gentle kids rides, to the hair raising thrill seekers, we've listed them below.
There are two areas where you can find the Ekka rides. In the 'Kids Carnival' area and the main Sideshow Alley. We've divided them below into these areas:
Kids Carnival rides and prices at the Ekka
These rides are designed especially for families and children and are located in a separate area called 'Kids Carnival' away from the larger Sideshow Alley area (see below).
How much are rides at the Ekka?
Here is a list of Ekka rides prices for 2019:
Auto Bee Ride
Price: $6
Kids will love this ride – and you won't mind it either! Sit back and enjoy the thrilling ride.
Wizards Flight
Price: $6
A whiz of a ride!
Outback Monster Trucks
Price: $6
Take a bumpy ride in a mini monster truck.
Cars4Kids
Price: $7
Let the kids take control! Like no other dodgems in Australia, younger kids can ride by themselves in a safe and exciting environment.
Dodgem Cars
Price: $10 per car
A family favourite!
Enchanted Circus
Price: $8
Roll up to an interactive funhouse featuring three levels of thrills. Kids will perform a balancing act as they cross the vibrating floor and hang on tighter than a trapeze artist as they attempt the rope bridges. Like any circus, the Enchanted Circus in Kids Carnival is a world full of colourful lights and sounds children will love.
Fungee Bungee
Price: $12
Jump in on the fun at Fungee Bungee! Suitable from 3 years and older, these bungy trampolines are enjoyed by all.
Super Bikes
Price: $6
A 'humpy'-go-round motorbike themed ride
Jumbo Flying Elephants
Price: $7
It's jumbo sized fun as the little adventurers enjoy a fun flight on their very own flying elephant. They control just how high they go as they fly around and around.
Jurassic Coaster
Price: $7
Take a journey back to the Jurassic age on the Jurassic Coaster Ride!
Kids Carousel
Price: $6
The family will be giggling as they go round Ekka's miniature Kids Carousel – with a variety of carriages for kids of all ages.
Mini Kids Ferris Wheel
Price: $7
Tonnes of fun for the little ones! The kids will love the Mini Kids Ferris Wheel as they experience the great thrill in being elevated.
Rockin' Tug
Price: $7
Explore the seven seas on the Ekka's Rockin' Tug – feel the fun of the waves as your rocking and whirling in a unique combination.
Royal Double Decker Carousel
Price: $6
Australia's only Double Decker Carousel is a truly breathtaking experience – children and families will love it!
Sea Circus – Fun House
Price: $6
The greatest show under the sea! The kids will love the Sea circus with three levels of special effects, tricks and fun obstacles.
Super Fun Slide
Price: $7 for 3 slides
The Super Fun Slide has three humps of guaranteed fun, with only one speed available-fast!
Super Plane Ride
Price: $6
Fulfill your pilot dreams and jump on in the Super Plane Ride! Each cart is its on mini airplane, and will take riders up, up and away!
Tea Cups Ride
Price: $6
This whirling, twirling attraction could just be your cup of tea! The Tea Cups Ride is always a favourite as it puts the Ekka world in a spin.
Fantasy Flyer
Price: $7
Step up to a dream land on the Fantasy Flyer – riders fly high into the sky, as the family are transported to a place never before imagined.
Wave Swinger
Price: $8
Prepare to be lifted up and away in the Wave Slinger! This beautifully decorative ride will have you holding on to your hats as it swings around – fun guaranteed for the little thrill seekers.
Race-o-Rama
Price: $7
Race around the track.
Sideshow Alley – Ekka rides and prices
This is the main event! This is where all the larger rides are. We've listed the family friendly, kids rides first and then the 'Extreme' rides for dare-devils further down.
Alien Abduction
Price: $8
Alien Abduction guarantees excitement with an exhilarating, action experience that is out of this world!
Big Bubble Bump
Price: $12
Run, crawl, flip and fall in these air filled bubbles of fun! The Big Bubble Bump is a giant inflatable filled with water with giant translucent bubbles that allow you to walk on water!
Break Dance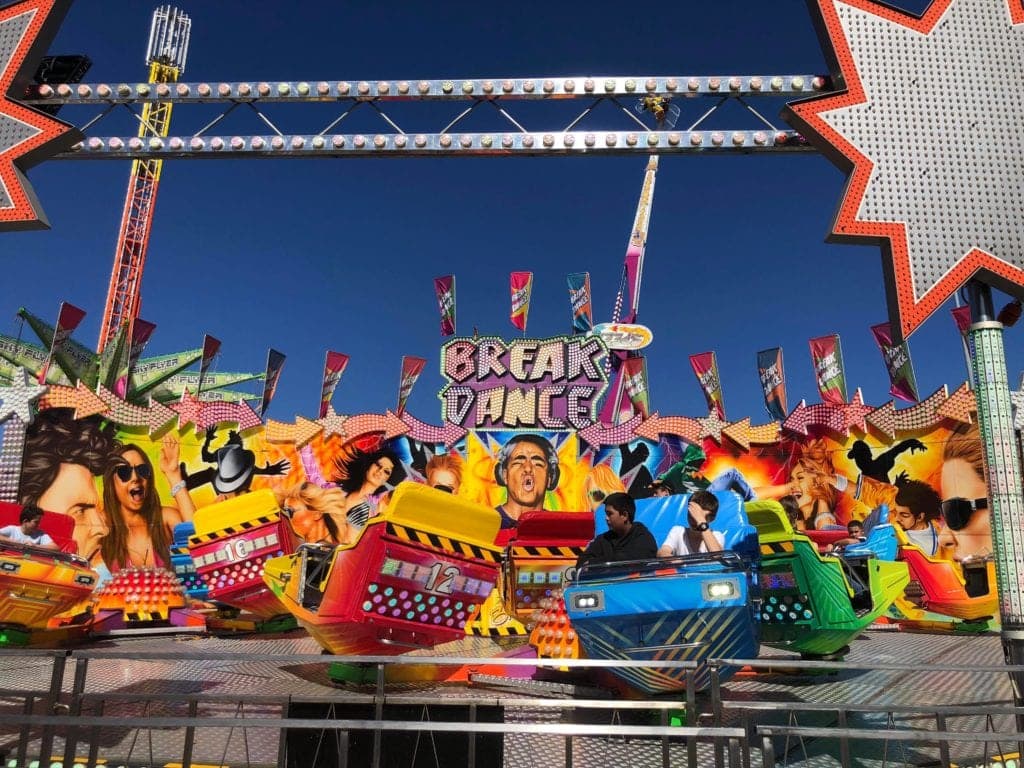 Price: $9
It's time to bust a move as riders spin around to the hottest beats in Sideshow Alley. This feature attraction is loved by people of all ages, from teenagers to adults.
Crazy Spinning Coaster
Price: $10
The only spinning roller coaster in Australia – riders will start on an adventure of turns and steep drops. Adding to the fun, the riders' individual cars will begin spinning as they travel down the track.
Dragon Castle
Price: $10
Australia's newest spooky attraction is sure to scare the socks off even the bravest riders at Ekka. Newly manufactured in Europe, the Dragon Castle ghost train features seven gruesome carts to transport those who dare through two levels of frights. Along the creepy journey they'll encounter crazed criminals, mad scientists and plenty of blood and gore! The 21 metre wide, 10 metre high Dragon Castle comes with the latest in hi-tech animated, visual and audio spooky effects.
Euro Slide
Price: $10 for 3 slides
It's the biggest slide in the southern hemisphere! Ekka goers will have a smile on their face as gravity pulls them down the eight lane, 48 metre bumpy slide.
Pirates Nest
Price: $7
Ahoy mateys! Climb aboard the Pirate's Nest for an interactive journey, guaranteed to be fun for the whole family. This four storey fun house is packed full of family fun, including an obstacles and an interactive water zone!
Pirates Revenge
Price: $10
Australia's largest award winning and only travelling water roller coaster for the whole family!
Rockstar
Price: $10
With a full 360-degree rotation up to 60 feet, the Rock Star is guaranteed to be a family thrill favourite.
Skyflyer
Price: $10
Get a great view of the Ekka when you soar 35 meters into the sky on the Skyflyer.
Extreme Ride
Price: $10
Extreme Fun, Extreme Action! The Extreme Ride is a ride like no other that is guaranteed to thrill everyone.
Freak Out
Price: $10
This ride is not for the faint hearted. Thrill seekers will literally be freaking out as the ride swings and rotates up to the sky with its long swinging arm and surround sound music.
Hollywood Horrors
Price: $10
Enter if you DARE! Hollywood Horrors is a spine tingling journey, which will have you screaming for more as you turn each corner.
Rock 'N' Roll
Price: $10
Rock out as you go forwards, backwards and extremely fast around the Rock 'N' Roll!
Speed 2
Price: $15
Reaching speeds of 120km an hour, Speed 2 rotates at more than 10 revolutions per minute – the definition of thrill ride!
Star of the Show Ferris Wheel
Price: $9
Sit back and admire Sideshow Alley from Australia's first rotating gondola Ferris Wheel. At more than 32 metres high, riders will enjoy wonderful 360 degree views as they spin in their fully enclosed gondola. The rotation of each of the 24 gondolas is manually controlled by the rider, allowing them to spin at their desired speed. The Star of the Show will certainly shine brightly at Ekka – it features the latest European LED lights with more than 35 colour patterns. Families will love stepping aboard this new Ferris Wheel and being whisked high into the sky.
The Beast
Price: $15
True to its name, The Beast is the largest travelling ride in the Southern Hemisphere – it's 25 metres tall with a swing of 45 metres high and weighs a whopping 86 tonnes. It's bound to get even the seasoned adrenaline junkie screaming as it swings back and forth like a pendulum, getting higher and higher, reaching speeds of 120km an hour!
XSCREAM Soundwave
Price: $10
XSCREAM Soundwave is the closest thing you'll find to a Sideshow Alley nightclub! With bright flashing lights, lasers and the latest music tunes pumping, riders will experience varying levels of g-force as this spinning sensation rocks them around. The ride features nine cars that spin freely over four humps on a moving platform – they'll spin, rise, fall and accelerate fast, all while the ride itself rotates. Each car holds five people, so this ride is perfect for groups.
XXXL Ride
Price: $15
Experience the thrills of Ekka with this adrenaline charged ride. Riders get to experience a g-force of 6.5, just like being in the cockpit of a fighter jet.
Additional Rides at the Ekka
Expo Wheel
Price: $9
The Expo Wheel is always an Ekka favourite – giving a great birds eye view of the Main Arena and Gregory Terrace.
Find out about prices for Ekka Showbags 2019 here