Are you looking for the BEST picnic spots on the Gold Coast?
A picnic is the perfect chance to celebrate a special occasion, catch up with friends and family, or to simply take a break from the everyday chaos while recharging the soul.
Picnic Spots on the Gold Coast: The ones you need to visit
But before you head out into the great outdoors, there's a few things you'll need to organise.
Weather? Check
Finger food? Check
Picnic rug? Check
Cricket bat? Check
Bug spray? Check
Water bottle? Check
Looks like you're all set for a picnic, but where-oh-where are you going to go? With so many picturesque locations on the beautiful Gold Coast it can be difficult to know exactly where you're best off to lay your rug. Beaches, hinterland, countryside, creeks … we really are spoiled for choice here on the east coast.
We've found some of the nicest spots for you to visit that will ensure your picnic day is one for the memory banks.
Picnic Spots Gold Coast
The majestic beauty of The Natural Bridge is a must-see for any Gold Coast local or guest
1. The Natural Bridge
Nerang-Murwillumbah Road, Springbrook
One of the best ways to spend the day is a visit to Springbrook National Park, including the gorgeous natural wonder that is The Natural Bridge. This bridge was formed over millions of years by water tumbling through the roof of a basalt cave, and boy is it pretty. Once there you will find plenty of opportunities to find your own secret spot away from the tourists where you can settle in and relax for the day.
Facilities: An easy 1.5km walking circuit down through the ancient Gondwana rainforest to the Natural Bridge rock arch. There are also picnic and toilet facilities.
258 Ashmore Road, Benowa
Open year round, from 5am to 7pm each day, the Gold Coast's Regional Botanical Gardens is a delight for the whole family. Set on 31 hectaresof lush, beautifully designed gardens, including a playground, sensory garden mountains to mangroves walk and butterfly garden. Just 10 minutes from the heart of Surfer's Paradise, this gorgeous park is definitely one for the bucket-list . Click here for more information bout the Gold Coast Botanical Gardens.
Facilities: Playground, picnic ares, toilets.
3. The Green Mountains
Lamington National Park Road, Canungra
There are many, many beautiful spots to picnic in the Green Mountains (O'Reilly) at the World Heritage Listed Rainforests of The Lamington National Park. Picnic Rock, The Wishing Tree Track … all majestic.
Facilities: The Binna Burra section has a small picnic area and toilet located right near the national park's information centre. A larger picnic area with toilets, tables and electric barbecue facilities is located at the end of the Binna Burra Road next to the main track entrance. You will need to bring your own seating and bags to take your rubbish out of the park.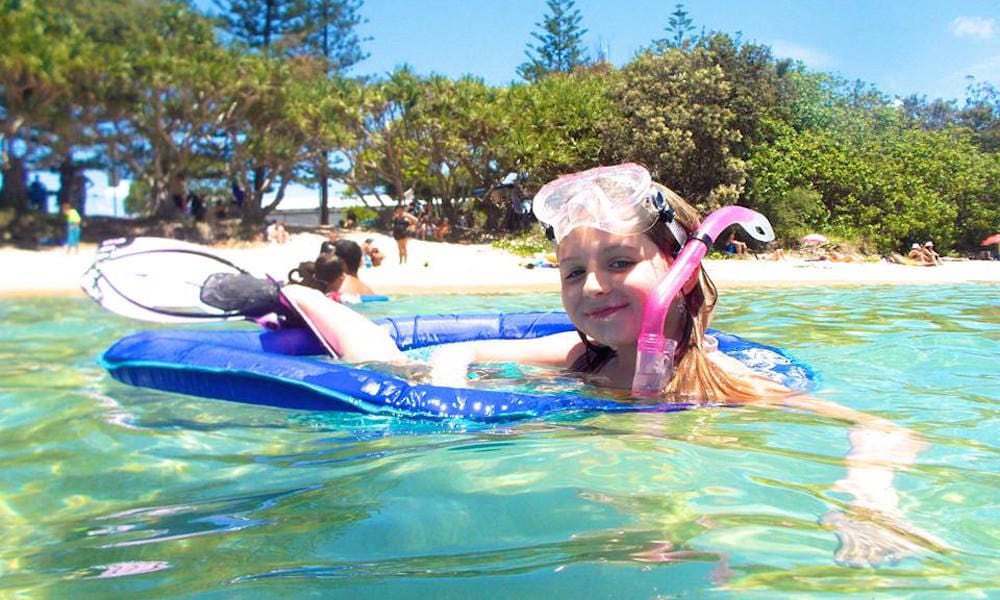 Gold Coast Highway, Palm Beach – Tallebudgera
An amazing spot all year round. Set up near the crystal clear waters and do nothing at all, or get amongst all of the activities on offer – either way you'll not regret laying your rug down here. Kayaking, amazing snorkelling, beach fun … you'll be sharing the waterways with turtles, dolphins, large schools of beautiful fish and even cranky crabs. Both sides of the creek have beach entry, and it's not too wide, so at parts you can swim right across. Even if you're not keen on getting wet, the scenic walks will ensure you have a great day at the 'Talle' Creek.
Here's our comprehensive review of all things Tallebudgera Creek! It's one of our favourite spots.
Facilities: Picnic tables, toilets, BBQ areas, playground, water sports, natural shade.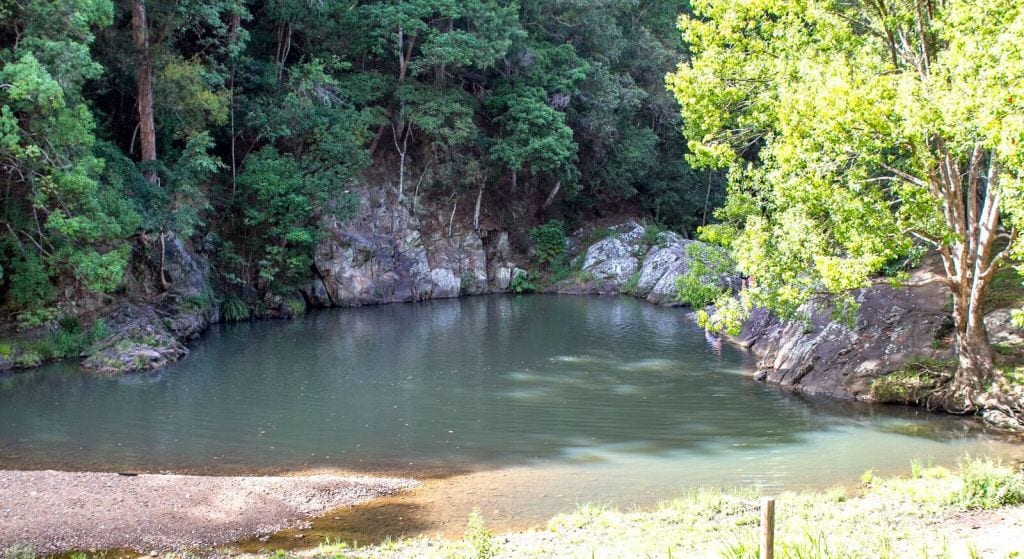 Guineas Creek Road, Currumbin Valley
One of the Gold Coast's best-kept secrets for kids, this local swimming spot has an added bonus – it's also free! If you want to escape the heat, hustle and humidity of the bustling Gold Coast, pack a picnic and head for the hills. Cool your heels at the Currumbin Rock Pools. Read our Currumbin Rock Pools our review.
Facilities: Picnic tables, BBQs, toilets.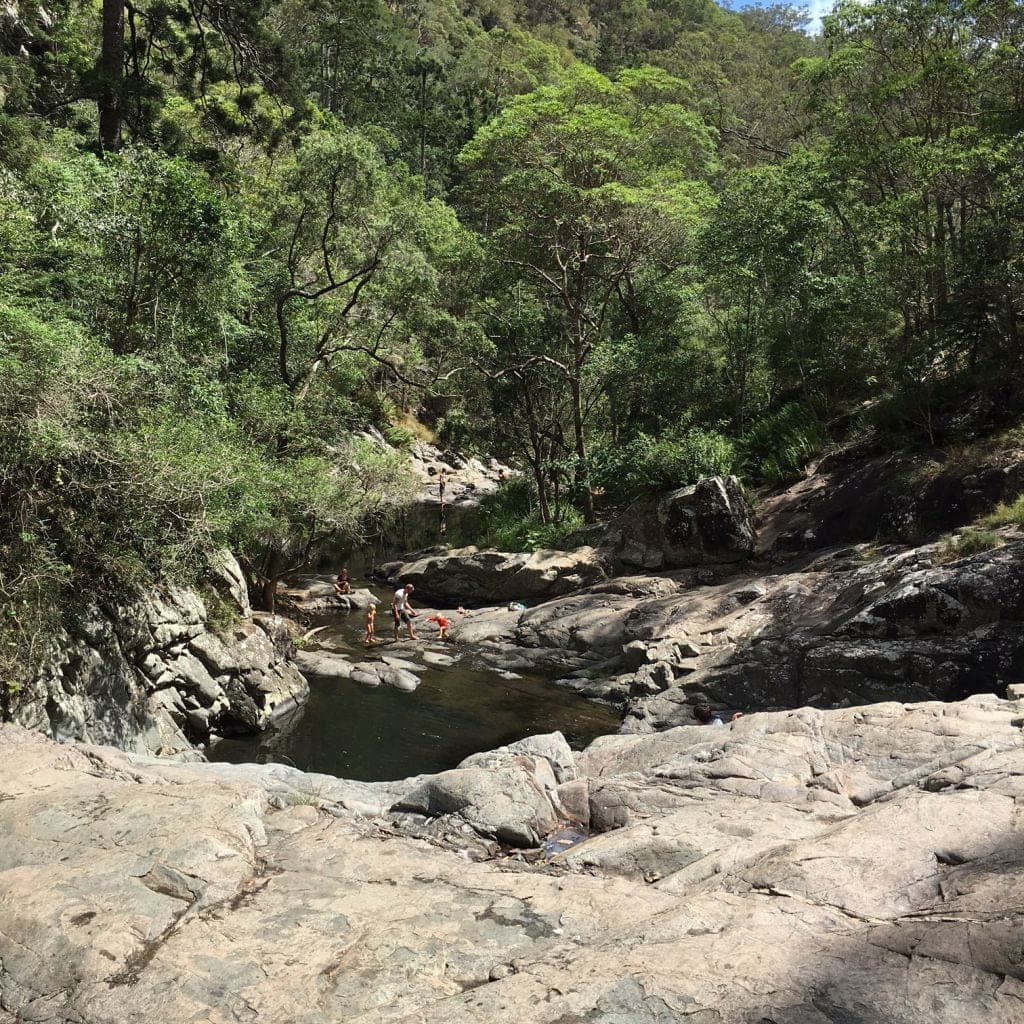 Cedar Creek Falls Rd, Tamborine
Frequented by families with children, Cedar Creek Falls is a great natural outdoor day trip. There are three rock pools in which you are allowed to swim although the water is often very cold. It makes a great place to cool down on a sweltering summer's day. The top rock pool is quite deep and it has a couple of ledge areas which children can sit and paddle their feet quite easily. The two other rock pools are further down the rock face. Read more and watch our Cedar Creek Falls video review here.
Facilities: Two main picnic areas with picnic tables, BBQs, toilets.
7. Greenmount Beach
Coolangatta-Greenmount Beach
Greenmount headland has some incredibly scenic secluded spots around the rocks when it's low tide – perfect for sunbaking or a picnic. In fact from Kirra right around through Coolangatta and down to Froggy's Beach at Snapper Rocks you'll find plenty of good spots to set up away from the groups while watching the waves and surfers do their thing. Love locks are 'a thing along' the headland walk, people engrave a padlock and lock it to the barriers on the boardwalk, so if your picnic has a romantic nature, you might want to hit the hardware store.
Facilities: Toilets, BBQS, picnic areas, playgrounds, shops, cafes.
Picnic Spots Tweed Shire
Fingal headland's unique landscape really lets you know you are in paradise
Lighthouse Parade, Fingal Head
This cute little lighthouse was built in 1872 and is only 7 metres high. Just a short walk from the car park to the most spectacular headland with majestic views spanning from the south from Byron Bay (which you can see on a clear day) all the way to the north, Dreamtime Beach. Plus there are some amazing natural basalt columns or the 'Mini-giant's Causeway' to check out. There are loads of spots to set up a picnic for the day, but stay away from the edge if you have little explorers with you. Read more about this family friendly walk in our review.
Facilities: Fingal Beach Park has toilets, BBQ facilities and a playground.
9. Knox Park Murwillumbah
Nullum Street, Murwillumbah
This spot is one that will keep everyone in the family happy. Shady picnic areas, a fish pond, a skate and scooter precinct that caters to all levels of skill and best of all, a newly revamped park including zip lines, suspension bridges and tonnes of climbing opportunities (pack Bandaids!).
Facilities: Toilets, BBQS, picnic areas.
10. Kingscliff Beach
Marine Parade, Kingscliff
Whether you choose a shaded grass area behind the sand, a spot on the pristine stretch of beach itself or a creekside spot by the crystal clear waters of the Cudgen Creek inlet, you'll be happy you landed in Kingscliff. There are many, many spots to lay your rug and the scenery is pure magic. Get ready for relaxation!
Facilities: Toilets, BBQS, picnic areas, playgrounds, shops, cafes.
11. Tumbulgum
Riverside Drive, Tumbulgum
The riverfront at Tumbulgum is the perfect spot for a picnic. Take in the glorious views of rolling green hills and relax with the water lapping at your toes. You can also visit the great cafes, galleries and of course, the pub in this cute little town just off the Tweed Valley Way. Find out why our kids love Tumbulgum!
Facilities: Boat hire, public wharf, boat ramp, picnic areas, toilets.
12. John Hogan Rainforest
John Hogan Rainforest, Tweed Valley
The little known John Hogan Rain Forest is located 17 km to the south west of Tweed Heads and has spectacular palm rain forest walks and picnic spots. The beautiful drive through the ancient and lush green landscape is worth the trip alone.
Facilities: Not much here, be prepared to squat and take bags to take all of your rubbish with you – but definitely worth the adventure.
Picnic Spots Byron Shire
Cape Byron Lighthouse sits on Australia's most easterly point, a shining light over Byron Bay.
13. Cape Byron Lighthouse
Cape Byron Headland, Byron Bay
This Headland is a great spot for watching dolphins, turtles, surfers and, if you get your timing right, humpback whales on their annual migration. Lighthouse tours are available (kids older than five).
Facilities: Park entry fees apply at the Cape Byron Lighthouse carpark, lighthouse tours are available (kids older than five), toilets, picnic areas.
14. Minyon Falls Lookout
Newton Dr, Nightcap
Minyon Falls lookout offers stunning views of the waterfall, rainforest and coast, with opportunities for picnics and barbecues a'plenty. You can even take the Minyon Falls loop walk, which takes you down to the base of the falls – a spectacular adventure.
Facilities: Toilets, BBQs, picnic areas. Drinking water is not available in this park so it's a good idea to bring your own, and also something to take your rubbish away.
15. Broken Head Beach
Beach Rd, Broken Head
Broken Head Beach is one of Byron's hidden treasures. You can find beautiful, secluded spots when you walk the trail that leads you up and over the headland where you'll find yourself surrounded by beautiful national park and isolated beaches and coves. Be warned, you may come across some scantily clad locals though! You may like to consider camping at Broken Head.
Facilities: Toilets, some picnic areas. Small park entry fees may apply if you enter at the National Park Nature Reserve.
16. Brunswick Heads Nature Reserve
Brunswick Heads Nature Reserve, situated between Brunswick Heads and Ocean Shores townships offers fishing, birdwatching, walking, canoeing, cycling and, of course, picnicking. A canoe, boat or paddleboard trip on Brunswick River and you might just see an endangered loggerhead turtle or a vulnerable green turtle coming up for air. There are plenty of beautiful spots to choose for a picnic in this gorgeous part of the world. If you have kids keen on fairies, you may want to talk them for a walk on the fairytale trail at Brunswick Heads.
Facilities: Toilets, BBQS, picnic areas, water sports.
Read similar stories on Families Magazine: