Never have I ever… There's a first time for everything and a world full of new experiences to be discovered – and lots of those new experiences are right here in South East Queensland!
Trying something new could be the key to discovering a new hobby, developing a skill you never knew you had, or making lifelong friends. It can lead to new favourite venues and show you things you never knew existed, and it doesn't have to be scary!
We've gathered a few ideas to inspire you on your journey to discovery. How many of these can you say "Never Have I Ever" to?
Never Have I Ever… Escaped From Alcatraz!
We're a long way from San Francisco, but if you've ever fancied your chances at breaking out of prison, Fox In A Box will happily lock you up and let you try! Even better, you can go head-to-head with other inmates to see which team can escape first!
When a riot breaks out and guards are distracted, you're presented with your opportunity to escape. The prison is in lockdown but with a few handy clues and improvised tools you may be able to find your way to freedom.
Fox in a Box Brisbane has six themed escape room challenges, including two prison breaks. Escape rooms are fun, challenging, nerve-wracking and a great way to spend a few hours with friends. Read our Fox in a Box review here.
Never Have I Ever… Tried Ice Skating
There's no better way to cool down in the summer holidays than a visit to one of Brisbane's IceWorld Olympic Ice Rinks, located in both Acacia Ridge and Boondall. Never experienced the thrill of ice skating? IceWorld is the place to be!
Ice skating is easier than you think, and with extensive public session times during school holidays (refer to the website for times) IceWorld offers fantastic value for hours of cool 'sun safe' fun and exercise! Worried you'll get too cold? You can warm your hands around a hot drink at the fully stocked cafes before heading back onto the ice! Pricing per person includes skate hire and starts from $10. Enquire about their fantastic birthday and function options too!
Never Have I Ever… Been 31 Metres Beneath the City
What's 31m beneath Brisbane city? Find out at the Cross River Rail Experience Centre! The Cross River Rail route will take passengers under the Brisbane River to new underground stations, the deepest of which, Albert Street, will be 31m below street level. To put it into perspective, that's as much as ten full-grown elephants stacked on top of each other!
The real-world station isn't open yet, but you can take this subterranean journey in the virtual world at the Experience Centre's Virtual Reality Station. Sit back in the comfortable train seat, don your headset, and be guided on an underground journey of exploration far more exciting than anything Jules Verne could dream up!
The Cross River Rail Experience Centre has lots of interactive displays and is open Wednesday to Monday (closed Tuesday). You can read more about the Cross River Rail Experience Centre here.
Never Have I Ever… Tried Indoor Snowsports
If you think you need to hit the snowy slopes of Thredbo to ski in Australia, then think again! You can now ski and snowboard at Hendra's Urban Xtreme!
Urban Xtreme has state-of-the-art indoor simulators providing you with authentic skiing and snowboarding on revolving artificial slopes. Anyone from the age of four can try Xtreme Ski, and all equipment is provided. The slopes are adjustable to suit various skill level and ability from beginners all the way to advanced level. You can book a ski or snowboard taster session and ski just for fun or ramp it up and take a full hour lesson from the experts and learn to ski or snowboard like a pro.
No matter what the weather is in Brisbane, you can ski all year round in comfort at Urban Xtreme! Read more about the activities available at Urban Xtreme here.
Never Have I Ever… Sent the Kids to Gaol
Your kids might be angels, or they might try the patience of a saint, but a spell in gaol could be all the incentive they need to send Elf on a Shelf into early retirement. Send the kids to gaol – and go along with them, of course – to experience one of the fantastic tours on offer at Boggo Road Gaol. Some are suitable for all ages, and some for older children and adults only (teenagers love the Ghosts & Gallows tour!), but all will leave you with a sense of the history and lifestyle of its most nefarious residents. You know, it's said some of those residents never left… Was that just a breeze on the back of your neck?
Boggo Road Gaol has a variety of tours and experiences to choose from for all ages, suitable for individuals and families right up to school groups and vacation care programs.
Never have I ever… Launched a Rocket!
Ignition sequence… 5, 4, 3, 2, 1 … LAUNCH! Feel the adrenaline rush of launching a rocket into space, with a high velocity experience to delight aerospace enthusiasts from 5 to 105 years old.
It's Rocket Science Adventures' unique events invite budding rocket scientists to build and launch their own water rocket more than 60 metres into the air. Get up close and personal with large scale model rockets and join the distance challenge aiming at planets on our rocket range. We come to you, everything done.
It's Rocket Science are providers of school holiday events and school STEM incursions.
Never Have I Ever… Visited Abbey Museum
The Abbey Museum is a treasure house of world history, taking you on a journey through the millennia from prehistoric hunters and first farmers to the bronze smiths and the rise of the Roman Empire, and on to the Industrial Revolution
There are many amazing artefacts on display from the Medieval Saxon and Norman invaders to the golden age of Europe's Renaissance. Who can resist a death mask from ancient Egypt or a rare armoured shoe from Olympia, or a Tang sculpture of a lute player from China?
When you visit Abbey Museum you'll see why it is one of Queensland's top attractions. See their school holiday activities and find out more at www.abbeymuseum.com.au
If you visit the Abbey Museum in July, make a whole weekend of it at the Abbey Medieval Festival!
Never Have I Ever… Volunteered for a Good Cause
Volunteering can make a real difference to the lives of people and animals, or raise vital funds for an organisation in need. From the school canteen to Meals On Wheels, volunteer driver, op shop assistant, or fauna rescue, you don't need a particular skill set for many volunteer positions, just a willingness to give up some of your time and help.
Giving up your time to help others has its own rewards. When you volunteer you help to build a community, improve your own skills, and enrich the lives of others. If you don't know where to start, try Volunteering Services Australia at www.vsaustralia.org.au
Never Have I Ever… Been Indoor Skydiving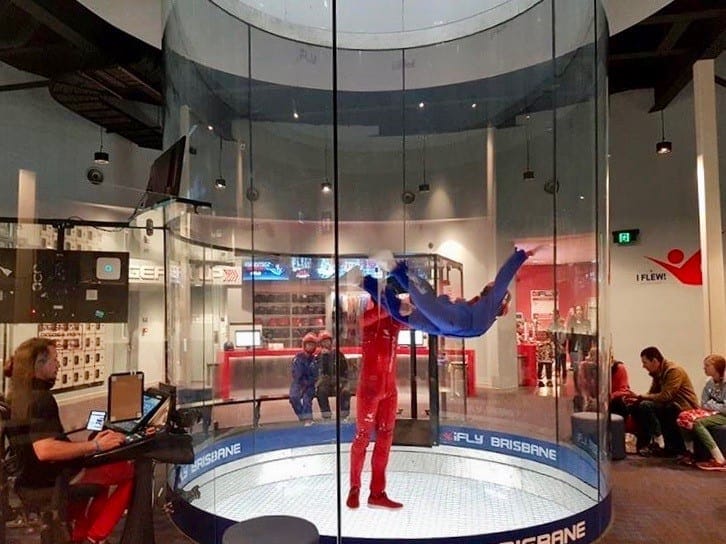 If you want to experience the thrill of skydiving without actually jumping out of a plane, you can! iFly Chermside is open for thrill-seekers aged 3-years old to 100+ and anyone of any ability can fly!
Your instructor will guide you through swoops, spins, glides and dives in an exhilarating indoor wind tunnel. iFly Chermside has flight packages 'just for fun' or you can join their flight club to learn amazing acrobatic flight skills.
Never Have I Ever… Hopped on the CityHopper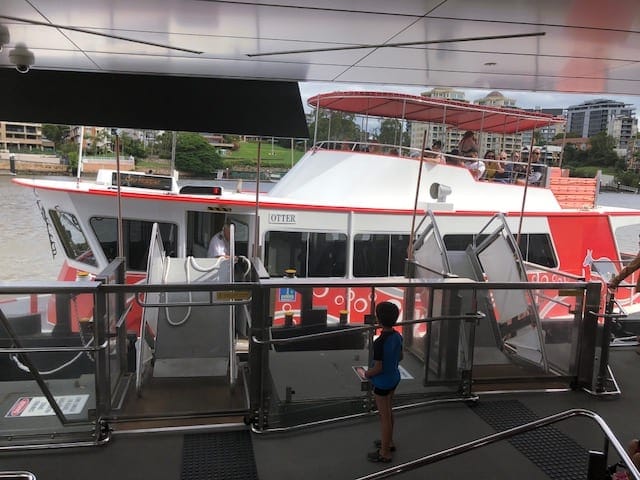 Fancy a free cruise? You won't go far but you will see some of the sights of one of the best cities in the world!
You might have seen the CityHopper – a cute red ferry zig-zagging merrily across the Brisbane River – but did you know that the CityHopper is free to ride? The CityHopper runs between 6am and midnight seven days a week, stopping at eight terminals from North Quay down to New Farm. Hop on and hop off as often as you like! Lazing on the river on a free sight-seeing cruise is a fantastic way to keep cool this summer. Read more here: www.familiesmagazine.com.au/things-to-do-on-a-sunday
Never Have I Ever… Fed a Tree Kangaroo
Dreamworld offers the first and only Lumholtz's Tree Kangaroo interactive guest experience. Guests are invited into the Tree Kangaroo enclosure with one of their specially trained keepers to have an up-close encounter with a tree kangaroo, including feeding and changing their leaves. Souvenir photo included!
*Dreamworld entry is not included and must be purchased separately. Click here for annual pass information.
So many opportunities!
Brisbane and SE Queensland has heaps of great venues, attractions, experiences and adventures. Keep checking back because we'll be adding more things to tick off your Never Have I Ever list! In the meantime check out these unique things to do in Brisbane with Kids!
This article was featured in Issue 37 of our printed magazine, published December 2019