If you are looking for the best whole streets of Christmas lights, this article will give you the information you need to visit the best Christmas light streets in Brisbane where more than one house is lit up.
It's the most magical time of the year and for some suburbs in Brisbane, it is the most sparkly time of the year too! It's a time when neighbours come together to decorate their streets, vying for the coveted 'best neighbourhood for Christmas lights in Brisbane' title.
Christmas light looking is a family tradition in which many families across Brisbane participate. And searching for the best Christmas lights to show your kids doesn't have to be a chore. Here at Families Magazine, we have made it a whole lot easier with our Best Neighbourhoods Christmas Lights list.
All you need to do is print out our downloadable map, check the weather (as some lights wont be showing in storms or rain), pile the kids into the car and head off to these awesome Christmas light streets in Brisbane!
Want us to email you the maps on Thursday 14 December, 2023? To sign up to get the Christmas lights maps and lists emailed directly to you when they have been fully updated with even more displays, add your email address here ===> SIGN ME UP FOR CHRISTMAS LIGHT MAPS!
Best Neighbourhoods for Christmas lights in Brisbane 2023
We've made a list and we've checked it twice and we have found the best whole streets across greater Brisbane that have gone to extraordinary lengths to make this time of the year a magical, awe inspiring time for children and adults alike!
Featuring only areas where you can find a group of houses together, so you can get all your festive 'light looking' done in one area, we give you the best suburbs for Christmas lights in greater Brisbane & Ipswich. If you want to know which of these neighbourhoods have their own dedicated Facebook page, we know that too!
Best Neighbourhoods in North Brisbane & Moreton Region
If you live on the northside of Brisbane, or you are visiting someone who does, these are the best suburbs and streets for efficient Christmas light looking:
3 & 5 Stockport Court, Burpengary East – below
A reader sent us this photo and told us about this street:
Bendee Court, Narangba – below
If you are around Bridgeman Downs, then this cul de sac has 8 houses that look amazing:
Myall Place, Bridgeman Downs – below
A street full of Christmas lights also worth visiting in Keperra:
Colbalt Street Keperra – they have a whole bunch of houses together on both sides of the road – below.
Watch the video below to see Cobalt Street in Keperra, and follow us on Facebook for more hot tips about Christmas lights every day!
Broadbent Lights, Broadbent Street, Ashgrove – below
We have just had a tip from a reader about another good street in the Moreton Region:
301 Freshwater Drive Bribie Island – we are told that the whole street has lovely displays. We haven't seen this display ourselves, and don't have a photo of this street, so if you go and get one, please send it to us!
Special mention to Beachhouse on Suttons – whilst not a whole street, (it is pretty much a whole building) it is definitely worth checking out!
Beachhouse on Suttons – 41 Marine Parade, Redcliffe – below
Best Neighbourhoods for Christmas lights in West Brisbane
If you live in or near the western suburbs, they have a long standing tradition of lighting up multiple houses in their streets. In 2023 we can confirm:
Everard Street, Westlake – below
Best Neighbourhoods in for Christmas lights South Brisbane
Some of my favourite streets for Christmas lights looking are on the Southside (even though I live on the Northside) :
Abbeyfeale Street, Tingalpa – below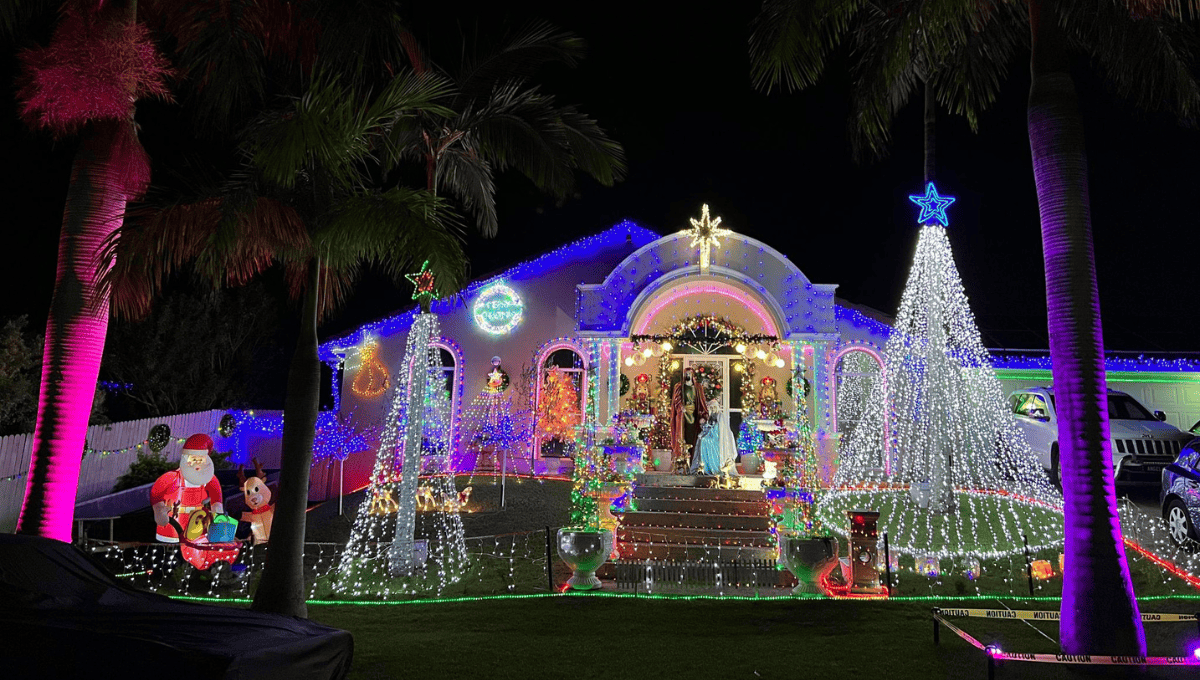 <we don't have a photo yet, so if you would like to supply one, please do! We have seen video this year from Rachael Street, so we know it is epic! >
Best Neighbourhoods for Christmas lights in Redlands
You've got a few choices if you live in the eastern suburbs or the Redlands! Our picks of the best neighbourhoods for the best lights for Christmas are:
Wunulla Street – Thorneside – below
Tipperary Court, Capalaba
Polperro Court, Alexandra Hills
Huntly Place, Redland Bay – below
Best Neighbourhoods in Ipswich
If you live in or around Ipswich or Springfield, these are the two best neighbourhoods for Christmas Lights this year. You must visit these for maximum joy this Christmas lights looking season.
With only 2 houses lit up in 2023, if you are in the area, this is still a good street to visit:
Nova Court, Flinders View – below
Paul Tully, Collingwood Park
Cottonwood Crescent, Springfield Lakes
Discovery Street, Flinders View
Best Neighbourhoods for Christmas lights in Brisbane 2023
These are our picks for 2023. We update this article every year, so if you have a street that is joining in or your neighbourhood is awesome, let us know! Send us a photo and we will add you next year!