We've collated the BEST Christmas Lights Brisbane South has to offer in 2023! This could be a biased view, but the Christmas Lights Brisbane South are definitely a must see if you're planning your itinerary of events to attend before the big day arrives. The houses are mix of traditional Queenslanders and modern brick homes, which make a great base for the display of lights. Even apartments and townhouses get into the Christmas Spirit.
The houses lit up on the Southside of Brisbane do have some distance between each home. Here are some tips to make the most of your visit if you're travelling around this side of Brisbane to view the lights.
Want us to email you the maps on Thursday 14 December, 2023? To sign up to get the Christmas lights maps and lists emailed directly to you when they have been fully updated with even more displays, add your email address here ===> SIGN ME UP FOR CHRISTMAS LIGHT MAPS!
Download your map & list for Christmas lights Brisbane south 2023
To plan your trip, check out the list of houses that have Christmas Light displays on the southside of Brisbane. Download your map for easy navigation and so you can plan a short route.
Group suburbs together
The distance between suburbs on the southside of Brisbane offering Christmas light displays could see you spending more time in the car than actually seeing the lights. When you download your map, you will be able to group some suburbs together to make it a great night out.
Where are the Christmas lights south Brisbane?
Here's our list of where the lights can be found on Brisbane southside in 2023.`
Printed route map below for Brisbane southside suburbs Christmas lights for 2023
The digital map below with confirmed Christmas lights for 2023.
List of best Christmas lights on the southside of Brisbane
Key for symbols:
🏆 – winner of local Christmas lights competition
🎄 – worth a look – this house is something special
📷 – there is a photo of this display on our digital map
⭐️ – multiple houses are in the street
🚗 – bit of a drive (depending on where you live)
If you see a purple star on our digital map, that means the address is a late addition to the digital map and it was received too late to show on our printed map.
127 Picton Parade, Wynnum
77 Charlotte Street, Wynnum
🏆📷 19 Nemarra Street, Wynnum
11 Endeavour Close, Hemmant
19 Scanlen Crescent, Wynnum West
80 Talwong Street, Manly West
164 Hargreaves Road, Manly West
🎄 90 MacLeay Crescent, Tingalpa
18 Toondah Place, Tingalpa
⭐️📷 Abbeyfeale Street, Tingalpa
40 Mitchell Place, Belmont
17 Wambaya Street, Belmont
Brandella Place, Belmont
🎄📷 5 Isobel Street, Tingalpa
🚗🎄 81 Stephens Street, Morningside
52 Birkalla Street, Bulimba
16 Harris Street, Hawthorne
📷 60 Harris Street, Hawthorne
🚗🎄 21 Tillot Street, Dutton Park
🎄📷 12 Anita Street, Yeronga
🚗📷 1049 Logan Road, Holland Park West
🎄 34 Lisle Street, Tarragindi
27 Truscott Street, Moorooka
112 Golda Avenue, Salisbury
🏆📷10 Keeling Street, Coopers Plains
🎄📷 33 Mannington Road, Acacia Ridge
🎄 42 Longford Crescent, Acacia Ridge
🎄📷 32 Cordia Street, Algester
📷 55 Cupania Street, Algester
🎄📷 211 Benhiam Street, Calamvale
🎄 52 Orania Crescent, Calamvale
6 Poinciana Crescent, Stretton
62 Hellawell Road, Sunnybank Hills
🚗🎄📷 34 Narelle Crescent, Rochedale South
836 Rochedale Road, Rochedale South
8 Rothon Drive, Rochedale South
9 Paloma Place, Kuraby
📷 16 Bordeaux Street, Eight Mile Plains
4 Anise Street, Wishart
🎄 74 Lindwall Street, Upper Mount Gravatt
🎄📷 101 Kempsie Road, Mount Gravatt
📷 12 Picardie Close, Mansfield
🎄 88 Kilmorey Street, Carindale
🎄 35 Grosmont Street, Carindale
🎄📷 14 Mons Road, Carina Heights
🎄 76 Cadogan Street, Carindale
Photos of Christmas lights on Brisbane southside
Giants on the Hill @ 19 Nemarra Street, Wynnum West – below
Abbeyfeale Street, Tingalpa – below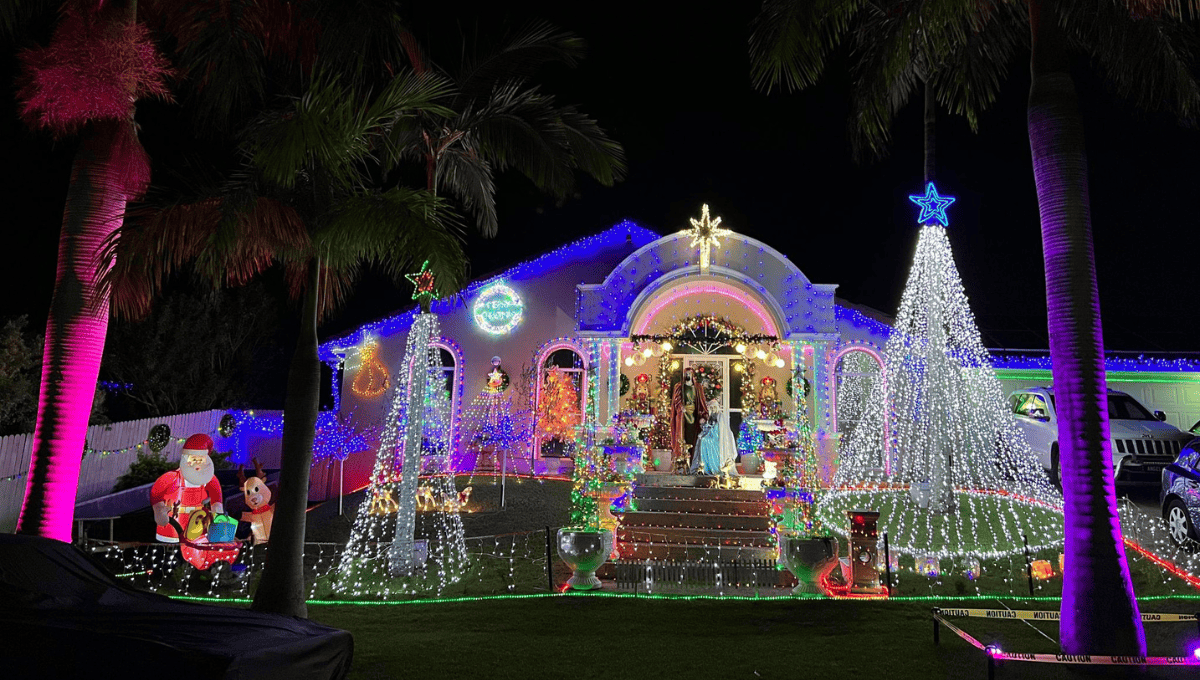 211 Benhiam St, Calamvale – below
16 Bordeaux Street Eight Mile Plains – below
10 Keeling Street, Coopers Plains – below
🎄 101 Kempsie Road, Upper Mount Gravatt – below
🎄 📷 14 Mons Rd, Carina Heights -Merry on Mons
If you are looking for a group of house and streets that all ALL lit up, you will need to check our Best Neighbourhoods for Christmas Lights.
Road safety and parking
A drive by or parking the car to visit the lights in person, will be determined on the weather and how many people have arrived to see the display at the same time as you. Be considerate when parking and don't park on the front lawns or driveways of neighbouring properties. To make the night even more fun for the kids, get them to wear glowsticks so you can see them if the display is busy with crowds.