Christmas Lights Caboolture & Moreton Bay Region 2021 | WITH PHOTOS!!
10/12/2020
Christmas Lights Caboolture, Redcliffe, Bribie Island area, Pine Rivers Shire and beyond? You've got it! Here are the best places to go to take a light tour leading up to Christmas! Make sure you take advantage of our awesome CHRISTMAS LIGHTS MAPS to make sure you don't miss out on any of the fun!
Christmas Lights Caboolture, Redcliffe & Bribie Island
To sign up to get the maps emailed to you on Friday 11 December 2020 when they have ALL been updated – add your email address here ===> SIGN ME UP FOR CHRISTMAS LIGHT MAPS!
This is a great area north of Brisbane to find intricate, extravagant lights displays. There are some award-winning displays in this area and with that comes a few things to be cautious of.
The best Christmas lights Caboolture, Redcliffe & Bribie 2020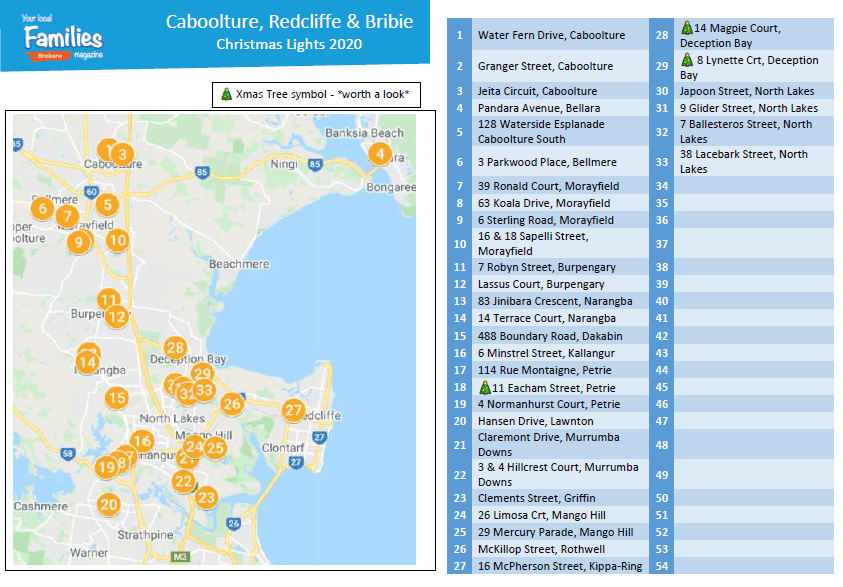 Here is your list of the confirmed Christmas lights for your local area in 2020
These houses have confirmed that they have lights on for you to see in 2020:
Coventry Place, Caboolture
Water Fern Drive, Caboolture
Granger Street, Caboolture
Jeita Circuit, Caboolture
Pandara Avenue, Bellara
13 Alpinia Avenue, Banksia Beach
13 Clark Terrace, Sandstone Point
128 Waterside Esplanade Caboolture South
3 Parkwood Place, Bellmere
29 Sunflower Crescent, Upper Caboolture
39 Ronald Court, Morayfield
6 Sterling Road, Morayfield
63 Koala Drive, Morayfield
Nina Court, Morayfield
16 & 18 Sapelli Street, Morayfield
3 Plunkett Court, Burpengary East
76 Bridges Road, Burpengary
7 Robyn Street, Burpengary
Lassus Court, Burpengary
83 Jinibara Crescent, Narangba
14 Terrace Court, Narangba
488 Boundary Road, Dakabin
6 Minstrel Street, Kallangur
114 Rue Montaigne, Petrie
🎄11 Eacham Street, Petrie
4 Normanhurst Court, Petrie
Hansen Drive, Lawnton
Claremont Drive, Murrumba Downs
60 Claremont Drive, Murrumba Downs
3 & 4 Hillcrest Court, Murrumba Downs
Clements Street, Griffin
6 Ivory Close, Griffin
16 Freshwater Creek Road, Mango Hill
26 Limosa Crt, Mango Hill
29 Mercury Parade, Mango Hill
McKillop Street, Rothwell
16 McPherson Street, Kippa-Ring
143 Mein Street, Scarborough
166 Morris Road, Rothwell
🎄 8 Lynette Crt, Deception Bay
🎄14 Magpie Court, Deception Bay
17 Melville Parade, North Lakes
Japoon Street, North Lakes
9 Glider Street, North Lakes
7 Ballesteros Street, North Lakes
38 Lacebark Street, North Lakes
If you are looking for a group of house and streets that all ALL lit up, you will need to check our Best Neighbourhoods for Christmas Lights.
Christmas light ettiquette
When visiting Christmas Lights Caboolture (or anywhere, really!) you need to be cautious of the following things.
You are visiting neighbourhoods and homes where people actually LIVE. The people who put on these lights displays have the right to sometimes not have their lights on of an evening. They have a right to privacy. They have a right to not having their property or their gardens destroyed. Be aware that they're doing this purely out of Christmas spirit so please act accordingly. You are not owed anything, you are simply enjoying the fruits of someone else's labour.
Be cautious of road safety, particularly when it comes to children. Do not park over driveways or in an unsafe manner. Go slower than speed limits in case some excited children run across the road. Be very aware of your surroundings.
Take any and all rubbish with you.
Do not touch, tamper with or trample any decorations or gardens. Lighting displays are labour intensive and can be very expensive. Please ask your children to show similar levels of respect and gratitude.
Christmas Lights Caboolture, Redcliffe & Bribie
Know of any great lights we missed? Want YOURS on the list as well? Let us know in the comments! Don't forget to download our map so you've got the best drive in town!
11 responses to "Christmas Lights Caboolture & Moreton Bay Region 2021 | WITH PHOTOS!!"