Christmas Lights Caboolture, Redcliffe, Bribie Island area, Pine Rivers Shire and beyond? You've got it! Here are the best places to go to take a light tour leading up to Christmas! Make sure you take advantage of our awesome CHRISTMAS LIGHTS MAPS to make sure you don't miss out on any of the fun!
Disclaimer: We are in the process of updating this article! All entries with 2023 listed beside them have been updated for this year. Those with TBC are to be confirm for this year.
Christmas lights Caboolture, Redcliffe & Bribie Island
🎅 Complete our form to add your display to our local maps and lists! 🎅
CLICK HERE!
This is a great area north of Brisbane to find intricate, extravagant lights displays. There are some award-winning displays in this area and with that comes a few things to be cautious of.
The best Christmas lights Caboolture, Redcliffe & Bribie
*** Want us to email you the maps when they are ready? To sign up to get the Christmas lights maps and lists emailed directly to you on Saturday 9 December, 2023 when they have been fully updated for the last time, add your email address here ===> SIGN ME UP FOR CHRISTMAS LIGHT MAPS! ***
If you are up for a drive, we reckon some of the best Christmas displays can be found in the Moreton region.
Printed route map below
has been NOT YET been updated

for Caboolture, Redcliffe and Bribie suburbs Christmas lights
The digital map below
has been updated

with confirmed Christmas lights for 2023
Best Christmas lights for Caboolture, Moreton Bay Region
Key for symbols:
🏆 – winner of KIISFM Christmas lights competition
🎄 – worth a look – this house is something special
⭐️ – multiple houses are in the street
🚗 – bit of a drive (depending on where you live)
The purple stars are late additions to the digital map, not appearing on the printable map.
Photos of Christmas lights in the Moreton Region
🎄📷 26-32 Fountain Road Burpengary East – below

🏆 1 Long St, Clontarf – below
📷 24 Goldencrest Street in Caboolture – below
📷 17 Melville Parade Christmas Lights – below
🎄📷 14 Mapleton Ct, Narangba – below
🎄 📷 13 Clark Terrace Sandstone Point – below
📷 12 Koala Close, North Lakes – below
🚗 🏆📷 12 Bedarra Crescent, Burpengary East – below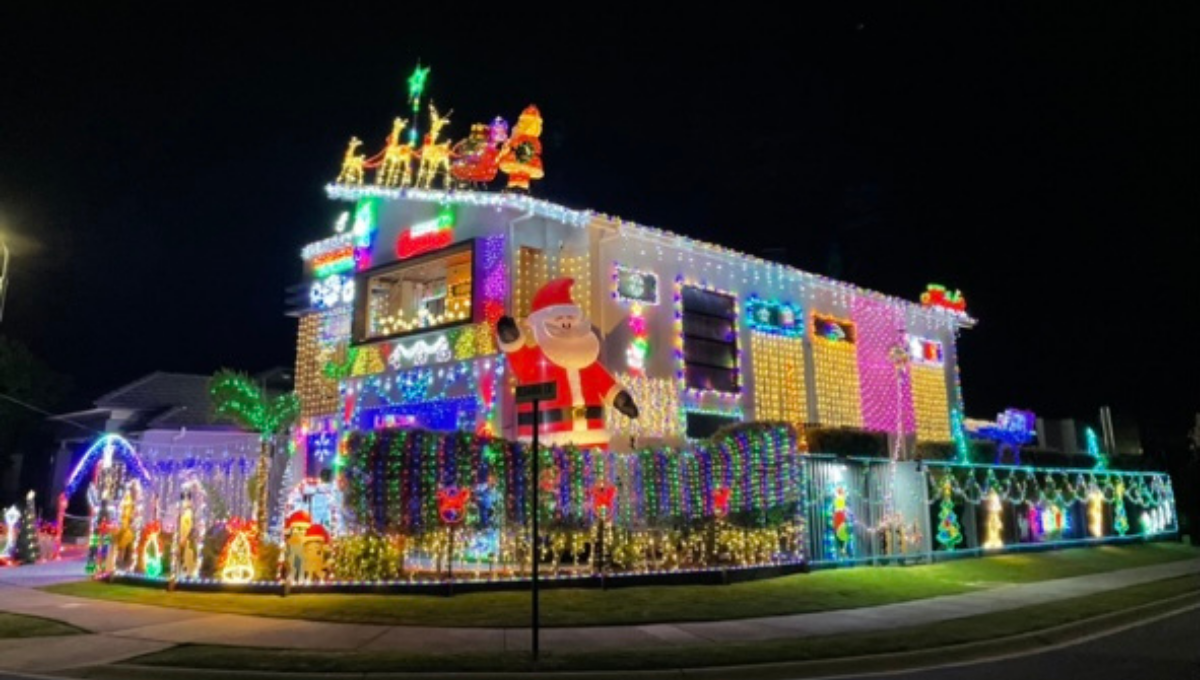 📷 6 Riverparks Way, Upper Caboolture – below
📷 29 Sunflower Crescent, Upper Caboolture – below
🎄 26 Cockatiel Court, Deception Bay – below
🎄📷 29 & 34 Mercury Parade, Mango Hill – below
If you are looking for a group of house and streets that all ALL lit up, you will need to check our Best Neighbourhoods for Christmas Lights.
Christmas light ettiquette
When visiting Christmas Lights Caboolture (or anywhere, really!) you need to be cautious of the following things.
You are visiting neighbourhoods and homes where people actually LIVE. The people who put on these lights displays have the right to sometimes not have their lights on of an evening. They have a right to privacy. They have a right to not having their property or their gardens destroyed. Be aware that they're doing this purely out of Christmas spirit so please act accordingly. You are not owed anything, you are simply enjoying the fruits of someone else's labour.
Be cautious of road safety, particularly when it comes to children. Do not park over driveways or in an unsafe manner. Go slower than speed limits in case some excited children run across the road. Be very aware of your surroundings.
Take any and all rubbish with you.
Do not touch, tamper with or trample any decorations or gardens. Lighting displays are labour intensive and can be very expensive. Please ask your children to show similar levels of respect and gratitude.
Christmas lights Caboolture, Redcliffe & Bribie
Know of any great lights we missed? Want YOURS on the list as well? Let us know in the comments! Don't forget to download our map so you've got the best drive in town!