Christmas lights Logan, please! Heading south from Brisbane is the ticket to a world of Christmas magic and wonder that has to be seen to be believed! Lucky for you, we've got a DOWNLOADABLE MAP that makes touring all the lights as easy as (mince) pie!
Disclaimer: We are in the process of updating this article! All entries with 2023 listed beside them have been updated for this year. Those with TBC are to be confirm for this year.
🎅 Complete our form to add your display to our local maps and lists! 🎅
CLICK HERE!
Christmas lights Logan and surrounds
A lot of people put a LOT of effort into their Christmas lights displays. You're looking at hundreds (and thousands!) of dollars and hours spent coming up with designs and concepts that will surprise and delight crowds of people.
Out of respect to the hard-working people who get involved with these displays, Families Magazine recommends keeping the following in mind:
Be conscious of the space around you and ask that your children do the same.
People in homes with Christmas lights have rights to privacy and security, please respect their borders.
Take any rubbish with you and do not litter.
Do not tamper with, adjust or remove any of the lights or displays.
Be mindful of parking and traffic. Some streets can become VERY busy so it's often better to park further away and then walk back to the lights.
*** Want us to email you the maps when they are ready? To sign up to get the Christmas lights maps and lists emailed directly to you on Saturday 9 December, 2023 when they have been fully updated for the last time, add your email address here ===> SIGN ME UP FOR CHRISTMAS LIGHT MAPS! ***
Where should we go to see Christmas Lights in Logan?
Here's a break down of the best Christmas lights in Logan – suburb by suburb.
For the best route recommendations, use our downloadable map so you don't double back.
Remember we've got a DOWNLOADABLE MAP with route suggestions. Pop this little sucker into your phone before you leave to make sure that you're not doubling back and seeing everything you possibly can.
Printed route map below have not been updated for Logan suburbs Christmas lights for 2023
Digital Christmas lights map – Logan Area North & South
The digital map below
has been updated

with confirmed Christmas lights for 2023.
List of best Christmas lights in and around Logan suburbs TBC 2023
Key for symbols:
🏆 – winner of KIISFM Christmas lights competition
🎄 – worth a look – this house is something special
⭐️ – multiple houses are in the street
🚗 – bit of a drive (depending on where you live)
The purple stars are late additions to the digital map, not appearing on the printable map.
Photos of Christmas lights in Logan
🏆 11 Lucy Drive, Edens Landing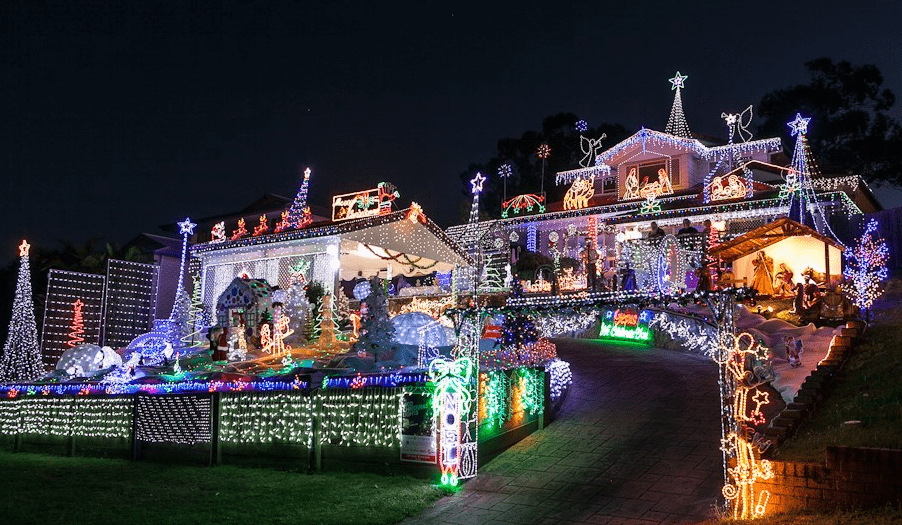 Ashburton Street, Ormeau Hills
44-48 Pioneer Drive Logan Village
14 Rachel Drive, Crestmead
14 Penelope Drive, Cornubia
12 Bridle Close Kingsholme
211 Benhiam St, Calamvale
62-64 Wallaby Way New Beith
If you are looking for a group of house and streets that all ALL lit up, you will need to check our Best Neighbourhoods for Christmas Lights.
Christmas lights Logan, Brisbane and beyond!
We've got 'em all, baby! If the ones you are looking for are not on this list, try one of our other local lists…. click here.
But if we missed any that you love, please let us know in the comments. We're constantly updating and love the feedback.