Christmas Lights Logan and Surrounds 2021 | WITH PHOTOS!!
10/12/2020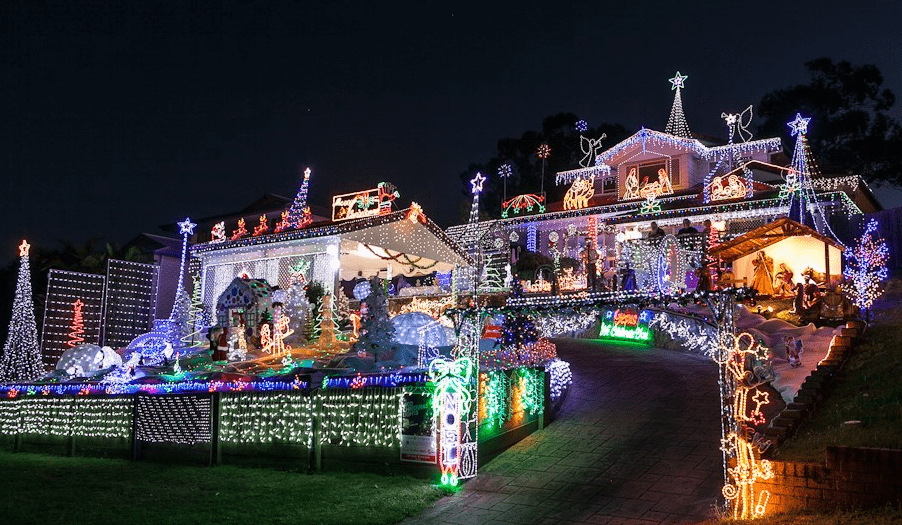 Christmas lights Logan, please! Heading south from Brisbane is the ticket to a world of Christmas magic and wonder that has to be seen to be believed! Lucky for you, we've got a DOWNLOADABLE MAP that makes touring all the lights as easy as (mince) pie!
Christmas lights Logan and surrounds
A lot of people put a LOT of effort into their Christmas lights displays. You're looking at hundreds (and thousands!) of dollars and hours spent coming up with designs and concepts that will surprise and delight crowds of people.
Out of respect to the hard-working people who get involved with these displays, Families Magazine recommends keeping the following in mind:
Be conscious of the space around you and ask that your children do the same.
People in homes with Christmas lights have rights to privacy and security, please respect their borders.
Take any rubbish with you and do not litter.
Do not tamper with, adjust or remove any of the lights or displays.
Be mindful of parking and traffic. Some streets can become VERY busy so it's often better to park further away and then walk back to the lights.
To sign up to get the maps emailed to you on Friday 11 December 2020 when they have ALL been updated – add your email address here ===> SIGN ME UP FOR CHRISTMAS LIGHT MAPS!
Where to see the best Christmas Lights Logan has on offer in 2020
Here's a break down of the best Christmas lights in Logan – suburb by suburb.
For the best route recommendations, use our downloadable map so you don't double back.
List of Christmas lights in Logan (north)
7 Wain Avenue, Logan Central
Ellen Street, Logan Central
Birun Street, Woodridge
Wagawn Street, Woodridge
33 Rudge Street, Woodridge
8 Rothon Drive, Rochedale South
493 Underwood Road, Rochedale South
Cilla Court, Rochedale South
54 Baroona Street, Rochedale South
34 Narelle Crescent, Rochedale South
Lenore Crescent, Springwood
1 Raelene Terrace, Springwood
183 Parfrey Road, Rochedale South
Plateau Drive, Springwood
🎄69 Rholanda Crescent, Springwood
29 Azalea Avenue, Daisy Hill
19 Rosewood Street, Daisy Hill
3 Hailar Street, Shailer Park
Adelong Road, Shailer Park
Jasmine Crescent, Shailer Park
Anakie Drive, Cornubia
🎄 14 Penelope Drive, Cornubia
Trudy Crescent, Cornubia
187 Carbrook Road, Cornubia
Braddon Street, Cornubia
Kinta Street, Tanah Merah
7/15 Henry Street, Loganholme
Finch Street, Eagleby
Copperfield Drive, Eagleby
14 Burrum Court, Eagleby
McKinley Street, Eagleby
Ernestine Circuit, Eagleby
3 Dion Drive, Eagleby
Geelong Court, Eagleby
11 Lane Court, Mount Warren Park
43 Linning Street, Mount Warren Park
25 Merrow Street, Mount Warren Park
Raymond Court, Mount Warren Park
🎄 30 & 32 Kaiser Drive, Windaroo
🎄 27 Laura Anne Drive, Windaroo
🎄 30 Lennon Drive, Windaroo
67 Lehmans Road, Beenleigh
30 & 40 Nicolis Court, Beenleigh
Oakvale Avenue, Holmview
Samford Drive, Holmview
Innsbruck Way, Bahrs Scrub
Colorado Street, Bahrs Scrub
278 Dairy Creek Road, Waterford
5 Morton Street, Waterford
2/49 Willow Rise Drive, Waterford
60 Woodlands Blvd, Waterford
4 Leighton Drive, Edens Landing
🎄 50 Wantana Crescent, Edens Landing
Gariswood Court, Edens Landing
37 Federation Drive, Bethania
20 King Street, Waterford West
Copal Drive, Logan Reserve
Malachite Drive, Logan Reserve
Tombay Court, Crestmead
Tanglin Street, Crestmead
Hickory Street, Marsden
Ash Street, Marsden
Marisa Street, Marsden
14 Taplow Street, Waterford West
23 Homestead Street, Marsden
56 Leanne Street, Marsden
Glendale Street, Marsden
Olympia Street, Marsden
First Avenue, Marsden
5 Pescara Street, Marsden
Melody Street, Marsden
Bedfordshire Court, Heritage Park
3 Ferndale Street, Boronia Heights
14 Parklands Drive, Boronia Heights
232 Moody Road, Boronia Heights
🎄 5 Clabon Street, Hillcrest
5 Corsloot Street, Regents Park
19 Cresthill Avenue, Regents Park
6 Alrak Avenue, Browns Plains
4 Gregory Close, Drewvale
List of Christmas lights in Logan (south)
29 Daybreak Street, Yarrabilba
8 Verdi Street, Yarrabilba
15 Verdi Street, Yarrabilba
🎄 17 Pinehill Street, Yarrabilba
🎄 Seawest Street, Yarrabilba
2 Wildflower Street, Yarrabilba
5 Elmer Lane, Yarrabilba
109 Buxton Avenue, Yarrabilba
4 Olivine Circuit, Yarrabilba
38 Arcadia Street, Yarrabilba
92 Welford Circuit, Yarrabilba
46 Expedition Road, Yarrabilba
109 Darnell Street, Yarrabilba
15 Massey Street, Yarrabilba
Leland Street, Yarrabilba
7 Tullis Close, Yarrabilba
139 & 141 Darlington Drive, Yarrabilba
62 Combs Street, Yarrabilba
20 Howard Street, Yarrabilba
98 Darlington Drive, Yarrabilba
85 Manning Street, Jimboomba
Dwyer Place, Jimboomba
Grandview Road, Jimboomba
184 Bushman Drive, Jimboomba
50 & 56 Blacksmith Court, Jimboomba
11 Drover Crescent, Jimboomba
45 Blueberry Ash Court, Jimboomba
25 Trailblazer Drive, Flagstone
53 Walker Circuit, Flagstone
23 Hyland Circuit, Jimboomba
2 Wentworth Drive, Undullah
Mitchell Street, Flagstone
Kelvin Court, Flagstone
Highgate Drive, Flagstone
7 Wilson Circuit, Flagstone
10 Jennings Drive, Jimboomba
34 McGoldrick Street, Undullah
Cunningham Street, Undullah
2-4 Hilltop Crescent, Jimboomba
6 Skyview Court, Jimboomba
2 Range Court, Jimboomba
7 & 9 Rusty Oak Court, Jimboomba
14 Creekside Crescent, Jimboomba
81 Reserve Drive, Jimboomba
Songbird Circuit, Jimboomba
17 Reserve Drive, Jimboomba
11 Ridgecrest Drive, Jimboomba
35 Ridgecrest Drive, Jimboomba
120 & 124 Red Cedar Crescent, Jimboomba
7, 8 & 10 Pink Alder Court, Jimboomba
30 Cassowary Place, Jimboomba
3 Tallowood Place, Jimboomba
22-24 Beikoff Close, North MacLean
Silvereye Crescent, Greenbank
237 Red Gum Road, New Beith
If you are looking for a group of house and streets that all ALL lit up, you will need to check our Best Neighbourhoods for Christmas Lights.
Christmas lights Logan, Brisbane and beyond!
We've got 'em all, baby! If the ones you are looking for are not on this list, try one of our other local lists…. click here.
But if we missed any that you love, please let us know in the comments. We're constantly updating and love the feedback.
3 responses to "Christmas Lights Logan and Surrounds 2021 | WITH PHOTOS!!"