Discount Codes and Coupons for Brisbane Families
17/09/2018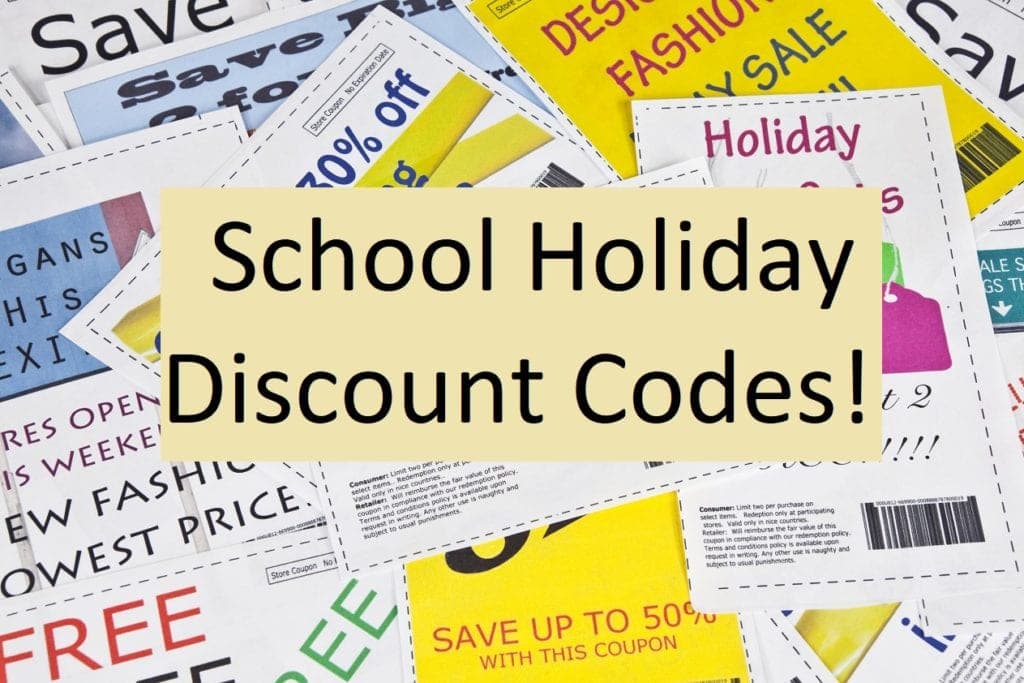 If you are looking to save money? These discount codes and coupons for families will help do the trick! Grab a bargain now for your family!
Discount Codes and Coupons for Brisbane
We've taken the hard work out of searching for a bargain for your family by compiling our favourite awesome discounts codes and coupons for kids activities and fun for your family.
Without further aduei our favourite discount codes for families…
Walkabout Creek Adventures – from $15
Walkabout Creek Adventures make it possible to experience the natural splendour of Walkabout Creek with a range of equipment hire options. Catering for thrill-seekers and those looking for a leisurely day outside, the company offers mountain bike, stand-up paddleboard and Segway rentals. Packages for school excursions, camps and corporate team-building trips are also available.
Intencity – 1 hour for $5
Gameplay – One-Hour Weekday Session ($5) or Two-Hour Super Session ($15) at Intencity
Established in 1995, Intencity boasts a range of locations that invite customers to enjoy a variety of classic and contemporary video games. These are suitable for children, teenagers and adults. Designed to be an ideal destination for out of home entertainment, the centre can also play host to private parties. Find out more here.
Coolum Aqua Park – $12.90
Located inside the Oz Ski Resort Complex, Coolum Aqua Park covers an area of roughly 70 by 100 metres and boasts a wide array of inflatable fun items for the enjoyment of all age groups. The extensive walkways and floating tracks of the course include features such as slides, jumping pillows, trampolines, swings, challenge tracks, balance beams, wobble pads and chill out areas.
Visitors can hide from the sun under shaded structures located on the shore or sunbathe on one of the sun loungers. Barbecue facilities, as well as a kids playground, kiosk, café and licensed bar are also available on site. Get the deal here.
Sunshine Castle – $15 for unlimited entry until 30 June 2019
Sunshine Castle is a unique attraction located in Bli Bli – a Norman-style castle filled with medieval attractions including a moat, turrets, towers, and a drawbridge. An activity-filled day out for the whole family, the castle features a range of activities and sights that will delight children and adults alike. Read our review to find out what it is like for kids then get the discounted deal here.
Oz Comic-Con Brisbane from $17.50
The Oz Comic-Con Brisbane 2018 event invites children and adults to take part in this two-day celebration of comics, TV, movies, anime, manga, sci-fi, fantasy and animation. Oz Comic-Con is the ultimate destination for pop culture fans in Australia with a show floor packed with exhibitors, celebrities, cosplay competitions, anime screenings, family fun, one-of-a-kind panel events and more. Visitors can don their capes, gather their comic books, assemble their squad and get ready to meet their favourite celebrities at the Brisbane Convention & Exhibition Centre.
Cheap tickets here – click here
PJ Masks: Time To Be A Hero LIVE! from $29
PJ MASKS LIVE: is a super-heroic, brand new live musical show, featuring the heroic trio from your favourite series: The PJ MASKS! Watch Catboy, Owlette and Gekko as they try to save the day from the sneaky villains – Romeo, Night Ninja and Luna Girl! Fluttering Feathers! Leaping Lizards! What a CAT-tastrophe! You've NEVER seen the PJ Masks like this before – leaping, flipping and climbing – live on stage! Complete with your favourite music and brand new songs you've never heard before! Don't sleep through it – watch the PJ Masks save the day, live on stage! Buy discounted PJ Masks tickets here.
Cheap school holiday cruise for a family of 4 – December 2018 – $341 each
If you are quick, you can nab yourself a SUMMER SCHOOL HOLIDAY deal from P&O Cruises out of Brisbane. Start the summer holidays with this awesome cruise – at just $341 per person. This is OUR PICK of the bargains this summer for families. But this price will go VERY quickly (and spaces for kids are limited). Choose an interior cabin on the 15th December 2018 cruise out of Brisbane to secure the $341 per person deal. Grab this offer here now!
The deal will work out like this:
Adult 1 – $442.67
Adult 2 – $442.67
Child 1 – $239.67
Child 2 – $239.67
Order total: $1364.68 (an average of $341 per person)

Brisbane & Surfers Paradise Secure Parking – 25% off!
Secure Parking is offering 25% off parking in the CBD, South Bank, Fortitude Valley or Surfers Paradise when you book online in advance.
25% off all parking across their garages including day, night and weekend.
(Does not apply to: Early Bird, Parkade, 200 Mary Street, Office Park, BTC, Darling & Co.)
Click here for all the discount codes.
One day ticket for Dreamworld from $75
Families will enjoy time with their little ones in the new ABC KIDS WORLD where you will find your way through the Bananas in Pyjamas Fun Maze, sail the seas on the Giggle and Hoot Pirate Ship and experience mini thrills on the Hop and Hoot ride. For Wiggles fans, The Big Red Boat and Big Red Car rides are a must. Family fun doesn't stop there with the DreamWorks Experience featuring lands including Madagascar Madness, Shrek's Faire Faire Away and Kung Fu Panda: Land of Awesomeness. Find out more here.
30-Minute Alpaca Walk with Alpaca Food – 42% off
Mountview Alpaca Farm invites adults and children to spend some time with fluffy animals at this Canungra-based farm. Get the discount here.
Escape Room Experience
In a world of personal gadgets and online experience, this is a special opportunity to spend some amazing time with your family. An adventure in this puzzle room will give you memories that you will treasure for many years to come! We love this discount offer here.
Funkee Monkees – full day & coffee for $9
Located in Coopers Plains, Funkee Monkees is an air-conditioned indoor play centre designed to foster a sense of fun, imagination and adventure in kids up to the age of eight years old. The centre boasts three designated play areas for different age groups, including a baby-only area where tots can play at their own pace. Parents can enjoy the experience just as much as they watch the action from the full-service café with a freshly made coffee or treat – all of which are peanut free. Complimentary Wi-Fi is offered and free parking is available on-site. Grab the discount here
Ferrari Joyride Experience for Kids
If your little one already has a taste for luxury, then they'll love whizzing around in a Ferrari F430 F1 Spider with a qualified driver as their private chauffeur. The gleaming European sports car is perfectly presented and features all the carbon fibre upgrades. After the half an hour joyride, your child will get an opportunity to get some photos with the car as well as a model Ferrari to take home with them to commemorate their experience. You can see the deal on this link – click here.
Horse Riding – up to 56% off
There is something gorgeous about heading off on either a short or long trek on the back of a horse.
You can take the kids horse riding these school holidays (or after the holidays!) for a mere $35. Click here.
Never want to miss out on our discount codes and coupons ever again? Sign up here to have the BEST discounts for families sent to your inbox the week before the school holidays start!
Shark & Ray Patting – 40% off!

Pat Sharks and Sting Rays with this school holiday discount codes – click here
If you want to find out if the experience is for you, we've created a video review about our experience – you can watch it here.
Holoverse – 49% off
The worlds first holographic planetarium. A fun school holiday activity for $16 with this discount. Click here.
Read our review before you go here.
Five Rock Climbing Day Passes at Rocksports – up to 50% off
Rocksports is an indoor rock climbing gym opened since 1996. They have 28 eight metre high walls. Changing rooms, a gear shop and fitness equipment including mats, kettlebells and resistance bands are available. Guests can also watch climbers from the viewing gallery. Get the discount here.
Urban Xtreme – 20% off


Grab the discount voucher that you will find in one of our hard copies of our magazine in Brisbane for a 2 for 1 voucher.
Can't get a hard copy of our magazine? Use FAM20 to get 20% off Ski & Snowboard, Park Passes, Playland entry & Totts Click here.
Australia Zoo Tickets – Free & Cheap options

If you are looking for cheap Australia Zoo tickets, you've found the right place!
$50 off your first Hello Fresh box
What we love about Hello Fresh is that we get recipe IDEAS each week with the healthy food delivered. If we are cooking for a few people, we bulk up the pasta or the rice and it often stretches beyond what they suggest it will feed! If you buy the Classic Plan with 3 meals for 2 people (totally feeds 3 people) it works out to be $19.95 for your first box!
====> Click here to automatically apply a $50 discount to ANY box of Hello Fresh!
Never want to miss out on our school holiday discount codes and coupons ever again? Sign up here to have the BEST discounts for families sent to your inbox the week before the school holidays start!
*This page contains affilliate links. Should you see something you like and choose to buy it, we will receive a small commission at NO extra cost to you.