School Holiday Discount Codes & Coupons Winter 2022
20/04/2022
If you are looking to save money these school holidays, this list is for you! We have listed the best school holiday discounts with codes and coupons for the upcoming winter
school holidays
in Brisbane, the Gold Coast and the Sunshine Coast.
Family days out discount codes and coupons for Brisbane, Gold Coast & Sunshine Coast
We have divided our lists this winter into 3 categories:
Brisbane
Gold Coast
Sunshine Coast
… because we know people travel further afield during the June/July school holidays.
And we've taken the hard work out of searching for a bargain with these school holiday discounts for your family. We have compiled our favourite awesome discounts codes and coupons for kids activities and fun for your family.
Without further adieu our favourite Brisbane & Gold Coast, Queensland discount codes for families for winter 2022 are here!
Brisbane discount codes for winter
We have scoured all the places that are offering discounts for the June/July and these are the best offer for Brisbane available right now!
miniBOUNCE Carindale
Children aged 6 years old and under can have fun at this play centre featuring mini trampolines, slides and an indoor playground. You will page only $12 for a two-hour afternoon trampoline arena session including socks for a child aged 1-6 years old. Usually $16.
Grab these discount passes here.
Bounce Inc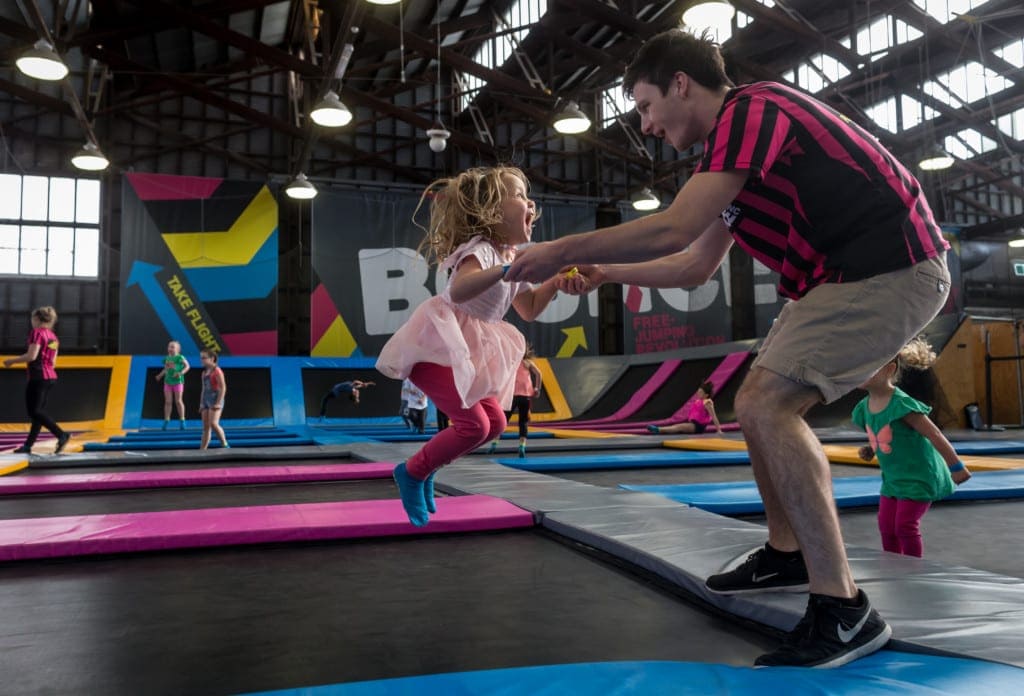 Assemble family or friends and unleash the free spirit at a 3,000 sqm trampoline hub featuring jumping zones such as the Big Bag or The Wall.
$29 for a two-hour Superpass with socks for two people, valid on Monday-Friday (total value up to $46)
$99 for a kids multi-visit pass for a child minimum 110cm tall and aged 15 years old and under (total value up to $129)
Grab these discounted passes to Bounce here.
Funhouse Family Entertainment Centres
Check out this playcentre that has a friendly atmosphere and a host of attractions that include the likes of arcade games, pin bowling, video consoles, driving simulators, superbikes and more.
Locations are at Tweed City shopping centre, Sunnybank Plaza Shopping Centre, The Myer Centre and Westfield Carindale Shopping Centre. This offer gives you nearly 50% off!!
Escape room experience
OK – this one has some T&C's you need to be aware of. There are two escape room experiences:
Haunted Academy escape room experience
Midweek escape room experience
You can see the discount here.
See Moreton
Explore the natural beauty of the Tangalooma Wrecks on Moreton Island with this dolphin and snorkel cruise including a buffet lunch.
Self guided scavenger hunt
I love this idea!! We did this in the school holidays last year.
Want to try out a real life scavenger hunt in Brisbane? Here's your chance thanks to ScavengerHunt.com! Grab up to five of your nearest and dearest adventurers and get ready for an exciting, self-guided scavenger hunt powered by your smartphone. Explore at your own pace as you solve riddles and challenges where you'll earn points. Head to the starting line and start whenever you're ready!
Find the discounted scavenger hunt here.
Riddle Escape Games
Detectives travel around the city, cracking codes, solving puzzles to eliminating suspects and find the culprit. Choose the city-wide selective game called Wizard's World.
Wizard's World is an outdoor, GPS-based Detective game, during which the players have to find who attacked Professor Hergolor outside the library of treasures. Sergeant Smudge will guide the players and provide hints to help them locate the culprit.
Shark & ray patting
Pat Sharks and Sting Rays with this school holiday discount codes
Discounted tickets – click here
If you want to find out if the experience is for you, we've created a video review about our experience – you can watch it here.
High tea discount
I bought this high tea in Ashgrove and took the kids one school holidays. I applied a discount code that they had on the day (it changes daily, so just check to see what it is on the day you are on their site) to get the deal for $41.65 for the 4 of us!!
See ALL the high teas on offer in Brisbane here.
Bowling – Mt Warren
Enjoy a game of bowling at this professional tenpin facility in Mt Warren; includes shoe hire from $9.50 per person
VRcade
The experience is perfect for the VR newbies and casual VR players, all the way through to the avid VR gamers and adrenaline junkies.
Caboolture Bowl & Mini Golf
We did the deal in the summer school holidays last year and wrote about it on our Facebook page. We paired this with a really great new park and Sizzler for lunch. A brilliant day out.
Jummps Indoor Trampoline Park
Jump into an air-conditioned world of trampolines, air tracks, dodgeball, free bounce and get your kids to walk the plank if they dare.
Paintball in Petrie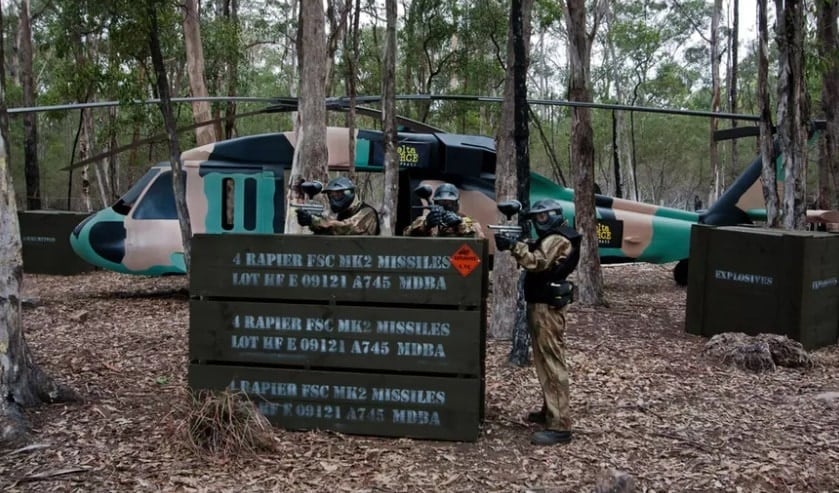 If you have older kids, this is a great idea for the school holidays. At just $10 per kid for all day fun… this is my top pick for kids 16 and older.
Brisbane Wheel
The Channel Seven Wheel of Brisbane towers 60 metres over the South Bank Parklands and commands panoramic views of the Brisbane River and city skyline. Its fully enclosed and air-conditioned gondolas provide comfortable vantage points for looking out over the city. On-board dining experiences may also be included.
Get the discounted tickets here.
Drive-in movie with hotdogs or burgers
If you haven't experienced Tivoli Drive-in, you're definitely missing out on a night of good ol' fashioned fun. Curl up in the comfort of your car and take in the latest films on a big screen while you chow down on hotdogs or BBQ burgers.We did this with the kids when they opened back up to the public recently (we saw Sonic the Hedgehog – loved it!) Highly recommend – make some awesome memories!
Get your discount drive-in movie tickets here.
Spirits of the Red Sand
Spirits of the Red Sand is an interactive live experience that takes the spectators back to the Aboriginal times. The shows run nearly every day during the year and enable guests to find out more about Australia of the 1800's when two very different cultures had to learn to live with each other. Packed with song, dance and storytelling, Spirits of the Red Sand is always followed by a hearty char-grilled feast for all guests.
Grab a discounted ticket for your family here.
Gold Coast discount codes for winter
We have also looked over all the places that are offering discounts for the June/July on the Gold Coast and these are the best offers for the upcoming school holidays.
Bowling at Coomera
Head to Westfield Coomera for one or two games of ten-pin bowling and opt to include 18 holes of mini golf; shoe hire included.
Find your cheap bowling tickets here.
Putt Putt Mermaid Beach
Who doesn't love mini-golf?? Choose from three themed 18-hole courses, the Fun Run, Waterways or Jungle Trail, and take on water features or motorised obstacles
Find a package to suit your family here.
Top Golf – Gold Coast
Up to 6 guests can enjoy themselves and play a two-hour game of hitting microchipped golf balls that track each shot's accuracy and distance
Get the discounted entry here.
Mountview Alpaca Farm
Mountview Alpaca Farm invites adults and children to spend some time with fluffy alpacas at this Canungra-based farm. The company offers alpaca experiences plus alpaca feeding with great opportunities for selfies and family photos. There is also an alpaca gift shop on site where you book in. Located inside a vineyard, you can stay longer and purchase lunch or drinks and sit by the creek in the country vineyard setting.
GC Jet Boat & Parasail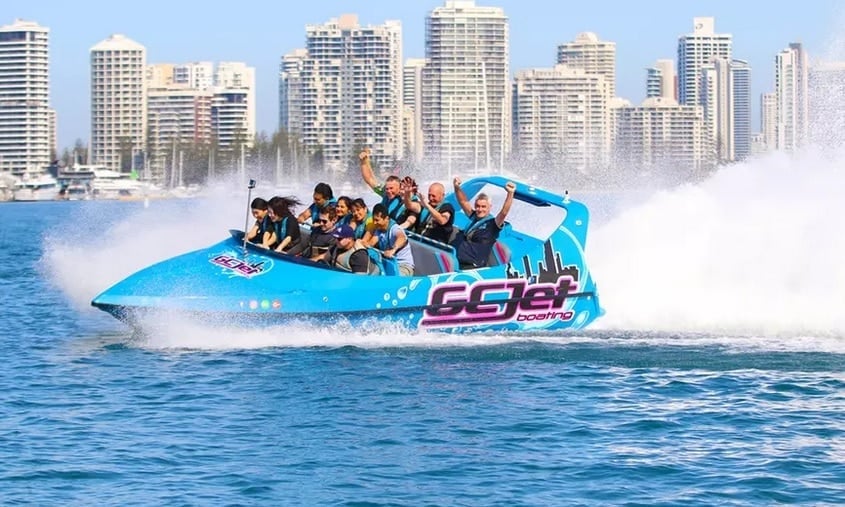 Embark on a 55-minute ride through Gold Coast's Broadwater
Departing from the GC Jet Base at Marina Mirage the jet boat will hit speeds of up to 75kph
The ride also includes 360-degree spins, high-speed slides and fishtailing
Quick stops at Wave Break Island, Southport Seaway and the Sovereign Islands mansions
This ride also passes through South Stradbroke Island in The Moreton Bay Marine Park
With the Surfers Paradise on the skyline, the jet boat will head back behind Wavebreak Island and then onto Marina Mirage
EcoPark Fishing World & Farm Stay
Spend the day catching and releasing a wide range of fish from three ponds and feed birds and cute farmyard animals like miniature horses. $29 pp or $99 family of 4.
Deal includes:
All-day entry to Eco Park Fishing World
All-day fishing pass with a rod, tackle and bait
Animal encounter with a tub of food
Bird encounter with bird seed
Paddle boating
Jumping castle
Four-hour snorkelling and island adventure
Snorkel around the calm waters of Wave Break Island to see and explore over 400 varieties of fish; suitable for all swimming abilities.
Grab your discount for this snorkeling trip here.
Surfers Paradise cheap river cruise
Surfers Paradise River Cruises offers an extensive range of experiences on the water to suit all types of seafarers. Morning, afternoon and lunch river cruises depart seven days a week, offering a leisurely experience along the Gold Coast waterways. The vessel is designed with comfort in mind, featuring a covered indoor seating area, sightseeing deck and step-free access.
Get the discount river cruise for your family here.
Sunshine Coast discount codes for winter
Shazam. I also looked across the Sunshine Coast for discounts and coupons that are suitable for families on holidays this winter. Here is what I found:
Early Morning Weekend Paddleboard
Get out early on the calm morning water of the Pumicestone Passage. At high tide glide quietly past stingrays through crystal clear waters as you paddle to the surrounding white sandy coves and inlets of Bribie Island National Park. At low tide, explore the sandbars of the passage for legions of soldier crabs and find an island on the passage all to yourself.
Australia Zoo – kids $35, adults $57.50
If you are looking for cheap Australia Zoo tickets, you've found the right place!
You can also grab a family ticket saving $10!
Discounted tickets click here.
We show you how to get Australia Zoo tickets CHEAP and how to get your kids in for FREE in this article.
Combo ticket for Australia Zoo & Sea Life
Get TWO days out for a fraction of the price these school holidays! This is the best price I have seen for these two attractions on the Sunshine Coast!
Get into both attractions (on two different days) for only $56.90 for kids and $89.90 for adults! (The adults tickets to Australia Zoo are usually $59 alone!!) The family pass is also good value at $272.90!
Find out more about the discount options here.
Never want to miss out on our discount codes and coupons ever again? Sign up here to have the BEST discounts for families sent to your inbox the week before the school holidays start!
Discounted toys and games for kids
We have found a bunch of discounted and cheap toys that you can have delivered in time for the school holidays. These will keep the kids entertained when they need to say at home!
There are are loads to choose from – but my three favourites are:
Magic Doodle Mat and Pens – $14
Sand and Beach Playsets – $29
Electronic Keyboard – $49
Find them and more on this link here.
$50 off your first Hello Fresh box
What we love about Hello Fresh is that we get recipe IDEAS each week with the healthy food delivered. If we are cooking for a few people, we bulk up the pasta or the rice and it often stretches beyond what they suggest it will feed! If you buy the Classic Plan with 3 meals for 2 people (totally feeds 3 people) it works out to be $19.95 for your first box!
====> Click here to automatically apply a $50 discount to ANY box of Hello Fresh!
Never want to miss out on our school holiday discount codes and coupons ever again? Sign up here to have the BEST discounts for families sent to your inbox the week before the school holidays start!
Are you still looking for a discounted school holiday activity?
You will find more deals for families here:
3 responses to "School Holiday Discount Codes & Coupons Winter 2022"