UPDATED: NEW September School Holiday Discount Codes & Coupons
1/09/2020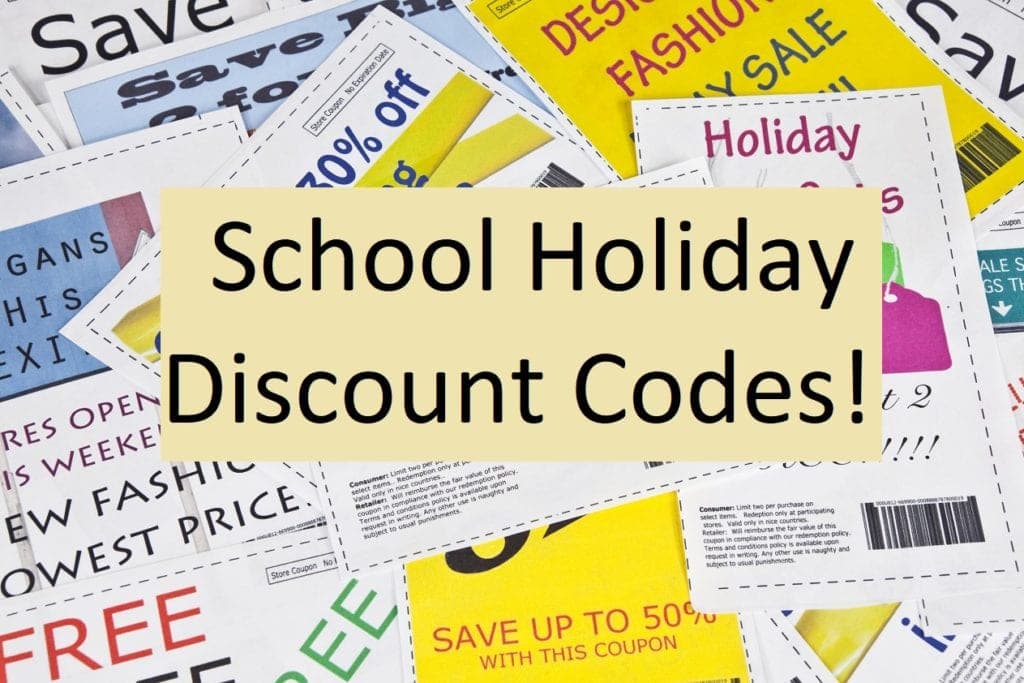 If you are looking to save money these school holidays, this list is for you! We have listed the best school holidays discount codes for the upcoming spring school holidays in Brisbane.
Family days out discount codes and coupons for Brisbane
We've taken the hard work out of searching for a bargain with these school holiday promotions for your family. We have compiled our favourite awesome discounts codes and coupons for kids activities and fun for your family.
Without further adieu our favourite Brisbane, Queensland discount codes for families for September/October 2020 are here!
Segway tours
Glide around Brisbane on the smart, robotic device know as the segway, with no experience required. Opt for the 45-minute Explore Tour to get a feel for Brisbane, or upgrade to the hour-long Adventure Tour to see more highlights of this beautiful city! Perfect for all ages, this deal is great for a day out with the family or solo sight-seeing. You'll have the ride of your life!
Get your discounted segway ticket here.
10 person entry pass for Redcliffe's inflatable water park
Looking for a fun, family-friendly way to enjoy the start of the warm weather? Aqua Splash in Redcliffe has you covered! As a 'Splasher', you can glide down slides, channel your inner ninja warrior on the obstacle courses, bounce on the water trampoline and frolic in the beautiful waters of Moreton Bay. Invite up to nine other friends and make a day of it!
Play squash at one of two Brisbane locations – $9.90
Take the kids for a game of squash in Nundah or Carseldine and wear them out!
Click here for the discount squash tickets.
GC Wake Park – $29
Beginners and advanced riders can hit the water and enjoy wakeboarding or kneeboarding for an hour or for a full day.
Mini golf – $9
Oh bargain!!
Get through 18 holes spread across 6,000 square metres by dodging real sandstone boulders, long natural waterways and tropical plants
Get the mini golf discount here.
Fox in a Box escape room
Fox in a Box has six escape rooms to choose from, all varying in theme and complexity. Can you prevent an all-out nuclear war in the Bunker?, find a cure in the Zombie Lab?, escape from the Zodiac Killer?, discover Tesla's last invention before the FBI do?, or break out of one of two prison cells during a riot?!
Fox in a Box escape rooms are timed at 60 minutes with six participants to a room – or go head-to-head with a team of twelve to see who can escape their prison cell first. If you're going in with teenagers or feel you may need a little help, you can ask for a few extra hints to be left in the room before you enter.
Fox in a Box is offering Families Magazine readers 20% off a booking for 2-12 children throughout September/October 2020. Enter or mention code FamiliesMagazine20 when booking to save! All games must be booked and played before 31 October, 2020.
Fox in a Box is located at 150 Edward Street, Brisbane. Find out more here.
Brisbane & South Bank parking – $9* all day weekend parking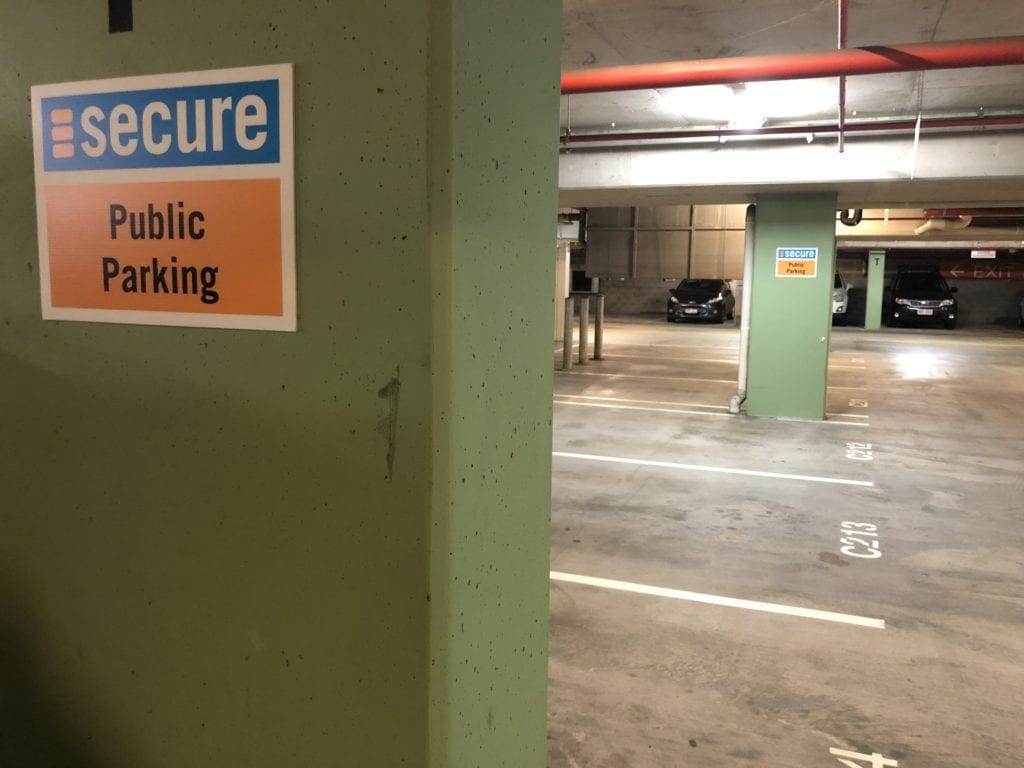 Secure Parking now has $9* ALL DAY weekend parking in the CBD and South Bank when you book online in advance
At South Bank we mostly use SW1 car park and in the city we usually use the Wintergarden car park, but there are lots to choose from! Go to the Secure Parking website here.
(*There is also a $1.10 booking fee)
Click here for other parking ideas.
Drive-in movie with hotdogs or burgers – $11 for 6 people
If you haven't experienced Tivoli Drive-in, you're definitely missing out on a night of good ol' fashioned fun. Curl up in the comfort of your car and take in the latest films on a big screen while you chow down on hotdogs or BBQ burgers.We did this with the kids when they opened back up to the public recently (we saw Sonic the Hedgehog – loved it!) Highly recommend – make some awesome memories!
Get your discount drive-in movie tickets here.
Kids' introduction to horses – Gold Coast Hinterland
During the interactive lesson, children will explore the stables and be taught about the essentials of looking after a horse, with some games involved to keep it fun. It's an amazing way for kids to build confidence and feel comfortable around these gorgeous animals. It's the perfect starting point for any child with an interest in horses.
Please note: This is not a horse riding lesson, but a horse safety introduction.
Find the $25 Introduction to Horses lesson here.
Self guided scavenger hunt around Brisbane – from $30

I love this idea!! I have bought this for the July school holidays.
Want to try out a real life scavenger hunt in Brisbane? Here's your chance thanks to ScavengerHunt.com! Grab up to five of your nearest and dearest adventurers and get ready for an exciting, self-guided scavenger hunt powered by your smartphone. Explore at your own pace as you solve riddles and challenges where you'll earn points. Head to the starting line and start whenever you're ready!
Find the discounted scavenger hunt here.
Online scavenger hunt – $10
I did this with my son and his friend when they had a sleep-over recently. It was pretty good. You will need to help younger kids, but older kids will be able to google up the answers!
The year is 2255. In 2020, a government agency froze your team's bodies in time against your will. Now you've been woken up and have been dropped in a random place on Earth.​ Your mission is to determine where you are and to find your way back to safety, fending off all the dangers along the way. Do you and your team have the brains required to survive?
Buy this online scavenger hunt here.
VRcade – from $15
Offering more than just a regular gaming experience, VRcade transports their customers into immersive virtual worlds. Visitors can use modern, professional hardware such as Vive and Vive Pro paired with a room-scale motion-tracking technology for a fully entertaining experience.
See the discount options here.
Just Jump, Redbank – from $5
Just Jump is a Redbank-based centre where adults and children can let off some steam and bounce on a variety of inflatables such as a bouncy castle or a giant pirate ship. Guests can also opt to enjoy a nerf strike game and jump on trampolines. The studio is happy to play hosts to birthday parties and offers a selection of packages to choose from.
Find your $6 entry ticket here.
Get TWO days out for a fraction of the price these school holidays! This is the best price I have seen for these two attractions on the Sunshine Coast!
Get into both attractions (on two different days) for only $56.90 for kids and $89.90 for adults! (The adults tickets to Australia Zoo are usually $59 alone!!) The family pass is also good value at $272.90!
Find out more about the discount options here.
Supa Golf – all day pass – $10
SUPA GOLF is a nine-hole course situated at the picturesque Sirromet Winery in the high altitude of the renowned Queensland's Granite Belt region. The company offers a modified form of golf that uses over-sized golf clubs and over-sized coloured balls to help players have an enjoyable family outing. The venue also provides a variety of food and beverages to satisfy hungry and thirsty stomachs.
Get the discounted offer here!
Virtual Reality Station – $7
Up to six adrenaline seekers can enjoy a virtual reality experience or play one of the many thrilling VR games.
High tea with kids – from $25
We've dedicated a whole post to having High Teas with kids in Brisbane – and, of course, we've found the best prices in town too…
Click here to get the best deals for your special morning or afternoon out!
Indoor skydiving experiences
iFly has now opened in Chermside in Brisbane and is offering 2 flights at a discounted rate. What an EPIC school holiday activity at a discounted rate! (Must be booked BEFORE the school holidays start, but CAN be used for mid-week flights DURING the school holidays.
Brisbane discounted offer is for 2 flights midweek for one person – $69 – click here
Gold Coast discounted offer is for 2 flights for one person – $92 – click here
Caboolture Bowl & Mini Golf – from $5
We did the deal in the summer school holidays last year and wrote about it on our Facebook page. We paired this with a really great new park and Sizzler for lunch. A brilliant day out.
2 hours of abseiling – from $59
Embark on a climbing, abseiling or cave exploring trip at Kangaroo Point; choose from morning to full-day experiences.
Choose your outdoor adventure here.
Topgolf Gold Coast – 2 bay hire for 6 hours – $79
Up to 6 guests can enjoy themselves and play a two-hour game of hitting microchipped golf balls that track each shot's accuracy and distance.
Glow worm and observatory tour from $49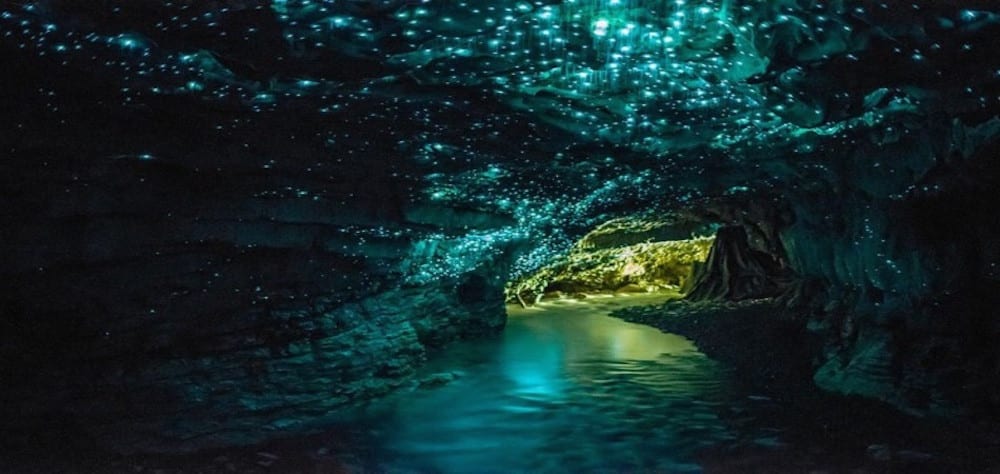 Access a rainforest area and glow worm cave inhabited by rarely seen wildlife
See the hidden life of nocturnal animals as seen by torchlight in their natural surroundings
Explore a World Heritage site, led by a passionate and experienced guide
All national park fees included
Gaze at the stars at Springbrook Observatory
Coaches tour from Surfers Paradise to glow worm caves, the Observatory, and back
Enjoy tea, coffee and Australia's famous lamingtons
Tours run daily 6 p.m. – 11 p.m.
Get the discounted offer here.
Escape room experience
In a world of personal gadgets and online experience, this is a special opportunity to spend some amazing time with your family. An adventure in this puzzle room will give you memories that you will treasure for many years to come!
We love this discount offer here.
Ferrari joyride experience for kids
If your little one already has a taste for luxury, then they'll love whizzing around in a Ferrari F430 F1 Spider with a qualified driver as their private chauffeur. The gleaming European sports car is perfectly presented and features all the carbon fibre upgrades.
After the half an hour joyride, your child will get an opportunity to get some photos with the car as well as a model Ferrari to take home with them to commemorate their experience. It is not cheap, but OMG how fun does it look!!?
You can see the deal on this link – click here.
Horse riding – from $39
There is something simply divine about heading off on either a short or long trek on the back of a horse that adults and kids just love!
Gummies Farm Tours operates from a 140-acre horse farm in the Biddaddaba Valley and has been family-owned and -operated since 1985. This working farm runs half- and full-day programs, as well as one- or two-night farm stays with three-star accommodation packages. Visitors can participate in a range of activities including horse riding, boomerang throwing, animal feeding, and four-wheel driving.
Enjoy a 90-minute trail ride, boomerang lesson and whip-cracking demo
Have a turn at feeding the animals and milking a cow
Morning or afternoon tea is provided
Fun day out for kids and families
Choose a morning or afternoon session
Get the horse riding deal here!
Never want to miss out on our discount codes and coupons ever again? Sign up here to have the BEST discounts for families sent to your inbox the week before the school holidays start!
Shark & ray patting – 40% off!

Pat Sharks and Sting Rays with this school holiday discount codes
Discounted tickets – click here
If you want to find out if the experience is for you, we've created a video review about our experience – you can watch it here.
Australia Zoo – kids $35, adults $51.35
If you are looking for cheap Australia Zoo tickets, you've found the right place!
We show you how to get Australia Zoo tickets CHEAP and how to get your kids in for FREE in this article.
Discounted tickets (use CATCHALL) – click here.

Discounted toys and games for kids
We have found a bunch of discounted and cheap toys that you can have delivered in time for the school holidays. These will keep the kids entertained when they need to say at home!
There are are loads to choose from – but my three favourites are:
Magic Doodle Mat and Pens – $14
Sand and Beach Playsets – $29
Electronic Keyboard – $49
Find them and more on this link here.
$50 off your first Hello Fresh box
What we love about Hello Fresh is that we get recipe IDEAS each week with the healthy food delivered. If we are cooking for a few people, we bulk up the pasta or the rice and it often stretches beyond what they suggest it will feed! If you buy the Classic Plan with 3 meals for 2 people (totally feeds 3 people) it works out to be $19.95 for your first box!
====> Click here to automatically apply a $50 discount to ANY box of Hello Fresh!
Never want to miss out on our school holiday discount codes and coupons ever again? Sign up here to have the BEST discounts for families sent to your inbox the week before the school holidays start!
Are you still looking for a discounted school holiday activity?
You will find more deals for families here:
3 responses to "UPDATED: NEW September School Holiday Discount Codes & Coupons"