The Enchanted Garden Brisbane | Christmas at Roma Street Parkland
15/01/2022
Note: This event is yet to be confirmed for 2022
The Enchanted Garden Brisbane Christmas lights are back to delight visitors at Roma Street Parkland! This event is super popular so be sure to book your tickets asap!
Running 1 – 23 December, the family-friendly lighting trail combines over 8000 square metres of custom-made lighting, audio, special effects and sculptures to deliver a world-class digital art experience in the heart of Brisbane.
The lighting trail is constructed with cutting-edge visual and auditory elements like holograms, LED fields and hundreds of 3D-printed birds, with the 11 unique activations combining nature and technology for an unforgettable immersive journey. You're going to find yourself saying 'WOW', a lot!
Visiting The Enchanted Garden in Brisbane
This summer, journey through The Enchanted Garden at Roma Street Parkland and experience one of Brisbane's largest lighting displays from 1 – 23 Dec
Bookings are required to attend this event. Tickets will no longer be free. Tickets to The Enchanted Garden are $7 per person (free for under 2 years), and you can take as long as you like to enjoy The Enchanted Garden once admitted.
>> Purchase your tickets to The Enchanted Garden here

Opening Hours and Sessions
Bookings will have specific entry times every 15 minutes from 6:30pm through to the last entry at 9pm.
The self-guided route takes around 30 minutes to complete, with 11 unique activations to visit within the diverse landscapes of Roma Street Parkland. The 6:30pm dusk session is recommended for younger children and those with specific sensory needs.
Though tickets for specific entry times are limited and not transferrable to earlier/later sessions, visitors can take as long as they like to experience the magical journey once they enter the installation. In the spirit of the season, the ticketing process also includes an option to make a voluntary donation to The Children's Hospital Foundation.
View The Enchanted Garden map for the route in 2021.
Another important thing to remember is that the plants are delicate at Roma Street Parkland, so please keep to the paths and refrain from touching the display while enjoying the event.
The Celebration Lawn Precinct

To complete the festive experience, Roma Street Parkland's Celebration Lawn and Lakeside Lawn will host nine of Brisbane's favourite food trucks (accessible to those without The Enchanted Garden tickets too) from 4pm to 9:30pm daily.
Getting to The Enchanted Garden Christmas Lights
If you decide to drive in, the Secure Parking Barracks Car Park is around a 15-20 minute walk from Roma Street Parklands.
Another great way to access Roma Street Parkland is by train, or from the Roma Street busway station. The Parkland is a short walk from the Transit Centre, while limited car parking is available at College Close and on Parkland Boulevard.
Roma Street Parkland offers an easy walk into the city after your Enchanted Garden visit, with King George Square less than ten minutes away.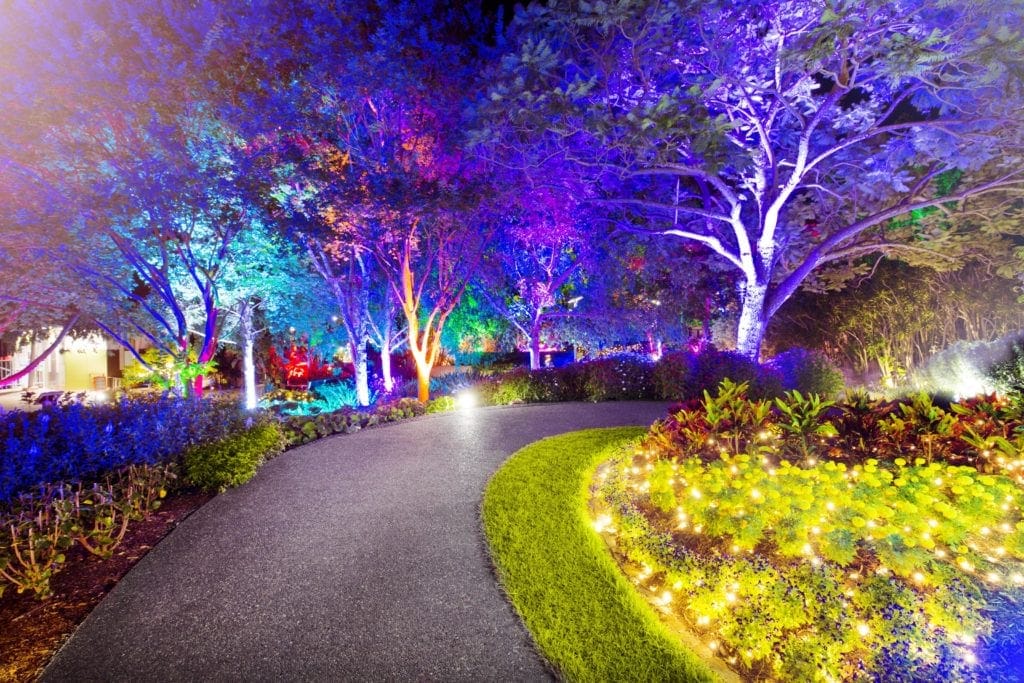 Love Christmas lights? Check out our Brisbane Christmas Lights Guide here.
What to expect in the Enchanted Garden
What else is there to do at Brisbane's Roma Street Parkland?
Once you have finished with The Enchanted Garden, be sure to head back down to the green. Dancing spotlights are there for your children to 'chase' across the lawn. Watch the kids create games and show off some serious displays of athletic ability!
The gorgeous waterfall is backlit with a variety of intense colours. It serves as a backdrop for what will truly be a wonderful family evening in town. With a range of eating options close by, this is a summer experience you won't want to miss out on!
Read our full review of Roma Street Parkland and its playgrounds and bike/scooter paths. You can also find out what other fun activities are coming up at Roma Street Parkland on our calendar here.
Ask any of the helpful Parkland staff for assistance at any point. They are out in force to help your family have a wonderful, unforgettable experience.
It's Christmas time in Brisbane city!
For more information about other Christmas in Brisbane activities, head to Christmas in Brisbane!
We've got your comprehensive list of where to see the BEST Christmas lights in Brisbane here.
Wanting to head out to some festive Christmas Markets? We'll tell you where you can buy the ultimate gifts for your loved ones this Christmas from your local community markets!
If you're ready to belt out a few carols at one of Brisbane's many Christmas Carol events read this article.
3 responses to "The Enchanted Garden Brisbane | Christmas at Roma Street Parkland"