REVIEW: Enchanted Garden Brisbane | Christmas at Roma Street Parkland
26/11/2019
The Enchanted Garden Brisbane Christmas lights are back to thrill visitors at Roma Street Parkland, with a longer and more diverse garden experience.
Delight in your walk through a series of gardens and weeping figs and marvel at the treetops in a twinkling rainforest. There are additional entry and exit points this year which means more freedom of movement and the ability to go at your own pace.
Visiting the NEW Enchanted Garden in Brisbane
More time to play
The Enchanted Garden Brisbane will run from 29th of November to the 13th of December. There is SO much more time to delight in the beautiful display this year! The garden is also open for an additional half an hour each evening. It's open from 6.30pm to 10pm, with last entry at 9.30pm each night.
A larger Enchanted Garden in 2019
The event's footprint is much larger in 2019, with the light display stretching throughout several areas of the parkland, rather than focusing on one location. There will also be directional signage in place to assist on the nights in question.
No more queues at the Enchanted Garden!
Visitors no longer need to queue to enjoy The Enchanted Garden. The new, expanded layout allows visitors to stroll through at their leisure. The only section that may require some queuing is the rainforest area. To ensure crowd safety, numbers will be managed through the rainforest if it is at capacity. The rainforest will also follow a one-way format to ensure smooth crowd movements and ease of access for visitors.
If visitors do not wish to queue, they can choose to skip this section.
This longer route will mean more visitors can experience the gardens at one time, and no queues for entry! For people who don't wish to walk the rainforest section, take a short cut back over the bridges and straight down to Celebration Lawn. As The Enchanted Garden route passes the Children's Garden and play area; younger visitors can take a few minutes to burn off some energy, before heading on to the next set of twinkling gardens and trees.
Transport to the Enchanted Garden Christmas Lights Brisbane Roma Street Parklands
If you want to take public transport to the Enchanted Garden you are in luck! Roma Street Parkland is serviced by Roma Street train station and it is a short stroll to the Parkland. If you are driving, there is ample parking available in the surrounding area.
Parking at the Enchanted Garden 2019
Our friends at Secure Parking are again offering a discount for parking for this event – $8 for Brisbane Transit Centre – click here to have the discount applied (the code is GARDEN19). T&Cs – For weekday – enter after 4pm. For weekend – all day parking.
Roma Street Parkland offers an easy walk into the city after your Enchanted Garden visit, with King George Square less than ten minutes away. From this location, you'll be able to catch the end of the Christmas Parade presented by David Jones, or one of the nightly Gold Lotto City Lights animations, which run from 7.30pm til midnight.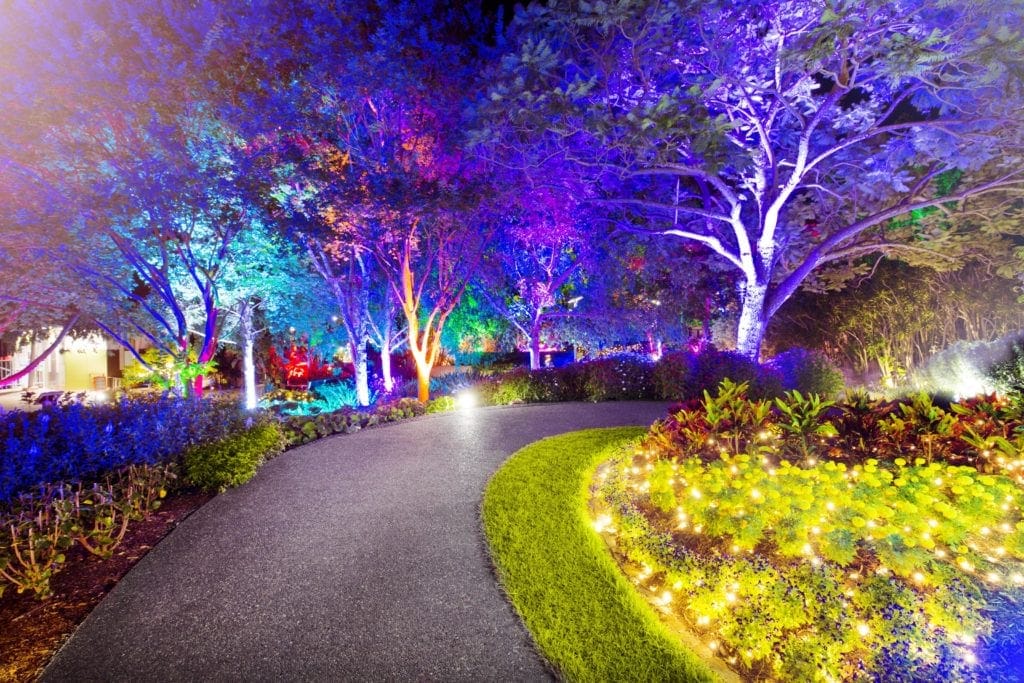 The easiest way to access Roma Street Parkland is by train, or from the Roma Street busway station. The Parkland is a short walk from the Transit Centre, while limited car parking is available at College Close and on Parkland Boulevard.
Love Christmas lights? Check out our Brisbane Christmas Lights Guide here.
What to expect in the Enchanted Garden
Forest and Lakeside Meadows will host live musicians and the Celebration Lawn will be a giant picnic ground, encircled by popular food trucks, perfect for family-friendly dinners and snacks. Pack a picnic rug, folding chairs and bottled water to relax with a multicultural feast of flavours including pizza, burgers, German sausages, Venezuelan, Indian and African meals as well as coffee, juice and ice cream! Visitors are also welcome to bring their own picnics to enjoy in the balmy summer air. Food trucks, ahoy!
After you follow the curving walkway through the floral archway you'll burst into a world of colour and light. The intricate placing of variety of different types and colours of lights leads you through what seems to be different worlds. Flowerbeds are spotted with golden, glowing bulbs and trees are lit up from beneath to cast beautiful shapes. Cheeky elves dot the landscape in sneaky hiding spots waiting to be discovered by children and the watchful eyes of a colourful scarecrow ensure everyone stays on the path.
The reptilian residents of the gardens remain in this garden so make sure your little ones keep their eyes peeled in the bushes and shrubs. Looking up, the stars and the cheery Christmas lights in the bordering apartment buildings add to the wonder. So much planning and artistry has gone into developing this garden as a magical, enchanted way to spend an evening with family. Children may run between sections or take their time to investigate each individual bulb – this is an activity that caters for a vast array of needs and personalities.
All pathways are fully accessible for prams and wheelchairs, though some sections of boardwalk are on a decline and may require careful navigation during busy periods.
What else is there to do at Brisbane's Roma Street Parkland?
Once you have finished with the Enchanted Garden, be sure to head back down to the green. Dancing spotlights are there for your children to 'chase' across the lawn which can develop into games and some serious displays of athletic ability!
The gorgeous waterfall is backlit with a variety of intense colours which serves as a backdrop for what will truly be a wonderful family evening in town. With a range of eating options close by, this is a summer experience you won't want to miss out on!
Read our full review of Roma Street Parkland and its playgrounds and bike/scooter paths and find out what other fun activities are coming up at Roma Street Parkland on our calendar here.
We're so excited to see all the Christmas Lights Brisbane has to offer and Roma Street Parkland has the BEST display in inner Brisbane!
Ask any of the helpful Parkland staff for assistance at any point – they are out in force to help your family have a wonderful, unforgettable experience.
It's Christmas time in Brisbane city!
For more information about The Enchanted Garden, or other Christmas in Brisbane activities, head to Christmas in Brisbane!
One response to "REVIEW: Enchanted Garden Brisbane | Christmas at Roma Street Parkland"