The Enchanted Garden Brisbane | Christmas at Roma Street Parkland
9/11/2020
The Enchanted Garden Brisbane Christmas lights are back to delight visitors at Roma Street Parkland! What's just as exciting is there are more dates available over summer than ever before so hopefully no one will miss out this year! With that said, this event is super popular so be sure to book your tickets asap!
From hanging crystal curtains to neon butterflies and laser gardens, The Enchanted Garden treats families to an evening walk unlike any other, bordered by towering trees and lush foliage, lit with the warm glow of 40,000 mesmerising lights. You're going to find yourself saying 'WOW', a lot!
Visiting The Enchanted Garden in Brisbane
More time to play
This summer, journey through The Enchanted Garden at Roma Street Parkland and experience one of Brisbane's largest lighting displays from Friday 4 Dec 2020- Sunday 17 Jan 2021.
Bookings are required to attend this event. **Please note: tickets for sessions from 4 – 27 December are now fully booked. FREE tickets for 30 December and January sessions went live at 9am on Friday 11 December. Please note that tickets will not be available at the event. Book your tickets here.
Join the waitlist for December sessions!
If you would like to join a waitlist for dates from 4 – 27 December, please head here to join the waiting list. Select the date you would like to attend, then click the orange 'join waitlist' button in the bottom right corner. Complete your details and complete this form for every ticket you require, applying the name of each person to the form.
Families Tip: Our friends at Secure Parking are again offering a discount for parking for this event – $10 at The Barracks Car Park. Read on for details on how to secure your discounted park!

Opening Hours and Sessions
This year's newly extended program will ensure ample time to meander the Parkland's twinkling tracks, with four 45 minute sessions taking place each night of operation*.
Session times are as follows:
6:30pm – 7:15pm
7:15pm – 8:00pm
8:00pm – 8:45pm
8:45pm – 9:30pm
*The Enchanted Garden will not run on Mondays and Tuesdays, with the exception of 21 and 22 December, when the event will take place. In addition, the event will not operate over the Christmas and New Year period, 24 – 26 December and 31 December.
Another important thing to remember is that the plants are delicate at Roma Street Parkland, so please keep to the paths and refrain from touching the display while enjoying the event.
The Celebration Lawn Precinct

Once again, Celebration Lawn will offer an area of respite and refuelling, with a number of premium food truck eats available from 5pm daily. Or, indulge in Roma Street Parkland's celebrated culinary offering – The Garden Room Café. Families Tip: Food trucks are only able to accept contactless payment (payment by card only, cash is not accepted).
The Enchanted Garden Event Map
See a large copy of The Enchanted Garden Event Map here.
Getting to The Enchanted Garden Christmas Lights
If you decide to drive in, our friends at Secure Parking are again offering a discount for parking for this event – $10 at The Barracks Car Park (including booking fee) which is around a 15-20 minute walk from Roma Street Parklands.
For weekdays – enter after 4pm.
For the weekend – all day parking for 1 day.
Simply use this promotion code: ENCHANTED on the Secure Parking booking page. Book your space now to avoid disappointment. See Secure Parking Terms and Conditions here.
Another great way to access Roma Street Parkland is by train, or from the Roma Street busway station. The Parkland is a short walk from the Transit Centre, while limited car parking is available at College Close and on Parkland Boulevard.
Roma Street Parkland offers an easy walk into the city after your Enchanted Garden visit, with King George Square less than ten minutes away.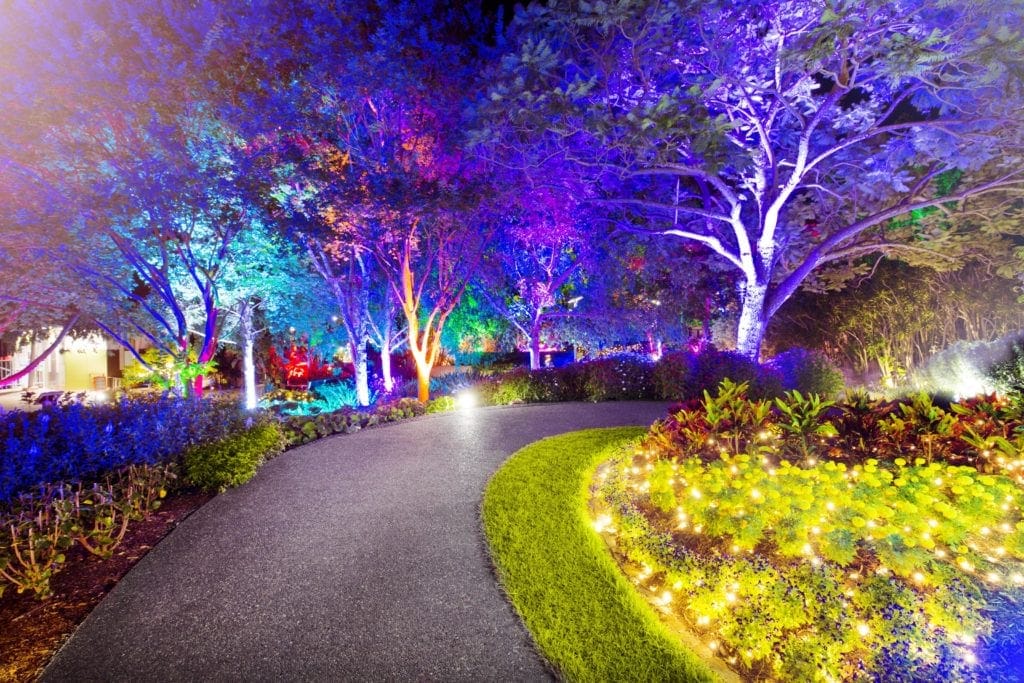 Love Christmas lights? Check out our Brisbane Christmas Lights Guide here.
Arriving at the Event
On arrival at The Enchanted Garden make your way to the Celebration Lawn. When you get there you will be required to have your Eventbrite tickets handy for scanning. At the check-in point, you may need to queue to gain entry. You will be provided with a ticket that will note your queuing time for entry to the lighting route. The event staff will then show you where the entry point of the lighting route is located. Be sure to arrive well before your allocated session to allow for any wait times that may be experienced.
What to expect in the Enchanted Garden

Just before your session time, line up at the entrance near the large waterfalls at the Celebration Lawn. You'll then walk through a grand looking entrance and make your way up cement ramps leading to The Enchanted Garden. There is plenty of room for wheelchairs and prams throughout the entire experience which we love! With that said, some sections of the boardwalk are on a decline and may require careful navigation during busy periods.
Let your family's Enchanted Garden adventure begin!
At the top of the ramp, there's a great spot for a quick family selfie before entering the Enchanted Garden. Due to the staggered session times, we had plenty of room and definitely were not overrun by crowds. Start by heading along the elevated walkway which is lit up with a canopy of blue hanging fairy lights. The kids will love racing along this vibrant canopy of lights. You'll then make your way along the gravel path past a fun musical light installation which resembles fluoro light tubes. The next section contains brightly lit rustic shrubs with a magic nest of what could be dinosaur eggs which make noises and change colours. Let the kids imaginations run wild!
There's still, even more, to explore in The Enchanted Garden
Then it's down another sloping wooden walkway under an endless canopy of fairy lights that change colour. Our toddlers loved this part. The walkway eventually curves around into a rainforest environment lit with vibrant colours and what looks to be tiny little fireflies dancing across the leaves. It's quite beautiful to watch. Then it's back onto the cement path to enjoy more brightly lit trees and light projections before discovering a magic cave with hanging butterflies. The path then curves back onto another walkway which is lined with colourful changing lights. Lastly, you'll come to the end of the Enchanted Garden with a laser light projection on the rockface that shifts from a frog to other brightly covered images. This is also fun to pause and watch.
As you're exiting make sure you take a minute to marvel at the residential apartment buildings lining the parklands as many are decorated with cheery Christmas lights adding to the wonder. The reptilian residents of the gardens remain so make sure your little ones keep their eyes peeled on the bushes and shrubs. Families Tip: Bring the mozzie spray! We had a few nibbles throughout our adventure through the Enchanted Garden.
So much planning and artistry has gone into developing this garden as a magical, enchanted way to spend an evening with family. Children may run between sections or take their time to investigate – this is an activity that caters for a vast array of needs and personalities.
What else is there to do at Brisbane's Roma Street Parkland?
Once you have finished with the Enchanted Garden, be sure to head back down to the green. Dancing spotlights are there for your children to 'chase' across the lawn. Watch the kids create games and show off some serious displays of athletic ability!
The gorgeous waterfall is backlit with a variety of intense colours. It serves as a backdrop for what will truly be a wonderful family evening in town. With a range of eating options close by, this is a summer experience you won't want to miss out on!
Read our full review of Roma Street Parkland and its playgrounds and bike/scooter paths. You can also find out what other fun activities are coming up at Roma Street Parkland on our calendar here.
Ask any of the helpful Parkland staff for assistance at any point. They are out in force to help your family have a wonderful, unforgettable experience.
It's Christmas time in Brisbane city!
For more information about other Christmas in Brisbane activities, head to Christmas in Brisbane!
We've got your comprehensive list of where to see the BEST Christmas lights in Brisbane here.
Wanting to head out to some festive Christmas Markets? We'll tell you where you can buy the ultimate gifts for your loved ones this Christmas from your local community markets!
If you're ready to belt out a few carols at one of Brisbane's many Christmas Carol events read this article.
3 responses to "The Enchanted Garden Brisbane | Christmas at Roma Street Parkland"