Are your kids the ultimate train fans? We've got some brilliant Brisbane day trip ideas for kids who love trains! Brisbane and its surrounding areas are teeming with railway history and unique train rides that are sure to delight locomotive lovers of any age.
Find a huge list of the best places to see steam trains, model trains, and day trips from Brisbane for kids who love trains. Read on to find out more!
Steam trains
There are a variety of places you can go to experience steam trains and by gone eras of travel – the kids will be in raptures!
On the fourth Sunday of every month, take your little one for a ride on a mini steam train through McPherson Park. Everyone we talk to loves this low-cost and fun family event! Kids and their adults can ride the steam and electric miniature trains together. The Bracken Ridge Central Steam/Electric Railway is proudly run and operated by the Bracken Ridge Central Lions Club, with all proceeds going back to the community. No bookings required.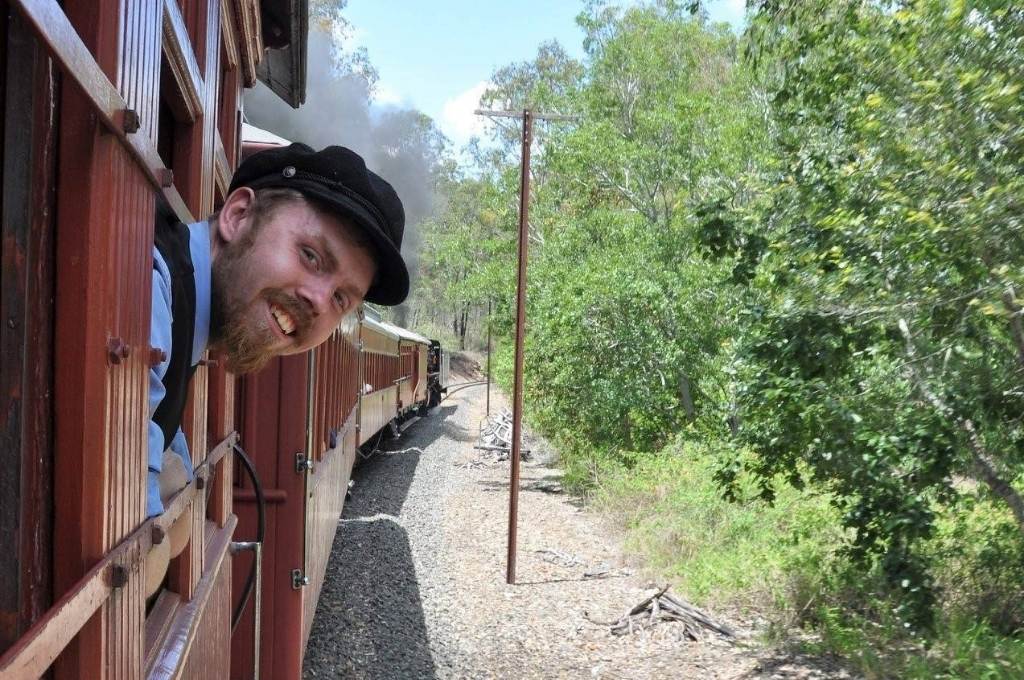 Take your little train aficionado on a trip they will just adore. ​Head out on a 90 minute round trip from Bundamba Racecourse to Swanbank Station by the lake. On a trip taking in old mine sites, steep grades, heavy bush land settings and the occasional bit of Aussie Wild life, this rail adventure is great for a day out for the family. Bring a picnic with you and make use of the stunning picnic grounds or maybe go to the kiosk in the 1903 station building for light snacks and souvenirs. Trains leave Swanbank at 9am, 11am and 1pm, three times a month between April and December and once a month during February and March.
The Grandchester Model Live Steam Association Inc. is a non profit organisation set up for the sole purpose of providing a space for people interested in model engineering to operate and observe their hobby. Shady picnic areas are available as well as food and drinks along with a souvenir shop on site. Families Tip: Fully enclosed footwear is essential if you wish to ride on the miniature trains.
The Brisbane Bayside Steam Railway Society Inc volunteers operate Steam and Diesel Miniature Train rides, on the First and Third Sundays each month from 10am-4pm. Why not head down and enjoy a ride through the bushland setting. You can also book to host a birthday party!
5. Bribie Island miniature steam train
Melsa Park has a 500 metre track that's perfect for a miniature steam train ride. After being shut down for so long due to COVID they are finally able to start operating again. They operate every 3rd Sunday of the month from 10am to 2:30pm. You can buy a ticket for just $2 to journey through the gorgeous bush surrounds.
May 2021 update: Currently not operating.
The Parkland Explorer is a trackless train that provides an alternative to guided walks. The train operates in the Roma Street Parkland, the beautiful gardens located in the heart of Brisbane City. By placing a gold coin contribution (per passenger) into one of the collection boxes located on each carriage, you are helping volunteers keep the Parkland Explorer running. The Parkland Explorer usually operates:
Wednesday, Thursday, and Friday between 10am and 12.30pm
Saturday and Sunday between 10am and 3pm.
Operating times may change due to volunteer availability, events in the parkland, or inclement weather. Read our review for more ideas on making the most of a trip to Roma Street Parklands.
Model Trains
During May, the Australian Model Railway Association hosts this model train show at the Brisbane Showgrounds. With miniature and full-size train rides, heritage displays, loads of models and miniature train displays, it's the perfect day out for any lover of locomotives.
Day trips from Brisbane
This museum is a must for train lovers of any age. It contains a range of exciting train-themed exhibits, from steam and electric engines to a working blacksmith workshop and free tours. For the little ones, there is a train themed indoor playground, with a café on site or a number of places that are perfect for picnics. If you're lucky, you may even visit when Day out with Thomas is on. We highly recommend booking ahead before your visit to avoid dissapointment.
Each school holidays, you'll be delighted by the themed exhibitions with dozens of special activities available. Read our Workshop Rail Museum here.
Featuring the famous Valley Rattler steam train currently on view at the historic Old Gympie Station. You can travel through the region on the Red Rocket, an old diesel train, or visit the working model train room.
Train-themed parks
For something a little simpler, you can't go past a park where everything is all about trains.
10. Scarborough Beach Park
This park features a stationary train with a track running through the play area, along with a climbing net, swings, balancing equipment, and loads more to keep the kinds busy. Read our review of the Scarborough Beach Park.
11. Ewing Park in Woodridge
This park has a large train complete with station, and even offers real train rides every 2nd and 4th Sunday of the month. With swings, slides, and courts for netball, basketball, tennis and volleyball, there's something for everyone!
12. Milton Park in Milton
There's a replica train complete with petrol bowser to engage the imagination. For the more active kids, there are a range of bike paths with signs for the kids to navigate, and a range of fun slides and swings. Kids who love trains – let the journey begin! What are you waiting for? Get chuggin' today!
Also… psssssssst… if you have kids who love trains and you want to go on a BIG one, kids travel on public transport on the weekends in Brisbane FOR FREE when they touch on and off with an orange child go card.
If you are looking for more train trips to do with kids:
Looking for more themed day trips with kids
This article was published in Issue 16 of our print magazine, June/July 2016.