Brisbane Half Day Trips – City Train Stations
23/07/2015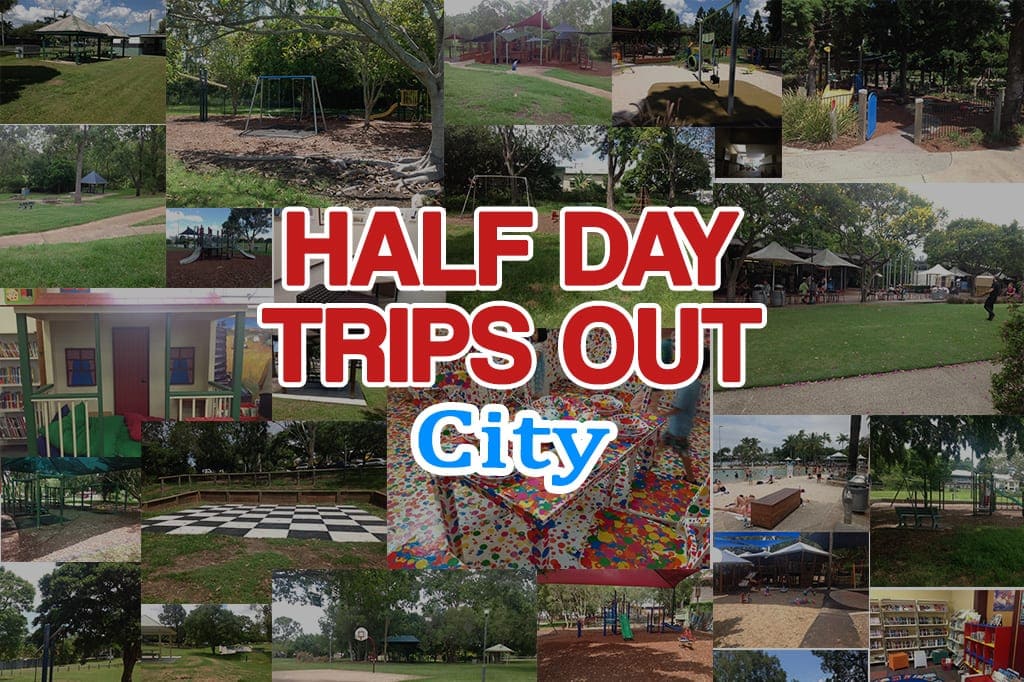 We know that when you have little people that need naps, you don't always want to do a full day trip. Try these 'Half Day Trips' at Brisbane City Stations.
Caboolture Line | Ferny Grove Line | Shorncliffe Line | Gold Coast | Beenleigh
Easy (Green): A nice easy walk. Expect less than 6/7 minutes from station to the destination. Usually one or two very close destinations for a nice, relaxing half day out.
Medium (Yellow): Looking for a bit more of an adventure? These stations are usually no more than 15 minutes from their fun destinations. These stations often have multiple destinations too so there is tons of fun stuff to see and do!
Hard (Red): An adventurous day out. Expect longer than 15 minute walks from the station to the destination and there may be multiple destinations. A great choice for those who want to enjoy a good walk and have an active day out!
City Stations
Fortitude Valley station – Medium
Fortitude Valley offers a variety of fun activities for the entire family to partake in.
Go down Brunswick Street for about 3 minutes and then turn right into Wickham Street. Go down Wickham Street for another five minutes until you reach the Chinatown Mall. There are plenty of Chinese influenced buildings and structures to look at, providing an interesting cultural experience. Chinatown is also a great place to find a restaurant. One very popular restaurant is Golden BBQ on Wickham Street which offers delicious Chinese food. However there is a variety of food to choose from, including Japanese, Thai and Vietnamese restaurants and cafes. There are also Chinese supermarkets to check out which offer an interesting experience.
Fortitude Valley also offers a variety of markets around Chinatown Mall and Brunswick Street on the weekends.
Central station – Medium
Central station is a 3 minute walk away from the very heart of the Brisbane shopping district, Queen Street Mall.
Queen Street provides a fun day out for shopping with the family, with outlets such as Dymmocks, JB Hifi and The Daily Planet comic shop. Some very unique shops can be found inside Queen Street Mall. These include the Daiso store, which is a massive Japanese store with a huge variety of items on sale, all only $2.80. Queen Street Mall also houses a cinema and an arcade, perfect places to keep the children occupied.
Food isn't a problem in Queen Street. Besides the wide variety of food courts along the mall, there are also a few unique places to visit. One of these places is the Pancake Manor. Pancake Manor is situated in a renovated cathedral on Charlotte Street and has an amazing menu of pancakes, crepes and many other delicious meals. There is also an amazing kids menu featuring pancakes and meals. Check out their menu here.
Roma street station – Medium
Right behind Roma Street Station is the Roma Street parklands. Once you get out of the station, there is a walkway leading from the station which should take you into the parklands, meaning you should get there in just a few minutes.
Roma Street Parklands is a huge space of parkland which has a wide variety of things to do and see. In the very heart of the parklands is the Spectacle Garden. It features all manner of plants, flowers and water features arranged in an artistic fashion, a very beautiful place to visit in spring and summer. There is also a chance you may see a water dragon. There is also the Rainforest and Fern Gully which features a boardwalk through a misty tropical rainforest. The Lake Precent features large grassy areas and lakeside walkways. The parklands also host the famous trackless train during the holidays. For just a gold coin donation you can go for a ride on it throughout the parklands.
The parklands also include the Upper Parkland, which features fantastic views and a children's playground. This fantastic playground includes swings, bridges, monkey bars and slides. BBQs and picnic areas can be found throughout the parklands, making it an excellent place to enjoy lunch.
Don't want to bring your own food? Check out the Melange Café located in the very centre of the Roma Street Parklands. The café includes a children's breakfast and lunch menu for children under 12 with all meal options under $8. The café also includes a children's play area and high chairs are available upon request.
South Brisbane Station – Easy
Being right outside Brisbane's largest cultural hub, South Brisbane Station offers a huge variety of places to visit for half day trips out.
Go down Grey Street and then Stanley place for about 7 minutes to reach the Queensland museum, the Queensland Science Museum, the Queensland Art Gallery and the Gallery of Modern Art. All of these galleries offer exhibits and activities all year round for children to partake in.
There are also cafes around the galleries to eat at if you choose, such as the Collectors Café at the Queensland Museum and the GOMA café Bistro which both offer children's meals. There are also lovely grassy areas just in front of QPAC that offers a place to sit down and enjoy a picnic whilst looking over the Brisbane River.
Please visit these websites for more information about events currently going on at each gallery: Queeensland Museum Network | QAGOMA
South Bank Station – Easy
After a 3 minute walk down Tribute Street you will reach Stanley Street. Travel down Stanley Street and you will find South Bank, the beautiful tourist hot spot of Brisbane.
South Bank offers a great variety of things to see and do for a fun day outside. There are pathways everywhere, including the famous arbour, making it a great place to go for a stroll. Playgrounds are plentiful in South Bank too, including the Picnic Island playground which offers activities such as a play wall and basket swing. There is also the Riverside Green Playground which offers a classic playground including a slide and climbing frame. For those hot days there is Streets Beach in South Bank. These lagoons are patrolled by lifeguards, making them a safe and fun place to enjoy a hot day.
Food is no problem in South bank. At both Picnic Island and Riverside Green there are BBQ and picnic facilities offering a perfect place for a lunch date. For dining out, there are several South Bank retailers which offer $6 children's meals, including Crepe Cafe, Fins and Feathers and Presto Pizza Pasta. A full list of the retailers which offer this fantastic deal can be found here.
Park Road station – Easy
About three minutes down Boggo road will lead you to Boggo Road Gaol. This old gaol has tours which run daily, including historical tours and famous escape tours. The website openly declares that families are welcome to come. What's more, the Boggo Road Market is held nearby every Sunday with food and craft stalls, making it the perfect place to go for a day out.