There are lots of wonderful baby animal farms near Brisbane for kids to experience. If you are looking for a petting zoo in Brisbane or an animal farm to visit near you, we know of some fabulous kids' farms with lots of baby animals to pat.
From free petting zoos to dairy farm tours in the greater Brisbane area, we'll also bring you great deals on entry prices too where available!
Check out our Local's Guide to Petting Zoos in Brisbane!
Brisbane mini farms and petting zoos
I don't know about you but the absolute joy that children experience when in the presence of animals is truly one of parenthood's greatest gifts. Seeing how sweet, excited and caring they can be to creatures smaller than themselves. Holding a fluffy chick, feeding a bottle to a lamb or playing with a tiny piglet – gives you goosebumps, doesn't it?
In terms of farm visits Brisbane, though, sometimes it can be hard to figure out where to go and when! You can sometimes find them at school fetes or childcare visits but what if you want to head somewhere sooner? And actually make a day trip of it? Are you wondering if there are any animal farms near me?
Yes!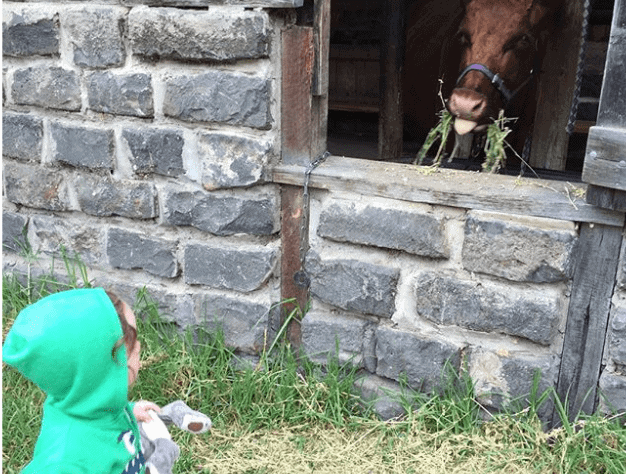 Trevana Glen Farm
You'll be travelling about 40 minutes out of the Brisbane CBD. It's not a 'drop in anytime' sort of place – this is a real farm with real animals on real schedules! Pay close attention to the best times to go and to see if you can participate in feeding while you're there. Definitely one of our favourite haunts! Find out more here.
The Llama Farm
This is a new farm experience that offers visitors the chance to take a Llama for a walk, feed, and pet them as well as a Llama selfie or two. The Llama Farm has the largest herd of Llamas in Queensland as well as donkeys, goats, miniature ponies, peacocks, turkeys, guinea fowl, and two maremmas. Tours are available on weekends and school holidays by appointment. They also run a Little Llama Farmers school holiday program.
Tommerups Dairy Farm
Tommerups Dairy Farm, 90 minutes south of Brisbane, is a working dairy farm that welcomes visitors for a farmstay vacation or tour. This historic farm has been in the same family since 1874, and although predominantly dairy it's also home to rare heritage breed pigs and other farm animals. Holidaymakers can choose to stay in one of two historic cottages on site, while day-trippers can enjoy a guided dairy farm tour that includes morning tea in the shade of the blue gums.
Bookings are essential. Visit the website to book.
Summer Land Camels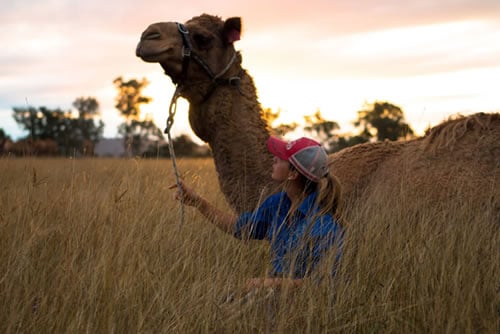 Visit Australia's largest wild camel training centre and dairy. Meet the camels and feed them, book a camel ride or a farm tour for a behind the scenes look. Summer Land Camel Farm has an onsite café and camel milk products available including cheese and gelato plus their range of all-natural skincare. Online bookings are essential before heading out.
EcoPark Fishing World & Farm Stay
Located in Luscombe, EcoPark Fishing World offers a range of opportunities for kids to interact with fish and fauna, from fishing experiences to wildlife encounters. Fishing fans cast a line into ponds specially stocked with Barcoo Grunter, Silver Perch, Australian Bass, Murray Cod and Yellow Belly, giving them a reasonable chance of reeling in a big one.
A range of farm animals and both native and exotic birds, including the likes of pigs, alpacas, goats, ducks, macaws and peacocks, reside in and circulate in the farm park.
White Ridge Farm
Come along to White Ridge Farm in Elimbah, one hour north of Brisbane, and enjoy meeting the friendly animals. Entry to the farm includes mini golf, animal food and a hay ride, and you'll get to meet alpacas, llamas, a camel, and a range of popular farm animals. You can pay extra for a pony ride on weekends (daily during school holidays). There's a range of play areas to suit all ages and plenty of BYO picnic areas.
Opening hours are subject to weather so please check the website before visiting.
Mountview Alpaca Farm at Canungra Valley Vineyards
Mountview Alpaca Farm, located in O'Reilly's Canungra Valley Vineyards, is a great place to visit and feed the many resident alpacas, followed by a picnic in the grounds (BYO or book in advance for a pre-prepared picnic or BBQ pack). As it's located within the O'Reilly's Rainforest Retreat, you'll find lots of other great places nearby to explore too! Click here for more info.
Paradise Country, Nerang
You'll not only find barnyard critters here but Aussie wildlife as well! This is an absolutely gorgeous part of the world and well worth the trip! You can even camp at Paradise Country overnight – find out more here.
Find out more on their website.
Ipswich Nature Centre
Entry to The Ipswich Nature Centre is by gold coin donation, and it is open every day of the year. As well as Aussie natives, you'll be in the presence of some of the most gorgeous little lambs and barnyard baby favourites. Take your time around the centre to experience all of the Australian animals in gorgeously maintained habitats.
Haigslea EWE Nique Hobby Farm
This hobby farm near Ipswich is a great place to get up close and friendly to feed and pat the animals. You'll find alpacas, sheep, lambs, goats, geese and a bunch of wandering chooks. You can book a range of animal encounters including an animal experience, a lambs and teddy bear picnic and a range of other fun options.

Naughty Little Kids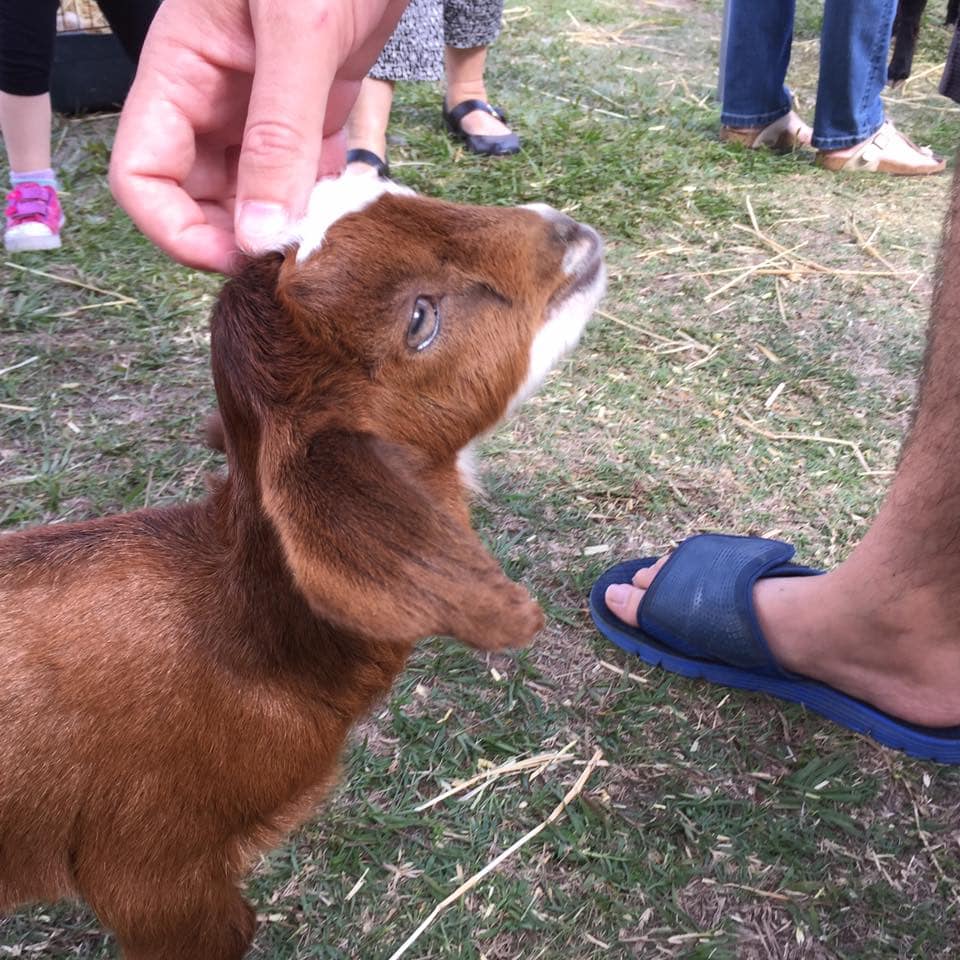 If you are looking for a fun activity for kids and an outing the whole family can enjoy, then look no further that Naughty Little Kids. They run farm tours every Sunday between 1pm and 5pm. On one of the Naughty Little Kids tours you will get to pat and feed their 'kids', milk a goat by hand, have ricotta made in front of you, learn about goats, and sample goat-milk gelato.
They don't sell goats but can put you in touch with the right people if these little guys steal your heart and you want to add to your family. Just make sure you are across the rules for goat ownership for your area and know about responsible goat care – we've written about it here.
Lone Pine Koala Sanctuary
Did you know that there are also farm animals at Lone Pine Koala Sanctuary? Better than just that – you'll also see sheep dogs in action! This iconic Brisbane destination in beautiful Fig Tree Pocket is a rite of passage for any young nature lovers. Read our review here.
Find out how to get discounted entry every day to Lone Pine – click here.
Brisbane Northside Produce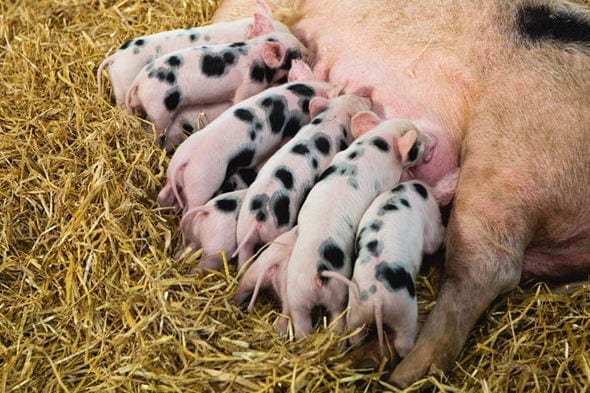 For something a little bit different, why not take the kids to Brisbane Northside Produce. Whilst their core business is selling produce and stock, they have a huge range of farmyard friends for your little one to watch and pat. Their animal stock varies but it is common to see chickens, mice, guinea pigs, pigs, goats, ducks, lambs and a huge range of parrots and other birds – some are hand raised and very tame!
Capalaba Produce
Similar to Brisbane Northside, this Redlands entry has many small (and some large!) animals including poultry, lambs, piglets, sheep and others. You're able to pat, watch and interact with the little cuties and then pick yourself up some produce and stock while you're at it. Find out more here!
Ottaba Llama Walks
This experience is truly different! How would you like to take a llama for a walk? You can with Ottaba Llama Walks! You'll be paired with your own friendly llama who'll make the 2-3km trek with you. Walks are on mostly flat terrain, and include your choice of a farm visit or wine tasting. Check out the Ottaba Llam Walks website here.
Lyell Deer Sanctuary
This family-friendly farm visit will give you the opportunity to mingle with donkeys, goats, alpacas, and camels but bookings for walks and tours are essential. Just 30 minutes north of Brisbane is a peaceful haven where visitors can interact with friendly herds of Red, Rusa and Fallow Deer. The sanctuary, set on 40 acres of lush private parkland, has been open for over 35 years, and is a beautiful place to relax and unwind.
Visitors can enjoy a Devonshire Tea and other delicious treats in the Sanctuary Café before hand-feeding the deer, and there are deer-related souvenirs available to purchase in the gift shop. The sanctuary is open on weekends from 10am to 4pm, and on weekdays and holidays by appointment.
Visit their Facebook page for more information and to book.
Deathrow Unchained
Deathrow Unchained is an animal rescue organisation that rescues ALL animals, from dogs and cats to goats, pigs, cows, horses, sheep, chickens and any other animal with no other option. Their inclusive happy little menagerie includes blind cows and animals with disabilities enjoying life alongside their able-bodied friends. It's a sanctuary of love, peace, cuddles and pats and visitors are welcome!
Deathrow Unchained hosts regular tours for families and groups where children can meet, play with, and feed the farm animals. Visit the Deathrow Unchained website to find out more.
Koala Safari
Spicers Hidden Vale is offering Koala Safaris out of the Hidden Vale Wildlife Centre. The centre is conducting a 12-month koala research program and is tracking 26 koalas with joeys expected soon. Tour the wildlife centre then head out to assist researchers locate and check the welfare of the koalas. Learn interesting facts about koalas. The program, runs for two hours on Tuesdays and Fridays from 2.30pm. After the two hours, a cold beverage will be waiting for you. Bookings essential, and the tour is only available for Spicers guests at this time.
Brisbane Valley Ostrich & Fish Farm
It's true – there's an ostrich farm in Brisbane! Well, just over an hour away in Esk actually. It's well worth a visit if you're looking for something a little quirky and different. Run by retired couple, Pattie and Alan, the Brisbane Valley Ostrich and Fish Farm is a place where you can meet the two resident pet ostriches (and their emu, peacock and guinea fowl friends).
You can also browse the display of hand-carved and painted ostrich and emu eggs (Pattie's own creations), and keep the sun off with ostrich feather hats and parasols. You can also relax by the ponds for a spot of humane fishing (barbless hooks are provided), or enjoy a lakeside picnic or barbecue. Bookings are essential. Call 5424 1146 to book.
NOTE: Pattie and Alan are winding down operations. Check before setting off if they are still operating!
Haigslea Ewe Nique Hobby Farm
This charming hobby farm is home to sheep, lambs, alpacas, chickens, goats and geese. Children and adults can get up close and personal, pat and feed the animals. Haigslea Ewe Nique Hobby Farm also has a coffee cart available selling hot and cold drinks as well as homemade cakes, slices, muffins and other snacks.
We also have a list of all the local Brisbane Zoo options on this list here.
Farm visits Brisbane!
We hope this has helped quenched your thirst for real farmyard experiences. If you've been to any GREAT farm visits Brisbane and surrounds that we haven't listed, please let us know in the comments!
Themed day trips
If you like planning day trips with a theme, or have a little one who has a particular passion, these other day trips might suit you too!
This article was featured in Issue 46 of our printed magazine, published June 2021.