Being active and healthy doesn't have to run to a team schedule. There are so many individual sports for kids that your child can enjoy that don't require minimum numbers, or league competitions, or inflexible training times.
Individual sports provide heaps of opportunity for building strong friendships with like-minded individuals, and even individual sports can require an element of teamwork when an opponent or partner is required.
Find your child's perfect fit with these individual sports for kids.
Golf
Fresh air, a good walk, conversation, and heaps of unexpected health benefits! Golf is low intensity and non-contact, minimising risk of injury. It helps growing bodies develop a strong core and spine, improves hand-eye coordination, and has the surprising added benefit of staving off short-sightedness.
In a world of excess screen time and instant gratification, golf promotes quiet time, patience, endurance, and emotional control. It can be played alone, with friends, and even in teams.
There's no real age limit to golf. Children can play from a young age and enjoy the game alongside players of all ages.
There are golf courses all over Brisbane for fun and practice, and professional lessons are available at the beautiful Victoria Park in Herston.
Tennis
Tennis is a sport that develops the whole body. It can help children develop gross motor skills, hand-eye coordination and ball tracking, agility, flexibility, speed, and strength. It's also accessible to anyone who can hold a tennis racket – just ask 2022 Australian of the Year, Dylan Alcott!
There are lots of places offering tennis coaching around Brisbane, with programs for children from 3 years old. Find a tennis lesson venue near you here.
Martial Arts
There are many martial art disciplines to choose from: judo, karate, hapkido, and taekwondo are the ones most people are familiar with. Some focus on strikes and kicks, some on throws, and some are all-rounders for self-defence. All have great benefits!
Martial Arts don't teach aggression. The focus is on self-discipline and self-control, with a side effect of improved self-esteem and self-confidence. There's a lot of self-improvement in self-defence!
Martial arts are available to children aged 4 years and up. Not all martial arts involve sparring or tournaments, and your child can progress through their belt levels at their own pace. Take a look around to see what's available near you, and which would best suit your child.
Swimming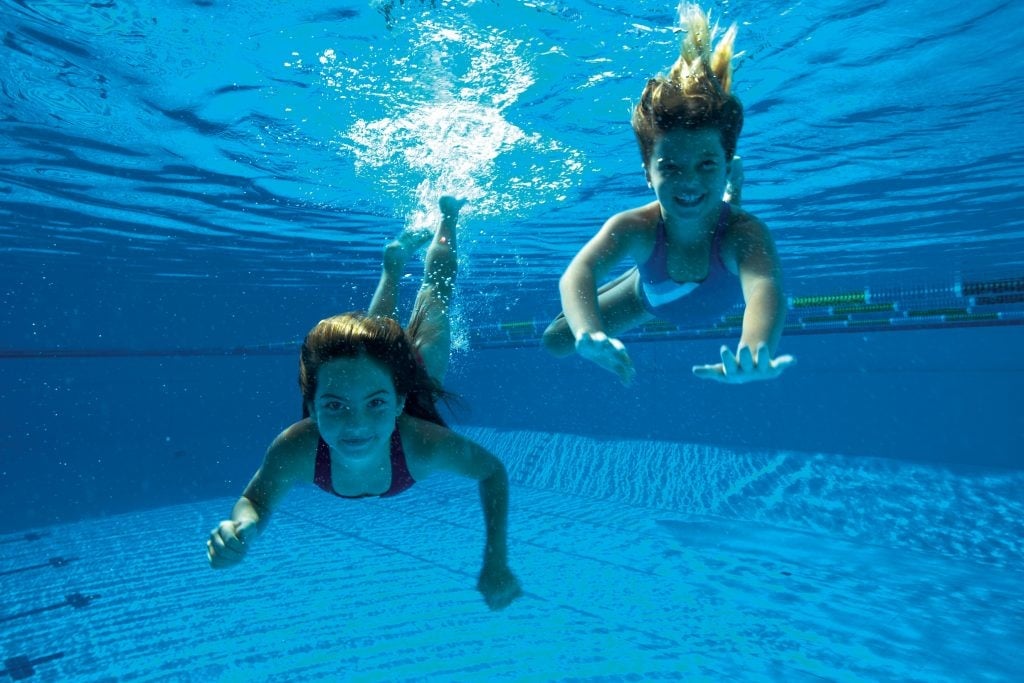 Swimming is an excellent activity for fun and fitness. It exercises the whole body and provides a gateway to a huge range of water-based activities. Not only that, learning to swim can save lives!
Swimming really is a sport for all ages, with water-familiarity lessons available for babies from around four months of age, and formal swimming lessons available to pre-schoolers.
The many benefits of swimming include improved muscle tone, improved cognitive ability, improved coordination, and better sleep and appetite.
There is no shortage of fantastic public pools and swimming schools in Brisbane, and some have wheelchair ramps right into the water to make this great individual sport accessible to everyone.
Discover more about the benefits of learning to swim.
Running
Running truly is an individual sport. You can set your own start time, distance, and venue, or choose to run at organised events like Parkrun or one of Brisbane's annual running festivals.
Running comes naturally to kids on the playground, but running as a sport requires stamina and resilience. It's incredible for cardio-vascular fitness, and running releases endorphins in the brain, which make us feel good!
The whole family can enjoy running together, and the only equipment you need are some good running shoes and comfortable clothes. No ongoing fees is another benefit!
BMX
BMX (Bicycle Motocross) takes two forms: Freestyle, which involves tricks and stylised routines, and Dirt-Track Racing, like traditional Motor Cross. Thrill seekers are on to a winner with either style!
BMX is ideally suited to kids who love a challenge and an adrenalin rush. It can involve risks like broken bones and injury, so always invest in the best safety gear you can afford for your child. The upside is that your child will develop incredible confidence and character. It takes a great deal of perseverance to master a new Freestyle trick, and strategic thinking and determination to be a champion on the tracks.
There are BMX racing clubs across Brisbane, and even structured BMX Freestyle lessons from professional coaches that your child can take part in.
Ice Skating
Ice skating boasts a broad range of health and developmental benefits for kids looking for a different form of exercise. It's a great way to get a workout without feeling like a workout, and a fantastic school holiday activity. It dramatically improves balance and cardiovascular health and builds whole-body strength and fitness.
There are two Olympic-sized ice-skating rinks in Brisbane, one each side of the river. If your child is serious about ice skating as a sport, they can try ice hockey, curling, synchronised skating, speed skating or figure skating.
Children can learn to ice skate from around four years old.
Sailing
Being out on the water is exhilarating. Children who sail learn responsibility and accountability, as well as patience, courage, and a healthy awareness of changing weather!
Sailing as a solo sport is best suited to older kids who have had full training and will be fully supervised, but kids can start learning to sail in Brisbane from six years old.
The Royal Queensland Yacht Squadron runs school holiday programs and all-year-round programs for children as well as private lessons, and you can find other "Learn to Sail" providers on the bayside and the Brisbane River.
You don't need to own your own sailboat as the clubs have just the right-sized boat for your child, with all safety equipment provided. You just need to provide the sun protection and the towel.
Other kids sports to consider
If you think individual sports are not what your child is looking for, check out our kids team sports recommendations here. You can find more sports and activities for kids of all ages under our Clubs & Classes Multi Sports tab.
This article was featured in Issue 51 of our printed magazine, published April/May 2022.