If you are looking for a family night out Brisbane style, then this article is exactly what you need for night activities for kids in Brisbane.
Sometimes finding family night activities for kids can be tricky. Luckily there's so many things to do with kids at night in Brisbane that a family night out is something to really look forward to. The range of choices is huge! So, we have created this list of the best things to do in Brisbane at night with kids. Now you can decide where to take kids at night. These night time attractions for kids are easy and fun whether they are toddlers, primary aged or teens!
I love Brisbane! We are blessed with gorgeous weather all year round. From balmy summer nights to the gorgeous crisp air on a winter's evening, there is really no better place for enjoying what's on offer after dark!
Whether it is a Saturday night with kids or a week night, we've created the best things to do at night with kids in Brisbane. No more wondering: what to do with kids at night!
Ready? Here we go…
Night activities with kids – let them eat!
If you are looking for night activities Brisbane style then a great place to start is with eating!
Whatever the plans for the evening, ensuring the kids have happy, full bellies is the most important first step! Kids activities at night are best started on full stomachs…
Picnic
Is the often steep price tag of a family night out keeping you scrolling through Netflix every night? We think a picnic is one of the best kids night activities (usually in summer) that wont break the bank! Why not grab some items from the weekly shop along with a rug and some blankets and have an evening picnic?
New Farm park is a gorgeous spot for a sunset picnic dinner complete with rose gardens, river views and city lights. Redcliffe Lagoon is a close but exciting option if the family is keen for a sea change – grab some fish and chips enjoy the ocean views!
Local Tavern
Prefer to kick back with a pink lemonade indoors? Many Brisbane taverns, such as Everton Park Hotel, include great playground facilities to keep the kids busy and entertained while you enjoy a parmigiana! You might even find that KIDS EAT FOR FREE at MANY places! Kids night time activities Brisbane style can be fun for adults too! #justsayin'
Eat Street Markets
Looking for things to do with family at night that is a bit different and exciting? Eat Street Markets offer a buzzing atmosphere with SO many food options – everyone will find their favourites here! From cronuts to calamari, this Portside night market guarantees a fun and delicious family night out in Brisbane. Venture out to the markets again child-free for a cheap and exciting date night!
Family night activities – play!
Looking for action packed activities in Brisbane at night? These night time activities for kids will entertain the most energetic of kids – and maybe even give you a good night's sleep!
Urban Xtreme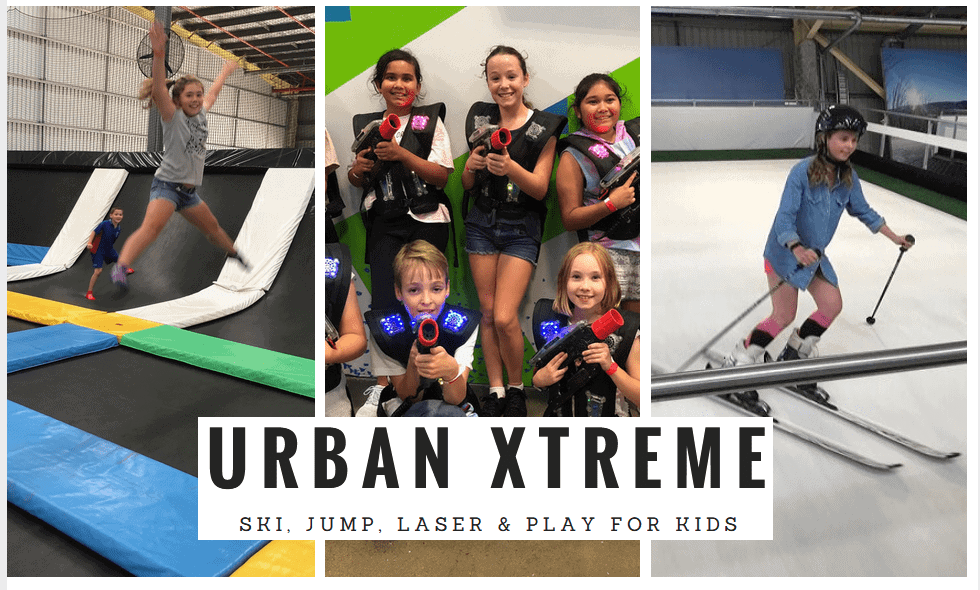 Urban XTREME (in Hendra on Brisbane's northside) offers EVERYTHING a busy family could ask for. The kids will be sleeping WELL tonight (and you too, if you're up for it). It's open until 9 on weeknights, 9 on Saturdays and 7 on Sundays. Ski (yes, ski), bounce, ninja, laser tag and play the night away in style. This is THE go to place for savvy Brisbane families.
Follow this link to find out more about Urban Xtreme!
Bowling
Who doesn't love bowling as a classic choice for their family night activities?! Bowling is a great choice for things for kids to do at night with their parents or significant adults. Most bowling alleys can facilitate even young kids with gutter bumpers and lighter bowling balls to help them get involved.
Laser Tag
Even the teens will love this one! Laser tag is a bunch of laughs and fun, especially for older kids full of energy just waiting to get out. There's a few different options for tag fans, such as Laserzone in Lawton or Laserforce in Woolloongabba. We (almost) guarantee the whole family will be sleeping soundly after this Brisbane at night adventure!
If laser tag is your thing we've got some great idea for a laser tag birthday party!
Skating
Great exercise and great fun – skating is an excellent choice for some fun after dark with the kids! Brisbane even has ice skating rinks for those looking for something a bit different. Either find your local skating rink and hire some blades or if you have your own then we suggest an evening circuit of vibrant South Bank!
Arcade Night
For a night of family fun that all ages can enjoy, we recommend heading to B Lucky & Sons in Fortitude Valley. This is an arcade that is filled with modernised vintage games and a range of virtual reality experiences. This is a playground for all!
For the ultimate experience, we recommend purchasing a one hour or two hour game card here. This will allow you to tap and play the games of your choice during your time at the arcade.
Fun things to do in Brisbane at night – Relax!
Perhaps you've got younger children or simply prefer a laid back evening? Try one of these Brisbane night activities for a relaxing night experience.
Mt Cootha
Cheap and cheerful! Drive up to Mt Cootha to enjoy a scoop of ice cream while gazing at the amazing city lights. Cosy up with some blankets and watch the kids have a blast pointing out landmarks from the city skyline. They often hold public viewing nights with little astronomy talks! (If planets and universes are your thing, the kids will LOVE the Planetarium while they're up there as well!)
Wheel of Brisbane
Kick back and relax in the sky! The kids will marvel at the twinkling city lights and sparkling river while going round the Wheel of Brisbane for a very special family night out.
Nestled close to South Bank ferry terminals, The Wheel of Brisbane boasts fully enclosed and air-conditioned gondolas that are epic fun at night. See Brisbane light up and use this discount voucher to save money too!
Paint and Sip
There is nothing more relaxing than enjoying a glass of something you enjoy and painting. These Paint and Sip and Art Sessions are the perfect way to relax in Brisbane at night. The 2 hour class includes all essential art equipment to complete a painting of a simple design led by an artist. We think this is the perfect way to be social, relaxed and creative all at the same time.
You will love hanging your very own artwork up in your home!
Yatala Drive In
Grab some of Yatala's famous pies and head to the drive in movie for some old school family fun! Or pack some homemade snacks and drinks to make it a very affordable and fun evening for the family.
Things to do in Brisbane at night – Experience!
There are plenty of experiences in Brisbane at night to be enjoyed. Whether it be taking in the views, enjoy a show or a meal.
Brisbane Story Bridge Climb
For spectacular views of Brisbane City, you cannot go past a climb of the Story Bridge. You can enjoy a climb of the bridge at twilight. Where you can soak in the the uninterrupted 360 degree views of the city, while the sun fades. Or you can enjoy a climb of the bridge at night, to enjoy the twinkling night lights.
Please note, climbers must be 10 years of age have reach the minimum height of 130cm. Both options take 2 hours and are accompanied with a guide.
Brisbane City Scenic Flight
What better way to view Brisbane than from the sky! This truly is such a special experience for those who want to enjoy Brisbane at night, in style. We recommend booking the Brisbane City Twilight Helicopter Flight. It is all in the timing – twilight! This means you will watch the sun depart the sky, throwing beautiful colours across the city skyline. It might only be 15 minutes, but the joy will be endless.
Broadway Diner
This is a night activity the whole family will enjoy! Especially those who appreciate the performing arts. Whilst you enjoy a meal, you will be entertained with singing, dancing and endless entertainment. The American diner-style dishes are delicious. Adults will love the alcoholic and non-alcoholic drink options available!
We love this Broadway Diner dinner package. It includes the whole experience, of entertainment and a meal and drink (burger, fries and a cocktail or soft drink). All you have to do is purchase and then turn up!
Spirits of the Sand Evening Show – temporarily closed
This is for those who love to immerse themselves in authentic culture. This 2.5 hour cultural experience takes place at the Beenleigh Historic Village. This evening show will have you learn and be inspired by true events from the Australian Aboriginal culture of the 1800's. The actors all being direct descendants of families that have experienced the life events the show is about.
This provides a show and dinner experience. Where you will experience an evening of storytelling and partake in interactive activities such as stick games, carving, weaving and more. You will enjoy a hearty char-grilled buffet feast with an amazing dessert.
Free things to do in Brisbane at night
Still looking for more activities for kids at night? We love these FREE things to do in Brisbane at night.
Take a stroll (or a scooter) through the South Bank Parklands
Oh, how we just love South Bank. It really is the jewel in Brisbane's crown. The lights along the river walk, and across the bridges, are absolutely spectacular. The Brisbane Wheel lights up as does GOMA, making for a veritable light show for the senses. The beautiful breezes coming in from the water might be slightly chilly at times but that's nothing a cardigan and a cuddle won't sort out. You can find places to park in Brisbane CBD here or you can take advantage of free public transport on weekends for kids – read more about that here.
Head up to Mt Coot-tha to watch the city sparkle
There's no better spot in the city! Travel up to Mt Coot-tha to watch the city lights sparkle from the best vantage spot in town. You can bring your own food or there is a cafe and restaurant on site. Parking can be tricky but with a bit of luck you're bound to find a spot. Watch the sun go down and bask in the natural beauty of this gorgeous neck of the woods.
Grab an icecream in one of our beautiful Bayside spots
Wynnum-Manly and Sandgate/Redcliffe/Shorncliffe offer some wonderful views of the ocean wherein you can spread out a blanket and have a cheeky night picnic under the stars. Grab some fish and chips or icecreams from any of a number of local shops and make the most of the sea breezes.
There's something so peaceful about listening to waves lap onto the shore at night – it's definitely one of our favourite things to do in Brisbane with kids at night! Watch the sun go down and simply soak up the atmosphere. Bliss! 
Find out what there is to do in Wynnum with kids here
Visit our Sandgate with kids article here
Check out some Christmas lights!
If you're reading this around the November / December time period, you're in luck! Families Magazine always puts together a comprehensive overview of the very BEST spots to view the very best light shows that Brisbane has to offer. Follow this link to download the best Christmas lights map for your area and get viewing!
Brisbane after dark!
There are so many fun and special experiences for the whole family in Brisbane at night! Do you have a favourite after dark adventure?