As the weather turns colder backyard fire pits in Brisbane become a thing. And it's a thing we are getting on board with!
Lets face it, there's nothing nicer than cosying up to a real fire. A backyard fire pit is a source of warmth and comfort, and a place to gather to share stories and socialise. If you would like a backyard fire pit Brisbane City Council has a few laws and guidelines around their safe use.
Here we answer the question "are fire pits legal in Brisbane?" with a guide to the backyard fire pit laws Brisbane has in place across the greater Brisbane councils.
Keep reading for a great fire pit safety video from Kidsafe Queensland below.
Brisbane City Council backyard fire pit laws
Outdoor fires are legal in the Brisbane City Council area only if they meet certain criteria. Under the Health, Safety and Amenity Local Law 2009, residents are prohibited from lighting and maintaining fires in the open air for any purpose other than where:
the fire is used to cook food for human consumption in a barbecue or similar structure (but not a fire on the ground or in a brazier)
for approved theatrical performances or similar approved entertainment events
the subject land is included in the Rural area classification (under the Brisbane City Plan 2014) and neither the height, width or length of the material to be consumed exceeds two metres
a permit has been issued by the Queensland Fire and Emergency Services
the fire is required to be lit by notice under section 69 of the Fire and Emergency Services Act 1990.
This means that if you live within the Brisbane City Council area and would like to cosy up to a fire pit, it would have to be in the form of a chiminea, pizza oven, or charcoal barbecue and you must be cooking food.
A trial relaxation of the rules
Following publicity during the coronavirus lockdown period, Brisbane City Council made the decision to relax its fire pit laws for a three-month trial from 1 June to 31 August 2020. This allowed for small backyard fires for social reasons. We're pleased to announce that the trial was a success!
Residents of Brisbane City Council are permitted to continue enjoying their fire pits provided the smoke does not impact neighbours and provided the fire does not present a safety risk to people or property.
You can find all the details here about the brazier and fire pit heating trial.
SE Queensland local government fire pit laws
Each local government area has its own fire pit bylaws. Most local authorities will permit a backyard fire provided they are small, safely contained within a fire pit or similar, and don't produce too much smoke. ALL outdoor fires in South East Queensland must adhere to the Queensland legislation set out in the Fire and Emergency Service Act 1990.
Here is a quick overview of whether you can have a fire pit at home in your local area, but as regulations are subject to change we recommend you visit your council's website for the most up-to-date information.
Gold Coast City Council
You can have an outdoor fire pit in your backyard provided no local fire ban is in place and that the fire doesn't become an environmental nuisance through smoke or odour. You cannot light a fire for any reason when there is a declared fire ban or fire emergency.
Small fires (less than 2m in any direction) are allowed provided they are lit to cook food in or on a gas, wood, or coal fire, barbeque or hangi and don't become an environmental nuisance. You cannot light a fire for any reason when there is a declared fire ban or fire emergency.
No fires of any kind can be lit if there is a fire ban in place. Outdoor fire pits must be less than 2m x 2m and constructed to prevent any burning material escaping. Burning of rubbish and waste in the outdoor fire pit is not allowed.
You cannot light a fire for any reason when there is a declared fire ban or fire emergency. Fires must be smaller than 2m in any direction. If your property is smaller than 4000m2 you can only light a fire if:
it is for cooking food – on or in a gas, wood or coal barbecue, hangi or similar device
it is part of a Boy Scout or Girl Guide activity
it is for outdoor heating in an enclosed fireplace or similar device and the fire or any burning material does not come out of the fireplace.
The fire must:
contain only clean, dry, non-toxic and combustible material
be lit with a match, cigarette lighter, candle, lamp, blow torch or similar device
not cause a nuisance.
Lighting or maintaining a fire on an allotment 3,000 square metres or less is NOT permitted unless the fire is contained in a barbecue or another cooking device. Use clean and dry combustible material. Lighting or maintaining a fire on an allotment greater than 3,001 square metres is permitted where the following is met:
fire does not exceed 2 metres in height, 2 metres in width or 2 metres in length
fire lit outdoors, if enclosed in a fireplace so constructed as to prevent the escape of fire or any burning material from the fireplace
only clean and dry non-toxic combustible material may be burned
only one fire may be burning at any time
appropriate fire fighting equipment, which may include water, hoses and pumps, must be on site at all times
fires must not be lit before 7:00 AM and must be extinguished no later than dusk, on the same day
ashes must be thoroughly wetted down when a fire is extinguished
the person proposing to light a fire must verbally advise all neighbours of their intention to light a fire and the date on which this will occur. If unable to provide verbal advice, then written advice of the intention to light a fire must be provided. It is recommended that adjoining neighbours are given at least 48 hours' notice
fires must be set back at least 6 metres from every property boundary and building
a responsible person must be in attendance at the fire until the fire is extinguished.
On Redlands Coast fire pits are allowed as long precautions are taken to prevent the spread of fire. This means the fire pit:
cannot exceed 2m in width or length
must be enclosed to prevent the escape of fire or any burning material
must not cause a smoke nuisance, and
is lit outdoors for the purpose of cooking or warmth
Sunshine Coast Regional Council permits fires in urban/residential areas when made in a bbq, pizza oven or brazier for cooking or heating. Use only dry untreated wood. Green waste, plastics, treated wood or paper must not be burned. Be mindful of not creating a smoke nuisance.
Best fire pits for backyard campfires
If you are looking to buy a fire pit, there are lots of different fire pits on the market, or you can build your own. When deciding which is the best fire pit for you to buy, consider your available space, its primary use, and how frequently you will want to use it. You can also take into consideration the different types of fire pit fuel to best suit your requirements.
A brazier is a small, simple and budget-friendly fire pit for burning wood or coal. They're ideal as a source of warmth and for toasting smores. They are generally basket or dish-shaped, some with mesh lids, and some quite decorative. A brazier is small and light enough to be put away for periods when not in use.
You can buy this brazier fire pit here.

A chiminea is an open-fronted fire pit with a chimney, usually constructed of clay or iron. Chimineas are ideal for cooking and create less smoke than open fire pits. Because they are only open on one side, they are not quite as 'visual' for sitting around to enjoy the flames.
You can buy a chiminea fire pit here.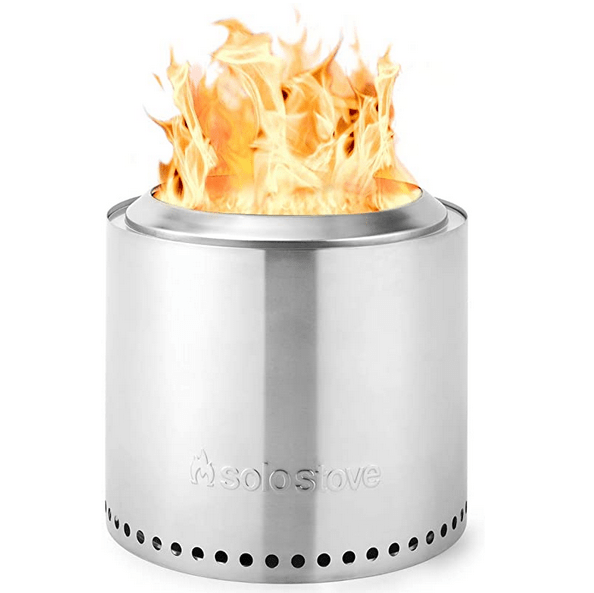 Drum fire pits are very versatile and can be as basic as an old metal drum to create heat, a metal drum halved length-ways for use on its side as a barbecue, or even an old recycled washing machine drum as a campfire.
You can buy this drum fire pit here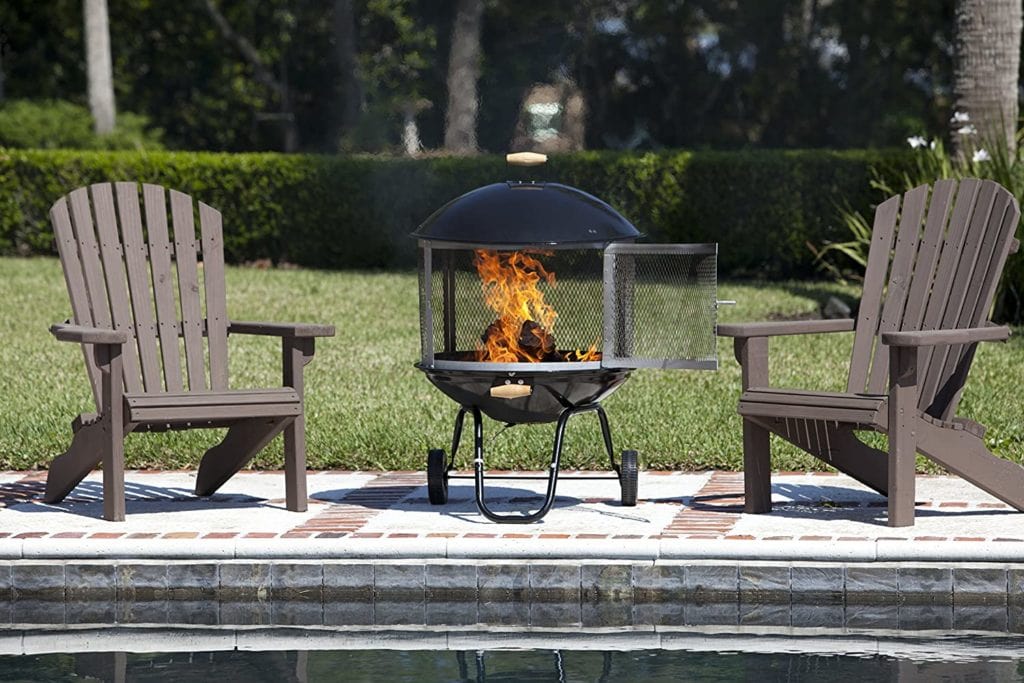 Why not enjoy a portable fireplace with wheels for easy transport around the backyard. This one has a porcelain enamel bowl and lid for optimal corrosion resistance and easy cleaning. The domed top pushes heat outward instead of straight up for warmer get-togethers with your family. There is also a large single door for easy refueling, cleaning, and marshmallow roasting
You can buy this portable firepit here.
Fireplace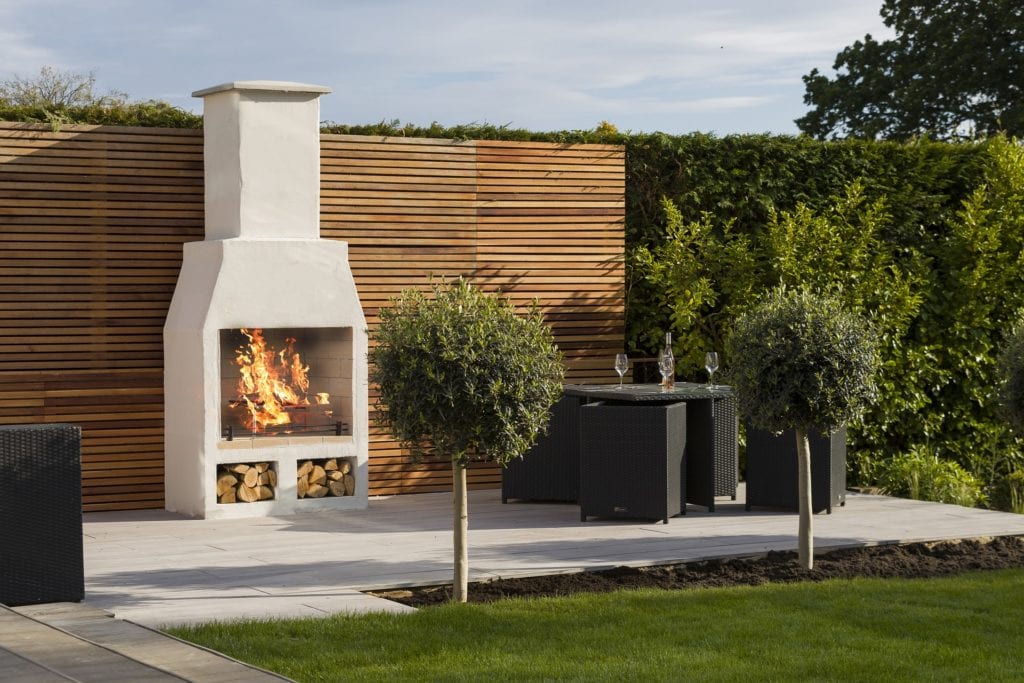 An outdoor fireplace is a stunning visual feature. Built to replicate an indoor fireplace, they can accommodate wood, gas or ethanol fires and are perfect for gathering around.
Built-in fire pit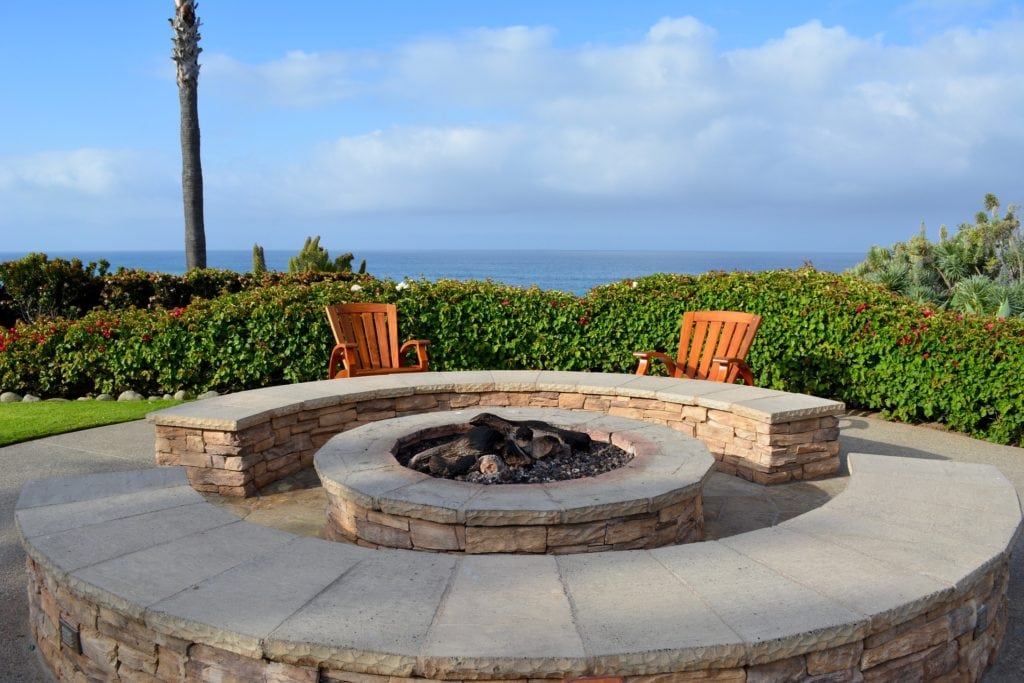 You can create a permanent outdoor feature by building a decorative fire pit with a seating area for regular evening gatherings. If you are not much into DIY, there are lots of local builders who can build something within council regulations to suit your specifications.
Ethanol Burners
Ethanol burners, also known as bio-ethanol, are available in a range of shapes and sizes and are beautifully decorative. Burning ethanol doesn't emit as much heat as wood or coal fire pits, but bio-ethanol fireplaces create a perfect centrepiece for social gatherings. There are several advantages to an ethanol fire, namely that they are smoke-free and many models have the ability to adjust the flame and easily extinguish the fire.
There are many other options for backyard fire pits here.
Fire pit safety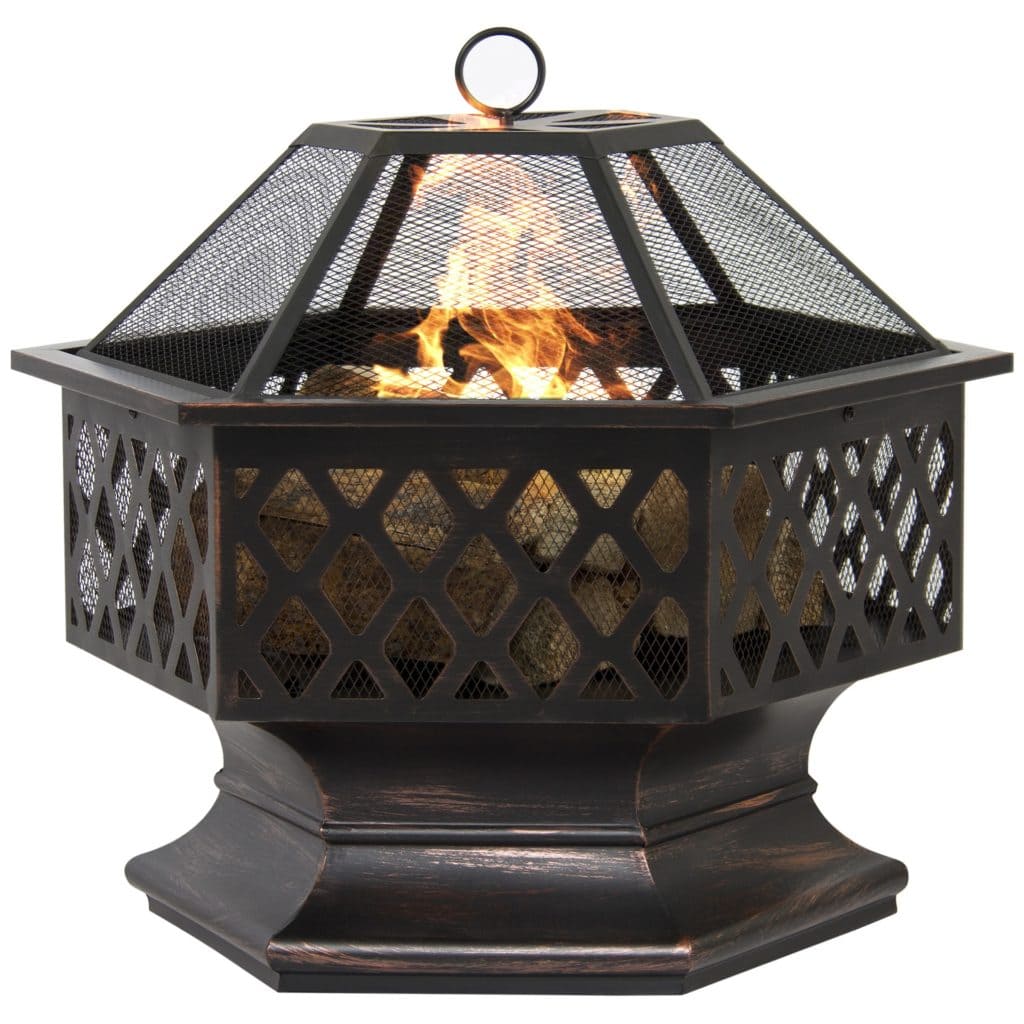 Fire pits present a number of health and safety concerns, from burns to inhaling toxic fumes from the burning of treated wood and rubbish. If you are lighting a fire while children are present, please consider the following safety advice.
Ensure constant responsible and sober adult supervision
Position your campfire in a cleared area away from overhanging branches
Do not use accelerants to start your fire; instead use kindling (scrunched up paper or wood shavings) and matches
Keep other flammable materials away from the fire – note that a lot of children's clothing is readily flammable
Burn only clean, dry, untreated wood or coal. Treated woods release arsenic into the air and other toxins
Burning green wood and garden waste creates excess smoke that can cause breathing problems or environmental concerns
Keep everyone at least 1m from the fire – further for young children who can move fast!
Consider defining your fire area with a boundary of boulders and instruct children not to cross the boundary
Keep a bucket of water nearby in case of flying embers or other fire emergencies
A fire extinguisher or blanket (buy it here) can be handy if the fire jumps to other nearby flammables
ALWAYS extinguish the fire with water before you leave it, never sand or soil. Fires can reignite long after you think they are out
Be aware that ash can remain hot enough to burn skin even when it looks cool the following day
Remember to maintain supervision at all times – never leave the fire unattended. A smouldering fire is just as hot and dangerous as one burning high. Don't take the risk of your child running through hot ash the following morning – put out the fire with water!
The best tips for camp fire and fire pit safety can be found on the Queensland Fire and Emergency Services website. For fire pit safety equipment including log tongs and heat resistant gloves can be bought at local hardware and camping stores.
First aid
If anyone is burned, run the affected area under cool running water for 20 minutes and call 000.
If clothing catches fire, remember Stop, Drop and Roll to put out the flames, then run the affected area under cool running water for 20 minutes and call 000.
Burns can continue to cause severe damage beneath the surface of the skin for a long time after the initial contact, so prompt and professional treatment is a must.
Find a first aid kit to suit your family here
You can find more campfire safety tips here.
Fire pit safety video
Check out this great video from Kidsafe Queensland for tips of safe fire pit practices and first aid for burns.
Be a good neighbour
If you are lighting a fire pit in your backyard, please consider the impact it may have on your neighbours. Smoke and odours can be a real nuisance and can have a negative impact on the health of asthma sufferers or those with certain sensitivities.
If your neighbours have laundry hanging to dry, consider the wind direction and take steps to ensure smoke doesn't drift over their clean clothes
Keep smoke to a minimum
Only burn untreated wood or coal. Burning treated wood and rubbish can create noxious and harmful fumes
Invite your neighbours over to share your fire. Campfires are social and your neighbours may have some great stories to tell!
Backyard fire pit FAQs
There are lots of questions around the use of backyard fire pits in Brisbane. Here are some of the most common.
Can I use a fire pit in my backyard?
Yes, you can use a fire pit in your backyard. Make sure you are following your local council's bylaws, and make sure it is used to for cooking and/or warmth. See above for each Brisbane region (the region names are clickable to the council area). In some council areas it depends on the size of your block, and the distance of the fire pit from your boundary. If in any doubt, please contact the customer service centre of your local council for the most up-to-date information.
Can you have a fire in a fire pit?
If permitted by your local council, yes! But you must only burn clean, dry, untreated wood or coal/charcoal. If you are planning to burn garden waste, consider the smoke impact on nearby roads and neighbours. If you are wanting to dispose of other waste (treated woods, plastics, melamine or rubbish) this cannot be burnt in a fire pit. Contact your local council for other waste disposal options. Large fires (over 2m in any direction) require a permit from Queensland Fire and Emergency Services.
Where should I put my fire pit?
Fire pits should be placed at a minimum of three metres away from your house and your neighbours yards, more if possible. In addition to placing the fire pit a safe distance away from your home, it should also be in a place where there are no overhanging branches, fences or other structures that could easily catch fire.
What do you put under a fire pit?
If you are building your fire directly on the ground or in the base of a drum, place some sand in the bottom of the fire pit. Sand will act as an insulator and help to disperse the heat more evenly. The grass underneath and surrounding your fire pit can still get quite warm from the heat of the fire, so giving it a water a few times throughout the night or in advance will help to cool it down.
If your fire pit is to be a more permanent feature, consider laying brick pavers to create a platform. Bear in mind that the bricks will retain their heat for a while after the fire has been extinguished, so be sure to cool them with lots of water.
Do not build your fire pit on a wooden deck or platform!
If your fire pit is an elevated brazier, make sure the legs are on a sturdy and level surface. A metal tray beneath it will catch ash and falling embers.
Can I burn wood in my backyard?
In accordance with your local council's bylaws, you may be permitted to burn clean, dry, untreated wood in your backyard provided the fire is less than 2m in any direction. Burning green wood and clippings can cause a serious smoke hazard, which would contravene council laws. Burning treated or painted woods is a toxic hazard and NOT permitted. Contact your council for other ways to dispose of treated woods. Large fires (over 2m in any direction) require a permit from Queensland Fire and Emergency Services.
Does a fire pit need a liner?
If you are buying a fire pit ready for use, the instructions may suggest a lining of 2-3cm of sand, depending on the type of fire pit. A layer of sand is a good option for drum fire pits or metal dish fire pits, and for built-in brick or stone fire pits. The sand can protect the metal or pavers from the intense heat put out by the fire. You can also line of any of these types of fire pit with crushed stone. A brazier doesn't need a liner, but something beneath it to catch hot ashes and embers is a great idea. See also the next question!
Do you need a fire ring for a fire pit?
For fires built directly on the ground, a ring of boulders can help contain the fire. If you are building a permanent fixture of decorative blocks, lining the blocks with a steel fire pit ring can help prevent the blocks from drying out prematurely and cracking.
The lure of a real flame fire pit
People are drawn to campfires in just the same way as our prehistoric ancestors were. Gathering around the flames sharing campfire stories, toasting marshmallows and sipping hot chocolate is a real pleasure. A campfire in the garden – with full adult supervision – is a great excuse to get kids outside and away from screens, and can create lasting fond memories. Why not extend the experience by putting the tent up in the back garden and having a camp out!
More local gardening information
Gardening with children articles
Find more great articles about enjoying family time around the home here.